Caribbean islands without the crowds
By Katrina Brown Hunt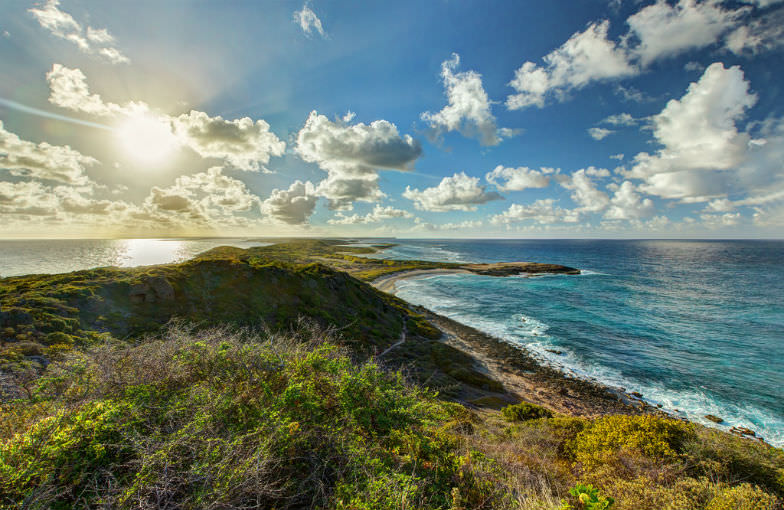 Guadeloupe (Flickr: Selden Vestrit)
Taking the kids to the Caribbean sounds pretty simple: direct flights, all-inclusive options and lots of sun and surf. But plenty of parents assume that the only kid-friendly options in the islands include the big resorts and the even bigger, mega-resorts—and all of the crowds that come with them.
The good news: A family vacation in the Caribbean doesn't need to mean battling for lounge chairs, fending off constant beach vendors or trying to tune out the jingling sounds of the casino that drowns out the sounds of the waves.
While some uncrowded Caribbean escapes require an added cost, other times, it's just a matter of knowing where to go. Here are five places where you and the kids can have the sands to yourselves while you also ride horses, watch monkeys scamper across hiking trails or even greet the elusive swimming pigs of the Caribbean:
Barbuda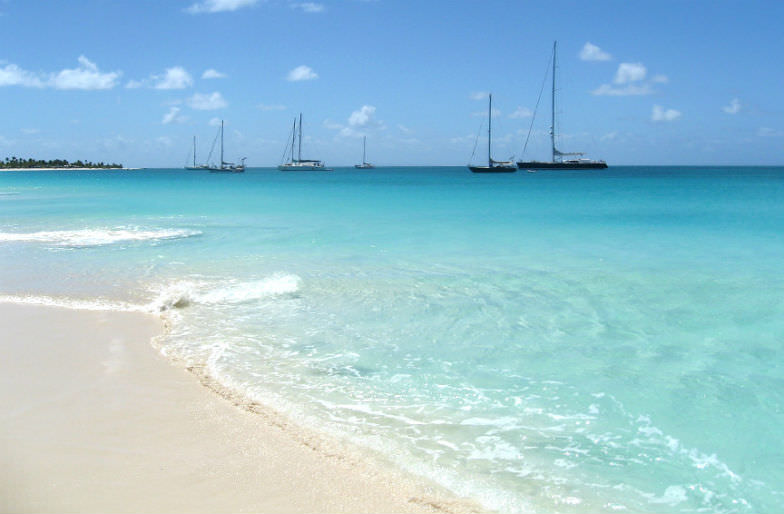 Barbuda (Courtesy Barbuda Cottages)
A 20-minute flight (or 90-minute boat ride) from Antigua, this island of just 1,200 residents is known for its white and sugar-pink beaches as well as a wealth of frigate birds, which have one of the widest wing spans (up to 5 feet) in the world. You can see a lot of them (note that the males have a red throat pouch) at Barbuda's Frigate Bird Sanctuary, which is also home to 170 other species of birds. Or, you can check out the ruins of the old sugar-plantation family, or explore such caves and natural sites as Darby Cave, a 300-foot-wide sinkhole. If you want to stay overnight, you can choose from a few hotels and a handful of guest houses, like the charming Barbuda Cottages, where you can sleep a family of 6 for $450 a night.
Vieques, Puerto Rico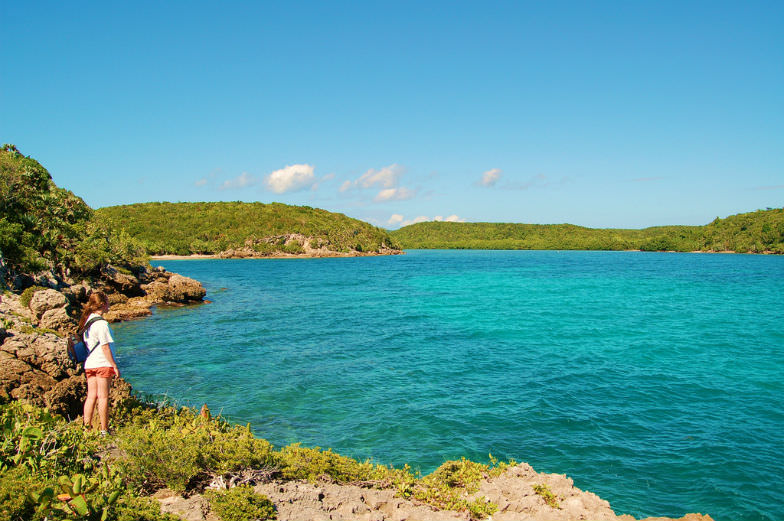 Vieques, Puerto Rico (Flickr: Mark Donoher)
This island—a 90-minute ferry ride from the coast of Puerto Rico—makes a great day or evening trip away from the crowds. The former naval station has stayed largely undeveloped, and has dozens of secluded beaches as well as one natural wonder: Mosquito Bay, or "Bio Bay," inhabited by ba-jillions of bioluminescent organisms that create a fantastic glow in the water on many evenings. You can see the phenomenon up close during a boat or kayak tour (one popular choice: Abe's Snorkeling and Bio-Bay Tours). During daylight hours, the family can go horseback riding on the beaches, meadows or river bottoms with an operator like Esperanza Riding Company (recommended for ages 7 and up). If you want to stay here, hotels include some small quaint inns and the colorfully mod W Retreat and Spa.
The Exumas, the Bahamas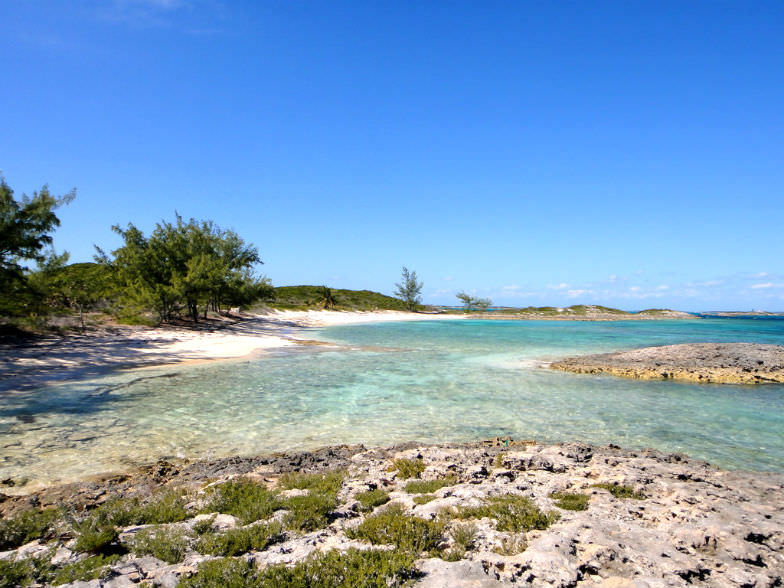 The Exumas, the Bahamas (Flickr: Matt Kieffer)
This chain of 365 cays is far from the madding crowds of Paradise Island and Atlantis, and carries some of its own showstopping features. You won't want to miss The Starfish Reserve, off Great Exuma, where you can pick up some of the biggest starfish you've ever seen; the Nurse Sharks of Compass Cay, who like to be petted and will gently suck on you, rather than bite; and the Swimming Pigs of Big Major Cay—the farm animals who arrived here under mysterious circumstances but now paddle out in the clear waters to beg for snacks from approaching boats. The most lodging options are on Great Exuma (like the 78-villa Grand Isle Resort ), but another good option is Staniel Cay Yacht Club, with crayon-colored cottages, on Little Exuma.
Guadeloupe
American Airlines only started flying to this archipelago of French-affiliated islands in 2013, but (aside from one Club Med, on Grand-Terre) the mega-resorts have still not arrived, meaning the mostly small hotels have prime access to the 200-plus mellow, public beaches. The islands still have plenty of ancient forts, and Basse-Terre (the other main island, besides Grand-Terre) is home to the 74,000-acre Guadeloupe National Park, which has miles of rainforest trails, 100 waterfalls and an active volcano, La Soufrière.
(MORE: 5 Best All-Inclusive Resorts for Families in the Caribbean )
Nevis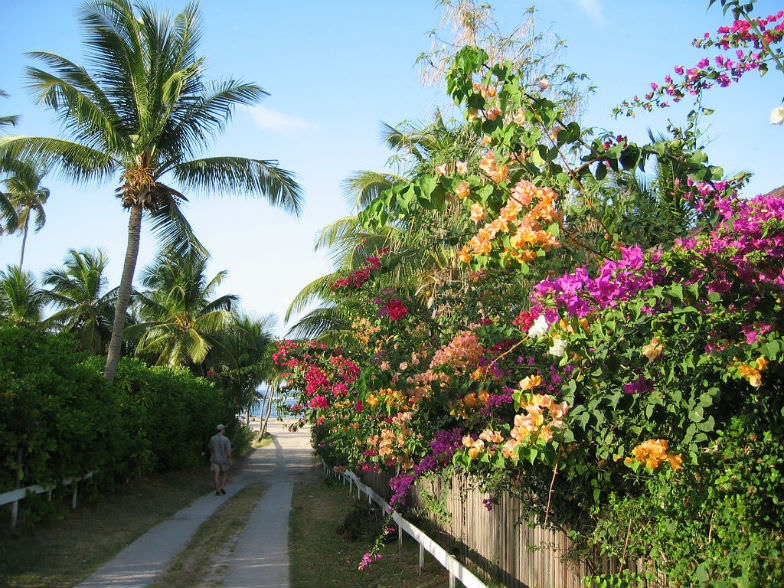 Nevis (Flickr: tiarescott)
This sister island of St. Kitts boasts that it has no cruise ship traffic, only 400 hotel rooms in its 36 square miles (with only one brand name—Four Seasons) and more monkeys than people. Aside from playing at watersports, hiking or cycling, visitors can join the local turtle watch groups that tag sea turtles on the beaches for preservation. To try the natural hot springs that first made the island a destination in the late 1700s, go to the Spring House at the former Bath Hotel.
Katrina Brown Hunt contributed this to MiniTime. Katrina is based in San Diego and writes about travel, business and lifestyle for publications and websites.