Leave behind the warm weather woes
By Sue Rodman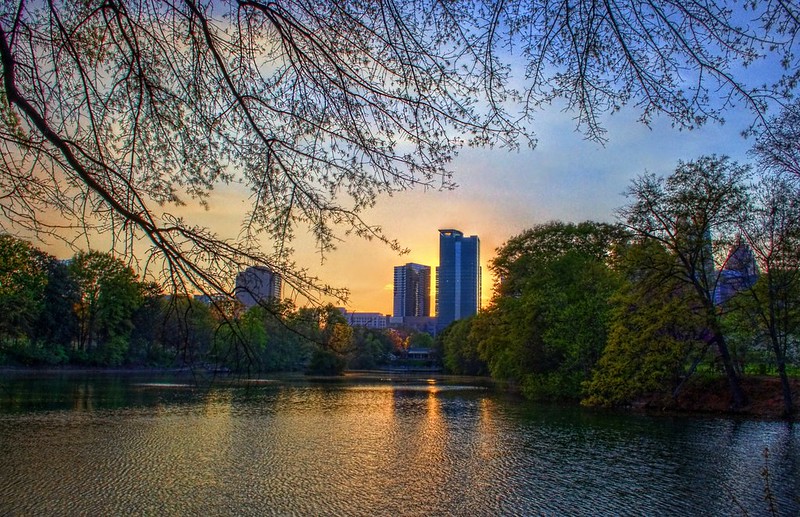 Piedmont Park (Flickr: Chris McClanahan)
Summer is a perfect time to visit Atlanta, bright cheery days and lots of fun family activities. However, being in the heart of the South, it can get quite hot too. Plan some time during your visit to cool off and get wet in one of these 5 pools or splash fountains. We've spread them out, so no matter where you are in the city, you'll find a refreshing place to take a dip. To be a true Atlantan, keep some ice cold Coca-Cola nearby too.
1. Piedmont Park. Located in Midtown Atlanta, Piedmont Park is one of the most popular year round destinations for locals. The pool has a lap area, as well as a lazy river and zero entry for little ones. Outside the gate is a large playground. There is a small splash pad in the pool area, but a much larger splash pad is located in a different area of the park. Bring some stale bread to feed the ducks that hang out at Lake Clara Meer during adult swim.
(MORE: View a family trip plan: 4 days in Atlanta with kids.)
2. Cobb County Aquatic Center. At the Cobb County Aquatic Center, you don't need to worry about sunscreen; this water park is located inside. In addition to a huge twisting slide, there is a play structure with bucket dumps and a toddler slide. Cobb County Aquatic Center also has a diving hole, which is hard to find at pools nowadays.
(MORE: Find a kid-friendly hotel in Atlanta.)
3. Spraygrounds in Roswell. There are two spraygrounds in the Roswell area of Atlanta – one at Riverside Park and one at East Roswell Park. Both are open to the public. Although there is a fee to enter these water features, it's nominal.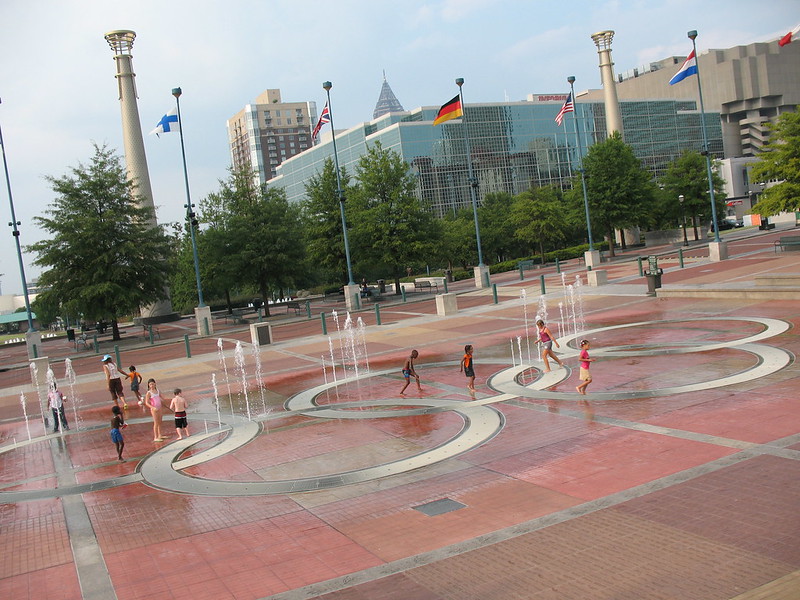 Centennial Olympic Park (Flickr: James Emery)
4. Centennial Olympic Park Fountain of Rings. Centennial Olympic Park is located in downtown Atlanta amid some of the city's most popular tourist attractions. No matter what age, toddler, teen or senior, you can't help but take a pass through the Fountain of Rings. The park, and the fountains were built for the 1996 Centennial Olympic Games that were held in Atlanta. If you don't want to get wet, they have a daily water show set to music as well.
5. Hurricane Harbor at Six Flags Over Georgia. For the true water nut, Six Flags Over Georgia opened Hurricane Harbor in the summer of 2014. It includes a 38,000 square foot wave pool, a multi-slide tower, and a 'world's first' single slide tower combining two extreme slide thrills, plus an interactive children's water play area. A tropical island theme includes food locations, shopping, cabanas and expansive deck, lounge and shade amenities.
Sue Rodman, author of 100+ Free Things to do in Atlanta, contributed this to www.MiniTime.com.