Valentine's Day with kids
By Rowena Carr-Allinson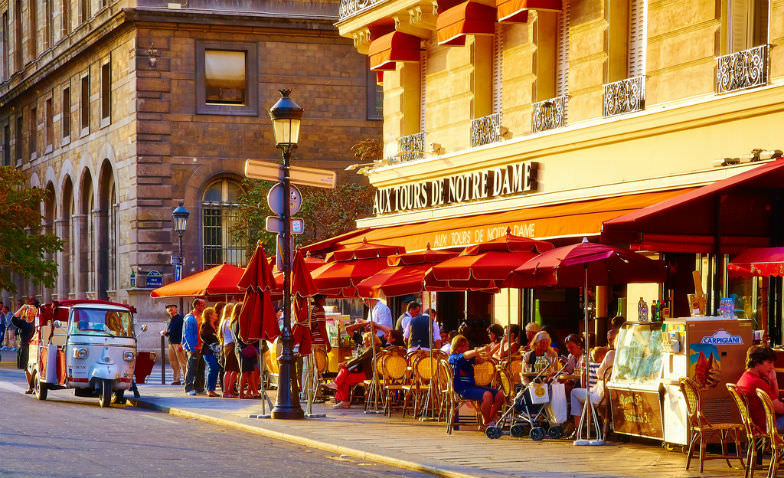 Keep the romance with staying kid-friendly with things to do on Valentine's Day in Paris. (Flickr: Moyan Brenn)
If you've always dreamed of spending Valentine's Day in Paris, there's no reason not to take the kids too. Instead of the romance-packed itinerary, it's all about seeing Paris with kids 'en famille,' as the locals might say. The good news is that you can actually do both. Mix and match by seeing Paris' romantic spots while keeping the kids happy too.
Whether you want to skate on the Eiffel Tower or sample the finest chocolates, the French capital is magical for parents and children alike. Make the best of memories; these lovely things to do on Valentine's Day in Paris are romantic, kid-friendly and picture perfect! And, no, matching family berets are not a requirement.
(MORE: 5 Cool Ways to See Paris With Kids)
Ice Skate at the Eiffel Tower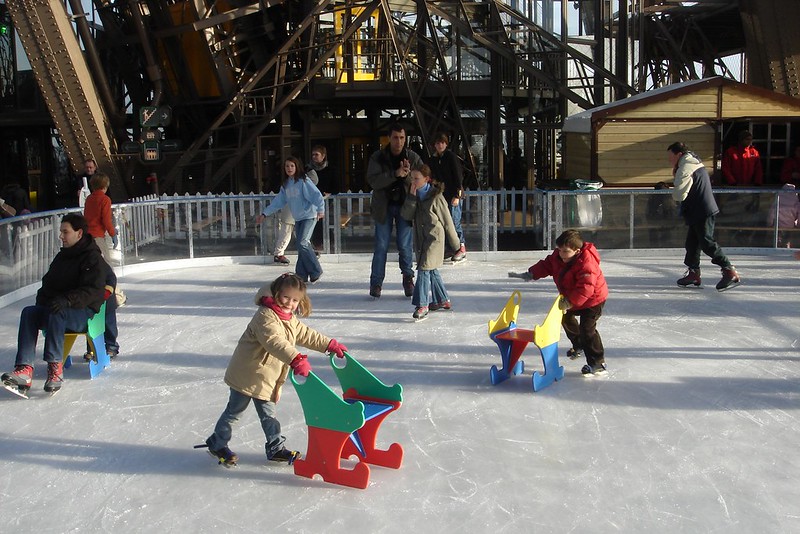 Ice skating at the Eiffel Tower is a great way to spend Valentine's Day with the kids. (Flickr: Alexandre Duret-Lutz)
A novel way to experience the Eiffel Tower is on the first floor skating rink. It's one of the most unusual things to do on Valentine's Day in Paris. Closing on the 19th February, now's the time to get those skates on and get gliding 57 meters up. You'll also find a bar offering hot chocolates or Gluhwein, as well as sandwiches and waffles if you get hungry. The rink is free to access. To keep it budget-friendly you can also take the stairs up (3 € under 12, 7 € for adults). Those who prefer not to hike up can get lift access (4 € for 4-11, 11 € for adults). Remember to book online ahead to avoid the long lines. Those who suffer from vertigo can stay below. There is a rink on the Champs de Mars too.
Choco-Love at La Maison du Chocolat
One of the sweetest things to do on Valentine's Day in Paris is visit the Maison du Chocolat. The legendary chocolatiers near la Madeleine have come up with a Valentine's treat. Nicolas Cloiseau has designed a 'stolen moments' box available through February 15 only (16.50€). Each chocolate in the set represents a typical Parisian experience, from cafe with almond praline to the love apple. Discover Paris with kids a new, tastier way! For something different, the floral and fruity black chocolate ganache meets violet and raspberry. If the kids prefer something more straightforward, the Maison du Chocolat is packed with more goodies than you can imagine. Sweet!
Laduree's Macaroons on the Champs Elysees
It wouldn't be Valentine's Day in Paris without sampling Laduree's famous macarons on the Champs Elysees. Maison Laduree is offering the loved up a chance to sample a special limited edition Valentine's collection. The famous patisserie is offering a special box of macaroons through February 15. Going for something new, they also have 'aphrodisiac' ginger. It might not be the kids' cup of tea (or favorite biscuit!) but the classics can't fail to please. Try chocolate or raspberry, or even vanilla for an authentic taste of Paris' best. Try the Message Amoureux (22,50 €) with 8 macarons to share when wandering around Paris with kids.
Star Wars in Disneyland Paris
Star Wars fans should rush to Disneyland Paris anytime until March 26. The park will be offering new Star Wars shows and parades. Just shy of its 25th anniversary, Disneyland Paris is celebrating in an intergalactic way! The amusement park is a classic and one of the kids' favorite things to do on Valentine's Day in Paris. Don't miss the evening Rogue One show with its special effects projected onto the Tower of Terror. There's also a First Order parade, and kids 7-12 years old can join the Jedi Training Academy. Fans of the movie series will also have a chance to bump into real Stormtrooper patrols. If you fancy coming back in Spring, the park will be opening two new Star Wars-themed rides then. Prices range from 40€ per child and 47€ per adult. May the force be with you.
(MORE: Romantic Ideas for Family Valentine's Day Getaways)
Ride the Big Wheel
Head to the bottom of the Champs Elysees on Place de la Concorde to see the Big Wheel. It's due to be dismantled on February 19 so it's now or never! It's a must on the list of things to do on Valentine's Day in Paris before it's too late. The Big Wheel won't be back until next winter. Overlooking the Tuileries gardens and the Parisian rooftops, it reaches 65 meters up in the sky. Hop on board the "bubbles" and contemplate the City of Lights from above. Keep an eye out for romantics popping the question high in the sky to see love in action. And, don't forget a family selfie with the best Paris skyline backdrop.
Rowena Carr-Allinson contributed this to MiniTime. Since the arrival of her son in 2011, she has taken him everywhere from Bangkok to NYC, writing family friendly articles en route.