New York with kids
By Holly Rosen Fink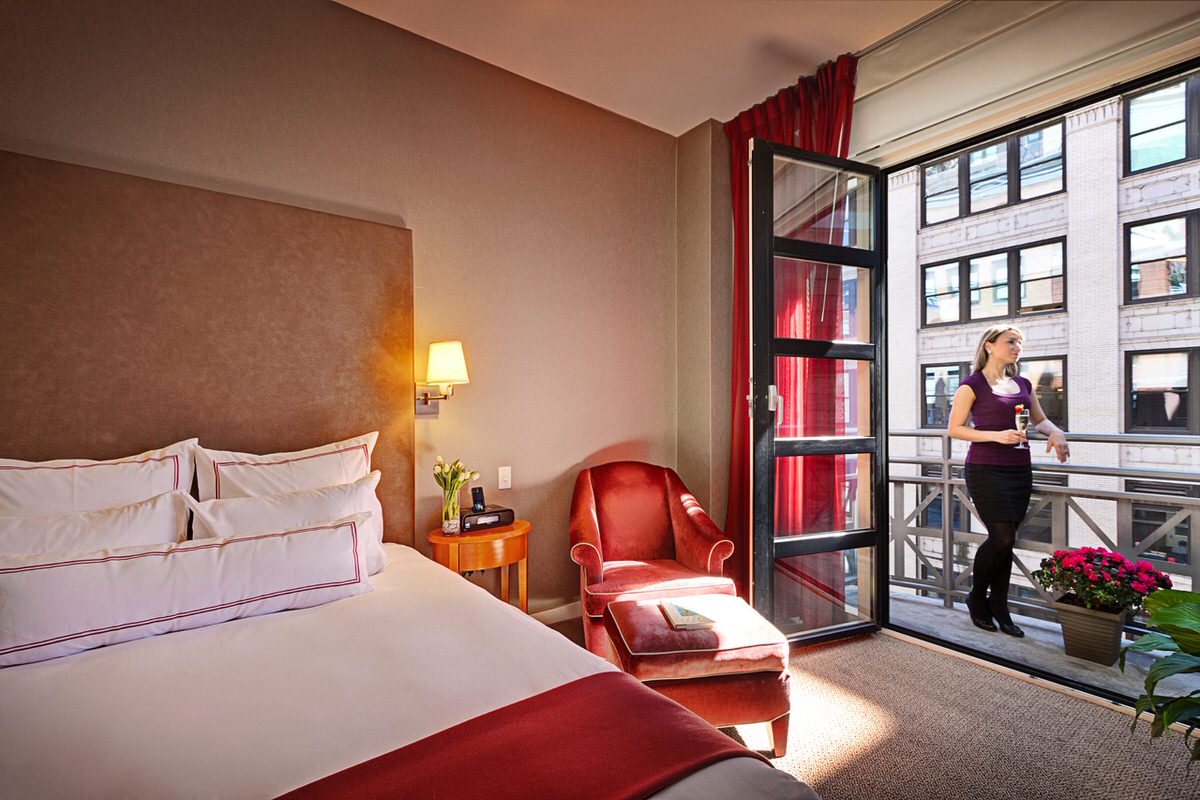 Hotel Giraffe in Manhattan's Flat Iron District is the perfect family-friendly hotel for a true family getaway. (Courtesy Hotel Giraffe)
Hotel Giraffe, located in Manhattan's Flat Iron District and a member of the Library Hotel Collection, is a true family getaway in New York with kids. It has a perfect location and a focus on making its guests happy with all day complimentary food and beverages. The family-friendly hotel is not only a good value, but also a good investment for any family visiting New York with kids. In addition, rooms are spacious and comfortable. And the hotel has a rooftop with incomparable views that is perfect in the summertime.
The hotel is on the corner of 26th Street and Park Avenue. It makes a perfect spot for any family to rest their heads after a day of exploring New York City. It's also relatively small, which makes it feel more like a home base. Lastly, the staff really goes out of its way to please its visitors.
(MORE: Travel Itinerary: Things to Do in New York City)
Why Go
Hotel Giraffe is a small, cozy hotel with just 72 rooms, each with a small balcony or fire escape, all with excellent views. They have family-friendly onsite dining at Bread & Tulips right downstairs. Complimentary food and beverages are actually served all day and all night on the ground floor. These include wine and cheese in the evenings, and breakfast in the mornings. Rooms are fully equipped with all the amenities a family would need from ample closet space and lovely bath soaps to complimentary Wi-Fi.
In addition, the hotel is right near a slew of good restaurants and a plethora of shopping sits just blocks away. The hotel is also near Madison Square Park, which offers a big playground for kids to burn off steam. This makes it a convenient base for families visiting New York with kids.
Room Options
All of the hotel's 72 rooms have beautiful linens, solid hardwood furniture, and chic, personal touches. Leather headboards and platinum wall coverings offer a touch of character. Each family-friendly room has a high ceiling, antique-rose velveteen upholstered chairs and ottomans, and black and white original photographs from the '20s and '30s, as well a nice-sized, flat-screened TV. Each room also offers an abundance of light, art deco accessories and books, a desk, and a king or twin size bed depending on the room size.
The bathrooms are well equipped with a bath and shower. Views range from various sides of hotel—there is nothing quite like waking up and peeking out the windows to a view of NYC. Another perk is the free bottles of spring water in each room. The hotel has cribs and extra rollaway beds as needed for young children.
Guest rooms come with one or two Queen or King size beds. Bigger families can take a Classic Suite, which offers a full size sleeper sofa in a separate living room with blackout shades.
For Kids Only
Kids will certainly enjoy the hotel's space and comfort. The kid-friendly hotel brings freshly baked chocolate chip cookies and milk to the room upon arrival. Kids will also get a map of NYC with kid-friendly landmarks highlighted, chocolate and other goodies.
Where to Eat
Breakfast is included and is served on the main floor where the decor is art-deco, family-friendly, and quite relaxed. The hotel offers basic but filling items. These include cereals, yogurt and bread, fruit salad, whole fruit and juices, as well as warm items like pastries, bagels and toast, and hard boiled eggs. The hotel offers breakfast delivery ($5 service fee) as well, if guests wish to enjoy their morning in the comfort of their own room.
The Rooftop Garden at the Hotel Giraffe is the perfect spot to enjoy al fresco drinks under the summer sun or the NYC nighttime sky in a relaxed and informal setting.
Bread & Tulips offers Italian favorites such as crostini, meatballs, and handcrafted pastas, as well as a selection of homemade pizza pies.
For adventurous families, there is a number of good family-friendly eateries in the area. These include Sarabeths, Wagamama, Max Brenner, Shake Shack and Eataly.
(MORE: Top 7 Weekend Activities in NYC with Kids)
Getting There and Getting Orientated
Hotel Giraffe, near the 6 train at 28th Street, is an easy walk from Grand Central Station and Penn Station. Valet parking is available.
Insider Tips
Speak to the concierge to get tips on what family-friendly things to do and where to eat, and do research in advance of your trip.
Encourage your children to take advantage of the complimentary snacks and relaxation time the hotel offers throughout the day. Don't miss their wine and cheese reception every day from 5-8pm.
Nearby tourist sites include the Empire State Building, the NY Public Library, Union Square, Chinatown, Little Italy, Lincoln Center, and the Museum of Natural History. The city is at your fingertips.
The hotel provides passes to the local New York Sports Club for staying active if you can take turns taking care of the kids. Or they can go with you, if over the age of 14.
Holly Rosen Fink of The Culture Mom contributed this to MiniTime. She is a full-time marketer living in Larchmont, NY with her husband and two children.