See the Big Five without making the big trip.
By Kristi Marcelle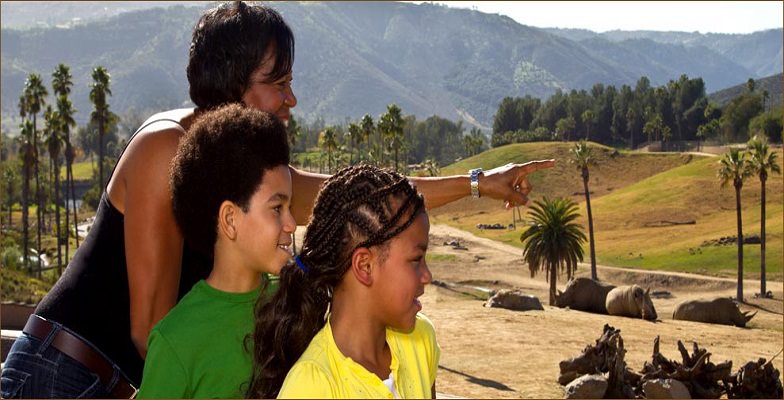 Experience the safaris at the San Diego Zoo Safari Park (San Diego Zoo Safari Park)
Is an African safari on your bucket list but not in your budget? Across the country, safari parks are attracting visitors that want to see the Big Five without making the big trip. Here are six parks where you can take a jeep safari tour, zip-line over elephants, or wake to the lions' roar from the comfort of your luxury tent—and none require a passport or a second mortgage.
San Diego Zoo Safari Park: Escondido, CA
Theme park meets safari at the San Diego Zoo Safari Park, where educational shows, safaris and activities await. The newest adventure, Flightline Safari, is a 470-foot zip line that soars 160 feet above rhinos and other animals. Wildly popular "Roar & Snore" sleepover safaris including guided hikes, campfires, and meals are scheduled throughout the year.
(MORE: Find a parent-recommended, kid-friendly hotel in San Diego.)
Lion Country Safari: West Palm Beach, FL
This pioneering drive-through safari in West Palm Beach has been entertaining generations of Floridians and vacationers since 1967. Amusement park rides, boat cruises, water play splash zones, mini-golf and camel rides are the newest additions to the 900-animal park. If you're looking for a rustic place to stay, The Travel Channel named the adjacent KOA campground one of the top five places to pitch a tent (and not get eaten by lions).
Fossil Rim Wildlife Center: Glenrose, TX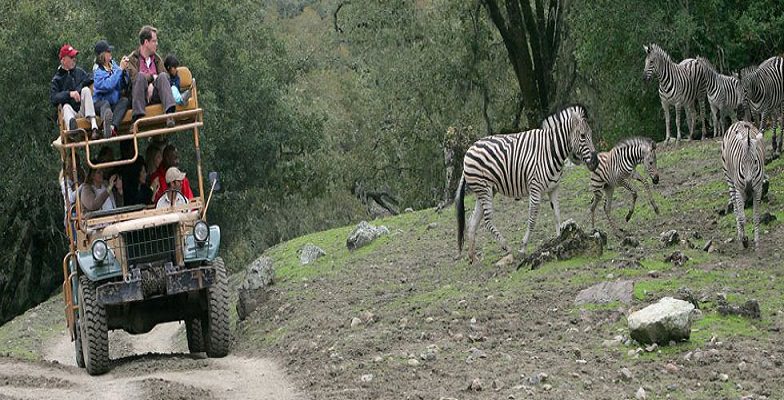 Safari West in Santa Rosa, CA (Safari West)
If hand-feeding a giraffe is on your bucket list, purchase a bag of animal feed and head out on the 9.5-mile scenic wildlife drive-through safari or take a guided tour. This non-profit conservation center, located an hour outside of Dallas, specializes in breeding programs for endangered animals. The center offers a variety of safaris, camps and even a nighttime murder mystery tour. Because, you never know, maybe the giraffe did it in the conservatory with the wrench.
(MORE: Find more kid-friendly attractions around Dallas.)
The Wilds: Cumberland, OH
Ninety miles east of Columbus, this non-profit conservation park sits on 10,000 acres of reclaimed mine land. The Zipline Safari takes you soaring on ten zip lines above more than 350 animals, or you can giddy-up on a horseback safari. The park is open May-October; family and adult camps are offered during summer.
Safari West: Santa Rosa, CA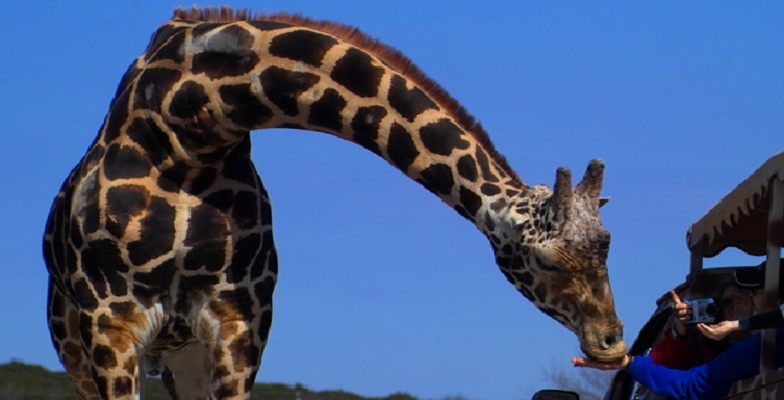 See over 1,000 animals at Fossil Rim Wildlife Center (Fossil Rim Wildlife Center)
Who knew that you could find lions and tigers and wildebeests—oh my!—smack in the middle of California Wine Country? Just an hour from San Francisco, the 600-acre Safari West preserve is home to over 600 animals. Cruise through the "Sonoma Serengeti" in an open-air jeep with a coveted roof-top seat that thrills little adventurers, then stay the night glamping in a luxury tent with bunk beds for the kids and on-site wine tastings for the adults.
Wild Animal Safari: Pine Mountain, GA
At this drive-through safari a 90-minute drive from Atlanta, you can take a safari bus tour, rent a zebra van or drive your own vehicle through the 250-acre park with over 650 animals.
Kristi Marcelle, a California-based freelance writer, contributed this to www.MiniTime.com.