Dare to dig in? Pack your antacid and a sense of adventure.
By Katrina Brown Hunt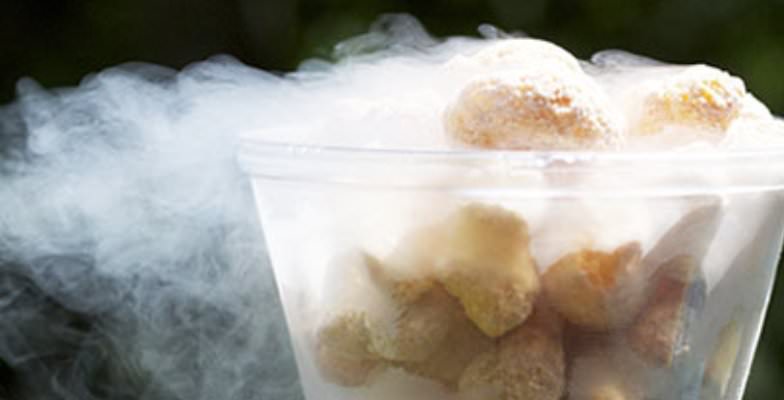 Minnesota State Fair
Move over, Ferris wheels and arcade games. Step aside, pageants and prized hogs. These days, the most talked-about attraction at a state fair is likely to be alligator nuggets or bacon-flavored cotton candy.
County and state fairs have increasingly become festivals for a fearless sort of foodie—folks who will line up to try hybrid delicacies that involve at least two of the fairs' four main food groups: bacon, chocolate, cheese, and boiling peanut oil. The tradition has some legitimate roots: corn dogs first found fame as cuisine at the Texas and Minnesota state fairs, while one of the first recorded American hamburgers was sold at the 1904 St. Louis World's Fair.
In recent years, fair organizers in Iowa and Nebraska even hold annual contests among food vendors to create the most outrageous culinary concoctions. To sample the hottest new entries, put these six summer and fall state fairs on your family calendar:
Iowa State Fair: Aug. 8-18, 2013
At this classic fair in Des Moines, vendors contending for the most unusual new food include the Rib Shack Cowboy, where you can order a spiced barbecue cone filled with brisket or pork, beans, cole slaw and topped with BBQ sauce. The Po-Boy Stand, meanwhile, offers the Shrimp Corndog, comprised of three fresh shrimp dipped in corndog batter, fried and then topped with a sweet jalapeño glaze.
(MORE: Browse real parents' trip itineraries and create your own.)
Minnesota State Fair: Aug. 22 – Sept. 2, 2013
This St. Paul-based fair has a lineup so deep that you spend an entire day eating your way through the options. Consider kicking off your day with breakfast at Hansen's, which offers a breakfast-sausage corndog. For lunch, make your way to Axel's for the Cocoa Cheese Bites, which are nuggets of cheddar breaded with cocoa puffs and then fried and served with a chocolate sauce. And for dinner, head to Minnesota Wine Country for the wine-glazed, deep-fried meatloaf. For a space-age midday snack, check out the Comet Corn at Blue Moon Dine-In Theater, billed as a "futuristic caramel corn made with liquid nitrogen," which gives you the ability (and who wouldn't want it?) to breathe tingly "comet dust" out through your nose.
Nebraska State Fair: Aug. 23 – Sept. 2, 2013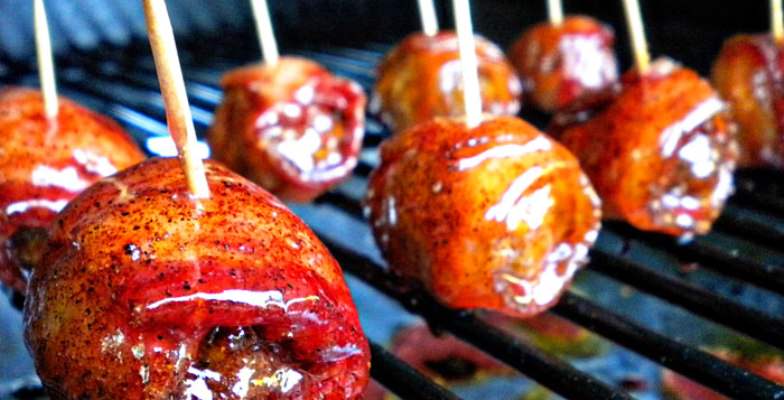 Nebraska State Fair
Can't decide between a dog and a burger? Head to Pig in a Bag and order the Moink Balls (think "moo" plus "oink"), which are bacon-wrapped meatballs in a barbeque glaze and served on a stick. Seemingly tame by today's fair standards, vendors are also serving up fried alligator (Grand Slam Concessions), burgers with pancakes as buns (JAK Concessions), and deep-fried chocolate cupcakes (The Banana Man). Nebraska's fair is held in Grand Island, about 93 miles west of Lincoln.
Kansas State Fair: Sept. 6-15, 2013
For yet another Midwestern shindig, head to Hutchinson, Kansas, about an hour northwest of Wichita. To celebrate the fair's 100th anniversary, pop over to the Carousel Café for deep-fried birthday cake, as well as deep-fried jalape ño Twinkies or fried macaroni-and-cheese-and-bacon-ball kabobs. At Silver's, you can try the maple-bacon snicker doodles, grilled-lemon-slice lemonade, or a refreshingly low-tech treat of frozen watermelon wedges on sticks.
Texas State Fair: Sept. 27 – Oct. 20, 2013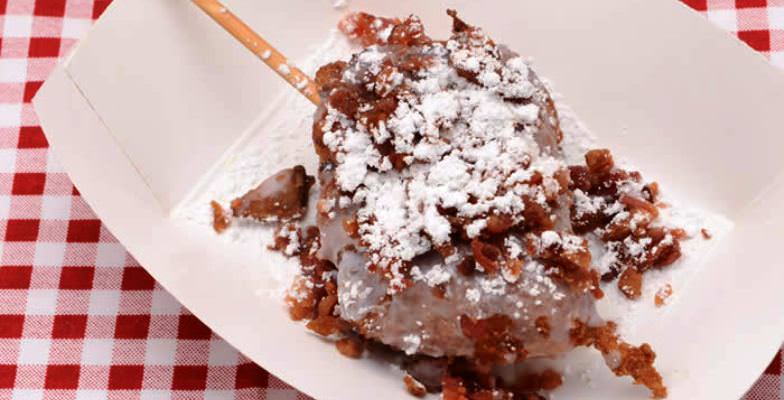 Texas State Fair
Having brought the world such culinary show stoppers as fried butter, the Lone Star State's fête in Dallas has a well-earned reputation for being on the vanguard of unusual fair fare. For now, organizers are keeping this year's cutting-edge food items close to the vest (or just under the hat of giant mascot Big Tex); nominees for the Big Tex Choice Awards won't be announced until the week before Labor Day. But stay tuned: past winners have included the Fried Bacon Cinnamon Roll, Fried Bubble Gum, and even Fried Beer.
(More: Find a parent-approved, kid-friendly hotel in Dallas.)
Arizona State Fair: Oct. 11 – Nov. 3, 2013
Arizona's state fair won't take place in Phoenix until temperatures cool down this fall. In recent years, this Southwestern fair has staked its claim within weird concessions with caramel apples rolled in mealworms. This year, Wayne's Concessions is the nerve center for challenging fare: you can start with either a kangaroo burger or alligator bites, and top it all off with chocolate-covered scorpions, crickets, and mealworms.
Katrina Brown Hunt contributed this to www.MiniTime.com.