Kids Love Riding These Railroads
By Lynn O'Rourke Hayes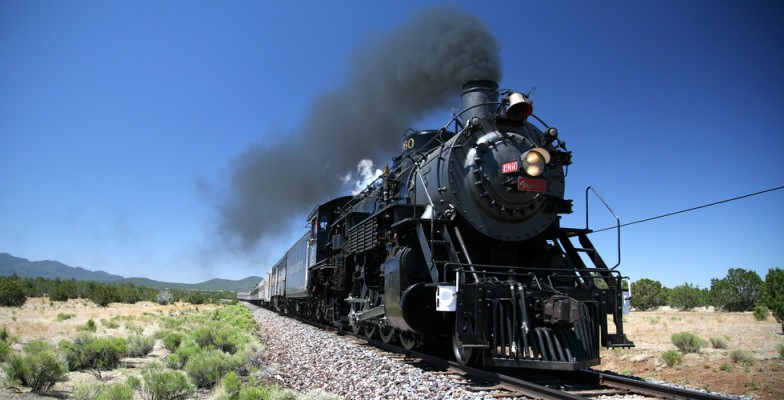 Grand Canyon Railway (Flickr: billmorrow)
Train travel offers families so much more than merely an alternative to driving. The most memorable train trips deliver both fabulous scenery and a dose of Americana you just can't appreciate through the windows of a car.
Train buffs are particularly spoiled for choice out in the American West, where historic railways that brought settlers to the wild frontier continue to intrigue us with spectacular canyon overlooks, desert vistas, hold-your-breath moments through tunnels and over bridges, and nail-biting ascents to mountain peaks.
Here are six train trips guaranteed to delight kids of all ages:
Grand Canyon Railway: Local shopkeepers have brought the colorful history of Williams, Arizona, back to life with sassy saloons, cowboy gunfights and ice cream parlors all eager to serve up a taste of Route 66 hospitality. The whole family will enjoy a ride to the Grand Canyon's South Rim aboard an historic train that wows with views of the San Francisco Peaks and Coconino Canyon, and features old-time musicians and an occasional "hold up" by an ornery band of local outlaws. Don't worry; a U.S. Marshall always seems to arrive just in the nick of time.
(MORE: View a family trip itinerary: 2 days at the Grand Canyon with kids.)
Cass Scenic Railway: The 11-mile journey from Cass to Bald Knob travels on a heritage rail line entirely contained inside a state park in eastern West Virginia. Don't let the short distance fool you; this half-day roundtrip shoots you back in time to the early 1900s, when steam-driven locomotives and a clackety-clack soundtrack were a part of everyday life. Kids will love riding in the open-air cars, which were converted from lumber-carrying flat cars. The trip to Bald Knob is notable for its steep incline and double switchback, along with magnificent views from the third highest point in West Virginia. Cass, still a mill town, retains its century-old ambiance.
Virginia & Truckee Railroad: In the 1800s, Nevada's most famous short-line railway was synonymous with silver mining. Today, vintage trains, the sound of a steam whistle, and the Sierra Nevada landscape combine for a memorable family experience. During the 90-minute ride from Carson City to Virginia City, you'll travel through tunnels and pass old cemeteries, abandoned mines, and silver-ore veins, just as prospectors did during the Comstock silver boom of the 1860s. Be on the lookout for wild mustangs. You'll have several hours to explore 150-year-old Virginia City before taking the return train.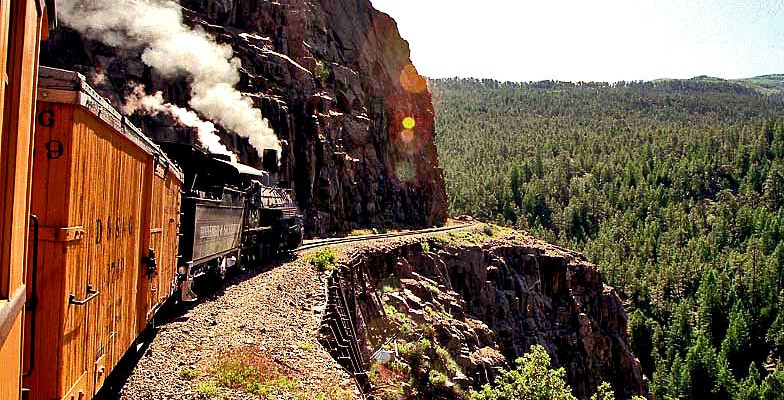 Durango & Silverton RR through Colorado (Flickr: Don O'Brien)
Durango & Silverton Train: For spectacular vistas of the San Juan Mountains, hop aboard the this historic narrow-gauge railway in southwestern Colorado for the breathtaking climb from Durango (6,500 feet above sea level) to Silverton (9,300 feet), winding through remote wilderness of the San Juan National Forest. You'll cover 45 miles in a leisurely three-and-a-half hours, traveling 18 m.p.h. on rails just three feet apart, behind vintage steam locomotive engines that have been transporting gold diggers, silver miners, cowboys, explorers and family travelers through mountain passes since 1882. Themed packages include specials for hikers, bikers, zip-liners, and mining enthusiasts. Kids ride free on select dates during the summer.
(MORE: Nevada family-friendly attractions)
Ethan Allen Express: Named after a Revolutionary War hero, this Amtrak train departs from New York City's Penn Station, winds its way along the Hudson River (sit on the left, facing front, for the best views) through the Catskills into upstate New York and finally into Southern Vermont's Green Mountains, whose scenery is at its most glorious during the autumn foliage season. Can't make the full five-and-a-half-hour trip to Rutland? Cut your travel time in half by disembarking in the charming town of Saratoga Springs—home of mineral springs, a Revolutionary War battlefield, the oldest horseracing track in the country and one of Travel + Leisure's picks for the greatest main streets in America.
Heber Valley Railroad: Since 1899, this historic short-line railroad has been carrying passengers through Utah's lush Heber Valley and gorgeous Provo Canyon. All year long, there's a wide choice of excursions available aboard these steam and diesel trains, which both charm and educate about this railroad's rich history. Options run the gamut from scenic dinner trains to adventure trains that include stops for whitewater rafting or zip-lining. Come fall, it's full steam ahead to a private pumpkin patch where kids can pick a pumpkin and scamper through a hay maze. In December, the North Pole Express promises hot cocoa and a visit from Santa and his elves.