Amazing hotels in California for the entire family
By Mimi Slawoff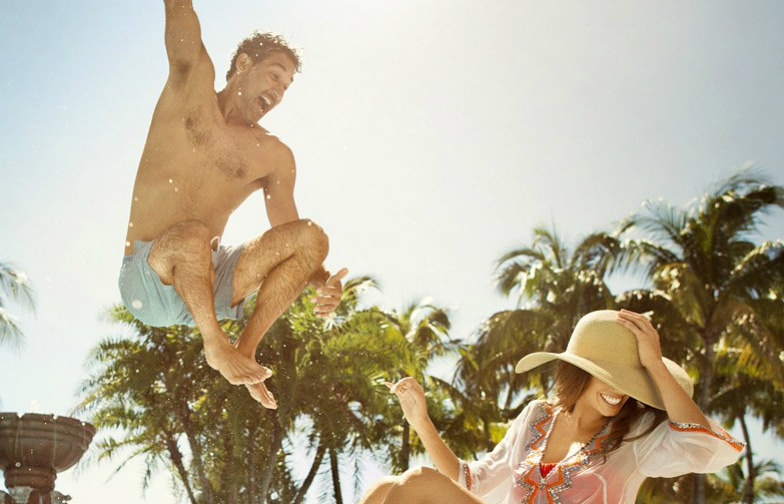 A day of family fun at Loews Coronado Bay (Loews Hotels)
It may seem like an oxymoron but it is possible to enjoy a few romantic hours on a family vacation. Not so surprising when you think about it, since many hotels are more than happy to roll out the welcome mat with fun activities for kids while parents embrace time alone.
These 7 resorts kiss up to parents and kids – individually and together.
Loews Coronado Bay, San Diego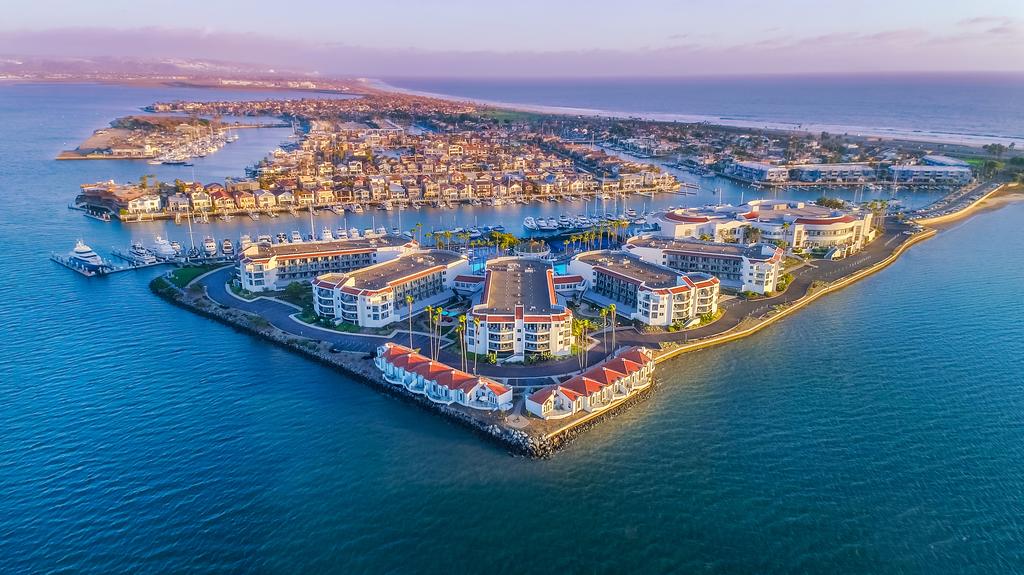 Sip champagne and glide through the waterways of San Diego's Coronado Cays in a gondola, then get cozy with a couples spa. Meanwhile, kids may be watching a magic show or searching for treasure during a scavenger hunt organized by Loews Loves Kids' Club staff. Video games with peers keep older kids content in the Teen Lounge.
Omni La Costa Resort & Spa, Carlsbad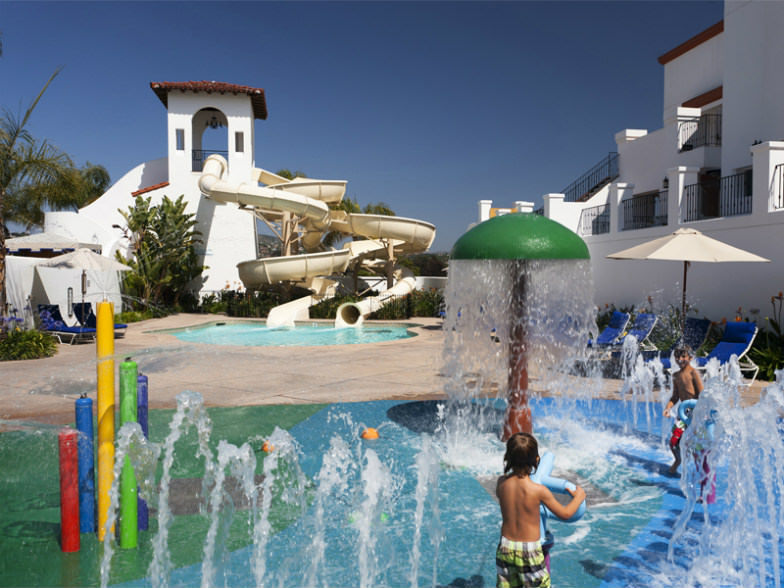 Waterpark at Omni La Costa Resort (Omni La Costa Resort & Spa)
Check children ages 3 – 12 into Kidtopia, where they can journey through a magical forest, swim, make crafts and dance. Then book it to the world renowned spa, where you and your partner can relax with a massage, soak in a whirlpool and awaken your senses by the Roman Waterfalls. Before meeting up with the kids, lounge by the Edge Adult Pool. Rendezvous for the resort's family scavenger hunt — winner gets a prize!
St. Regis Monarch Beach Resort, Dana Point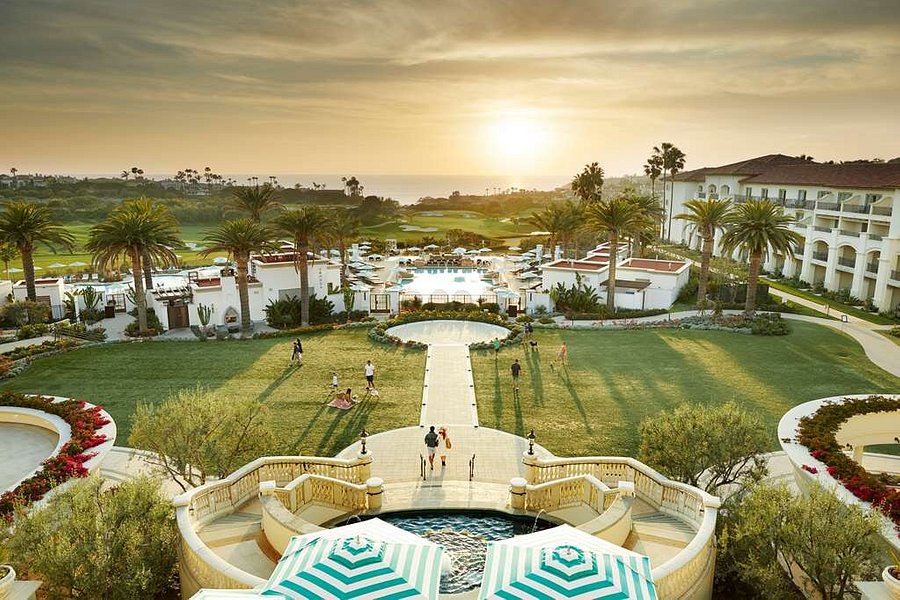 While kids ages 5 – 12 swim, play games and hear stories in the Sandcastle Kids Club, parents can unwind with customized spa treatments in a romantic couples suite in Spa Gaucin, aptly named after a village in the southern tip of Spain. Linger in the spa for organic wine pairings and delicacies from the Mediterranean-inspired café menu.
Terranea Resort, Palos Verdes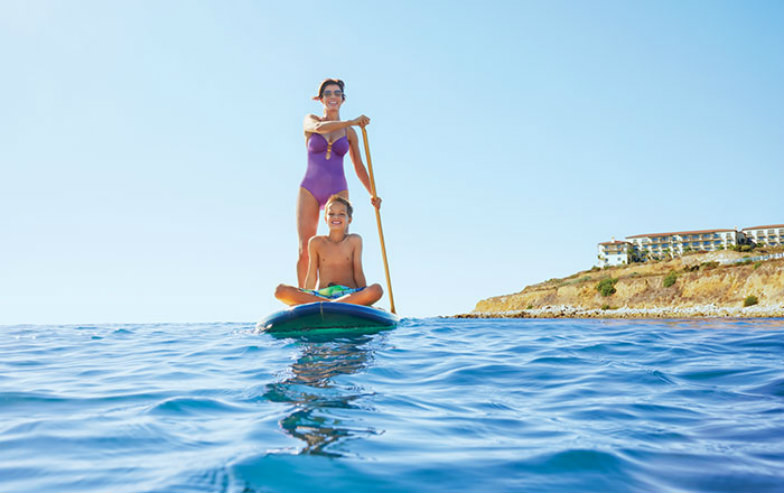 Go paddle boarding at Terranea Resort (Terranea Resort)
Between Terranea's Pointe Discovery activity center and the Tide Pool Kids Club, parents will find plenty of time for romantic walks along the beach, spa services, gourmet dining and snuggling by a fireplace. After kids are wiped out from a day of activities, science experiments and art projects, they can join their parents for a round of golf or whale watching. Pick up a s'mores kit from Catalina Kitchen to enjoy by one of the resort's 228 fire pits.
Madonna Inn, Central Coast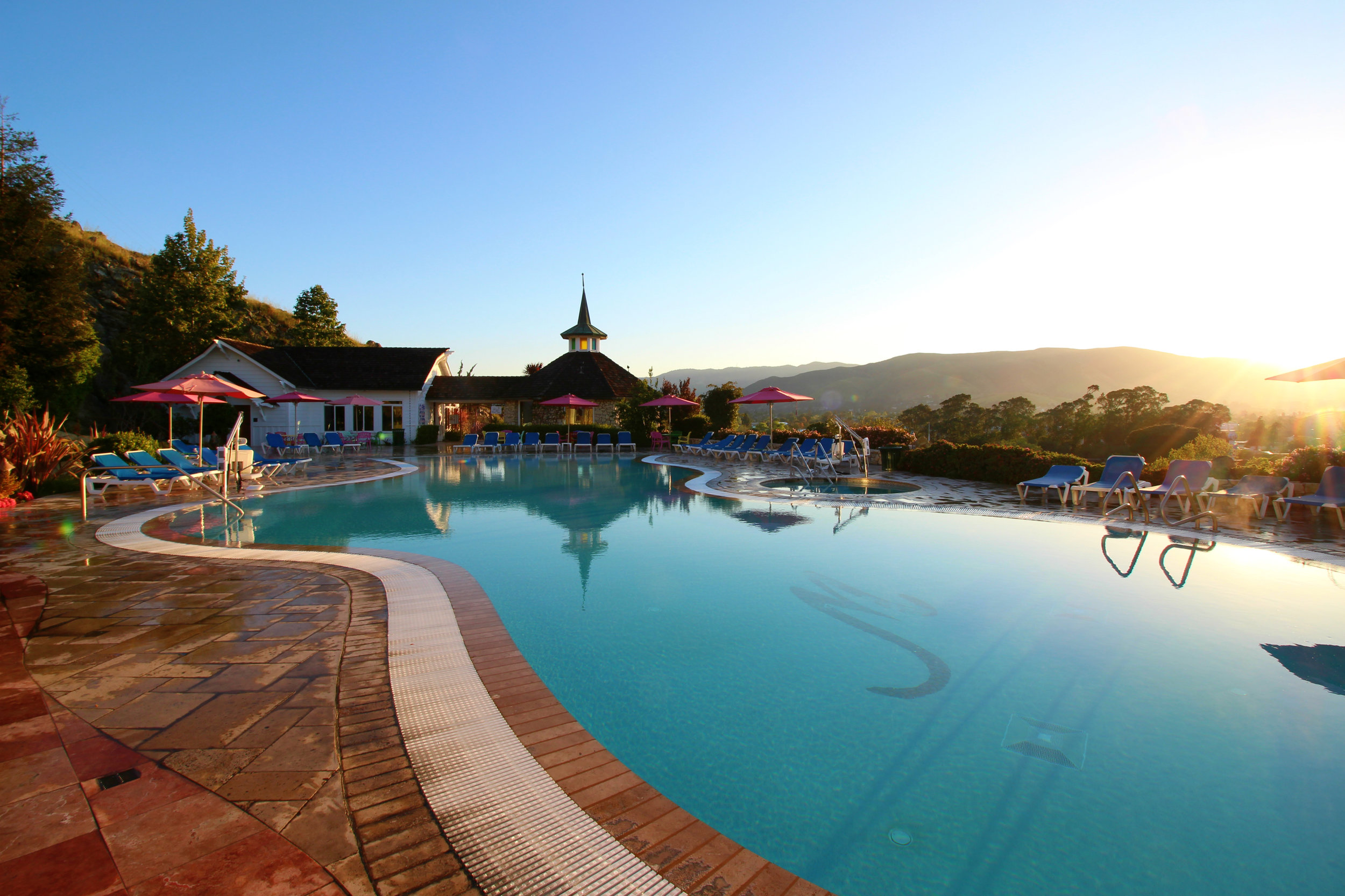 Nestled on 1,000 acres of lush meadows and rolling hills, the hotel is popular for weddings and anniversaries as well as family getaways. Numerous themed rooms, with names like Antique Cars, Captain's Bridge and Fox & Hound, cater to kids and adults alike with fun wall coverings or private space. Spa treatments, guided trail rides (for ages 7 and older) and a swimming pool ensure family fun and relaxation.
Paso Robles Inn, Paso Robles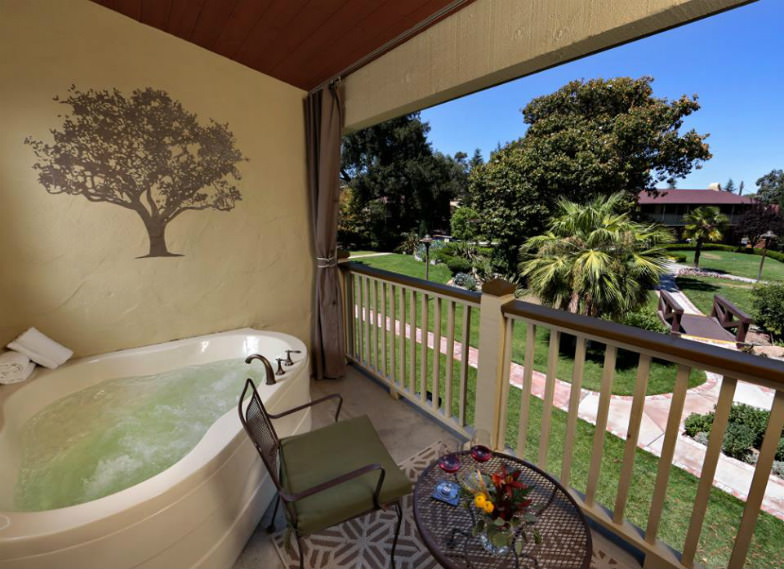 Private jacuzzi at Paso Robles Inn (Paso Robles Inn)
The historic boutique hotel oozes romance with private Jacuzzis on balconies, therapeutic mineral waters, and in-room spa services. But kids are welcome too. The Unlimited Kids Vacation Package features discount lodging, a Family Day Pass to the Paso Robles Children's Museum, coupons for Powell's Sweet Shoppe and $40 in dining credit to the Paso Robles Inn Steakhouse. A koi pond, swimming pool, lush gardens and walkways provide a romantic setting as well as relaxing family fun.
(MORE: Find more family-friendly hotels and resorts.)
Resort at Squaw Creek, Lake Tahoe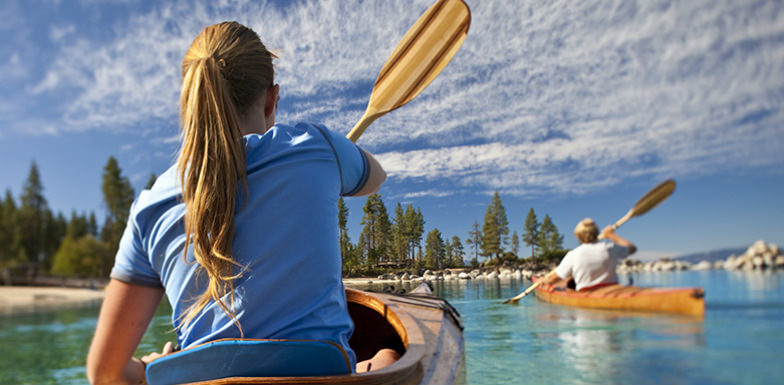 Kayaking at Resort at Squaw Creek (Resort at Squaw Creek)
The year-round Mountain Buddies Kids Kamp entertains ages 4 – 12 with swimming, hiking and games in summer and with snow sports in winter. They'll be so busy playing they won't notice you're having your own fun in the spa, on the slopes and on your own. There's plenty of room for both privacy and family time in a luxury two-bedroom, two-bath penthouse.
Mimi Slawoff, a Los Angeles-based journalist, contributed this to MiniTime.