Great family-friendly waterfall hikes across the United States.
By Camille Miller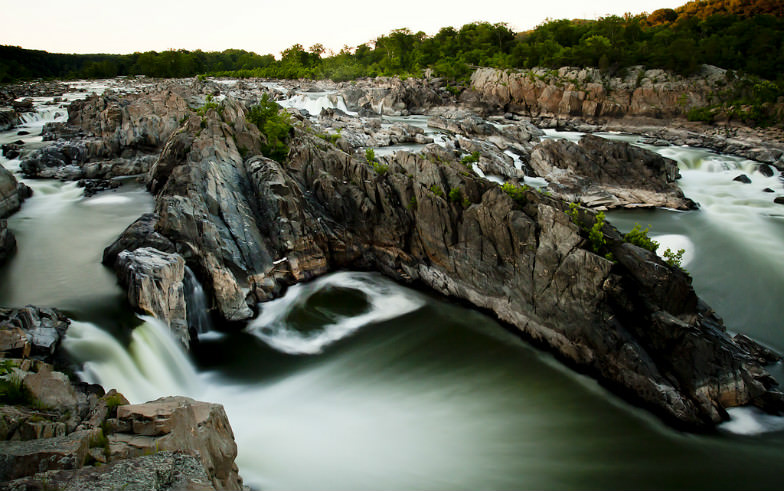 Great Falls in Virginia (Flickr: Mehul Antani )
Children have been fascinated by water since the beginning of time. While water parks certainly have their appeal, why not try out Mother Nature's original version? Here are seven stunning and kid-friendly waterfalls from around the country for your family to visit this year.
Parfery's Glen (Devil's Lake State Park | Baraboo, WI)
In a deep gorge in the Baraboo Hills is a hidden glen of extraordinary beauty. Treasures of wildflowers, birds, and interesting rock formations will keep you and your children engaged for hours. The trail itself is constantly changing, depending on the rainfall, so it is never the same experience twice. The falls are small and simple, but the glen proves that sometimes it's the journey that matters most.
(MORE: Find affordable kid-friendly hotels in the Wisconsin Dells area.)
River Trail / Matildaville Trail (Great Falls Park | McLean, VA)
For a great view of the glorious Potomac River, take this trail loop along the cliffs above the river which can reach up to 75 feet. This hike rewards visitors with a view of the falls at the beginning, at an overlook where you can stop for photos. The loop is 3.1 miles and moderately difficult. Keep your eyes open for vultures, great blue heron, and other beautiful birds along the way.
Marymere Falls Trail (Olympic National Park | Port Angeles, WA)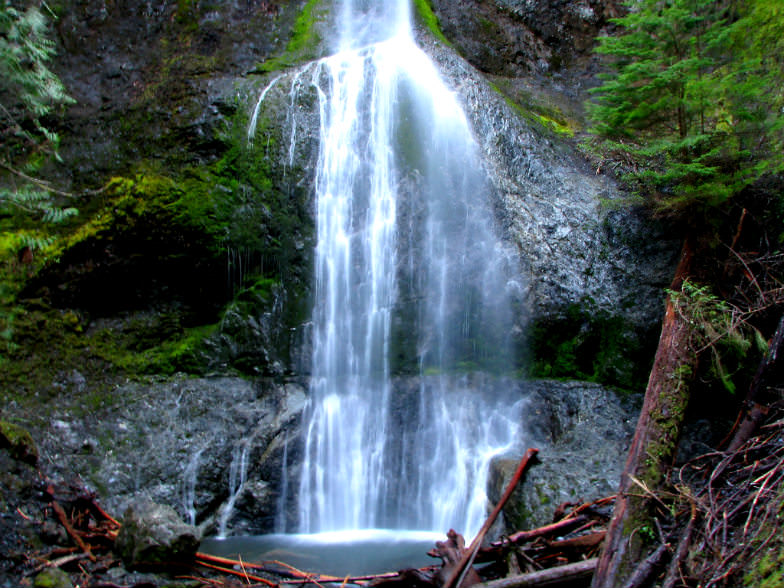 Marymere Falls Trail (Flickr: Ramanathan Kathiresan )
Lush forest and chirping birds surround you as you make your way toward this popular waterfall near Lake Crescent. The distance is less than a mile on fairly level terrain, but you should be prepared to climb some stairs toward the end to reach the falls. Don't forget to bring a camera to capture the delicate ferns and mosses, and of course, the falls themselves.
Grotto Falls Trail (Great Smoky Mountains National Park | Svierville, TN)
Though the trail is an uphill challenge that will require navigation through tree roots and over narrow pathways, the magnificent waterfall at the end is worth it. Round trip, the trail is 2.8 miles (bring a carrier/backpack for small children), and you should pack some snacks or a picnic to enjoy at the top. The kids will be tickled to see the tiny furry chipmunks, and if they're fast enough, they may catch a salamander!
Running Eagles Falls (Glacier National Park | West Glacier, MT)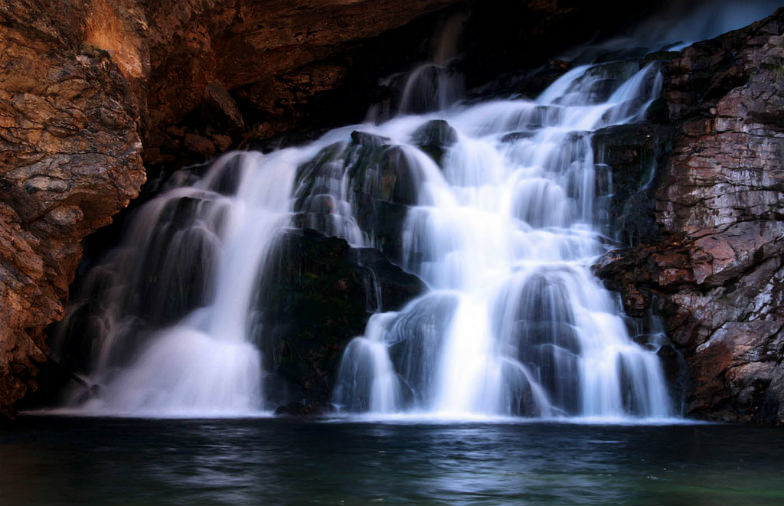 Running Eagles Falls at Glacier National Park (Flickr: Nomadic Lass )
This short, easy hike is perfect for toddlers. In the Spring, there is so much water, the falls are often called "Trick Falls" due to the water dropping in two places to create a double-falls effect. If your older children prefer more of a challenge, there is an additional trail leading to the top of the falls. The family will especially delight in harvesting and eating the wild berries that grow along the trail, especially in late summer and early fall.
(MORE: Find lovely kid-friendly hotels in the Great Smoky Mountains National Park.)
Tonto Natural Bridge (Tonto National Park | Fort McDowell, AZ)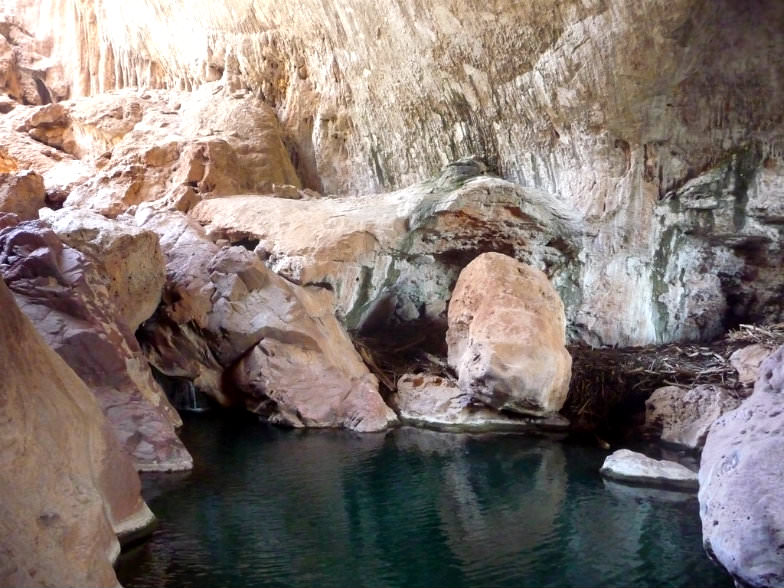 Inside the Tonto Natural Bridge (Flickr: Brent Schmidt )
Bring the kids' swimming suits and a change of clothes for this one. A short walk ends at the mouth of a cave, where water trickles down from the top and creates a natural shower. Children will love splashing around and exploring the cave, and if you're feeling more adventurous, there are three more trails to take you over boulders and under what is believed to be the largest travertine bridge in the world. Be prepared to get wet; the water sprays and mists visitors on its course through the desert.
Dry Falls (Nantahala National Forest | Highlands, NC)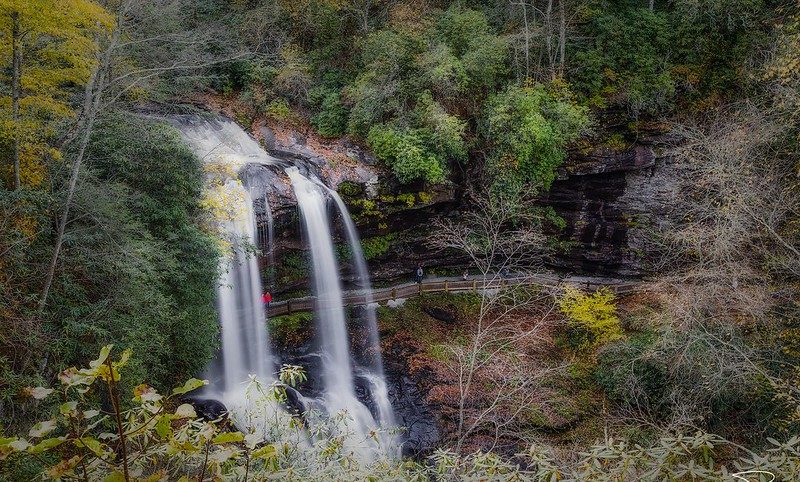 Dry Falls in North Carolina (Flickr: Frank Kehren)
If you've ever fantasized about walking behind and underneath a waterfall, this is the place to make that dream come true. A short walk down a declining slope takes you down to and behind the falls. Get out your camera as you approach to record the wonder on your kids' faces as they experience this unique and gorgeous natural wonder. This year-round waterfall is mesmerizing in every season and can be enjoyed from every vantage point nearby.
Tips: Remember to bring sunscreen, water, snacks, and sturdy shoes when you visit these amazing waterfalls, especially during summer months. If you have health concerns, check with the local Park authorities to determine accessibility.
Camille Miller contributed this to www.MiniTime.com.