Best kid-friendly attractions in the Yucatan Peninsula
By Mimi Slawoff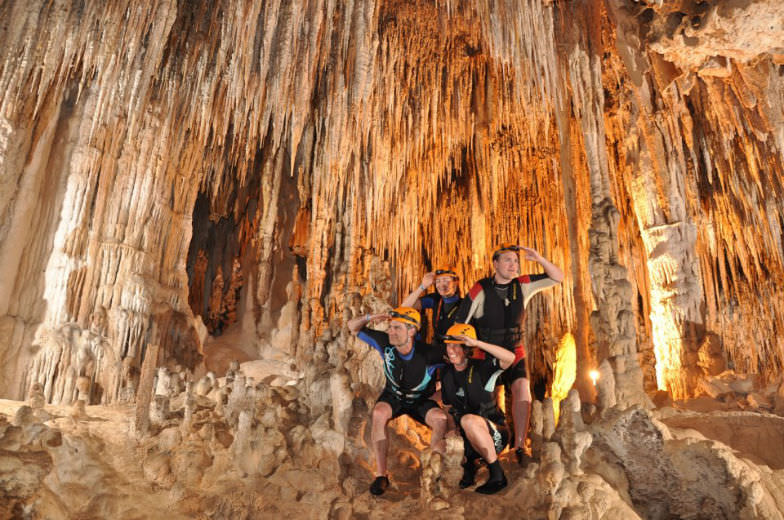 Inside Rio Secreto in the Riviera Maya (Rio Secreto)
While best known for its 2,700 Mayan ruins, the Yucatan Peninsula also has gorgeous beaches, thrilling family-friendly attractions and ultra-luxury resorts you won't want to leave. Somewhat isolated from the rest of Mexico until the mid-1900s, Yucatan developed its own fascinating culture.
On two separate trips to the Yucatan, my teen son, Michael, and I learned about the ingenious Maya people (who settled in the region around 2500 B.C.), hiked through jungles and swam in cenotes (underground caves). It's an experience that wowed us and we'll always remember. Here's our take on seven of our favorite places in the Yucatan Peninsula.
Tulum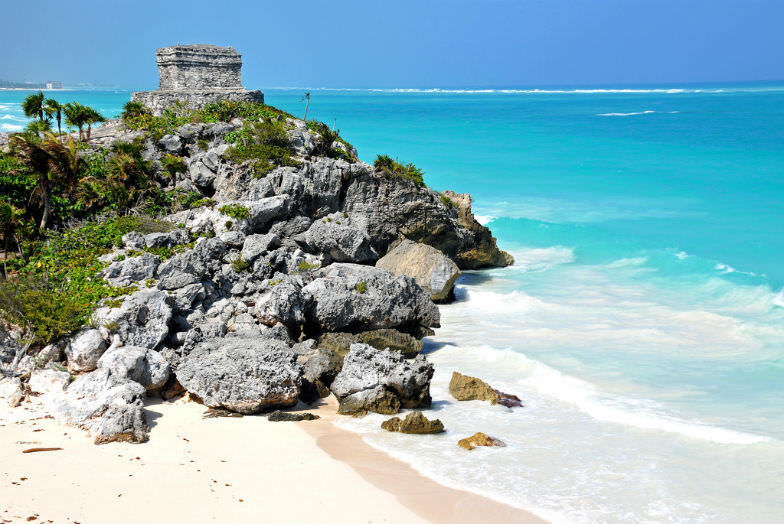 Ruins in Tulum (Flickr: Dennis Jarvis)
Situated along cliffs overlooking the azure sea below, the formerly walled city was one of the last to be built by the Maya people. The archaeological sites are incredibly well preserved and it's easy to imagine the once bustling community. My son and I were quite impressed with the mystery and ingenuity of the Maya people. "The ruins were pretty jaw dropping. Until you see them firsthand, it's difficult to appreciate their existence. Also, the beaches below are absolutely stunning," says Michael.
Rio Secreto
Kids ages 4 and older can join this amazing 90-minute guided tour through an underground cave dating back millions of years. Wetsuits and hard hats with headlamps are provided for walking and swimming through the quiet cave, draped with beautiful stalactites and stalagmites. At tour's end, we turned off our headlamps and sat in the darkened cave for two minutes. Dripping water was the only sound to break the silence. "A truly phenomenal test of your senses," according to my son. "The feeling of darkness and isolation, paired with the purity and sanctity of nature was an awesome combination that words cannot truly describe." Back outside, colors and sounds were amplified after the quiet, dark cave. Michael was in awe. "I've never seen more vibrant colors."
Boca del Puma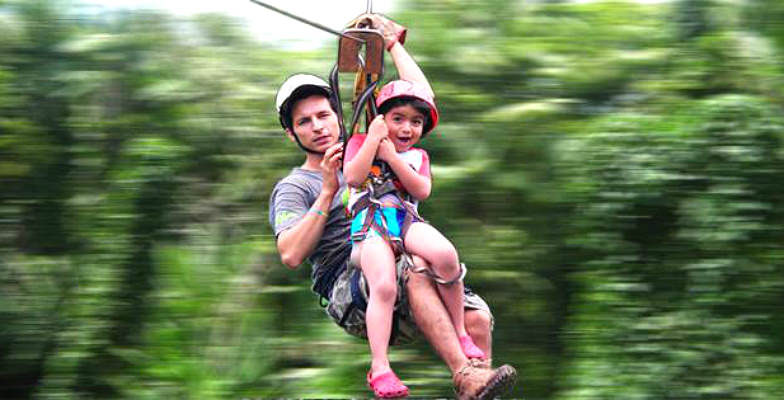 Adventure in Boca del Puma (Boca Del Puma)
After riding mountain bikes along a bumpy road to the historic town of Central Vallarta, our guide led us on a leisurely walk through a lush jungle in an enchanting ecological reserve. He pointed out trees and plants and shared local Mayan history so interesting we almost forgot the humidity. Fortunately, the tour included a dip in the cool waters of a cenote. Afterward, my son commented that "you definitely achieve the feeling of being a part of nature in this serene setting while learning about your surroundings."
Sian Kaán
Recognized by UNESCO as a World Natural Heritage Site, this biosphere reserve contains tropical forests, mangroves and marshes. We walked to a small Mayan archeological site in Muyil, crossed a lagoon by boat and swam through the warm, clear waters of a lagoon channel – a highlight, according to Michael and the other teens on the tour. "I highly recommend visiting this place and swimming through the channels. As you float through these natural lazy rivers, you are submersed among tropical foliage and wildlife!"
Xel-Ha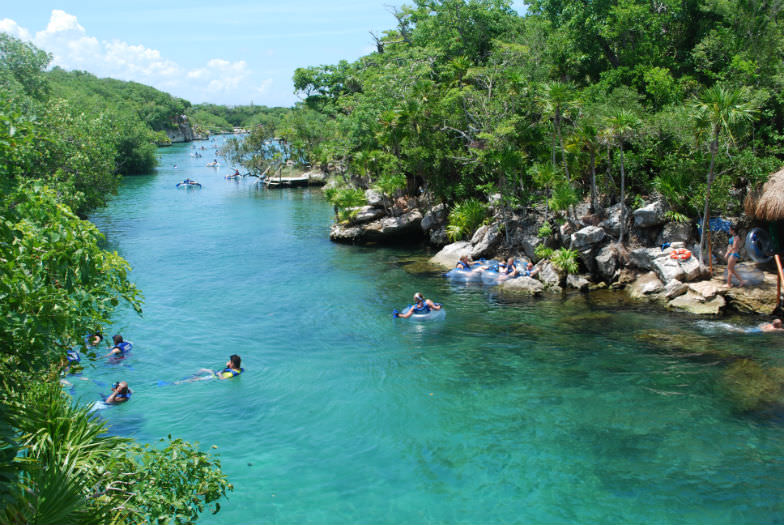 Xel-Ha (Credit: Mimi Slawoff)
"This was easily my favorite place we visited and I will never forget this experience. One of my friends, who visited the same year, still reminisces with me about how unbelievable this place is," says Michael. Rated one of Mexico's "13 Natural Wonders" this 210-acre natural aquarium and tropical jungle park is magical. The kids swung on ropes over water holes, jumped off a cliff into a river and walked along a floating bridge. We snorkeled in waterways and floated on inner tubes under a canopy of mangroves and alongside live fiery red crabs that looked like props from a Disney attraction. Activities and meals are part of the all-inclusive admission.
Xplore
This adventure park features 13 zip lines crossing a jungle, amphibious all-terrain vehicles and kayaking. "This is an exhilarating way to explore the region. Be prepared for lots of walking, but also lots of adventure and fun! You could probably visit this place half a dozen times and never have the same experience," says Michael. We certainly got a workout climbing steep steps to reach zip line towers but it was worth the views and swinging through waterfalls. Driving the all-terrain vehicles was a blast. Although Michael didn't meet the minimum age of 18 to drive he enjoyed our wild, bumpy ride along rutted, puddle-filled jungle roads.
(MORE: Find great deals on kid-friendly resorts and hotels in the Yucatan Peninsula.)
Playa del Carmen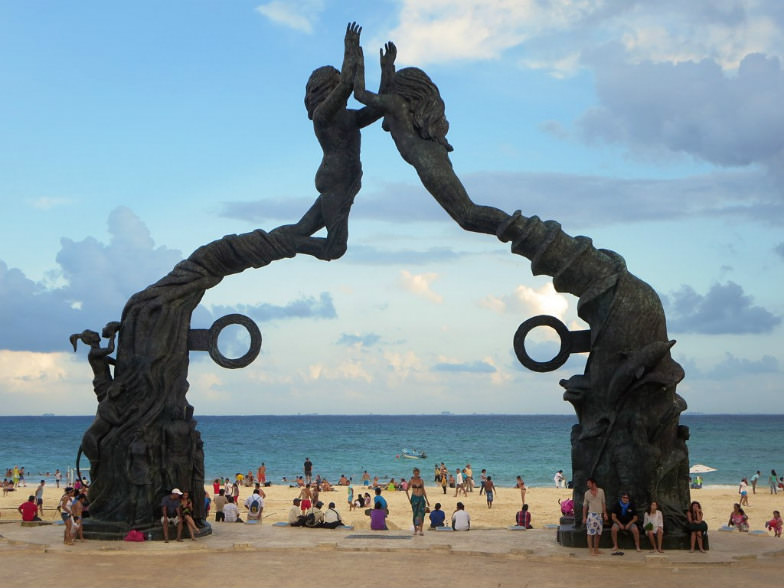 Playa del Carmen (Flickr: David Stanley)
Popular with tourists, the outdoor shopping center has something for everyone. Michael bought a soccer jersey for $40 and we ate ice cream at Ah Cacao, known for fine coffees and chocolates. "This is a fun place to spend some time and enjoy music and a festive scene," says Michael.
Mimi Slawoff, a Los Angeles-based journalist, contributed this to MiniTime.