White water rafting rapids for all ages
By Camille Miller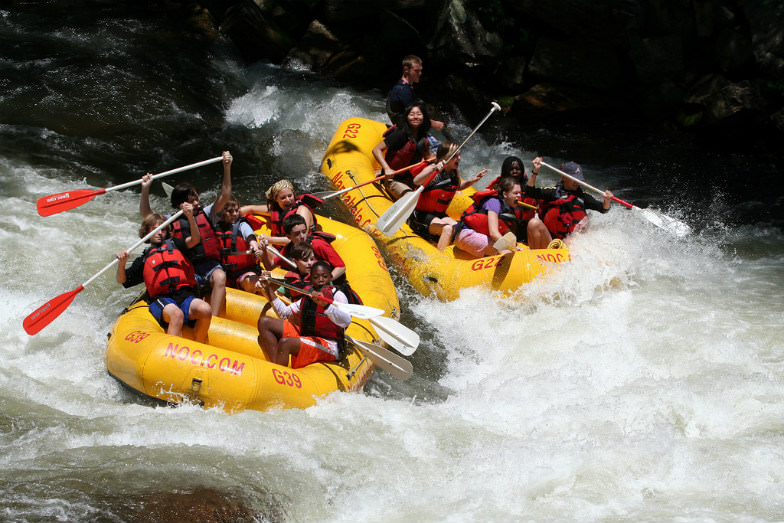 Rafting on the Nantahala River in North Carolina (Flickr: anoldent)
Prepare to get wet! Even the most hesitant of whitewater rafting beginners will be wishing for more waves, more spray, and more fun at the end of one of these 7 family-friendly whitewater trips. The only thing you need to bring is a sense of adventure!
Snake River (Jackson, Wyoming)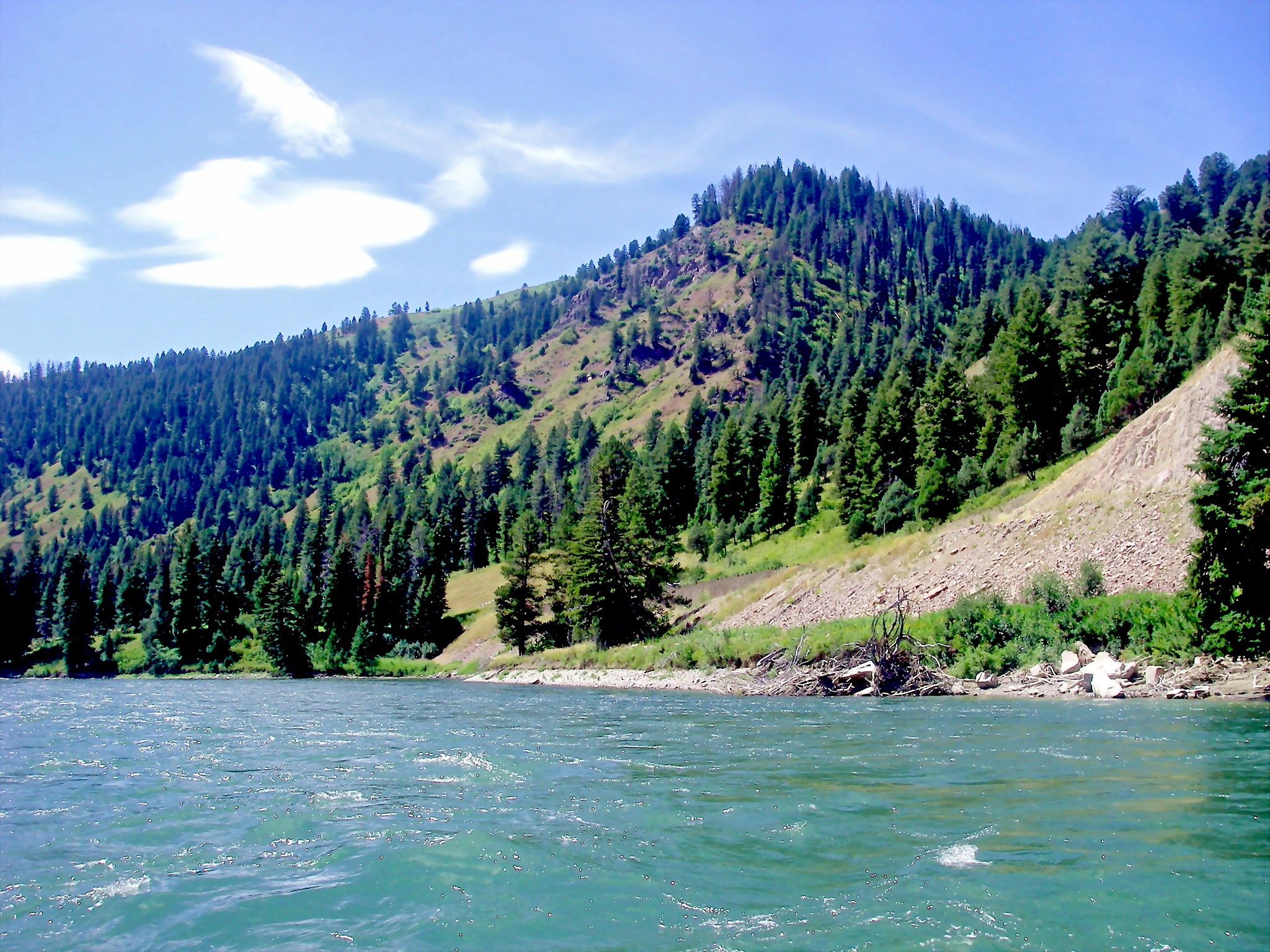 Snake River in Jackson, Wyoming (Flickr: Al_HikesAZ)
Whitewater rafts have been floating down the Snake River for over 40 years. Cram as many generations as you can fit into this trip, because the thrills of the river and the spectacular landscape are the perfect setting for making memories together. Even if this is your family's first time navigating rapids, you'll find the trip comfortable, safe, and unforgettable.
Try: Dave Hansen Whitewater and Scenic River Trips (225 W Broadway, Jackson, WY / 800-732-6295 / Minimum age: 6 / Rapids: Class II-III)
(MORE: Find kid-friendly hotels in Jackson, Wyoming.)
Nantahala River (Bryson City, North Carolina)
Take a charming train ride from Bryson City through the Great Smoky Mountains to your entry point at Nantahala Gorge. Once on the water, be prepared for a thrilling ride through gorgeous country and fast rapids. The trip includes one of the nation's most popular rapids, the Nantahala Falls, a Class III rapid. Since the water can be chilly, especially on a cooler day, consider renting wet suits for everyone at $7 each from the Outdoor Center Campus.
Try: Nantahala Outdoor Center (13077 W Hwy 19, Bryson City, NC / 800-232-7238 / Minimum age: 4 / Rapids: Class II-III)
Colorado River (Glenwood Springs, Colorado)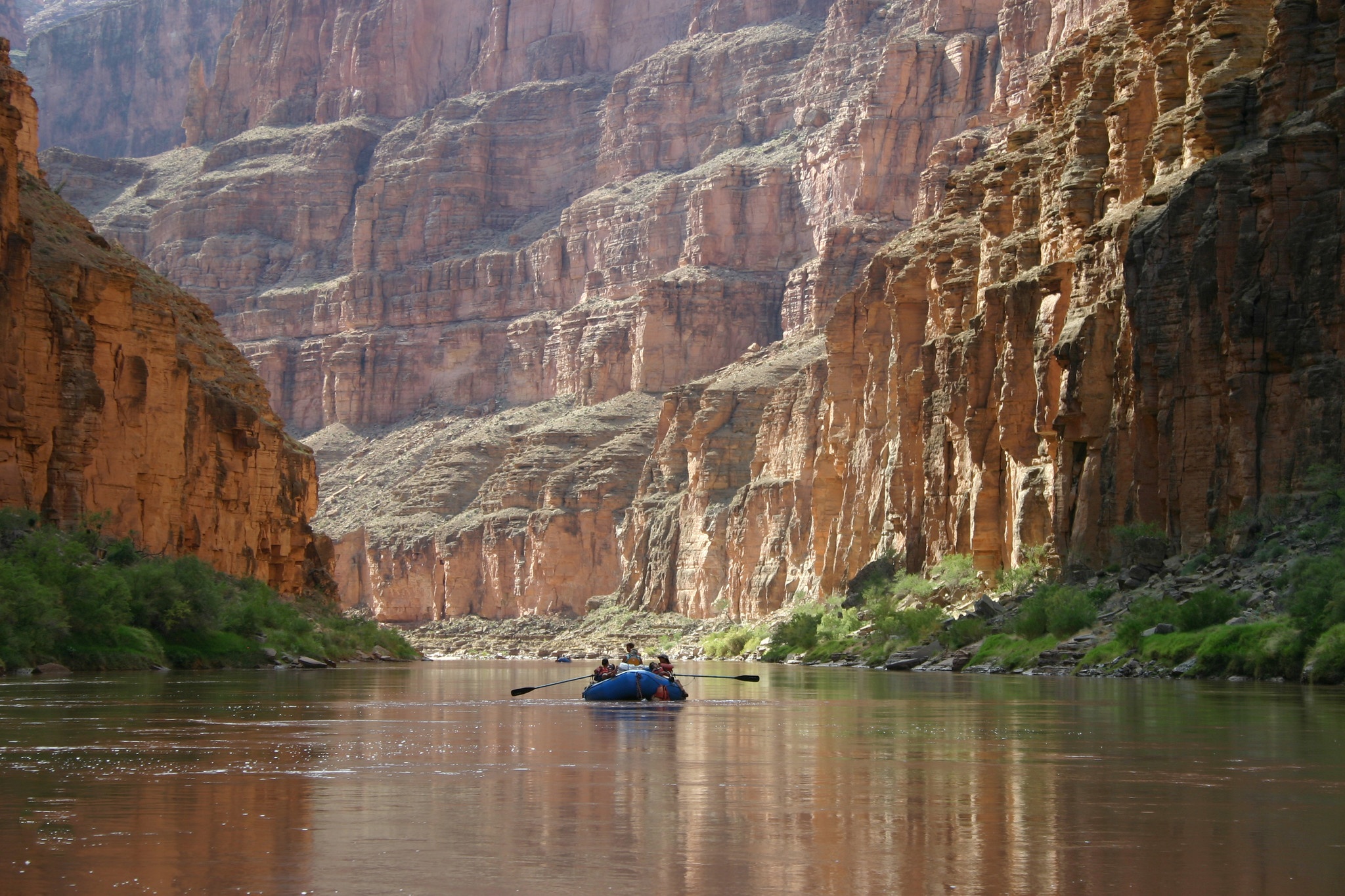 River rafting down the Colorado River in Colorado (Flickr: Grand Canyon NPS)
Enjoy the Colorado River without getting soaked, as expert guides navigate these Class II rapids. Rapids can rise to Class III during the spring thaw in June. This mild scenic floating trip will have children of every age smiling ear to ear, and families typically herald a whitewater rafting adventure in Colorado as the highlight of the trip.
Try: Whitewater Rafting, LLC (2000 Devereux Rd, Glenwood Springs, CO / 970-945-8477 / Minimum age: 2 / Rapids: Class II-III)
(MORE: Find kid-friendly hotels in Glenwood Springs, Colorado.)
Rogue River (Gold Beach, Oregon)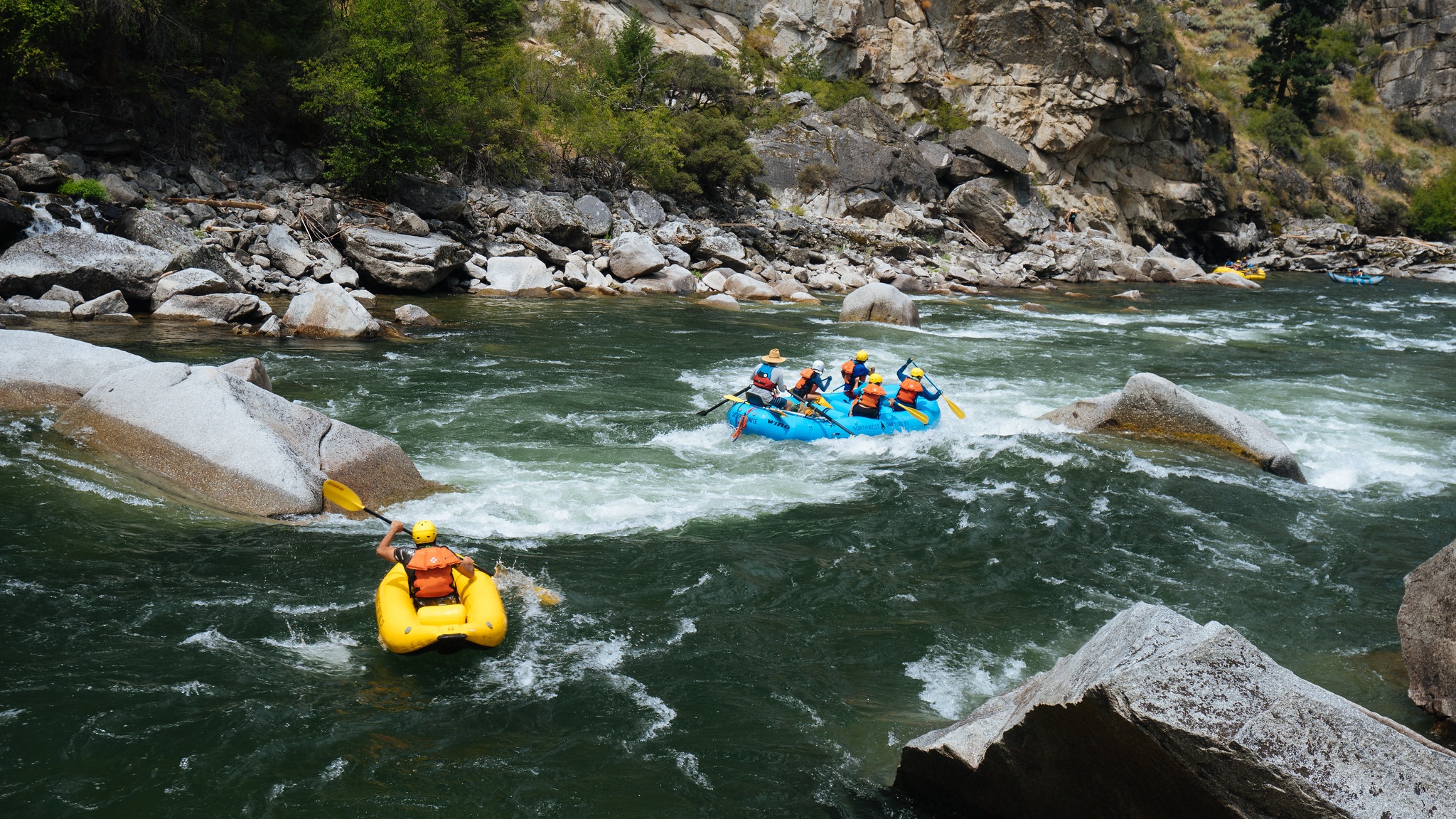 Rafting and kayaking down Rogue River in Oregon (Flickr: Zachary Collier)
If you'd like a fast trip on a river without having to worry about infants, or getting your feet wet, consider a jet boat tour on the lower Rogue River in Oregon. These jet boats place you well above the water line, and the guides provide ample entertainment and educational opportunities as you glide through the wilderness and Pacific Coastal estuary. There are multiple places to stop and eat – we recommend you try the BBQ at Cougar Lane.
Try: Jerry's Rogue Jets (29985 Harbor Way, Gold Beach, OR / 800-451-3645 / No minimum age, children 3 and under free / Rapids: Class II-III)
Lehigh River Gorge (Weatherly, Pennsylvania)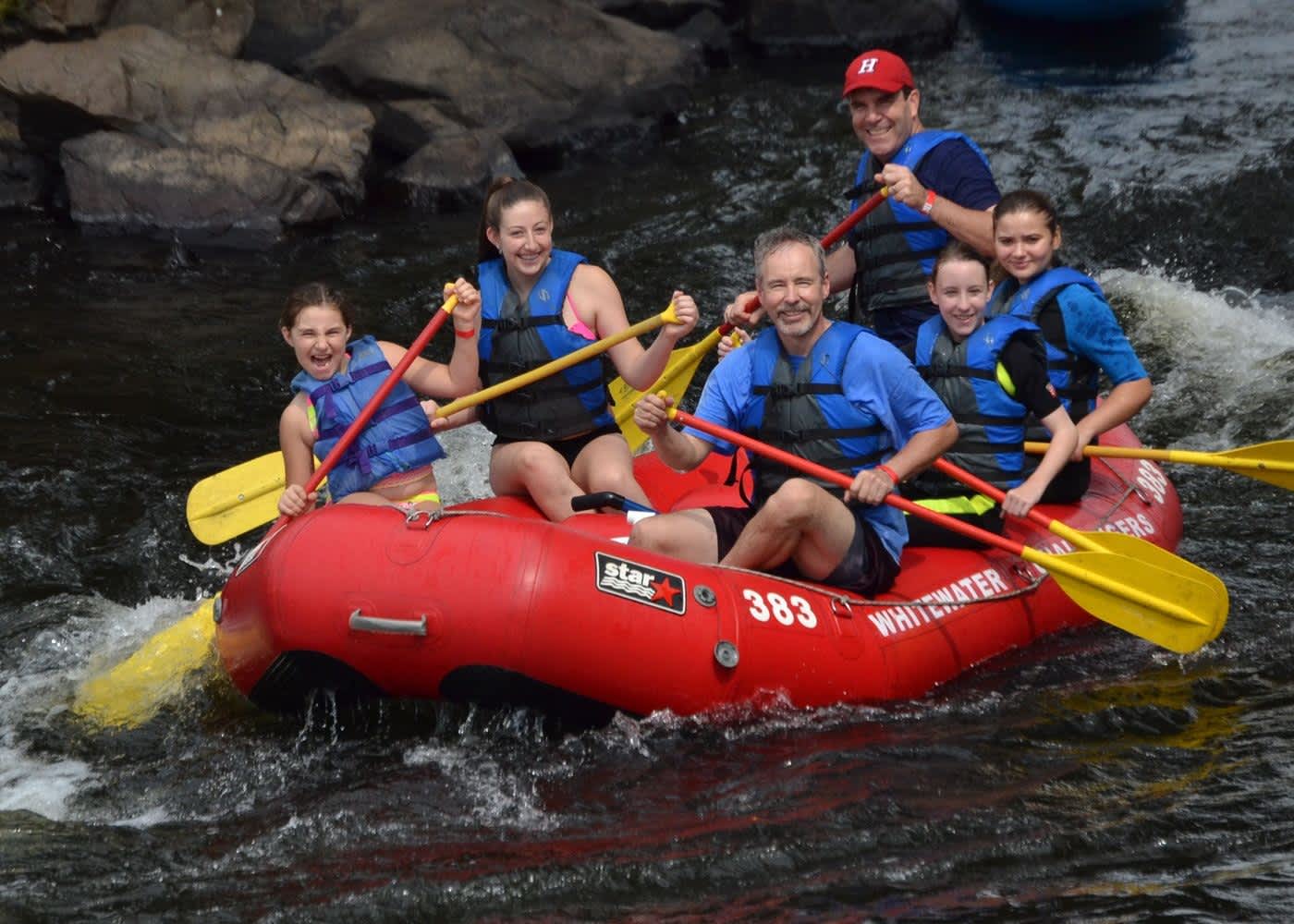 Rafting with Whitewater Challengers in Pennsylvania (Whitewater Challengers)
In Pennsylvania's Poconos, you'll find not only white water rafting for the whole family, but additional opportunities to camp, fly down a zip-line, or play a game of paintball. The rapids themselves are highest on Saturdays, when the dam has a release scheduled so be sure to rent a wetsuit if getting soaked is in your agenda. Plan a whole weekend, or even a week to take in all the thrills in this part of the country.
Try: Whitewater Challengers (288 North Stagecoach Road, Weatherly, PA / 800-443-7238 / Minimum age: 5 / Rapids: Class II-III)
Nolichucky River (Erwin, Tennessee)
The Nolichucky River courses through the deepest ravine in the Eastern United States, so throughout your three-hour trip, you will be bordered on all sides with lush green forest sharply sloping into the water. The flow of the river is controlled by the power plant upstream, so the rapids are predictable and easy to navigate. If your family members desire more of a challenge, you can rent inflatable kayaks and make the trip as your own guide. The water temperature is in the 50s year-round, and you'll very likely get wet, so plan to rent a wetsuit.
Try: NOC – Nolichucky (4 Jones Branch Rd, Erwin, TN / 828-366-7502 / Minimum age: 4 / Rapids: Class II-IV)
Middle Fork River (Glacier National Park, Montana)
No two days are the same on the Middle Fork River in Glacier National Park. You can fly, hike, or ride out to your launching, and then spend as much as four days floating through the wilderness with an experienced guide. You'll learn fascinating facts about the Park, see plenty of gorgeous scenery, and have multiple trout fishing opportunities along the way.
Try: Glacier Raft Company (Going-To-The-Sun Rd, West Glacier, MT / 406-888-5454 / Minimum age: 5 / Rapids: Class III-IV)
Camille Miller contributed this to MiniTime.