Where the entire family can ring in 2014 together
By Katrina Brown Hunt on Dec 30, 2013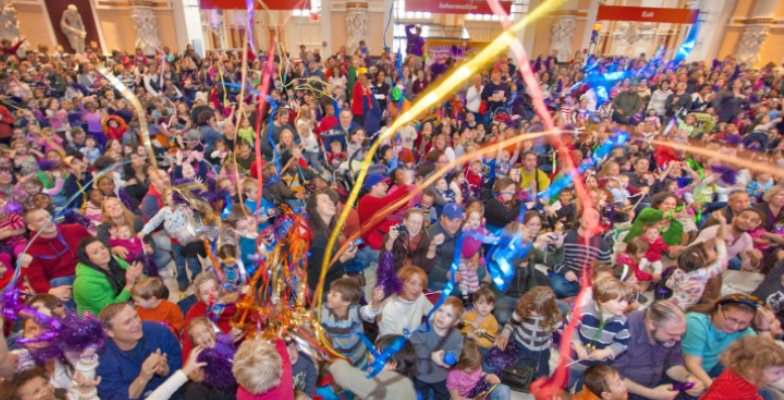 Please Touch Museum, Philadelphia
Ringing in the new year with the kids doesn't have to mean navigating through massive crowds and keeping everyone awake until half-past-meltdown.
Thanks to cities such as Boston, which introduced its all-ages-friendly First Night back in 1975, many municipalities—and sometimes children's museums—around the country are throwing kid-friendly parties that re-create midnight fun around dinnertime, or even as early as noon.
The best family festivities feature fireworks, confetti, live music and plenty of silliness—and are often inexpensive or even free. Here are some of the most family-friendly New Year's Eve blowouts around the nation:
Kids' New Year's Eve Countdown at Franklin Square
Where: Philadelphia, Pennsylvania Why: Because this historic square in Philly's Old City is putting on a G-rated New Year's party, where families can play mini golf, do arts and crafts, ride a carousel, and watch the Franklin Square fountain's illuminating Electrical Spectacle Holiday Light Show. As a bonus, the square offers a good view of the Penn's Landing fireworks at 6pm. A few blocks away, at the Betsy Ross House, you can celebrate the seamstress' 262nd birthday all day with crafts and free cake from 11am until 4pm. And over at the Please Touch Museum, little ones can celebrate Noon Year at midday with lots of confetti and fanfare.
Beach Ball Drop
Where: Panama City, Florida Why: Because this Florida panhandle beach town answers Times Square's glittering ball with its own 800-pound, LED-lit beach ball that will drop 100 feet from the sky. Starting at 5:30pm, the boardwalk will feature bounce houses, street performers, live music, and an 8pm balloon drop and fireworks display, as well as the midnight edition with the big ball.
First Night Boston
Paul Robicheau/First Night Boston
Where: Boston, Massachusetts Why: Because Beantown is the granddaddy of First Night fun and has been holding its all-ages celebration since 1975. Many events ask that you wear a pre-paid First Night button ($10 for ages 4 and up). This year, Hynes Convention Center is a hub for many kid-friendly activities, such as circus-arts workshops, magic shows, a concert by Dan Zanes, and a parade. At 6pm The Skating Club of Boston will put on a free show on Frog Pond in Boston Common, and you can watch a short fireworks display over the Common's ballfield at 7pm, well before the big midnight fireworks over Boston Harbor.
(MORE: View a family trip itinerary: 3 days in Boston with kids.)
Mt. Olive New Year's Celebration
Where: Mt. Olive, North Carolina Why: Because this North Carolina town, about an hour from Raleigh, is home to the Mt. Olive Pickle Company, whose address, naturally, is on the corner of Cucumber and Vine. For 15 years now, the company has rung in the new year at 7pm with a sparkling three-foot pickle, which is lowered from a flagpole into a pickling tank. There will be live music, including bagpipes, as well as refreshments (one guess which food is included). "Get here early," the company's web site urges. "The whole thing's over at 7:05."
Hershey New Year's
Where: Hershey, Pennsylvania Why: Because this New Year's Eve party takes place on the town's Chocolate Avenue, near the Hershey Story Museum. Midnights from different time zones are observed through the day, and the local version of the big ball is a giant Hershey's Kiss that rises from the earth. Highlights include scavenger hunts and group stompings on giant sheets of bubble wrap. As the evening goes on there are concerts, with the pre-teen-magnet band R5 headlining at 10:30pm.
(MORE: Find a kid-friendly hotel in Hershey.)
Noon Year's Eve at the Children's Museum of Denver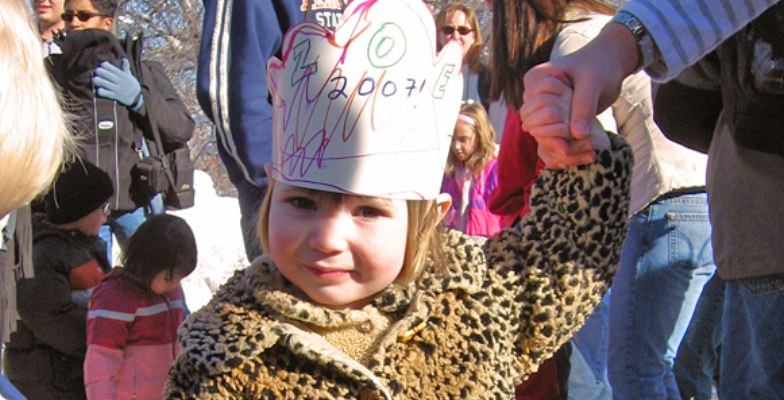 Denver Children's Museum
Where: Denver, Colorado Why: Because Denver's hands-on kids' museum by the South Platte River drops its ball every hour on the hour between 10 am and 3 pm, complemented by plenty of confetti, art stations, stompable bubble wrap, mini train rides, and storytimes from Lars the Polar Bear.
New Year's Kids Countdown at the Louisiana Children's Museum
Where: New Orleans, Louisiana Why: Because before the Crescent City party crowd takes to the streets, this children's museum in NOLA's Warehouse Museum District offers its own party from 9:30am until 2pm, with its midnight-moment celebration happening at noon. Kids can create noisemakers and party hats, release balloons, listen to a brass band and count down with help from Sesame Street's The Count (who, no doubt, blends in well in New Orleans).
Noontime New Year at Port Discovery
Where: Baltimore, Maryland Why: Because this children's museum in Baltimore is making this year's Noontime New Year a "royal masquerade," inviting kids to come dressed as kings, queens, knights, or jokers. They can create wands and masks, or try jousting, catapulting, and royal bowling, while enjoying live music and toasting the New Year with juice and cookies.
Katrina Brown Hunt contributed this to www.MiniTime.com.