Unique stays with kids
By Mimi Slawoff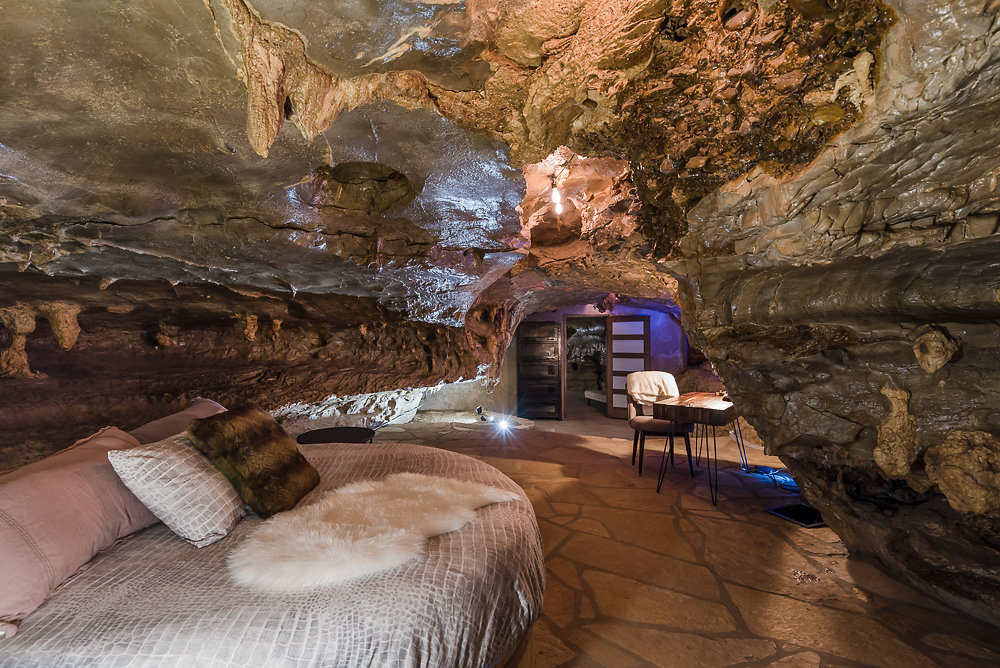 The Beckham Creek Cave is among the many unusual hotels that offer family-friendly unique stays. (Courtesy Beckham Creek Cave)
Imagine the expression on your kids' faces when they see they'll be sleeping in a treehouse or cave. Or how about a haunted floating hotel or a train that doesn't travel? These are among the many unusual hotels that offer family-friendly unique stays and are destinations in themselves.
Much more than a place to sleep, wacky hotels have themed activities as well as interesting stories to tell. Each of the following 8 hotels is unique in style and location.
(MORE: Kids Want to Stay Here! Best Themed Hotel Rooms in the US)
Red Caboose Motel & Restaurant, Ronks, PA
Instead of traveling by train, spend a few nights in your private caboose. Family-friendly unique stays at the Red Caboose Motel mean 38 decorated cabooses, a baggage car and a mail car. Sold as surplus from the Pennsylvania Railroad in 1969, the cars were repurposed as unusual hotels. These train-themed cars accommodate small to large families with private bathrooms, flat screen TVs, refrigerators and more.
The onsite restaurant serves three meals and offers a Little Engineers menu. Activities include riding a trackless train, Amish buggy rides, a petting zoo, and seasonal entertainment.
Queen Mary, Long Beach, CA
Among the most elegant unusual hotels, the Queen Mary was the grandest ocean liner in the 1930s. Today, the Queen Mary is a floating hotel and special events venue. The ship's 346 original first-class staterooms and nine suites are situated on three decks. No two rooms are alike. The two-bedroom family stateroom is ideal for family-friendly unique stays.
Learn about her fascinating past as a luxury liner turned WWII troopship on historical tours. Find out about paranormal activities on Haunted Encounters tours.
Lake Havasu Houseboats, AZ
For a private floating hotel, consider a houseboat. Year-round sunshine makes Lake Havasu a great spot for a family vacation. You'll get a quick course on how to captain your own boat to cozy coves on Lake Havasu. Or just stay docked while soaking up rays on the top deck of your luxury houseboat.
Cast a line for bass and catfish for your dinner. At night, sit in your private Jacuzzi for stargazing. Be sure to check out the authentic London Bridge. Formerly spanning the River Thames in London, the bridge was dismantled in 1967 and relocated to Arizona.
Out 'n' About Treesort, Cave Junction, OR
Live out childhood fantasies with family-friendly unique stays high in the trees. Climb steps and walk along suspension bridges to your cozy treehouse. Varying in size and amenities, these unusual hotels are situated near the Siskiyou National Forest. From 12 – 47 feet high, each treehouse is unique. The Swiss Family Complex is actually two separate treehouses connected by a swinging bridge. Parents access their treehouse via a ladder and trap door.
Activities include zip lining and evening campfires. The owners also operate the Morgan Horse breeding ranch and riding horse stable.
Dog Bark Park Inn, Cottonwood, ID
Some family-friendly unique stays stand out more than others. It's hard to miss this roadside beagle-shaped B&B built and run by wood-carving artists Dennis Sullivan and Frances Conklin. After checking in, climb stairs into the dog's belly housing a one bedroom. A loft is located in the beagle's snout.
The rooms are stuffed with canine-themed toys and books. For treats, a continental breakfast is included in your stay. Kids are welcome to run around the dog park. Dogs (for a fee) are welcome too.
Wigwam Motel, CA, AZ, and KY
The Wigwam Motels are more than unusual hotels. They're historic landmarks, two villages situated on Route 66. No roughing it at these family-friendly unique stays in tipis. The California village features 19, 30-foot-tall tipis equipped with beds, TVs and bathrooms. In Arizona, 15 furnished tipis surround the chief (main office).Vintage automobiles are permanently parked throughout the property. In Kentucky, the wigwam village with 15 tipis is located near Mammoth Cave.
BBQ grills and swimming pool round out family fun.
Beckham Creek Cave, Arkansas Ozarks
Unusual hotels don't often feature a natural cavern decked out with modern luxuries. Cavernous ceilings, rock walls, and a waterfall in the main room make this one of the coolest family-friendly unique stays. There's even a state-of-the-art kitchen with high-end appliances.
Find your way out for hiking, canoeing and fishing.
(MORE: 5 Cool Caves for Young Explorers)
Hawaiian Journeys Yurts, Hawaii Island
For remote family-friendly unique stays consider these eco-friendly yurts. Situated at 3,000 feet on the southern slope of Mauna Loa, the yurts are fully furnished. These unusual hotels sleep up to six people and have refrigerators, microwaves and private bathrooms.
It's about a 45-minute drive to Hawaii Volcanoes National Park.
Mimi Slawoff of Planetfamilytravel contributed this to MiniTime. She is a Los Angeles-based journalist and a seasoned family travel expert who explores the world with her three children and writes about their journeys.