25 Reasons to Visit New Orleans
By Suzanne Rowan Kelleher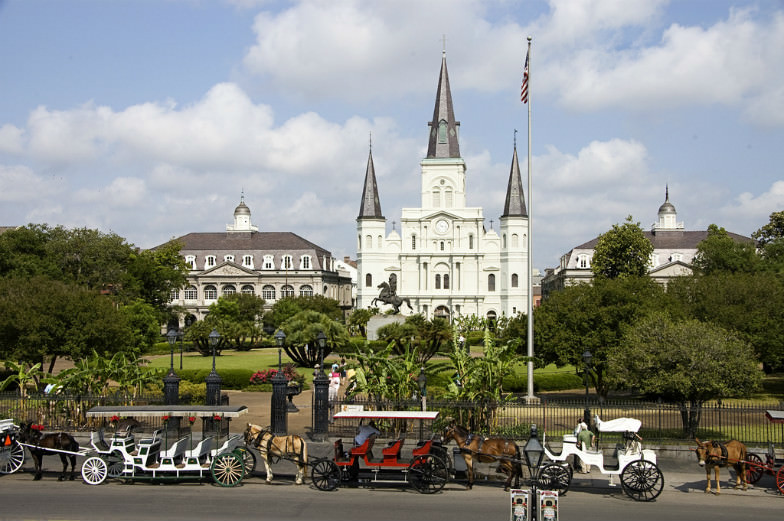 New Orleans, LA (Flickr: Britt Reints)
Celebrations start up at the drop of a hat. Every dwelling has its own ghost story. And alligators live in the swamp next door. Why do kids love New Orleans? Because it is a city unlike anywhere else. In a country where so many of our urban areas look and feel oh-so-yawn-similar, New Orleans is a one-of-a-kind treasure box filled with distinct music, exotic food, and colorful architecture. Thankfully, the historic splendor of New Orleans—the cast-iron galleries of the French Quarter, the elegant Antebellum mansions and oak-lined boulevards of the Garden District—came through Hurricane Katrina with little or no damage. Perhaps most of all, kids love New Orleans because there's so much their families can do here that they can't do anywhere else.
(HOTEL OFFERS FOR MOM & DADS: Offer_Spirited flavors come alive when you mix New Orleans with Marriott Hotels! *Code ZJL (Valid through 12/07/17, SEE LANDING PAGE FOR TERMS & CONDITIONS))
1. The perfect day begins at Café du Monde, not your ordinary tourist magnet. In business since 1862, this world-famous institution is revered for its beignets (pronounced ben-yay), light-as-air squares of fried dough dusted lavishly with confectioner's sugar. Priced at three for $1.35, beignets are this town's guilty pleasure. Yes, they really are as scrumptious as everybody says (and twice as messy, so get lots of napkins for little fingers). Be there first thing in the morning to nab an outside table overlooking Jackson Square, the classic New Orleans postcard with its medley of street performers, tarot readers, musicians, and artists selling their works. Ask your white-jacketed waiter to bring you some of the famous chicory-laced café au lait, then sit back with the kids and indulge in prime peoplewatching. On your way out, pick up a few packages of beignet mix (a bargain at $3.36 each) so you can recapture a bit of New Orleans when you get home. (800 Decatur St; 504/525-4544; open 24/7; cash only)
2. More than 1,300 creatures live at the Audubon Zoo, including a Komodo dragon, a herd of playful sea lions, a pair of white Bengal tigers, and a family of extremely rare white alligators. (Tip: Be at the swamp at 3pm sharp on Wednesdays and Saturdays, gator feeding time.) Little kids will love touring the zoo aboard the Swamp Train, while big kids won't be able to get enough of the high-tech Safari Simulator ride, which makes you feel like you're on a real wildlife expedition. Check out the schedule of terrific special events, including sleepovers, kids' nights out, and breakfasts where kids get hands-on time with favorite animals. (6500 Magazine St; 800/774-7394; closed Mondays; Admission: $17.50/adult, $12/child 2-12 years, free for under-2s)
3. Folks have gotten around New Orleans by streetcar since 1835, first in steam-powered cars and later in horse-drawn ones. Kids get a kick out of the lovely wooden electric cars that have been clickety-clacking since 1923. At $1.25 a ride, streetcars are a bargain slice of history and one of the most fun ways to get from A to B. (Tip: Buy a one-day Jazzy Pass for $3 or a three-day pass for $9.) The most useful line for visitors is the Riverfront line, which travels a two-mile route along the Mississippi River, making stops at the French Quarter (Esplanade Avenue), the French Market, Jackson Brewery, Canal Place, the World Trade Center, the Riverwalk, the Hilton Hotel, and the New Orleans Convention Center.
4. The belle of the French Quarter since 1886, the 655-room Monteleone Hotel still turns heads with its exquisite baroque facade, liveried doormen, dazzling chandeliers, and rumored resident ghosts. Rooms are large and luxe, with the kind of sumptuous fabrics and lovely furnishings that convey an Old-World gentility. Kids will love the heated rooftop pool and revolving piano bar in the lobby. You can catch live jazz every night in the lounge, and there are three restaurants, a gym, and a full-service spa. For $45 per child, you can upgrade to the "All About Kids" package, which includes a disposable camera, coloring book, crayons and a deck of cards, plus admission to the Louisiana Children's Museum and either the Aquarium of the Americas or the Entergy IMAX Theatre. (214 Royal St; 504/523-3341; rooms $200-$375, occasional specials as low as $89)
5. One of the coolest things about New Orleans is its above-ground cemeteries, known as "cities of the dead." In an impressive display of urban planning, these cemeteries were indeed laid out like mini cities, with parallel streets running between the rows of lavish above-ground vaults and intricately-carved stone tombs in which wealthy citizens were laid to rest. Anne Rice set much of her Vampire Chronicles series within the walled Lafayette No. 1 cemetery, and key scenes from the film version of "Interview With a Vampire" capture its spooky beauty. The best way to explore is with a guided cemetery tour by Save Our Cemeteries. (Tour departs from the Washington Avenue Gate; $20/adult, free for kids under 12; no reservation necessary)
6. If you've never been to a Cajun hoedown, here's your chance to put that right. Get the whole family into comfy shoes and head for Michaul's Live Cajun Music Restaurant, where everyone gets free dance lessons. The dining room is suitably rustic (think wooden floors, picnic tables, checked tablecloths) and the menu features all the usual suspects—gumbo, jambalaya, fried chicken, étouffée, and shellfish done every which way. Not that you come here for the food. The minute the band starts to play, the dance floor fills and the foot stompin' begins. Don't be surprised if one of the resident dance instructors pulls you onto the floor to teach you the two-step. Let go. Have fun. This place promises "the most fun on two feet" and delivers. (840 St. Charles Ave; 504/522-5517; reservations advised) *UPDATE: Restaurant is PERMANENTLY CLOSED.
7. Little kids can feed their big imaginations at the Louisiana Children's Museum, a 30,000-square-foot interactive wonderland with over 100 hands-on exhibits. Junior can pilot a tugboat down the Mississippi, be the anchorperson in a TV studio, go rockclimbing, and do the family's grocery shopping—all before lunchtime. The giant bubble-making station is a hit with all ages, and the under-4 crowd has a dedicated play area all to itself. (420 Julia St; 504/586-0725; Admission: $8.50/person)
8. Hungry kids can lead to high food bills. Get the ultimate cheap lunch at Johnny's Po' Boys, an eatery whose interior is as humble and scrappy as the sandwich itself. The po'boy is New Orleans's answer to the submarine or hoagie, served on French bread with the filling of your choice. The classic po'boy is made with fried oysters or shrimp, but favorite deli foods—roast beef, ham, meatballs—also have strong followings. Nobody does po'boys like Johnny's. If you ask for your po'boy "dressed," it will come with lettuce, tomatoes, pickles, and mayonnaise. (511 St. Louis St; 504/524-8129; open noon – 4:30 pm daily; cash only)
(HOTEL OFFERS FOR FAMILIES: Offer_FREE Breakfast (Residence Inn, Fairfield Inn, SpringHill Suites))
9. Strings of garlic? Dried bats? Dancers entwined with live snakes? You may think the New Orleans Historic Voodoo Museum sounds creepy, but face facts: Your kids will think it's the coolest place ever. Exhibits and artifacts help explain how this African religion came to New Orleans, and you get some insights to Marie Lavaux, the so-called Voodoo Queen, who was also a devout, church-going Catholic. Fun souvenir alert: The gift shop sells gris-gris potions and voodoo dolls. (724 Dumaine St; 504/680-0128; Admission: $7/person, $3.50/child under 12)
10. The city that gave the world Louis Armstrong and Jelly Roll Morton is a tremendous place to hear live music, as long as you're over the legal drinking age. For a kid-friendly jazz venue, head over to Preservation Hall, where the motto is "No smoking, drinking. All ages." Located three blocks from the Mississippi, this French Quarter haunt was built as a private residence in 1750, then reincarnated as a tavern, inn, photo studio, and art gallery before opening as a jazz hall in 1961. On any given night, the spartanly furnished room is thick with patrons who crowd together on wooden benches to hear veteran musicians in their 70s and 80s play New Orleans Jazz. For purists, this is as good as it gets. (726 St. Peter St; 504/522-2841; Admission: $30-$40/person)
11. Wish you could whip up a jambalaya like they do down in "Nawlins"? Learn from a local during a demo cooking class at Cookin' Cajun, a 25-year-old family-run gourmet foods business. You'll spend a leisurely two-hour lunch sampling a tasty three-course meal of Cajun and Creole dishes while you watch an expert chef prepare the dishes and offer cooking tips and techniques. At the end of the class, you'll receive printouts of every recipe plus a discount coupon to the Creole Delicacies shop. (1 Poydras St, Riverwalk, 3rd Floor; 504/523-6425; Class: $20/adult, $10/child 12 and under; reservations mandatory) *UPDATE: Cookin' Cajun has been reported as CLOSED.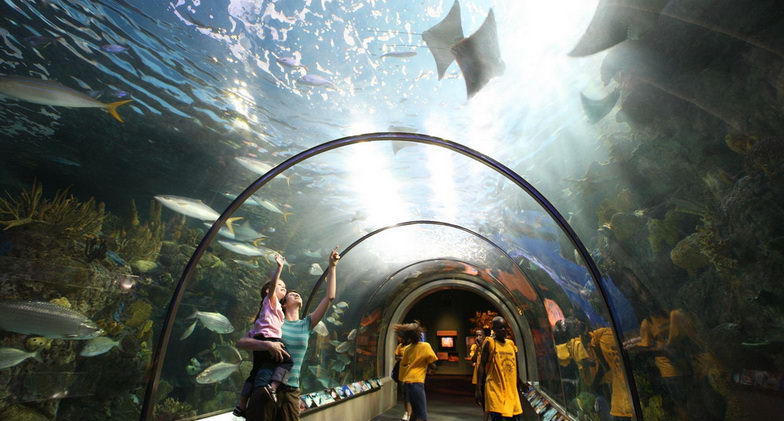 Audubon Aquarium of the Americas (Louisiana Travel)
12. True to its name, the top-notch Audubon Aquarium of the Americas showcases four major sealife habitats—the Amazon, the Caribbean, the Mississippi River, and the Gulf Coast. Prepared to be wowed at entering the Caribbean Reef through a clear, plexiglass tunnel, as jumbo stingrays and sharks swim overhead and all around. Nobody can resist the penguins and sea otters, and the hourly stage shows are excellent. Don't miss Adventure Island, a new action-packed interactive play zone with exhibits to crawl on, climb in, sit on and touch. The highlight is a 2,600-gallon touch pool where visitors can interact with the cownose rays. (Tip: Daily feeding times are 11:30am and 2:30pm) (1 Canal St; 504/581-4629; closed Mondays; Admission: $22.50/adult, $16.00/child 2-12 years, free for under 2)
13. Love parades? Get a behind-the-scenes look at what goes into the big daddy of them all at Mardi Gras World. Inside this enormous warehouse, thousands of parade props, ornate costumes, and giant parade floats are on view, including a 140-foot sea monster and a 240-foot riverboat. During the tour, you can watch artisans as they work on their creations for next year's big bash. But the most fun part is rummaging through the costume trunks and dressing up in the elaborate carnival outfits. (Tip: Don't forget your camera.) Getting there is half the fun (see number 14). (233 Newton St, Algiers; 504/362-8211; $19.95/adult, @15.95/student with college ID, $12.95/child 2-11 yrs, free for 2 and under)
(MORE: Bask in Luxury at These New Orleans Hotels for Families)
14. Who says nothing in life is free? Pedestrian passengers headed to Algiers pay nothing to ride on the Canal Street Ferry from the Central Business District across the Big Muddy. The 10-minute trip rewards with stupendous views of the Mississippi and New Orleans skyline. In Algiers, shuttle buses make the trip between the ferry dock and Mardi Gras World (see number 13), but it's more fun to go on foot. Take the pedestrian path from the ferry dock to the statue of hometown hero Louis Armstrong, and continue as it winds its way up Newton Street. Along the way, you can check out the lovingly-restored shotgun houses in this up-and-coming neighborhood. (Ferry dock located at Canal Street, next to aquarium; $2 for pedestrians; daily 6am-8:45pm, departs New Orleans on the quarter hour and three quarters hour, departs Algiers on the hour and half hour)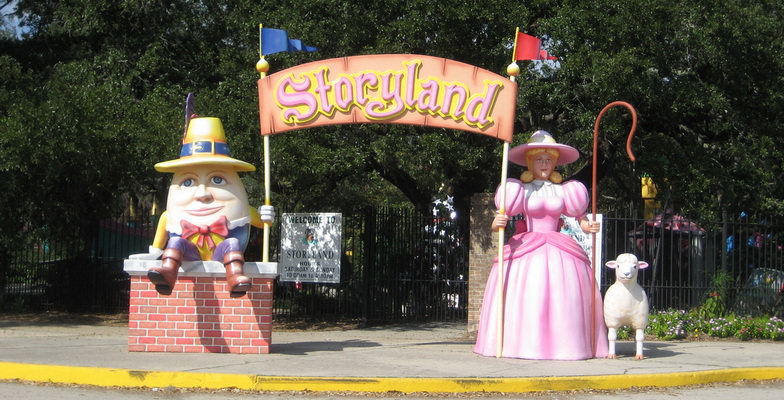 Storyland in New Orleans (Infrogmation)
15. Moss-draped oaks and lily ponds lend a beautiful backdrop to 1,300-acre City Park, where you'll find one of the most charming playgrounds in the country for small children. In Storyland, 26 beloved children's books come alive with life-size figures sculpted by this city's top Mardi Gras float makers. Kids can board Captain Hook's pirate ship, slide down a dragon's tail, climb into the mouth of a whale with Pinocchio, and roll down Jack & Jill's hill. Secret nooks, whimsical doors, and labyrinthine passageways double the fun. (Victory Ave; 504/482-4888; Open weekends only, 10am – 5pm; Admission is $4)
16. Touristy? Sure. Hokey? No doubt about it. And an absolute must if you have kids. A swamp tour is guaranteed to be the memory of your trip, especially the part when your guide lures gators to the boat with morsels of chicken. (Tip: Keep your hands in the boat. Seriously.) Swamp tours are a great way to experience Louisiana's cypress-studded wetlands and see native wildlife like egrets, turtles, and owls. (Westwego Swamp Adventures; 504/581-4501; Tour and transportation from New Orleans to swamp: $49/adult, $24/child 2-12)
17. Looking for the perfect souvenir for a fashionable Dad? Nothing conveys Southern style like a straw boater from Meyer the Hatter (120 St. Charles Ave; 504/525-1048), the South's largest and oldest hat store. Sam Meyer sold his first boater in 1894. These days, you'll find his grandson and great grandchildren behind the counter in their French Quarter shop, still selling their famous straw hats. (Tip: Southerners know to always handle a hat by the brim. Pinching the crown can break the straw.)
18. Central Grocery Company was established in 1906 and has one major claim to fame. It introduced New Orleans to the muffuletta, the overstuffed sandwich that begins with a 10-inch round loaf of Italian bread. After being stuffed with Italian meats and cheeses, its's then topped with a rich salad of marinated green olives. The crowded storefront in the French Quarter, just off the Mississippi River, is really more like an old-time Italian deli than a restaurant. Don't bother waiting for a seat in this always-crowded place; just grab your muffuletta and sit on a bench along the riverside. (923 Decatur St; 504/523-1620)
(MORE: Wonderful New Orleans Hotels That Are Easy on the Budget)
19. Kids who study World War II can have a hard time feeling connected to their great-grandparents' generation, but the outstanding National World War II Museum makes it all real. There are taped interviews with Holocaust survivors, propaganda posters, radio clips, short documentary films, and myriad personal artifacts from the war. The Higgins landing craft that Eisenhower credited with winning us the war on D-Day were manufactured in New Orleans, which is why the museum is located here. (925 Magazine St; 504/527-6012; closed Mondays; Admission: $23/adult, $14/child 5-12)
20. Every native son and daughter of New Orleans has an opinion about which candy shop makes the best pralines. These delectably crunchy, caramelly candies are fashioned out of pecans, cane sugar, butter and, sometimes, a touch of vanilla. Insist on buying yours from a shop where the workers make them by hand, and in plain view. Two top picks in the French Quarter are Leah's Candy Kitchen (714 St. Louis St; 504/523-5662) and Aunt Sally's Pralines (810 Decatur St, in the French Market; 504/524-3373)
21. If the darling pink-and-white cottage at 7523 Maple Street looks vaguely familiar, you may remember its star turn in an old Visa commercial. Saturday morning storytimes are famously fun at the Maple Street Book Shop, whose big white porch with the swing is often used for author appearances, poetry readings, and other literary lovefests. A parade of local storytellers, librarians, writers, teachers, and other creative folks tell tales, read novels, and sometimes lead sing-a-longs or the occasional crafty project. Everyone is always welcome, activities are always free of charge, and there's no need to book ahead. (7523 Maple St; 504/866-4916; Storytime Saturdays at 11:30 am)
22. If you hadn't noticed, oysters figure prominently on menus in New Orleans. The oldest oyster bar in the French Quarter got a makeover after Katrina, and now Acme Oyster House is better and brighter than ever. This is a really terrific place to come if your family likes oysters on the half shell. Service is rather matter-of-fact, but kids are made to feel welcome. Arrive mid-afternoon after the lunch crowd has cleared away. (724 Iberville St; 525-1157)
23. Give your kid a copy of Huck Finn and hop a ride on a true-blue Mississippi paddle wheeler. The Natchez is an authentic steamboat whose two-hour harbor cruise includes an onboard Calliope concert. (504/586-8777; $65/adult, $27/child 6-12; free for under-6s. Dinner/City combo : $106/adult, $49/child)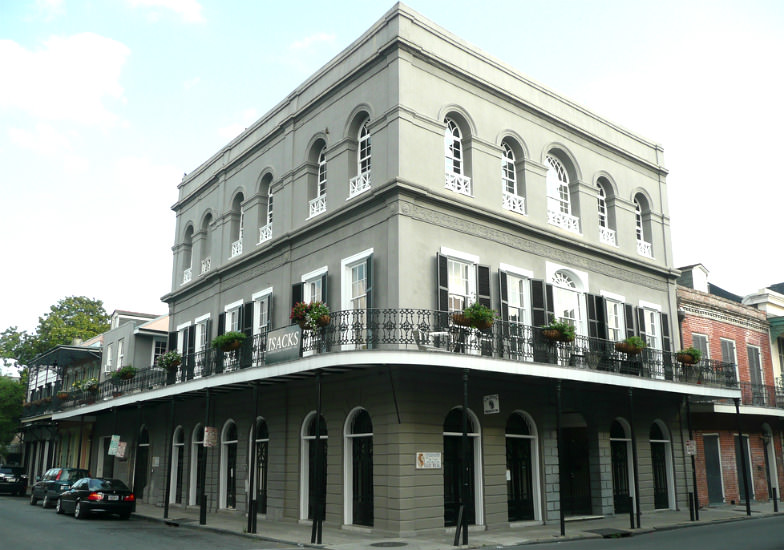 The LaLaurie Mansion (Flickr: Tom Bastin)
24. Does your kid love a good ghost story? Dare to stroll past the Lalaurie Mansion, the most haunted house in this ghoul-loving town. At this address lived Madame Delphine Lalaurie, a well-to-do, thrice-married socialite. In 1834, neighbors came to help put out a fire in the attic and discovered Lalaurie's sadistic treatment of her slaves. When an angry mob gathered, Lalaurie and her family fled to Europe. Locals say the house has been haunted ever since by ghostly figures who rattle chains and appear fleetingly in the windows. Supposedly, cameras mysteriously fail to work when pointed at this house. Try it for yourself. (1140 Royal St; not open to public)
25. Budding entomologists can barely contain their excitement. When the Audubon Insectarium opened in 2007, the 23,000-square-foot museum became the largest in the US devoted to the 900,000 known species of insects. Butterflies and lovebugs and spiders, oh my! (1 Canal St; 504/581-4629; closed Mondays; Admission: $16.50/adult, $12/child 2-12 years, free for under-2s)
Click to rate this post!
[Total:

0

Average:

0

]