Mexico with kids
By Michelle Rae Uy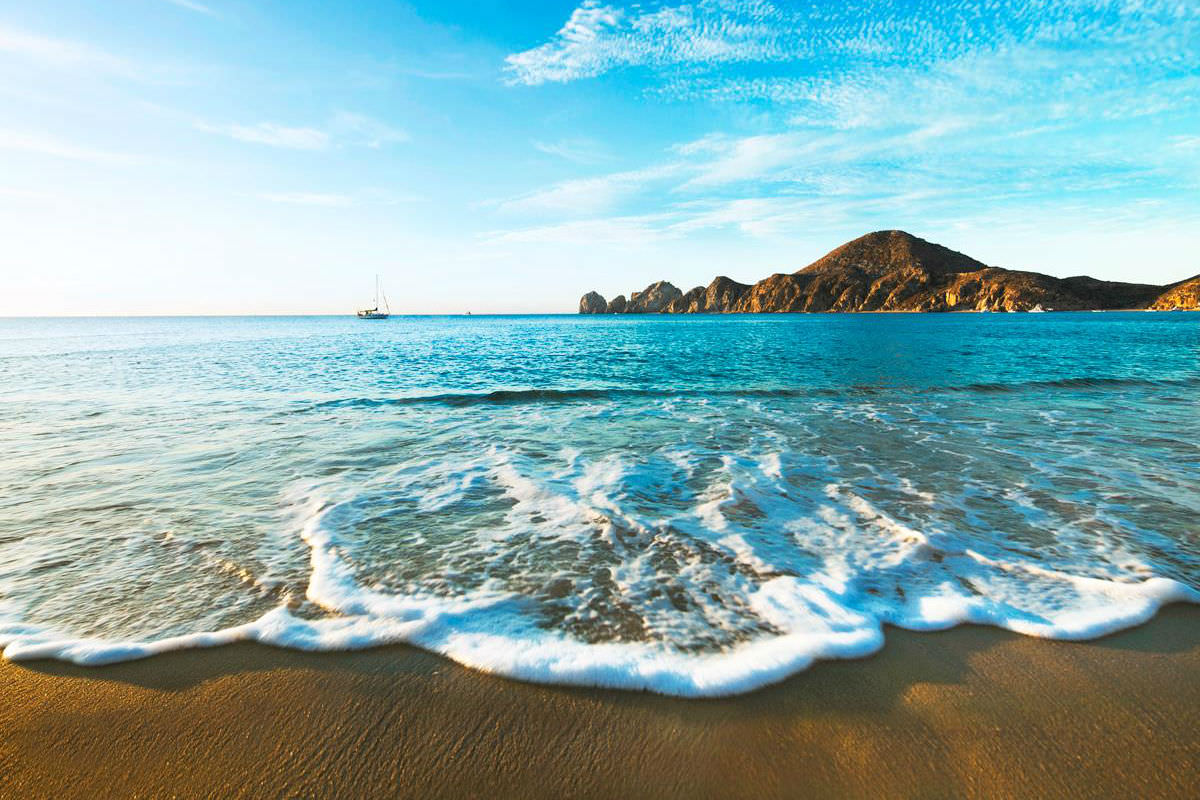 Sunny Cabo has some awesome swells for surfing. (Credit Los Cabos Tourism)
Mexico is an enormous country filled with natural treasures, quaint towns, miles of implausibly stunning coastline, and impressive ruins so numerous it's impossible to see all of them in a lifetime. With so many family-friendly attractions to visit, picking the perfect destination in Mexico to visit can be an arduous and overwhelming task. Whether you're avid surfers, aesthetes, culture vultures, epicures or aquaphiles, this guide might just help you pick the perfect destination in Mexico for your next family vacation.
(MORE: 16 Under the Radar Spots for Families in Mexico for 2016)
For Surfers and Whale Watchers: Los Cabos
Why: Cabo has long been a surfing mecca for enthusiasts thanks to its warm waters, major swells, small white-water waves for beginners, and the year round sunshine. Surf schools abound for those who want to learn, as well as rental shops, making it easy for visitors without gear to participate in the sport during their time there.
Another popular family-friendly activity the area is known for? Whale-watching, of course. Five or six species of whale make their way down here every year, allowing Los Cabos visitors plenty of opportunities to see these magnificent creatures. Many times, you can even see a pod from the freeway; but up close on a whale watching tour is the best way to experience them.
Where: Beloved surf breaks include left point break Monuments and the world famous Zippers; while not-so-crowded Shipwrecks is for the more adventurous as access takes driving a four-wheel drive. Playa Acapulquitoone and Cerritos are perfect for beginner surfers and kids. As far as whale-watching, the Sea of Cortez is your best bet. It is not only home to a large number of marine life—sea lions, Manta Rays, turtles, porpoises, Humboldt squid and the beautiful whale shark; it's also a sanctuary for whales.
Where to Stay: The highly-rated Bungalows Hotel is an affordable, family-friendly choice imbued with Mexican-inspired furnishings and vibrant colors. For a splurge, Las Ventanas al Paraiso has proven to be intoxicatingly stunning and offers 2-bedroom suites that come with daily plates of fresh fruit, a 24-hour Butler service and turndown service with aromatherapy.
For Epicures and Explorers: Puerto Vallarta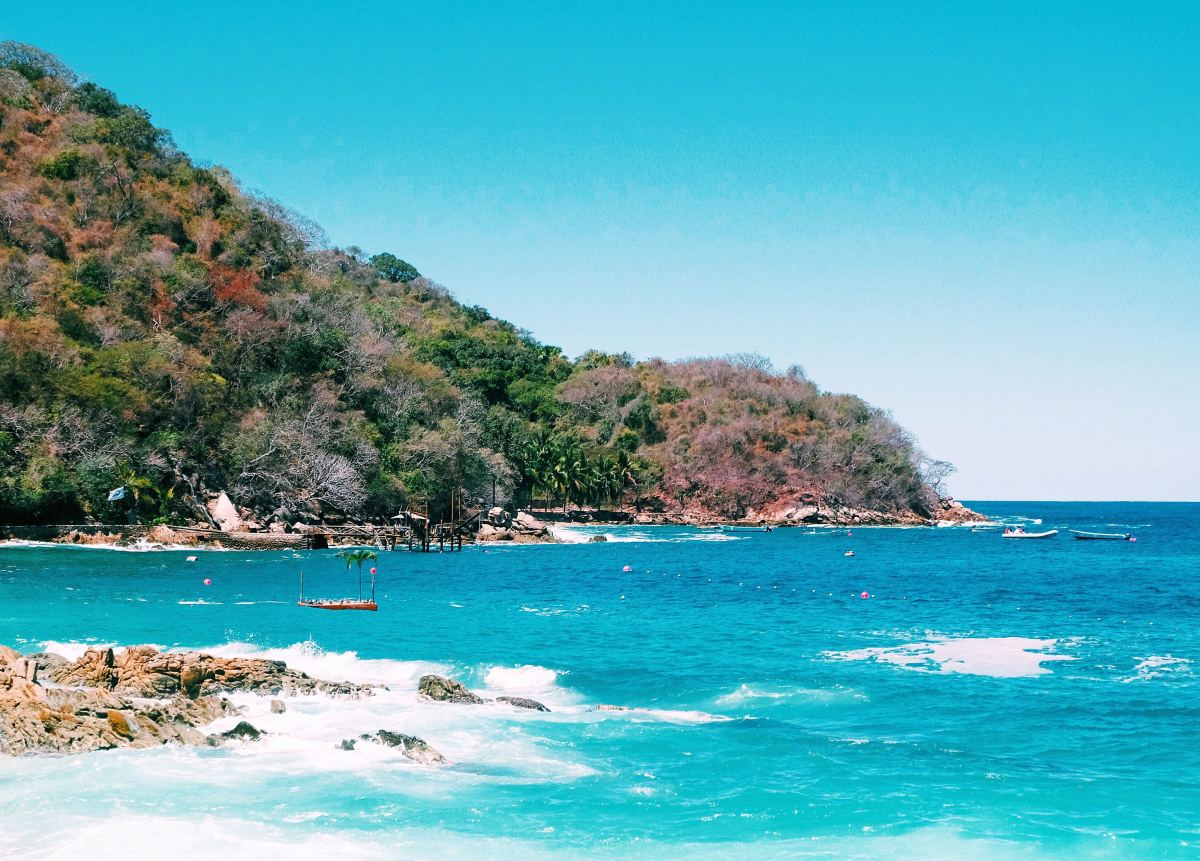 Las Casitas in Puerto Vallarta is a great spot for kids. (Photo: Michelle Rae Uy)
Why: Idyllic Puerto Vallarta is a haven for expats and known for its nightlife that lasts until 5 in the morning. But it's also famous for its flourishing culinary scene and the amazing kid-friendly adventures it offers families both on land and in the sparkling Banderas Bay. It's the perfect Mexico destination for foodie families who are also ravenous for adventure and explorations.
Where: Explore the small towns in the Sierra Madre Mountains through a tour company or head out into the massive bay and partake in water-related activities in places such as the legendary Marieta Islands where a secret beach awaits, very kid-friendly Las Casitas, or the small seaside village of Yelapa. To sample the cuisine, simply head to your hotel or resort's signature restaurant or visit the Malecon where a number of restaurants—like Si Senor, which offer seating under a canopy right on the beach—serve some of the most delicious dishes you'll ever have.
Where to Stay: For an all-inclusive vacation, Velas Vallarta is an affordable kid-friendly choice with its spacious suites, kid-friendly amenities and beautiful, tropical grounds with roaming peacocks. If you prefer to travel a la carte, CasaMagna Marriott Puerto Vallarta is also a family-friendly property, with its adorable kids' club, lovely ocean view rooms with luxurious furnishings and delicious fares.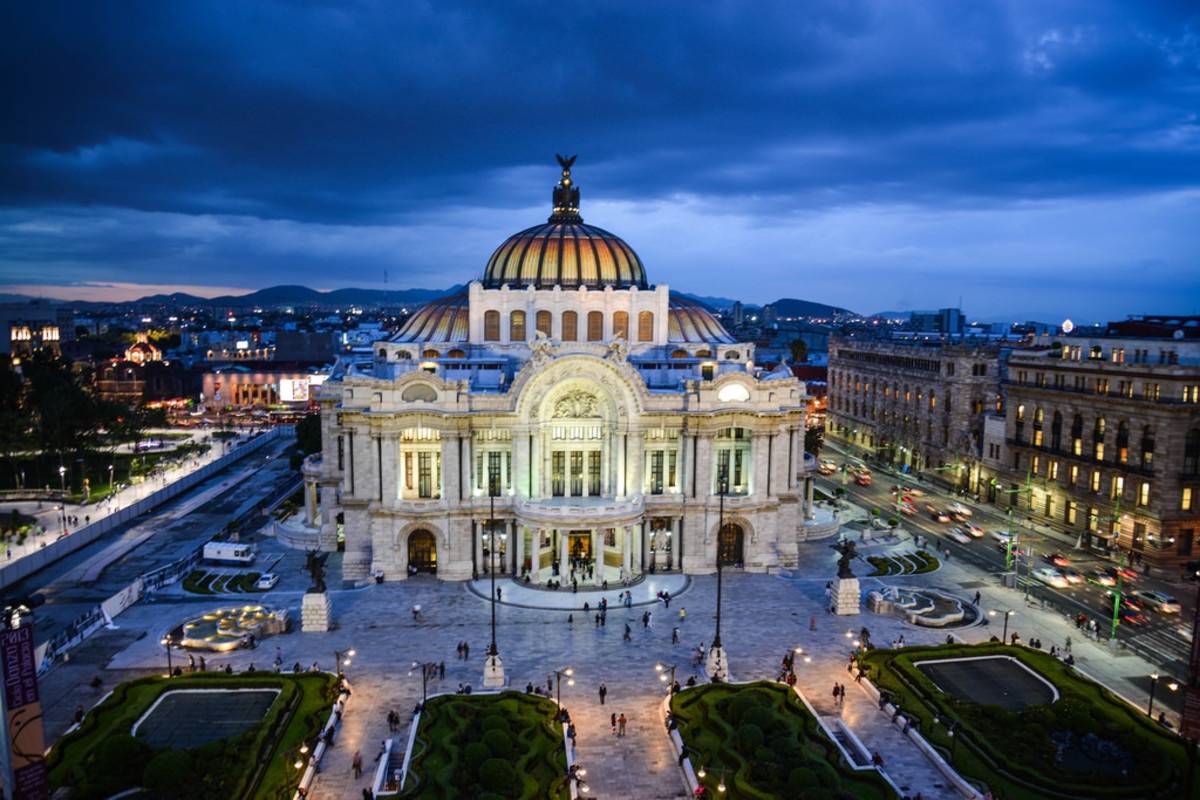 Palacio de Bellas Artes in Mexico City (Flickr: Mario Paredes)
Why: For those who have never been to the Mexico City, you might be surprised to learn that the city is a family-friendly metropolis whose buzzing and vibrant cultural scene rivals many of the most popular cities in the world. Along with its many pre-Columbian landmarks are impressive family-friendly museums, hip music scenes, cosmopolitan neighborhoods, one of the largest universities in the world, and transparent influences of foreign cultures that have been thriving here such as Korean, Japanese, Cuban and Lebanese.
Where: Visit the world-class National Museum of Anthropology to learn about the country's inhabitants dating back to the pre-Columbian era; the splendid white marble halls of Palacio de Bellas Artes whose gorgeous murals are reason enough for a return visit; Museo Frida Kahlo to explore the famous artist's life; and Plaza de la Constitucion, which has constantly hosted some of the city's artistic and cultural events. "Little Seoul" is a must visit too; as is the Universidad Nacional Autonoma de Mexico.
Where to Stay: The hotel-slash-museum Camino Real Polanco is alive and imbued with color and modern flourishes. It's also very kid-friendly. Among its many amenities are three swimming pools, a kids club and a babysitting service.
For An Idyllic Escape: San Miguel de Allende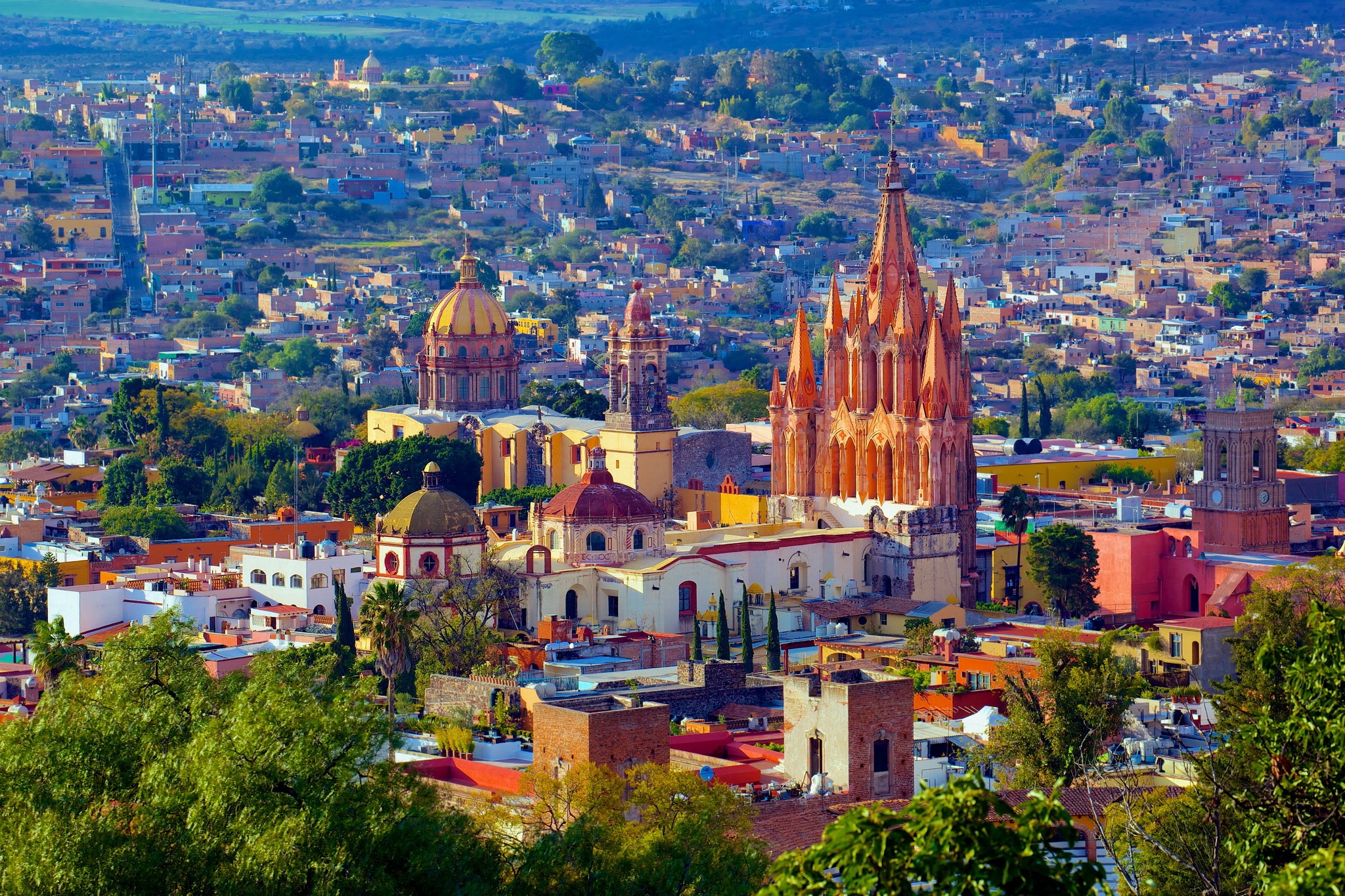 Picturesque San Miguel de Allende (Flickr: Jiuguang Wang)
Why: San Miguel de Allende is one of those fairy tale towns you always hear people gush about. Its cobblestone streets lined with charming colonial buildings brightly painted with hues of yellow, orange, pink and blue; beautiful architecture; lovely people; dramatic sunsets that cast a golden light over the city and silhouette the surrounding hills; eclectic shops; and rooftops that afford staggering views of the city all lend a hand in making it so. If you have a Mexico "bucket list," this family-friendly colonial city should be at the top.
Where: The Neo-gothic Parroquia de San Miguel Archangel, with its pink limestone facade, and the Church of the Immaculate Conception, with its yellow and red dome, are easily two of the city's defining landmarks and worthy of visits. But make no mistake: while the town is known for its colonial architecture and scenic flair, it's also home to excellent restaurants that serve world-class fares. For a quiet escape, spend a few hours at Jardín Botánico El Charco del Ingenio, located just outside of town.
Where to Stay: Hacienda de las Flores is a great choice for budget accommodations. Its colors reflect that of the city center and family-friendly amenities include free Wi-Fi, an outdoor pool and a large garden. For a splurge, the rooms and suites at Hotel Matilda boasts avant-garde elements as well as luxurious comfort.
For Snorkelers, History Buffs and Architecture Hounds: Riviera Maya
Why: Riviera Maya is already the perfect family getaway, thanks to its warm, Caribbean waters, its lushness, the terrific food and the beautiful resorts that line its shores. Add to these its very diverse marine wildlife, the Mayan culture whose influences you can still see today and the area's impressive Mayan ruins, and you've got yourself a well-rounded destination for every family.
Where: Check out Tulum with its hilltop Mayan village and the gorgeous beach below the cliffs or Coba whose Ancient Pyramid visitors can still climb. Or plan a day trip to Chichen Itza, one of the new Wonders of the World. Snorkeling can be done in many spots, but a trip to family-friendly aqua park Xel-Ha guarantees an unforgettable snorkeling experience in its natural lagoon where fish is aplenty. You may even come face to face with a barracuda. Visit one or two of the many cenotes too; these natural pits boasts emerald waters that offer a refreshing and picturesque swim.
Where to Stay: Five-star hotel Gran Porto Resort, located in the heart of Playa del Carmen, is a fantastic option for families traveling with kids. Among its many kid-friendly flourishes are the family suites that boasts bunk beds and plenty of space, the Oki Kids Club and a cool hangout for teens.
For Wine and Taco Lovers: Ensenada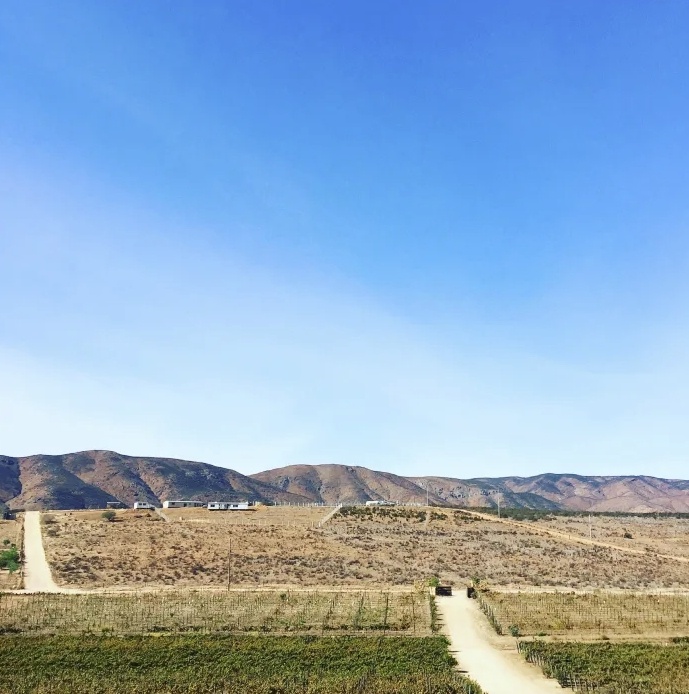 Vineyard near Ensenada (Photo: Michelle Rae Uy)
Why: Two hours from the California-Mexico border, Ensenada is an easy, very safe and scenic drive away from San Diego, CA, making it an ideal weekend getaway for families. The area is known for its wine country, located less than an hour away from the town center; but it's also famous for its Baja-style fish, shrimp and ceviche tacos that are so addicting many have tried—some unsuccessfully—to replicate them.
Where: Wine tastings as well as amazing cuisine are available at many of the wineries and vineyards in Valle de Guadalupe. Kids are not allowed at these wineries but many of the hotels in town offer babysitting services. For the best ceviche tacos, La Guerrerense in town is one of the best. This street food stand has received Anthony Bourdain's seal of approval. For terrific tacos de pescado and tacos de camaron, head to Tacos Fenix, which is cheap and popular with the locals.
Where to Stay: Hotel Coral & Marina is a family-friendly and affordable option. It may not be in the center of town, but it has its own marina if you're coming in on a boat and its many in-room amenities far outweigh its affordable rates: complimentary bottled water and drinks, delicious smelling toiletries, a balcony with a view of the Pacific and lots of space for a family to spread out.
(MORE: Underrated Mexico Destinations for Families with Kids )
For Musicophiles and Tequila Tastings: Guadalajara
Why: While Guadalajara has earned the spot as Mexico's second largest metropolis, it certainly presents a different vibe from the always bustling Mexico City. Less frenzied, family-friendly Guadalajara is the destination for music lovers not just for the Mariachi music that had set roots here long ago but also for the thriving independent music scene that has been planting its seeds in the city. For many, it also serves as the base for visits to the town of Tequila where you can tour the distilleries and sample on some of the best tequila.
Where: Watch alluring performances by local Mariachi bands as well as Aztec dancers at El Parián, a square in Tlaquepaque that is essentially a large gazebo-slash-stage surrounded by a number of restaurants and bars. There are benches everywhere if you wish to see the live performances without spending, but Mariachi music may even be lovelier when you're having a proper sit-down dinner with the family. While there, visit some of the city's handsome architectural landmarks as well.
Where to Stay: Family-friendly Hotel Morales in the historical center boasts a beautiful architecture, vibrant colors and gorgeous furnishings for a magical stay. Softly-lit suites with two beds are available for families of four, as are an outdoor heated pool, a terrace with lovely views of the city and an onsite restaurant. Best of all, rates are affordable so it's great for families on the budget.
Michelle Rae Uy contributed this to MiniTime. She is a travel writer based in Los Angeles and MiniTime's Head of Content, who spends her free time on adventures and film photography.