US Virgin Islands with kids
By Sandra Foyt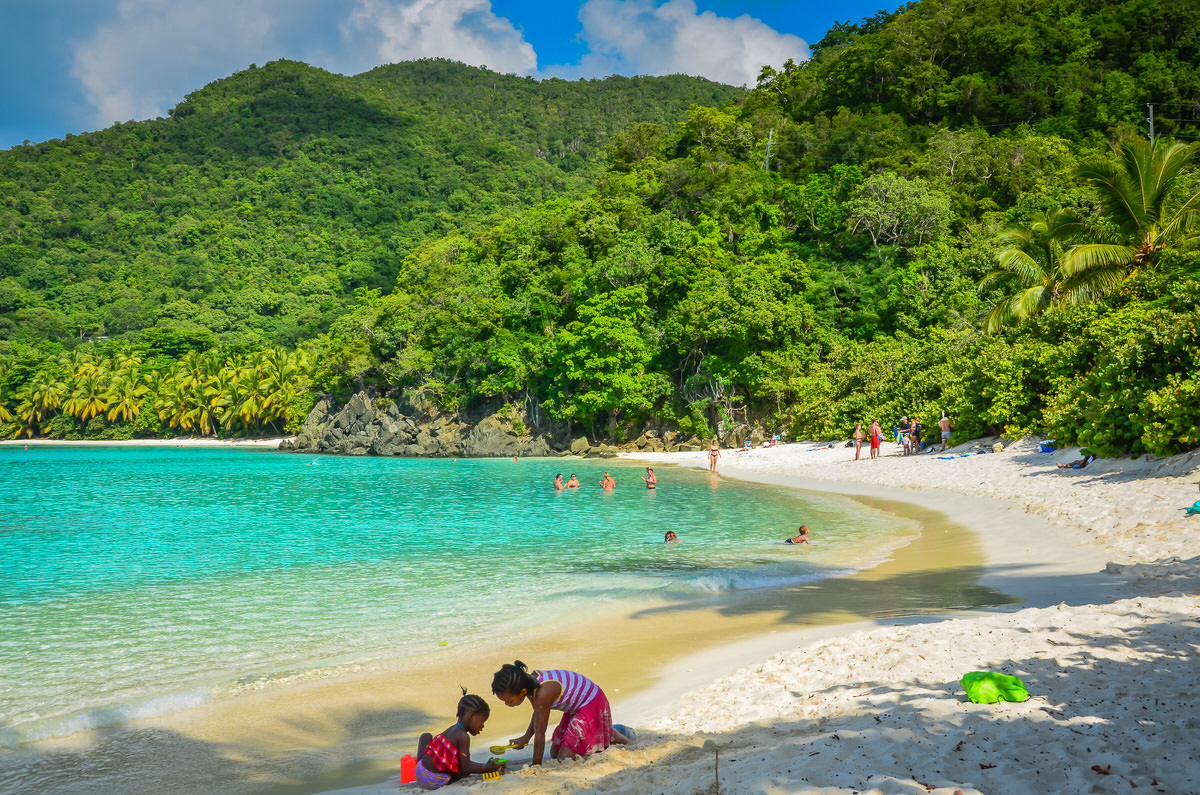 Beach at St. John (Photo: Sandra Foyt)
Two US Virgin Island beaches—Magens Bay on St. Thomas and Trunk Bay on St. John—consistently make the world's most beautiful beaches lists. But the islands are dotted with many lesser known and yet equally breathtaking shores featuring the same white sand and translucent turquoise waters that placed the famous pair at the top of international rankings. See why these local favorites are at the top rankings of family-friendly attractions in the US Virgin Islands.
(MORE: Destinations of a Lifetime: 10 Incredible Caribbean Beaches)
Morningstar Beach (St. Thomas)
Morningstar Beach is where to go if you're the kind of family that likes to balance serious relaxation with more active pursuits. Seaside restaurants and bars at the beachside Marriott resort, as well as rows of umbrellas and reclining chairs, provide ample shelter for watching over kids. Fun water toy rentals include floats, body boards, snorkel sets, kayaks, jet skis, sail boats and paddle boats. Eager to explore further afield? Check out snorkel and kayak/SUP tours at the resort's Adventure Center.
Brewers Bay (St. Thomas)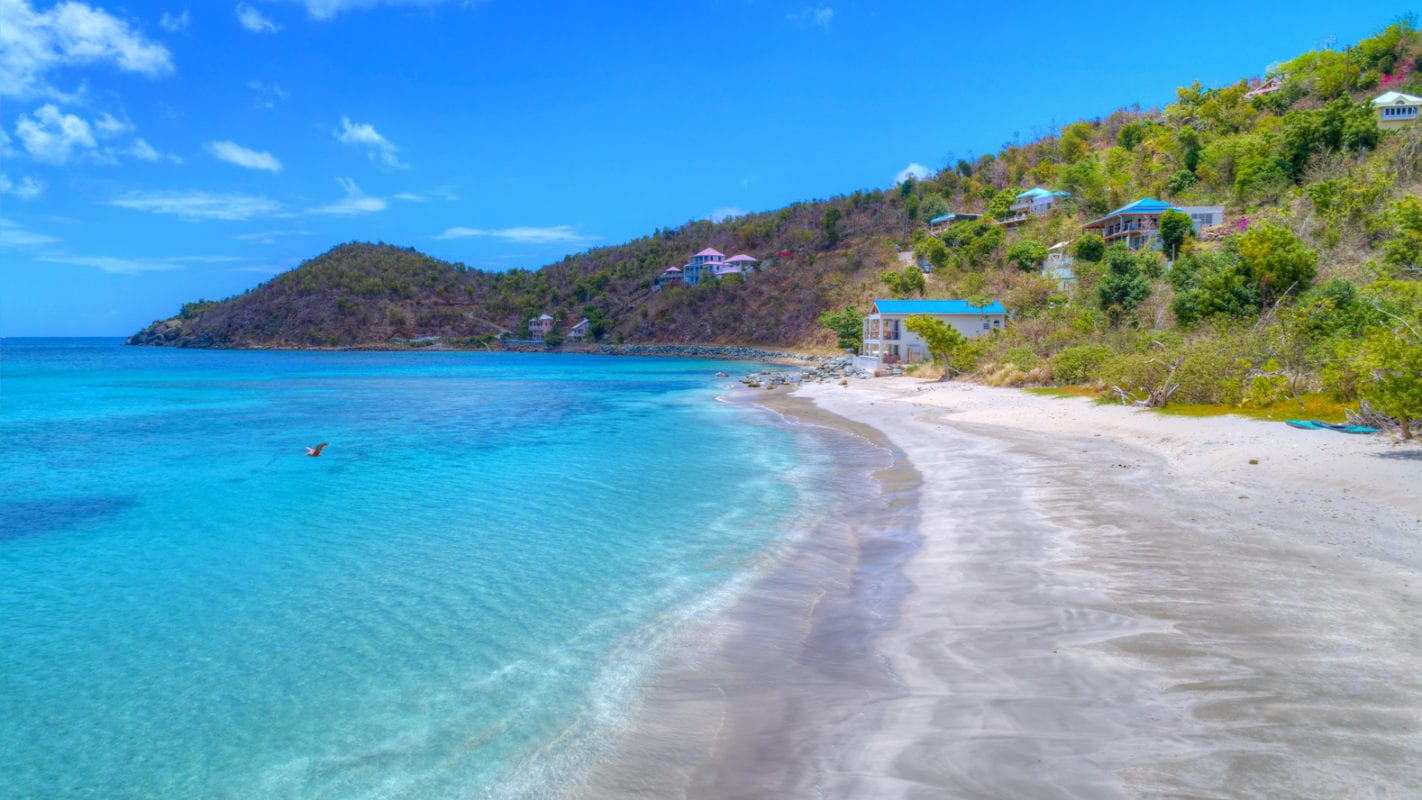 The beach at Brewers Bay is one of USVI's local favorites (Photo: Sandra Foyt)
Despite its proximity to the airport and the University of the Virgin Islands campus, peace and tranquility reign at Brewers Bay. It's usually empty on weekdays until the evening when islanders drop by to swim laps, but it's a different story on weekends when it's a popular spot for beach parties. Even at its busiest—like the annual Chili Cookoff—you can still find quiet corners. And it's just far enough from the airport that although you have a front row seat to takeoffs over the ocean, you can barely hear anything over the gentle lap of waves. Not a lot of facilities—bring your own snorkel gear to explore the coral reefs—but there are kid-friendly food trucks selling local favorites such as johnny cakes and saltfish pates.
Honeymoon Beach (Water Island)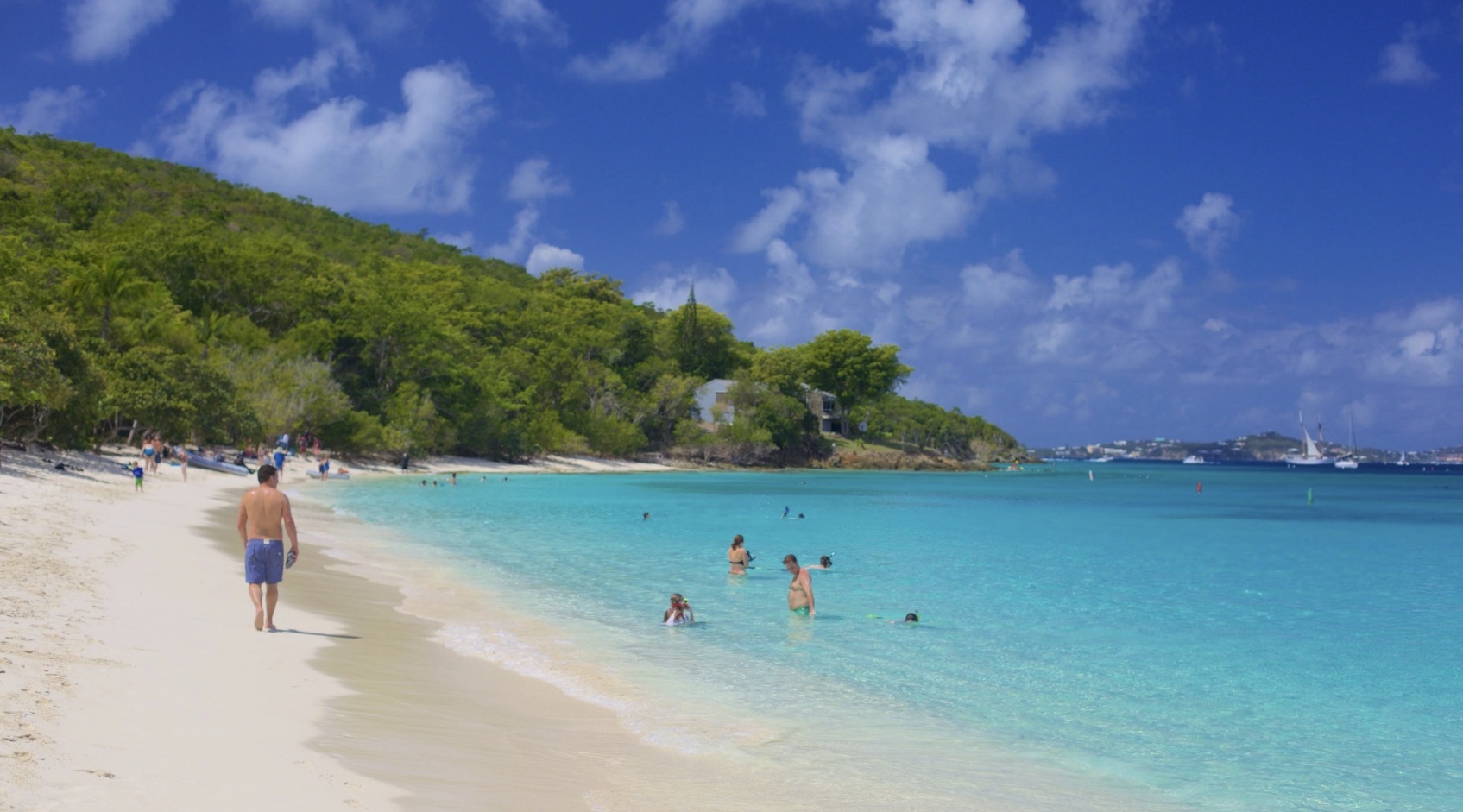 Honeymoon Beach (Photo: Sandra Foyt)
Getting to Honeymoon Beach is half the fun on the little red boat that makes the 10-minute crossings from Crown Bay Marina in St. Thomas (see Water Island Ferry schedule for actual times.) The family adventure continues when you arrive at Phillip's Landing and make the short hike to the pristine shore. Swim and play in calm, shallow waters with young children; older kids will get a kick out of swinging from ropes hanging on trees. The illusion of landing on a deserted island is occasionally disturbed when cruise ship excursions sail ashore, but they're usually gone in 1-2 hours. Most of the time, the beach is all yours but for a bar shack and Heidi's Grill serving cheeseburgers in paradise. (Restrooms available onsite.)
Cinnamon Bay Beach (St. John)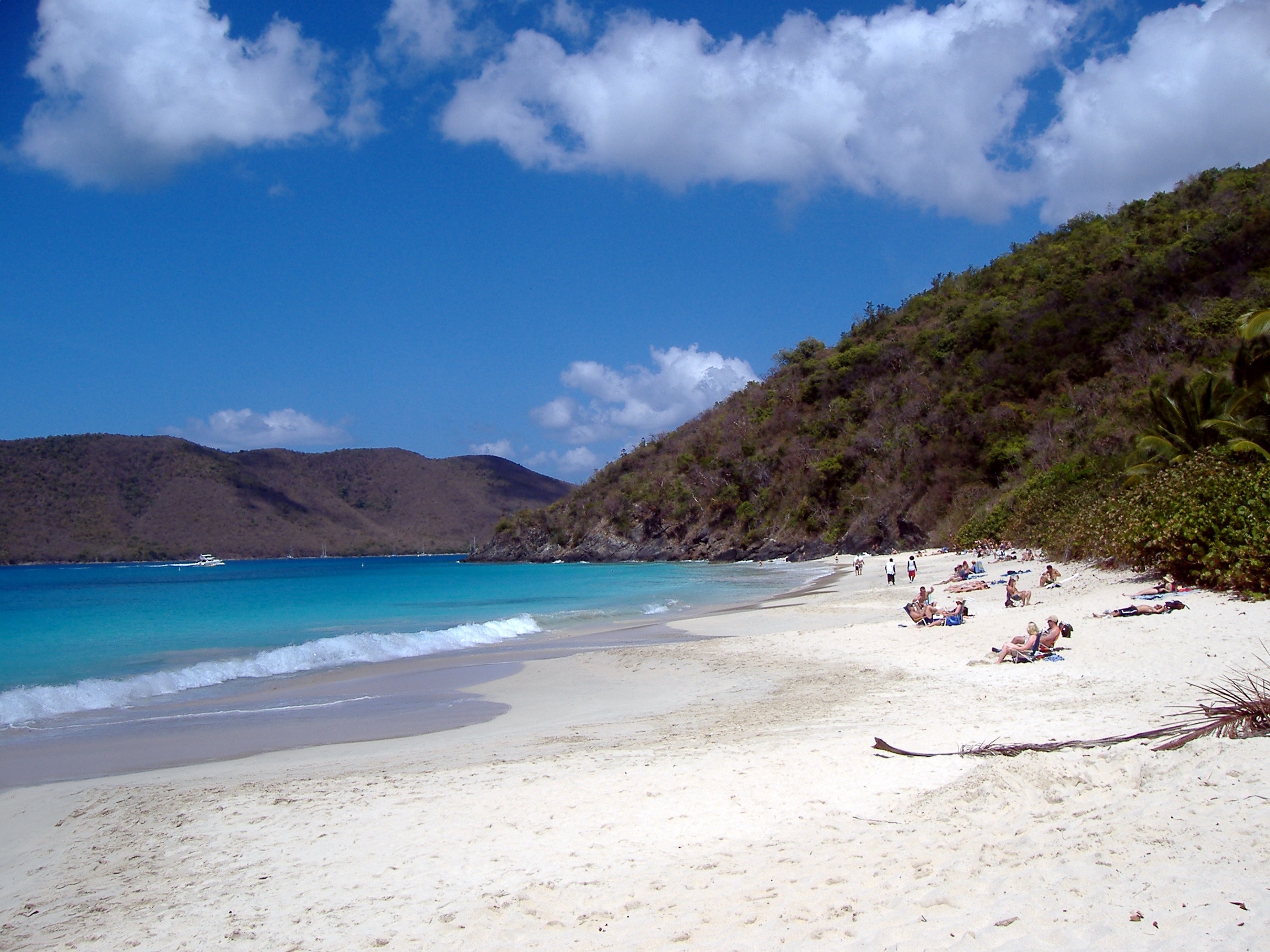 Cinnamon Bay (Photo: John Kernan)
At one mile, Cinnamon Bay is the longest beach on St. John, with soft sand, crystalline water, coral reefs and an offshore island similar to Trunk Bay. What sets it apart, and makes it a great choice for family vacations, is that it's also home to a campground with accommodations ranging from bare sites to seaside cottages. Facilities include a restaurant, convenience store, restrooms, showers and a well-stocked rental shack. Both rentals and lessons are available for sailing, kayaking, skimboarding, windsurfing and stand-up paddle boarding. And when you're ready to dry off, learn about island history on a self-guided hiking trail and at the beachfront archeological museum.
Salt Pond Bay (St. John)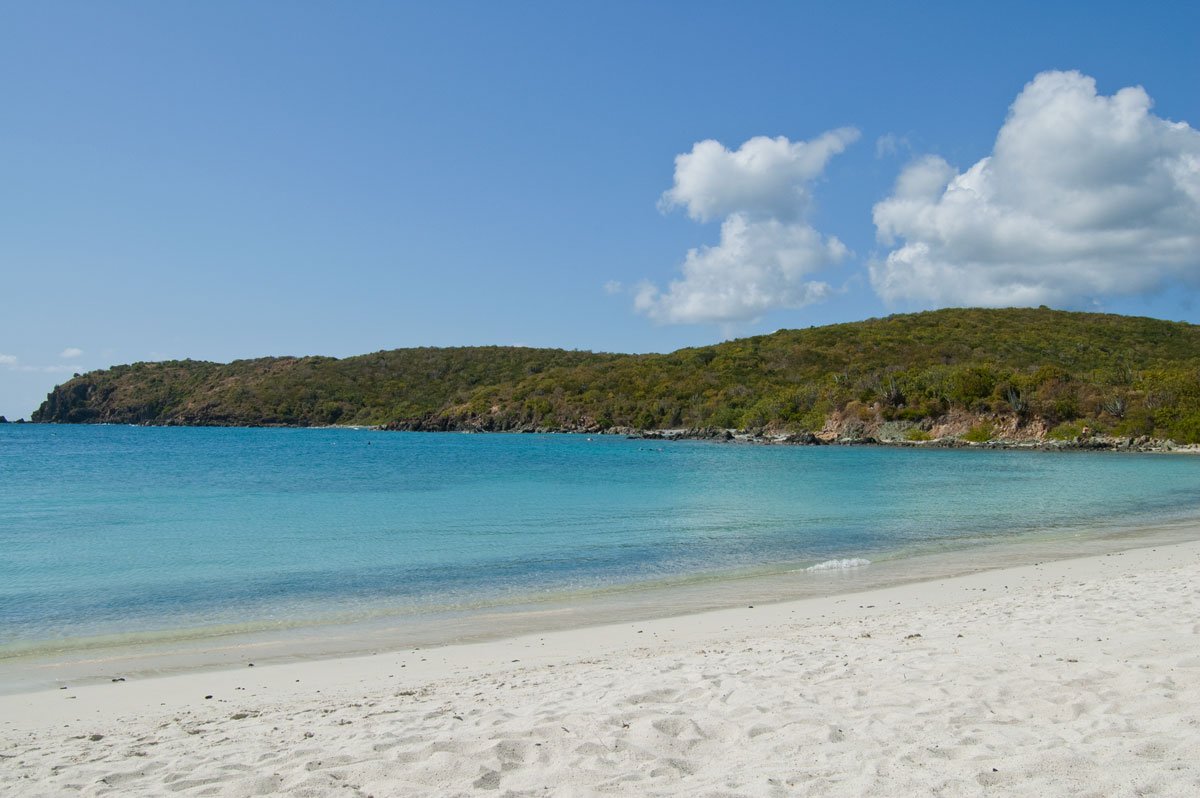 Salt Pond Bay (Photo: Adagio Digital Arts)
There are two sides to Salt Pond Bay: the lovely little cove and the living salt pond just past it. Salt Pond Bay sees few visitors, although local schools schedule field trips to study the natural process of evaporation that produces salt. The protected shoreline is great for snorkeling, with rocks and coral reefs on either side and seagrass—home to turtles, conch and sting rays–in the middle. Adventurous families can access the mile-long moderately steep National Park Service trail to Rams Head overlook; expect to take a least an hour venturing into cactus-spiked terrain and along the turbulent Atlantic Ocean coastline. (Minimal facilities: outhouse and picnic tables.)
(MORE: Great Spots to Get Back to Nature in the US Virgin Islands)
Cane Bay (St. Croix)
Found on St. Croix's North Shore, Cane Bay is a popular beach hangout. With two beachside restaurants, a dive shop, chair and water toy rentals, and even horseback riding tours, there's lots to do. Protected by a coral reef, the calm cove is a safe place to swim with kids but it's also an exciting place to explore. A rock wall stretching out two miles to the Puerto Rico Trench hosts all manner of marine life—making it a bucket list item for both snorkelers and scuba divers. And if that's not enough incentive for budding young scuba divers, there's a submerged carousel horse for fun photo opportunities.
Rainbow Beach (St. Croix)
On the western side of St. Croix, near the shops at Frederiksted Pier and wildlife refuge at Sandy Point, Rainbow Beach is convenient and fun. At one end of the shore, family-friendly Rythms Beach Bar gets the party going with live music and free flowing tropical drinks (with a kids' menu and virgin concoctions for the under-18 crowd.) Play on the soft sand volleyball court or turn the ocean into a playground with rental from West End Water Sports. They carry the usual kayaks, jet skis, SUP boards, snorkel gear, plus loungers and floats. But thrill-seeking families can kick up the excitement factor hovering over the sea on a flyboard (lessons and rentals for ages 14+.)
Sandra Foyt of Getaway Mavens contributed this to MiniTime.