10 reasons to bring your posse to a ranch
By Stacy Lu
More and more mamas are letting their babies grow up to play cowboys these days, as dude ranches continue to grow in popularity as a family vacation choice. That's because everyone is seeking an authentic vacation experience these days, says Chris Doyle, VP of the Adventure Travel Trade Association. "Travelers today are looking for meaningful experiences. They're looking to connect with other people and other cultures. They're looking for a way to share and to learn."
Ranch vacations deliver on all counts, offering a spectacular escape from the ordinary and a week-long romp in a gorgeous natural environment full of thrilling new activities. The experience works its magic on cowboys and cowgirls of all ages. From the thrill of guiding a horse for the first time, to the fresh, wholesome food and campfire camaraderie, families typically take to ranching like a horse to hay and then hate to leave. Most ranches are family-owned and -operated, so they provide a far more personal experience than any large hotel ever could. It's a big reason why many ranches report that nearly three out of four families return for another visit.
"It's a romantic lifestyle, an experience that can be mutually shared between kids and parents," explains Selina Heintz, marketing director of the Colorado Dude & Guest Ranch Association. Here are 10 reasons why families love dude ranch vacations:
1.Spending time with Mother Nature. A Western ranch trip is as outdoorsy as it gets. An idyllic week means frolicking under an endless blue sky, amid green pastures and quiet streams, with a splendid vista of peaked hills or grand mountains. At a Colorado dude ranch, for example, it's not unusual to come across mule deer, coyote, elk, and prong-horned antelope. And, of course, you'll get up close to horses. Guests are usually paired with the same steed for their stay, giving them time to really get to know and bond with it.
2. Unplugging, so you can plug in. Surrender your cell phone, Pardner. Wireless service is rare, and rooms generally aren't equipped with telephones or TVs. Without the distraction of gizmos and electronic gadgetry, guests can plug in to what's important: spending time with family. Most ranches request a minimum one-week stay to ensure that visitors get well out of the daily grind and into the ranch groove. That relaxed feeling sets in and hangs around. Jeans at dinner? Of course. Kids roughhousing indoors? No problem.
"We offer families an atmosphere where kids can be kids and run and play and be around animals, and Mom and Dad can be in a stress-free environment where they don't have to worry about cleaning or making meals. We take care of all that," says Jerry Helmicki, owner of the Bar Lazy J Guest Ranch in Parshall, CO.
3.Learning new skills together. There is a great bonding that occurs when parents and children are learning something new at the same time, says Bill Burleigh, owner of Laramie River Dude Ranch in Glendevey, CO. "We are all so busy with our modern lifestyles. Our kids take lessons and we ferry them. This is one of those precious opportunities were everybody is experiencing the same thing at one time. You don't quickly forget that."
If you're all tenderfoots, you and your kids can cheer each other on as you master new riding skills. Wranglers train both parents and kids thoroughly before anyone sets foot in a stirrup, and safety is key. Taking it slow or opting out of a ride is just fine.
"Once you get on the horse and realize you really can do this, there's a tremendous sense of accomplishment," says Burleigh. "When families return from a ride, they all have glowing faces," he adds.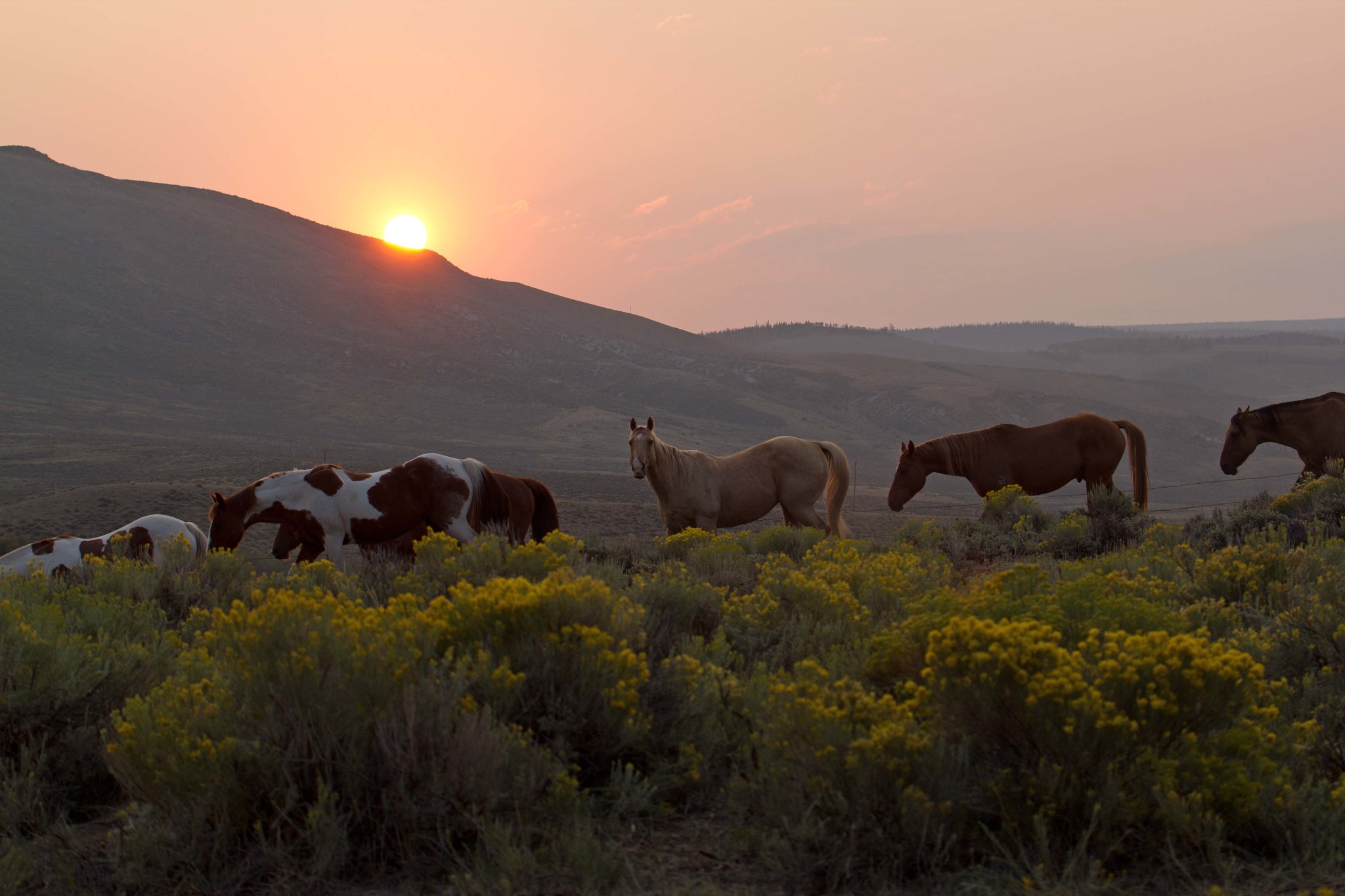 4.Finding something for everyone. While riding is a central activity of a dude ranch vacation, it's just the tip of what's offered. You might also try your hand at fly fishing, hiking, mountain biking, overnight camping trips, and forays to nearby national parks and mountain resorts. Families can hang together or split up for part of the day.
"Mom needs to be pampered as well, and so a lot of ranches have added spa facilities or a masseuse that's either on staff or on call," says Selina Heintz. "There's something for everyone. It's a way for families to do their own thing but still rekindle their family relationships and talk about what they did."
5.Digging your digs. The huge variety of dude ranches means that you can go as rustic or as luxurious as you like. Bunking down authentically is part of the ranch experience, and many properties feature Western details such as antiques, log walls, and Native American rugs. At some ranches, guests stay in lodges; others offer private cabins. Additionally, most ranches belong to well-established organizations that regularly inspect for quality, cleanliness and general guest satisfaction. The Colorado Dude and Guest Ranch Association has been on the job since 1934, checking out new members and inspecting its member ranches every three years.
Yet while lodgings may be traditional, don't expect the food to be. Ranch fare has evolved from chili and burgers to vegetarian entrées and ahi tuna—plus kid-pleasin' favorites like hot dogs and grilled cheese. Picky eaters will go away chock-full, and special needs are met.
6.Leaving your wallet closed. With the exception of most off-ranch excursions, spa treatments and guided tours, ranch vacations are normally all-inclusive. Rates typically range from about $1,495 per adult per week (kids typically get a significant discount) to $3,950 per adult per week at the most luxurious properties. Riding lessons, meals, kids' programs, and evening entertainment are all included, so you won't have to pony up your wallet until it's time to leave.
"Guests will know about any extra charges before they book—there are no surprises," says Heinz. "Ranches base their marketing on word-of-mouth and return guests, and we want our guests to walk away happy."
Finding and booking the perfect ranch is easy, too. Rancher associations like Colorado's have web sites with detailed descriptions and photos of their members, as well as news about events and discounts.
7.Living history. America may be young, but our cultural heritage is rich. Visiting a ranch offers the rare chance to actually live the legendary frontier life, starting with the surroundings. Many ranches have facilities dating back to the late 19th century, and other than modern amenities, little has changed since then.
That goes for the fun. Wranglers may let guests help with chores or cattle roundups, especially if it is a working ranch. Or, you may be able to watch a rodeo, track game with a naturalist, or pan for gold. Evening entertainment, too, is just as it was 100 years ago, with games, campfires, square dancing, and perhaps a crooning cowboy.
8.Letting kids be kids. Most ranches have supervised children's programs that run for much of the day. Counselors help wranglers lead riding programs geared to every skill level, and kids can learn how to brush and saddle a horse, go on nature hikes, and splash in the pool or nearby swimming hole. Special excursions for kids might include a horseback ride into town to hitch up at the general store for old-fashioned penny candy. Or an evening hayride, campfire and weenie roast, following by camping on ranch grounds while parents enjoy a date night.
Families can also expect plenty of unstructured time. Parents and kids can explore the ranch together, poking heads into the stables or learning to rope over at the corral, then running back to the lodge when the dinner bell rings.
9.Being adventurous, without venturing too far. Achieving feats of derring-do doesn't have to involve a 15-hour plane ride. At a ranch you can rassle with the rough-and-ready West, galloping on a horse one day then camping out under the stars if you like. The next day, you could go rafting, rock climbing, skeet shooting, or canoeing.
10.Connecting. In a nutshell, ranching is about families rediscovering each other in a unique environment, and making new friends in the bargain. By the end of a week, owners say, all the kids are usually sitting together at dinner; ditto for adults.
Robin Christensen, ranch manager of the 4UR Ranch in Creede, CO, says, "We have guests who come with the same group of people year after year. It is such a neat thing. It's like watching a family reunion each week."
More on family ranch vacations: