Fun and unique mini golf courses in the country
By Katrina Brown Hunt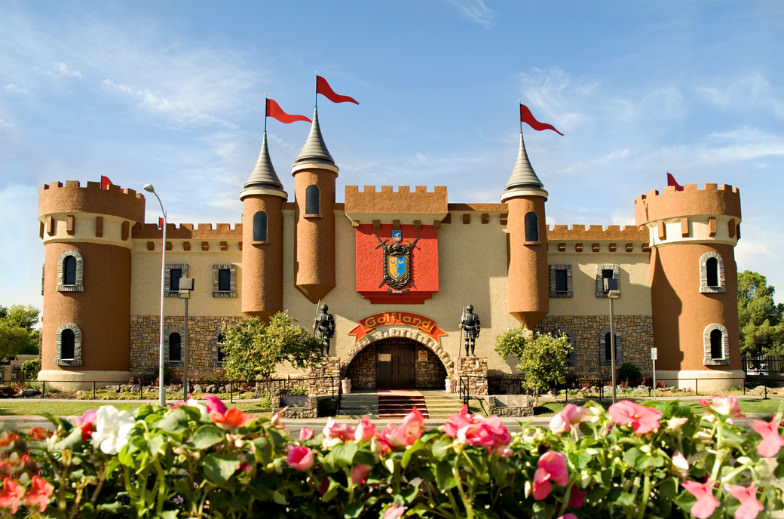 Camelot Golfland in Anaheim, California (Golfland)
For families on vacation, a little mid-trip doldrum can be par for the course, as it were. That's why 18 holes of mini golf can nicely cleanse the palate between sightseeing adventures—or even make sights unto themselves.
The first miniature golf courses were built a little over a century ago—an early one in North Carolina was reportedly named "Thistle Dhu," as a nod to the not-quite-golf experience
But some mini golf courses are more than just a few windmills and a snow-cone stand. Here are 8 courses around the country that dazzle by being antiquated, huge, black-lit or just quirky:
Camelot Golfland (Anaheim, California)
Perfect if you need a day's entertainment, in this theme park town, that doesn't involve standing in long lines. With five separate courses—featuring a Spanish fort, windmills and a pagoda— this mini golf course boasts of being the biggest in the nation. The park also has a go-kart track, laser tag and an arcade. Rounds are $8.45 per adult, $7.95 for kids ages 4 to 11.
(MORE: Visit California's theme park town. Look for kid-friendly hotels in Anaheim.)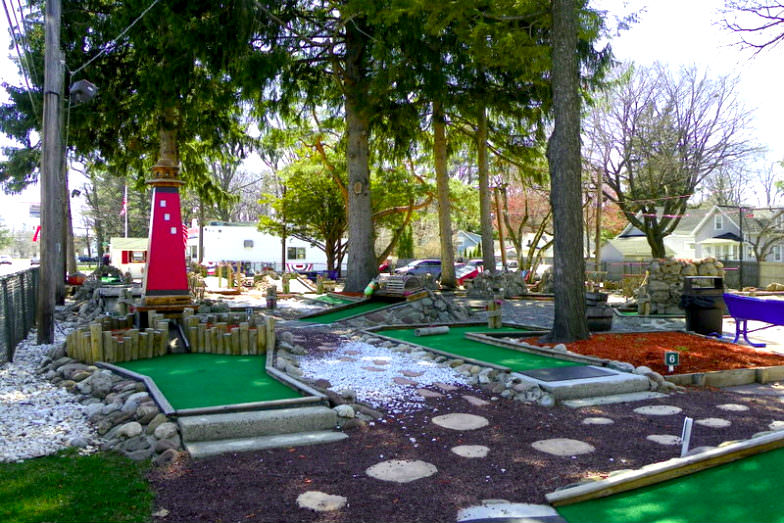 Parkside Whispering Pines Miniature Golf in Sea Breeze, NY (Parkside Diner)
Parkside Whispering Pines Miniature Golf (SeaBreeze, NY)
While the first wave of mini golf courses were built during the 1920s, most did not survive the Great Depression. This one outside Rochester did, and is now listed on the National Register of Historic Places as the oldest miniature golf course in the US. Built from "fossil stone" in 1930, the classic-style course was renovated in 2012. Games are $7 each; kids 5 and under are free.
Glowing Greens (Portland, Oregon)
Need another challenge to take your game up a notch? This mini golf course in downtown Portland (with a cousin in nearby Beaverton) is a black-light course, made all the more surreal with your 3D glasses. The downtown location has a tropical theme, but Beaverton goes all-alien. Rounds are $10 per adult, $9 for seniors and kids under 12.
Molten Mountain (Myrtle Beach, South Carolina)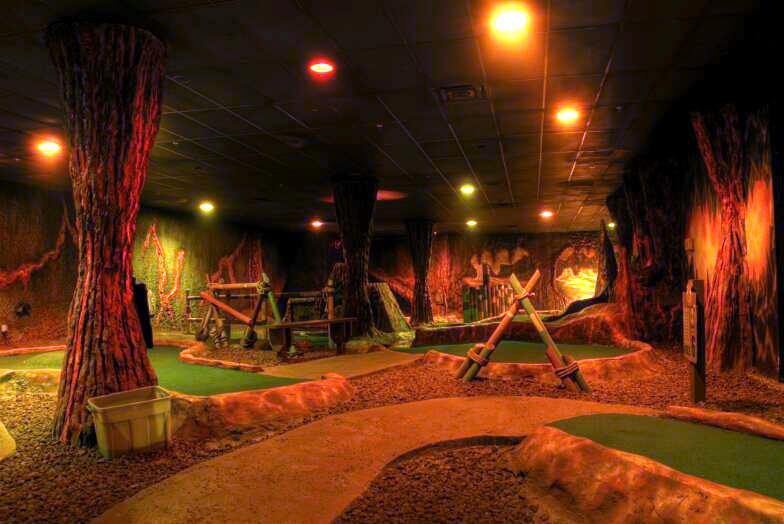 Molten Mountain in Myrtle Beach, SC (Paradise Adventure Golf)
The centerpiece of this 36-hole course is a 50-foot volcano that spews its own lava every half hour, and features a hole where you must aim your ball over said lava. Since summer gets hot around here (even without volcanoes), 18 of the holes—Lava Louie's Challenge—are inside the volcano, and nicely air-conditioned. Rates start at $9 for adults, $8 per round for kids, or $15 for a day pass.
Par-King Skill Golf (Lincolnshire, Illinois)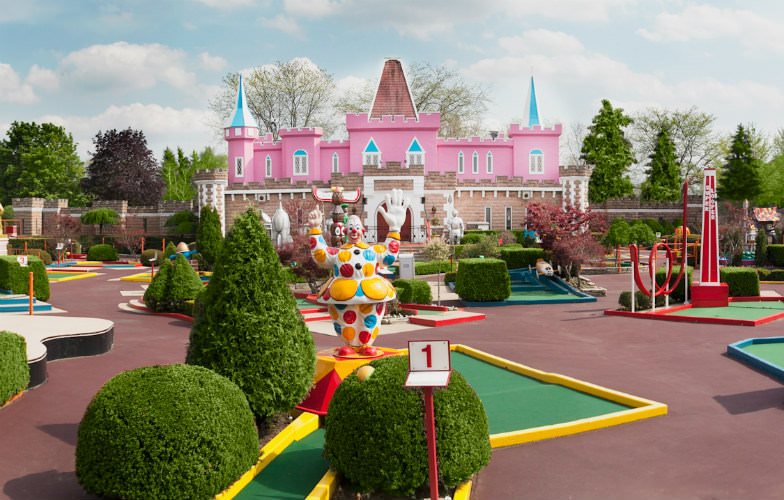 Par-King Skill Golf in Lincolnshire, Illinois (Par-King)
Once called "mini golf's Taj Mahal," this park outside Chicago started in the 1950s and has two 18-hole courses, 19 moving obstacles and seven water holes against a backdrop of fairy tale castles, Old Mother Hubbard's shoe and a vaguely menacing-looking Humpty Dumpty. Highlights include a mini Sears Tower, a mini Mount Rushmore and an elaborate, looping roller coaster track. As proof of the "skill" in the name, this course is not for tiny tots: you must be 48 inches to play. A round starts at $8 per person.
(MORE: Find other kid-friendly attractions in and around Chicago.)
Perils of the Lost Jungle (Herndon, Virginia)
Remember the Indiana Jones flick where he had to complete a par 3 or else be pelted by poison darts? No matter: This course was based on the founders' favorite adventure films and features smoke machines, sound effects and animatronics—such as poison-spitting frogs, and assertive gorillas. Rates start at $10.50 for adults, $9.50 for kids, and $10 for seniors.
Smugglers Cove (Tampa, Florida)
This 18-hole course—with four other locations along the Gulf Coast— doesn't mess around with cute, animatronic alligators to create an Everglades vibe: these alligators are real, and want to nosh on something better than those little half-sized pencils. Play the mini golf course with its caves and waterfall features, and you can also feed the live American Alligators using a bamboo fishing pole. Rates start at $10.49 per round.
Urban Putt (San Francisco)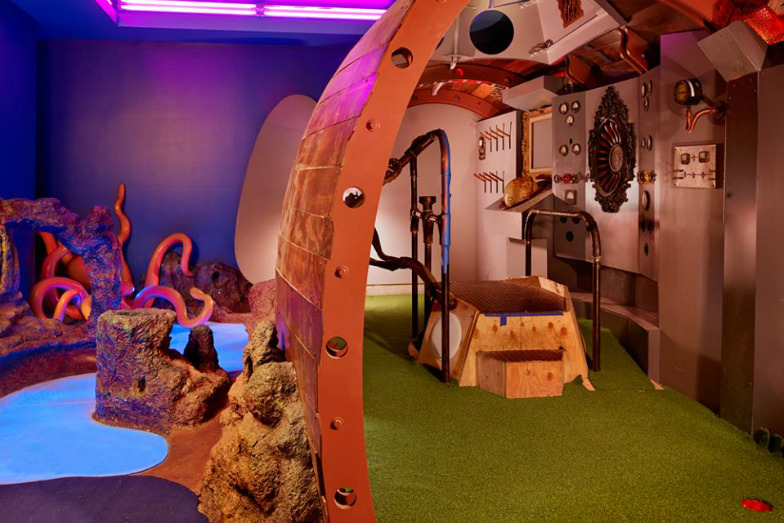 Urban Putt in San Francisco (Urban Putt)
Trust the City by the Bay to have mini golf with an urbane angle. This indoor course in the Mission District is located in a former mortuary and features creative holes such as a Transamerica building, the Painted Ladies, or a hole that reenacts the Great Earthquake of 1906. Upstairs, the foodie-friendly eatery has empanadas, fried-chicken-and-waffle skewers and poutine (alongside cocktails, craft beer and cava). After 8pm, mini golf is just for folks 21 and up. Rounds are $12 for ages 13 and up, $8 for ages 6 to 12.
Katrina Brown Hunt contributed this to www.MiniTime.com.