Take a spin around an iconic rink for a fab family memory
By Katrina Brown Hunt on Feb 3, 2014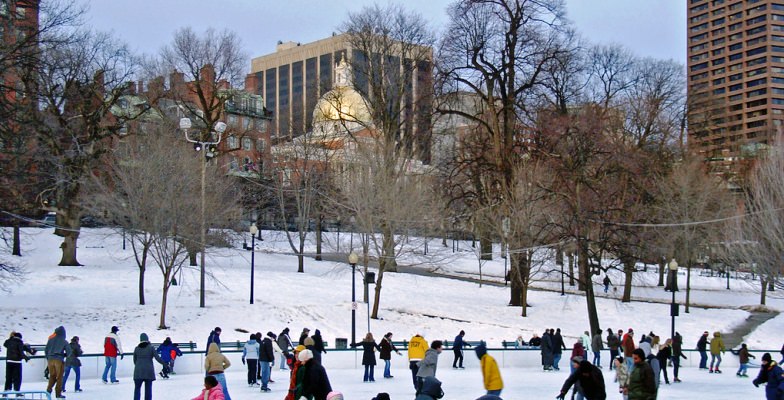 Flickr: Payton Chung
If Olympic fever has you and the kids wanting to brush up on your double lutzes and salchows, don't settle for that indoor rink at the mall.
It's prime season for skating rinks around the nation—the best of which are surrounded by mountains, skyscrapers, or world-class art. Some stunners are particularly weather-dependent, such as the 8,200-foot-elevation Olympic Ice Pavilion at Squaw Valley, which unfortunately may remain closed for the foreseeable future due to a warmer-than-usual winter. You can expect most other outdoor rinks around the nation to stay open into March (but always call or check online, just to be sure).
Here's where to skate among scenery so stunning that no one will notice if you're holding onto the rail the whole time:
The Boston Common Frog Pond: Boston
This legendary rink in the nation's oldest public park is lined with trees and offers beautiful urban views. You're also potentially rubbing elbows with champs. During the rink's SkateFest this year (Feb. 15), kids can get free 30-minute lessons from coaches at the Skating Club of Boston, whose members include the Olympic pair Marissa Castelli and Simon Shnapir. Admission costs $5 for adults and is free for kids 13 and under. Skate rentals cost $9 for adults and $5 for kids. Open through mid-March.
McCormick Tribune Ice Rink: Chicago
With nearly 16,000 square feet of ice, this rink on Michigan Avenue is one of the prime locales in Millennium Park: you can gaze up at the surrounding skyscrapers as well as the reflective Cloud Gate sculpture (nicknamed The Bean). Admission is free, and skate rentals cost $10. Open through March 9, 2014.
(MORE: Find a kid-friendly hotel in Chicago.)
Sun Valley Outdoor Rink: Sun Valley, Idaho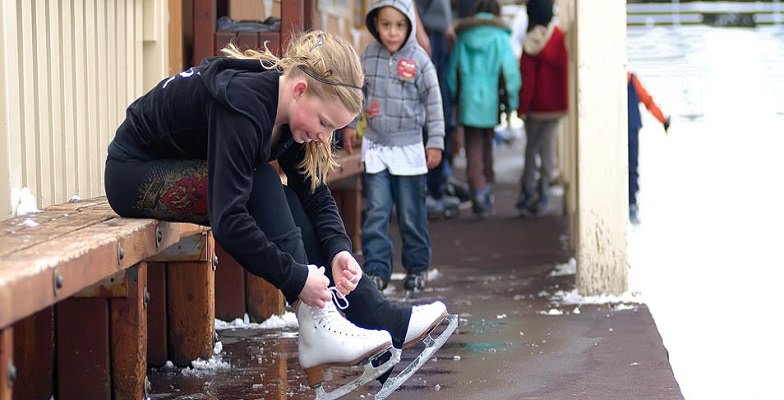 Sun Valley Outdoor Rink
This famed Sun Valley rink and its mountain backdrop has a reputation for attracting pros, such as Kristi Yamaguchi and Katarina Witt. It's open year round, and in summer provides the setting for the Sun Valley on Ice shows. Check out its pro shop for competition-ready skating dresses. Admission costs $11 for adults and $9 for kids 5-12, and is free for ages under 5. Rentals cost $5.
Sculpture Garden Pavilion: Washington, DC
It's a skating session plus an art stroll. This rink in the National Mall stands in for the garden's fountain during the winter, with the famed National Gallery exhibit in the background, featuring works by Claes Oldenburg and Joan Miró. The neighboring café, meanwhile, offers chili, sandwiches, pizza and a kids menu. Open through mid-March.
(MORE: View a family trip plan: 3 days in Washington DC with kids.)
Yosemite National Park: California
The rink in Yosemite's Curry Village, below Glacier Point, sits in the impressive shadow of Half Dome. It has a fun back story, having sprung from humble beginnings when a parking lot flooded in 1928. For campfire-style downtime, there's a s'mores-friendly firepit (and a nearby shop, for provisions) right next to the rink. Admission costs $10 for adults and $9.50 for children. Skate rentals cost $4. Open through March 2, 2014.
(MORE: 5 Places to Catch Olympic Fever)
Bryant Park or Prospect Park: New York City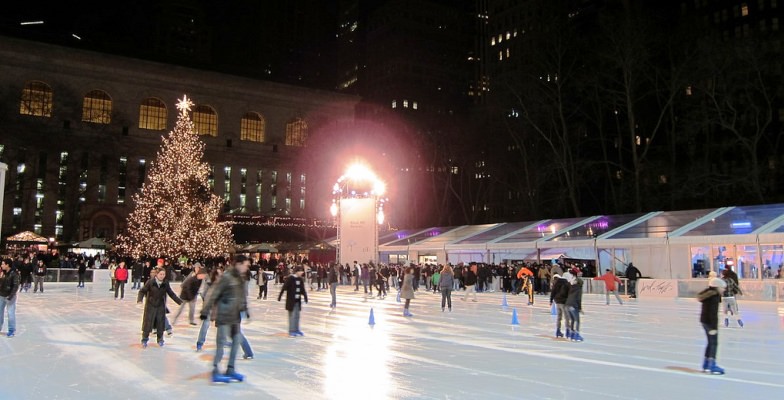 Flickr: chris.huggins
The Big Apple certainly has some legendary outdoor rinks in the classic Wollman Rink in Central Park and the Rink at Rockefeller Center. But to avoid the crowds, head behind the New York Public Library to the Winter Village at Byrant Park (where admission is free, and rentals cost $15) or the newly expanded rink complex in Brooklyn's beloved Prospect Park, which boasts two rinks and a yes-this-is-still-New-York woodsy setting. Admission costs $6 on weekdays, $8 on weekends, with $5 rentals. Open through the end of March.
Evergreen Lake: Evergreen, Colorado
A half hour from Denver, this 8.5-acre ice marvel claims to be the world's largest Zamboni-groomed outdoor rink. The frozen lake boasts 11 hockey rinks as well as plenty of public skating space, all surrounded by ponderosa pines. The Lake House sells hot cocoa and snacks. Admission costs $7 for adults and $6 for kids, while kids ages 3 and under get in for free. Open through March 2, 2014.
Katrina Brown Hunt contributed this to www.MiniTime.com.