These kid-centric playspaces are destinations in themselves
By Katrina Brown Hunt on Apr 6, 2014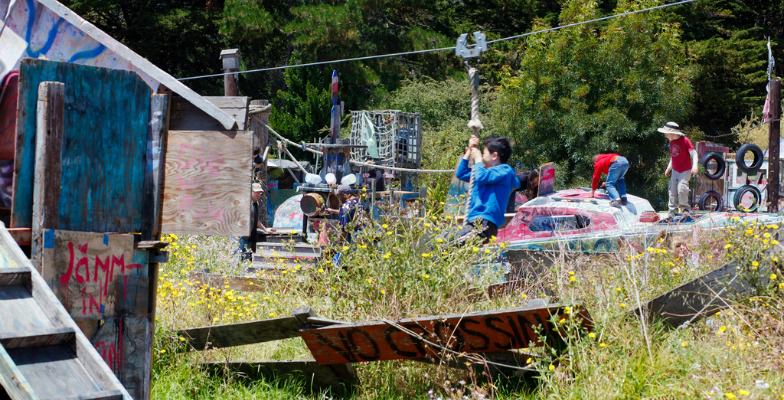 Flickr: jar()
Museums, tours and theme parks are great, but sometimes the highlight of a big vacation can be a little downtime on a swing set.
After all, a good ol' playground can be a welcome sight to travel-weary kids, and one of the nicest—and cheapest—ways to experience a city like a local. Indeed, some city playgrounds have such fabulous features—with hands-on construction, musical instruments or cool old-school features—that they are destinations in themselves.
Here are seven playgrounds worthy of a break from sightseeing:
Adventure Playground: Berkeley, CA
First opened in 1979, this playground in the Berkeley Marina lets kids play on quirky structures—or better yet, just build new structures with hammers, saws, and paint. Filled with plywood, painted tires, a zip line, and even the occasional abandoned piano, it feels like a whimsical (but safe) junkyard—which, no surprise, has made it a beloved institution. It's meant for ages 7 and up, though younger kids can play if parents stay with them. (The playground also requires a reservation if you bring more than five kids in your group).
Franklin Square Playground: Philadelphia
This family favorite is located in Franklin Square, one of the five original squares William Penn devised for Philly. The playground itself has swings, climbers and spinners, and sits next to a carousel ($3 per ride), a mini golf course ($9 per adult, $7 kids 12 and under) and fabulous lunch option Square Burger.
(MORE: Find a kid-friendly hotel in Philadelphia.)
Powell Barnett Park: Seattle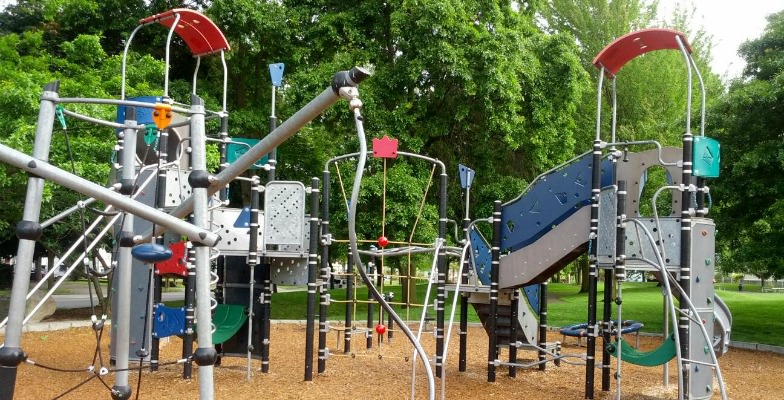 Seattle Parks & Recreation
The climbing equipment at this acclaimed Leschi neighborhood park looks a little like the motherboard inside a robot, with slides—irresistible for junior acrobats. The park also has a variety of wacky spinners, a summer wading pool, Frisbee field, restrooms inside a mini castle and a circuitous tricycle maze.
(MORE: View a family trip plan: 3 days in Seattle with kids.)
Koret Children's Quarter: San Francisco
This playground in Golden Gate Park dates back to 1888, and is thought to be the nation's first public playground. Highlights include climbing walls shaped like giant ocean waves, an elaborate rope-climbing structure, a huge, historic concrete slide (you slide down with cardboard) and a Herschell-Spillman carousel built in 1914. The carousel is open weekends year round, and weekdays between Memorial Day and Labor Day; rides are $2 for adults, $1 for kids.
Imagination Playground: New York City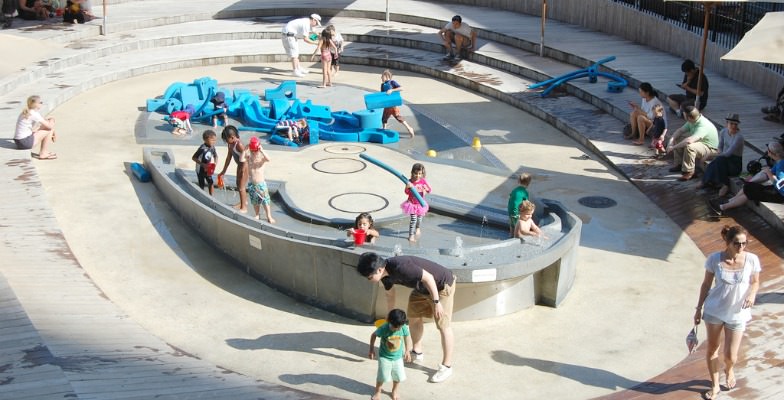 Flickr: Ethan Wolff
At this hands-on playground—built on a former loading dock by Manhattan's South Street Seaport—toddlers can dig in a huge sand area (or, come summer, play in the spray area), while bigger kids can build forts and ramps with giant foam blocks, mats, fabric and tires. Built to look a little like one of the old ships that used to dock here, the play area also has a ship-rigging-like rope climbing structure and a crow's nest lookout.
Rotary Playground at Liberty Park: Salt Lake City
This downtown Salt Lake City park features a Freenotes section, with giant musical instruments such as xylophones, drums and chimes. Other parks with Freenotes installations are in Moab, Utah, and Durango, Colorado.
The Geometry Playground: Oklahoma City
A project of San Francisco's Exploratorium museum, this traveling exhibit-meets-playground features a corkscrew tunnel, a contraption that lets you roll a giant gear to draw with colored pencils, and a 10-foot, climbable gyroid. It will be at OKC's Science Museum through June 2014, then it moves to the Museum of Ancient Life at Thanksgiving Point, in Lehi, Utah, until June 2015. Admission is $12.95 for adults, $10.95 for kids.
Katrina Brown Hunt contributed this to www.MiniTime.com.