Kid-friendly things to do in Bali
By Camille Miller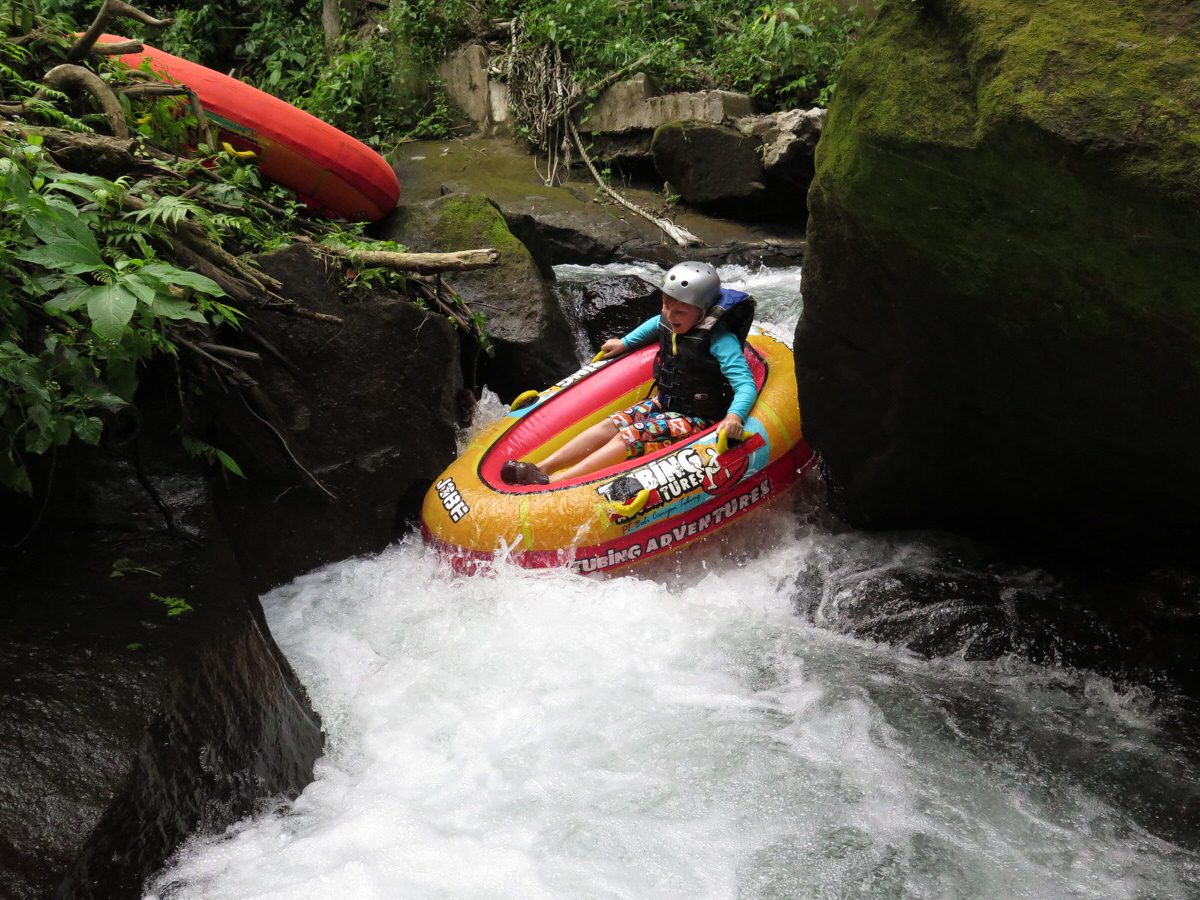 Riding the current into a secret canyon is one of the best water activities for kids in Bali. (Courtesy Bali Quad Discovery Tours & Canyon Tubing Adventures)
People travel to Bali from all over the world for it's iconic temples, lush rice paddies, volcanic mountains and friendly people. Visiting Bali with children is an engaging experience, for their unique curiosity and fearless exploration reveal the island's hidden charisma and energy. While there is no end of kid-friendly things to do in Bali, all children instinctively know that the best fun happens in the water. Let the children pick their favorites among these water activities for kids and discover together the many aquatic wonders of this tropical paradise.
(MORE: A Family's Travel Guide To Australia with Kids)
ATV Tour & Canyon Tubing
Explore the real Bali by getting away from the tourist traps and spending half a day among the fields, villages and little rivers. Hire a guide to take you on a kid-friendly ATV tour through the countryside and into the jungle. Then jump into your tube. Ride the current down a gentle stream and into a secret canyon. Halfway through the river floating, test your courage on the Flying Fox zip line. You'll go zooming through the trees and over the rushing waters to the other side. At the end of the tour, enjoy another off-road vehicle ride back to basecamp. (Bali Quad | Kerta, Payangan, Kabupaten Gianyar, Bali | 3-4 hours | $$)
Minitime Tip: Bring a pair of snug water-shoes to protect your feet on these water activities for kids. You'll be glad you made room for them in your luggage.
Freshwater Springs
One of the most popular water activities for kids is a visit to the beautiful Yeh Sanih freshwater spring. It's located along a beautiful stretch of northern coastline and right next to the beach. And the water comes out of the ground clear, clean and cool on its way to the sea. It's perfect for a refreshing afternoon soak together. There are multiple pools available, one of which is ideal for wading, so children can play to their heart's content. This is one of the most relaxing things to do in Bali with kids. (Yeh Sanih | Jl. Air Sanih, Kubutambahan, Bukti, Kubutambahan, Kabupaten Buleleng, Bali | 2 hours | $)
Minitime Tip: Weekends tend to be a bit crowded, so either plan to visit on a weekday or make sure you arrive early. Also please note that this is not a hot spring, though the temperature is pleasant for swimming.
Waterfalls
One of the most talked about things to do in Bali is swimming in a waterfall pool. There are plenty of waterfalls to visit, though Git Git Waterfall is considered the most beautiful. It's one of the most visited on the island. Pack your camera and your swim trunks and get a ride to drop you off at the main road entrance. Pass the stalls selling trinkets (or do some shopping if you like) and head up the trail. Reaching the waterfall requires a short 0.6 mile hike up several stairs, but you won't need a guide. Don't let the "guides" tell you differently! (Git Git Waterfall | Jalan Raya Bedugul – Singaraja, Gitgit, Sukasada, Gitgit, Sukasada, Kabupaten Buleleng, Bali | 2-3 hours | $)
Minitime Tip: Due to the stairs on the trail, some visitors report soreness the following day. If you desire a more accessible, knee-friendly waterfall, visit the Singsing Waterfall. (Again, you won't need a "guide", and the entrance donation is small.)
Surf School
Bali is the best place to learn surfing in the world. The small waves (whitewash) of Legian Beach roll across a soft sandy bottom at regular intervals and the temperature is pleasant. The instructors here are some of the most kid-friendly, knowledgeable, and patient teachers you will ever meet. They work with any student over the age of four. And they cover everything from safety practices, to "reading" the waves, to correct techniques and more. Of all the available water activities for kids, this is the only one that teaches a skill they can take back home and continue to enjoy for the rest of their lives! (UP2U Surf School | Legian Beach, Legian, Kuta, Bali | 2-4 hours or more | $ – $$$)
Minitime tip: Before arrival, take some time with the kids to view online surfing tutorials and practice together. This gives everyone a little confidence beforehand and will help with any nervousness.
(MORE: 8 Amazing Cities in Asia to Visit with Family)
Jungle Trek & Lake Canoeing
Get up close and personal with Bali on a jungle trek with your own private English-speaking guide. Learn about rare orchids, enormous native trees, and the local wildlife. Then enjoy a skim across the lake in a primitive Balinese dugout canoe. If you can, get the kids out of bed early to see the sun rise over the lake; it's worth it. The restaurant on the premises gets rave reviews (especially for their kid-friendly desserts). There are also nearby villas available for rent if you wish to extend your stay. (Terrase du lac Tamblingan Sari | Lake Tamblingan, Munduk, Banjar, Buleleng Regency, Bali | 4+ hours | $-$$)
Minitime Tip: You will need comfortable hiking boots and long pants for the trek through the jungle. If you can, time your visit to coincide with the clove-harvesting season on the nearby plantation, an unforgettable experience.
Camille Miller contributed this to MiniTime. She enjoys discovering new places and sharing unique stories. She loves her family, her garden, and the Rocky Mountains, in that order.