Fall activities in Brooklyn
By Holly Rosen Fink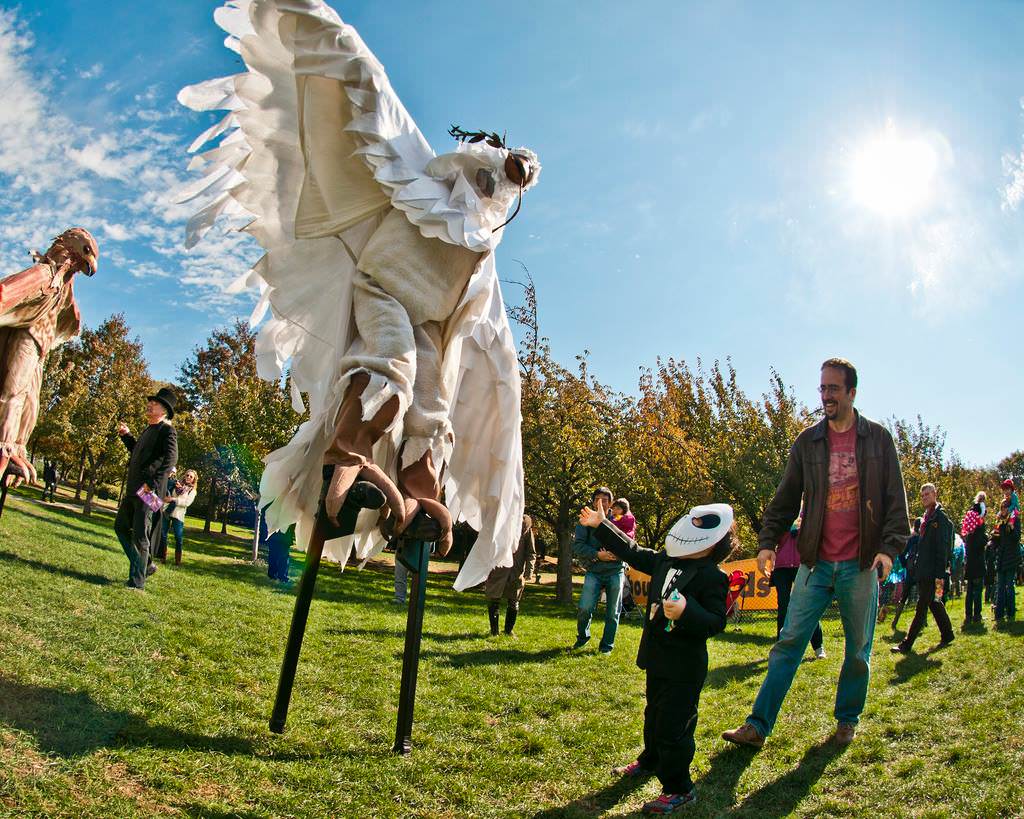 From Ghouls & Ghourds to fall markets, fall activities in Brooklyn are essential to the New York with kids experience. (Courtesy Brooklyn Botanic Garden)
New York with kids is wonderful in the fall. But Brooklyn is particularly fun and a part of NYC that demands a visit as the weather starts to cool.
Fall in Brooklyn with kids is great for so many reasons. New York's hip hamlet goes into full gear once autumn arrives, creatively celebrating the season all over the borough. With cool weather on your side, there are many things to do with kids in Brooklyn almost every Fall weekend. The options are wide-ranging, from Halloween festivals to fall markets to art shows. Plus, the borough is easily accessible by the New York City subway, and parking is not hard to find.
Plan to spend a day celebrating fall activities in Brooklyn and truly explore New York with kids. We have the scoop on what's going on.
(MORE: Six Fall Festivals for Families with Kids)
The Great Pupkin Dog Costume Contest
Sponsored by Fort Greene PUPS, the Great PUPkin Dog Costume Contest is one of the key fall activities in Brooklyn. The event takes place in coordination with the Fort Greene Park Conservancy's Halloween Festival. It's also the borough's largest and most outrageous dog costume contest. Your kids will love seeing dogs dressed in their best attire. New York with kids has never been this adorable. Fort Greene Park | Saturday, October 28th, 2017 at 11:30am
Ghouls & Gourds 2017
Sponsored by Bugaboo, the annual Ghouls & Ghourds is Brooklyn's wackiest costume parade. One of the best fall activities in Brooklyn, kids will love dressing up and carousing with colossal puppets. There is also live music. Check the Brooklyn Botanical Garden's website for pricing in advance. Brooklyn Botanical Garden, 990 Washington Avenue | Saturday, October 28th, 2017, 12-5:30pm
The 6th Annual Breukelen Country Fair
Join the Wyckoff Farmhouse Museum for a day-long extravaganza of crafting, creating, and hands-on fun celebrating Breukelen's agricultural roots. Activities include pony rides, a free puppet show, house tours, face-painting, children's races, and garden demos. This is a great way to spend a day in New York with kids. Wyckoff Farmhouse Museum in Fidler-Wyckoff House Park, 5811 Ditmas Avenue | September 23, 2017, 1-5pm
Brooklyn Children's Museum Halloween Activities
Get your costume ready for a festive day at the Brooklyn Children's Museum for Icky Fest. It's sure to be one of the most popular fall activities in Brooklyn. Kids will learn about science through everything that's slimy, sticky, creepy and crawly during this festival of ick. They will also be able to get up close and personal with some of the museum's insects and live animals. In the tradition of Halloween, there will be a monster dance mashup, as well as pumpkin and monster crafts for the kids. 145 Brooklyn Avenue | Dates TBD. Check their website for updates.
Prospect Park Zoo Halloween Activities
This year's "Boo at the Zoo" at Prospect Park Zoo at Prospect Park is jam-packed with fun activities. There are Halloween-themed games and crafts like Costumed Character Scavenger Hunt, face painting. And there are plenty of animals to visit. There will also be a Spooky Barn for the older kids, with sea lion training sessions and a kid-friendly dance party. This event is free with zoo admission. 450 Flatbush Avenue | October 28-29, 2017, 11am-4pm
Puppetworks Theater Fall Productions
Puppetworks Theater is a small Brooklyn theater that brings classic children's stories to stage through innovative puppet shows. This fall, they're bringing Pinocchio, Carlo Collodi's 1883 Adventures of a Marionette, adapted for Marionettes by Nicolas Coppola. It's suggested for kids ages 3 and up and is one of our favorite fall activities for kids in Brooklyn. 338 Sixth Avenue (at 4th Street) | September 2 – December 17, 2017
Atlantic Antic Street Festival
The Atlantic Antic Street Fair is great fun for the whole family. It's a massive, festive street fair that stretches along two miles of Brooklyn's centrally located Atlantic Avenue. The entire street is closed to traffic, making way for food vendors and stalls selling clothing, artwork, jewelry, pottery and more. Local restaurants set up stalls in front of their businesses offering special deals and treats. You'll also find great bands and music, dance performances, speeches and raffles. Atlantic Antic is a great way for any family to celebrate New York with kids. Experience its diversity, culture and vibrant urban lifestyle. Atlantic Avenue starts at Hick Street & ends at 4th Avenue | Sunday, September 24, 12-6pm rain or shine
Greenpointers Fall Market
Want to experience a very hip New York with kids? The Greenpointers Fall Market is a seasonal gathering of 50+ talented local crafters, artists, and makers in Greenpoint. It's a hip shopping experience, with music, a photo booth, nail art, tarot card readings, face paintings, and henna tattoos. Greenpoint Loft (67 West Street, 5th floor) | Sunday, October 1st, 2017, 1-7pm
(MORE: America's Weirdest Fall Festivals)
Haunted Houses Across Brooklyn
If the kids are into horror, Brooklyn's haunted houses are some of the most classic fall activities in Brooklyn. Gravesend Inn at 186 Jay Street is a high-tech, theme-park quality haunted hotel. Produced by Theatreworks, the attraction has been scaring children and adults since 1999. In addition, the 78th Precinct in Brooklyn transforms their Park Slope office's basement into a Haunted House for Halloween. Check this website for details.
Holly Rosen Fink of The Culture Mom contributed this to MiniTime. She is a full-time marketer living in Larchmont, NY with her husband and two children.