Northeast with kids
By Holly Rosen Fink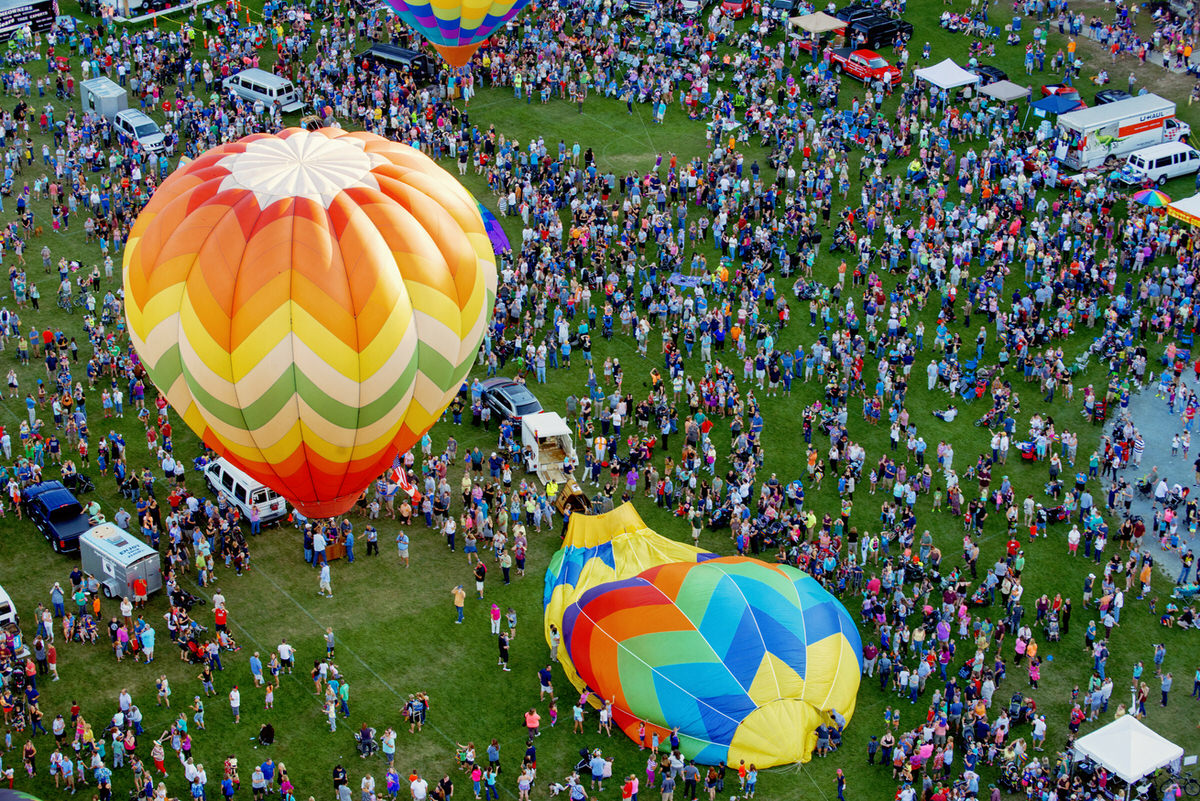 The Adirondack Balloon Festival is one of the best fall activities in the Northeast to do with the kids. (Courtesy The Adirondack Balloon Festival)
When the weather cools down, New England in the fall with kids is simply spectacular. Fall offers a plethora of opportunities for family getaways, from colorful autumn festivals to apple and pumpkin festivals. It's also an ideal time to venture out to explore nature and enjoy the outdoors. The weather is crisp and conducive to exploration and enjoyment for everyone in the family. Simply grab the diaper bag and jackets, fill up the car with gas, and be prepared for a day out in beautiful New England.
Bursting with color, there is an abundance of fall activities in the Northeast to choose from. The Northeast region celebrates this time of year wholeheartedly with countless festivals all over the region. For great fall activities in the Northeast, we have the scoop on the best festivals for you and the kids.
(MORE: 10 Most Beautiful US Towns to Visit in the Fall)
26th Annual Pumpkin Festival
Laconia, New Hampshire | October 13 & 14, 2017
The 26th Annual Pumpkin Festival is one of the great fall activities in the Northeast. The festival is a community-hosted fall celebration of all things creative and pumpkin combined. Kids will enjoy seeing thousands of jack-o-lanterns, a climbing wall, carnival rides, a zipline, and live bands and performers.
29th Annual Manchester Fall and Art Festival
Manchester, Vermont | Sep 29 – Oct 1, 2017
The Manchester Fall and Art Festival brings visitors from New York, Massachusetts, and elsewhere in the Northeast together. Parents will relish New England in the fall, as well as the opportunity to introduce their children to art. They'll also enjoy being outdoors during foliage peak time. Parents can peruse handcrafted creations made by local artists and artisans, and meet the actual makers of the work. Children will love the live music, craft demonstrations, and delicious treats from the Food Court area.
National Apple Harvest Festival
Biglerville, Pennsylvania | October 7-8 & 14-15, 2017
The National Apple Harvest Festival is one of the best fall activities in the Northeast. It celebrates beautiful crafts, great music and good food. It has something for everyone with hundreds of arts and crafts dealers, demonstrations, contests, food stands, and entertainment. Attractions include the steam engine displays, orchard tours, petting zoo, and craftsman demonstrations, all included in your admission.
AutumnFest
Woonsocket, Rhode Island | Saturdays and Sundays, September 30 through October 22, 2017
AutumnFest, one of the best fall activities in the Northeast, is culture and kitsch rolled into one. Families can discover the unexpected with a variety of musical performers. Or they can hop on the chairlift for an aerial view of the gorgeous colors of autumn. Kidsfest activities for kids are set up in front of the main stage. Artisans and crafters from far and wide will have their handmade creations on display. Autumnfest is truly indicative of New England in the fall.
Cranberry Harvest Celebration
Plymouth, Massachusetts | October 7-8, 2017
Visitors to the Cranberry Harvest Celebration are treated to all day celebration. It includes wet cranberry harvest and cooking demonstrations. There are also paddleboat rides on Tihonet Pond, an enormous tent full of juried crafters, food vendors, music, and more. Admission fee includes bogside demonstrations and cranberry-related activities, which your kids will love while exploring New England in the fall.
43rd Annual Apple Harvest Festival
Glastonbury, Connecticut | October 13-15. 2017
At the Apple Harvest Festival, families will enjoy musical acts, fireworks, food, an Angry Orchard 5K, and more. Kids will love the festival's amusement rides, petting zoo, and pony rides.
45 Annual Adirondack Balloon Festival
Locations vary around New York State | September 21-24, 2017
Hundreds of hot air balloons take to the sky at the Adirondack Balloon Festival. It's a particular favorite of all the fall activities in the Northeast. In addition to flights, kids activities include pancake breakfasts and musical performances.
Balloon and Apple Festival
Saratoga Springs, New York | October 8, 2017
The Balloon and Apple Festival celebrates New England in the fall by making balloons with themed activities, tie-dying, and games. Kids will love the family fun center, complete with bounce houses, a play gym, sensory area, tunnels, and an arcade. Cotton candy is another treat offered at this popular fest.
(MORE: 10 Things to Add to Your Fall Bucket List with Kids)
Northeast Kingdom Annual Fall Foliage Festival
Walden, Cabot, Plainfield, Peacham, Barnet, Groton & Marshfield, Vermont | October 2-8, 2017
These seven festivals in seven days, each in a different town, has each something unique to offer. There's music, crafts, farmers' markets, parades, tours, history, and great food! There are specialty church suppers each night as well. New England in the fall is amazing. You and your kids will feel lucky to be at one of these fall activities in the Northeast.
The Great Jack O'Lantern Blaze
Croton-on-Hudson, New York | Sept. 29-30, Oct. 1, 5-9, 12-31, and Nov 2-5, 9-12, 17-18, 24-25
The Great Jack O' Lantern Blaze is a fall spectacle integrating thousands of hand-carved jack o'lanterns. Kids will be amazed at and would want to make this an annual event in New England in the fall. The Great Jack O' Lantern Blaze pays tribute to Halloween and Sleepy Hollow Country. Yet it also transcends its Halloween roots and is now a classic fall festival.
Holly Rosen Fink of The Culture Mom contributed this to MiniTime. She is a full-time marketer living in Larchmont, NY with her husband and two children.