Skis, snow, skates—something for everyone
By Alexis Lipsitz Flippin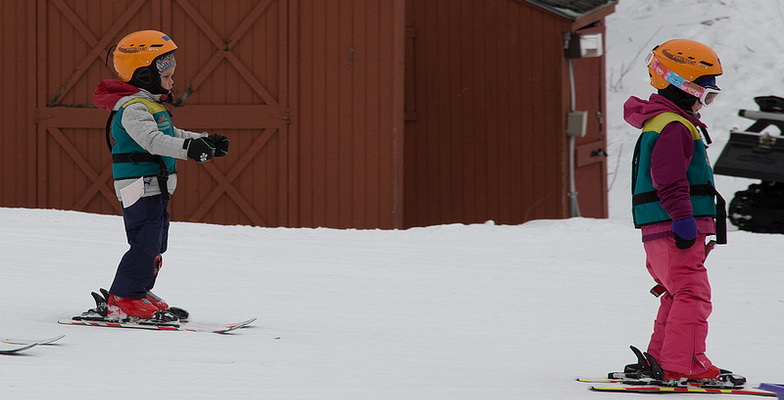 It's become a classic dilemma for the modern family: You'd love to take your kids to a fun resort, but you also want to log some much-needed quality time with Grandma. Geography and rigid vacation schedules don't always allow for both.
That may be why more and more families are combining the two—inviting Nana and Pops to pack their bags and meet their kids and grandkids at a fun destination. Multigenerational trips now account for nearly 20% of American vacations, according to a recent study by the Travel Industry Association.
This winter, consider putting that multigenerational trip on skis. A snow-based getaway has never been more grandparent-friendly. After all, plenty of grandparents have been skiing for years. According to the National Ski Areas Association, the number of skiers 55 and up has roughly doubled in the past decade. And today's ski resorts offer year-round appeal and something for everyone, from kid hangouts like game rooms and play zones to adult offerings such as yoga classes, nature hikes, and even wine tastings.
But then, ski resorts have always catered well to bigger family groups. "Ski vacations have been multigenerational long before it was a trend," says Samantha Berman, senior travel editor at SKI magazine. "Renting a ski house with the extended family has been on many families' travel itineraries for years, and resorts continue to respond to the demand by offering more and larger units at slopeside lodgings."
A no-brainer destination for such a family reunion is Smugglers' Notch in Vermont. Less than an hour from Burlington, "Smuggs" has long held a rep as the ultimate family ski resort (see our review). The readers of SKI magazine have voted it the no. 1 resort for family programs for 10 years, and with good reason. "Smugglers' Notch has taken the hassle out of a ski vacation," says Berman. "Ski trips have a lot of moving parts—where to stay and eat, ski lessons, day care, renting equipment, etc.—and Smuggs offers a reservation system where you talk to one person who arranges everything for you in a single phone call."
The first step in planning a multigenerational trip? Finding a destination that will please a large group with varying ages, tastes, routines, and levels of activity. Here are 10 signs that a ski resort will suit everyone from 2 to 82:
1. Bundled up costs. Ski resorts can be brutal when it comes to piling on expenses—from lodging, lift tickets, and rental gear to all your après-ski food and entertainment. Packages that roll many elements into one price not only bring costs down, but they mean that individual family members won't be constantly shelling out for add-ons. This is a huge plus when you're dividing costs among multiple family members, since it lets everyone get a clear idea of what their total spend will be.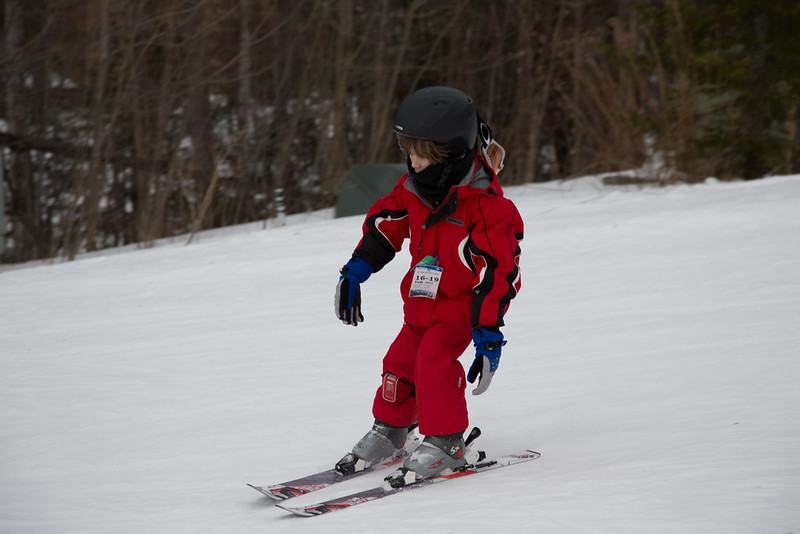 2. Condo lodging. The big problem with booking your extended family into separate rooms at a hotel or inn is that you'll likely sacrifice quality downtime in the name of privacy. A condo offers the best of both worlds: you get ample common living space in which to hang out, along with the safe havens of bedrooms when people need their own space. Most important, staying in a condo means you'll have a kitchen, which puts you in better control of dining costs. You can stock up with snacks, drinks, some easy dinner ingredients and then decide how many meals will be spent in restaurants or ordering takeout.
Peruse floorplans (most ski resort web sites feature them) and check for the all-important fireplace, key appliances, and multiple TVs. At Smugglers' Notch, for instance, condos range in size from studios (housing up to 4 people) to 5-bedroom units (accommodating up to 12) and feature all these amenities. In addition, its village offers four restaurants (each with a kids' menu) and a convenient grocery store.
3. A generous spirit. One sure sign that a resort puts families first: Lift tickets with a high maximum age for kids' passes and a low starting age for senior passes. At Smuggs, the youth lift-ticket price ($46 for one day, compared to $62 for adults) applies to kids from 6 all the way to 18—and also to skiers from 65 to 69. Skiers under 6, and those over 70, ski free. The popular Club Smugglers' Advantage Package also includes teens up to age 17 in the youth pricing.
4. Easy and cheap access. Renting multiple cars on an extended-family trip is a surefire way to drive up everyone's costs. But renting just one vehicle large enough to carry a big family and its gear will also cost you big time. In the perfect scenario, it will be feasible that you will not need any cars. That means finding a place where shuttles are plentiful, frequent, and, ideally, free.
Smuggs offers two free in-resort shuttle routes—one that serves the village area and one that goes back and forth from the main lift area. Better yet, it's on demand: you just call from your condo or your cell phone, arrange a pick-up, and then hop on.
Arriving by plane or train? The shuttles that run to and from the Burlington airport and train station may not be free, but they are likely still cheaper than renting a car for the duration of your trip. A family of six including four adults and two kids would pay $180 each way, figuring $45 per adult with the kids riding free. (One child 17 and under rides free per paying adult; additional children cost $35 each.)
5. A top-notch ski school. Everyone wants to leave a better skier than when they came, but it's even more important to have fun and stay safe. A resort that supports Lids on Kids—the national ski safety campaign for getting young skiers to wear helmets—shows an important level of vigilance. Ask, too, about CPR training and how easily instructors can get medical help in case of an emergency. One excellent indicator of a good ski program is a low student-to-instructor ratio. For small kids, the ratio should be in line with the age of the child—as in, 4 or 5 kids per class of 5-year-olds—and never more than 10 in a class for older kids or adults.
Though Smuggs' Snow Sport University gets small fries as young as 30 months up on skis, the goal is to have a good time and build confidence. "The minute they stop having fun, we take them inside," says Harley Johnson, director of Snow Sport University. For older kids and adults, the mission doesn't change that much, she says. "We focus on the experience more than the lesson—gearing the session to exploring terrain the students might not have known they could explore, while giving them some helpful tips and skills along the way."
6. An easy layout. You've come on this trip for some family bonding, but ski days often unfold with everyone going his or her own way for at least part of the time. That's why, when it comes to families, a bigger resort doesn't necessarily mean better. You want a mountain that's challenging enough for the most expert in your group but intimate enough that family members can reconnect frequently and easily during the day.
Consult a mountain map to figure out how the resort's layout—main lifts, ski school, daycare, main lodges—will impact daily logistics. At Smuggs, the base of the main hill features a seating area where non-skiers can enjoy a great view of lessons-in-progress without getting in anyone's way, and the ski-in/ski-out daycare center and restaurants are only yards away. Berman of SKI magazine thinks this everything-in-one-place design is critical to Smuggs' success. "They've kept lodging close to the ski school and childcare, which is all right at the base area. No schlepping from place to place."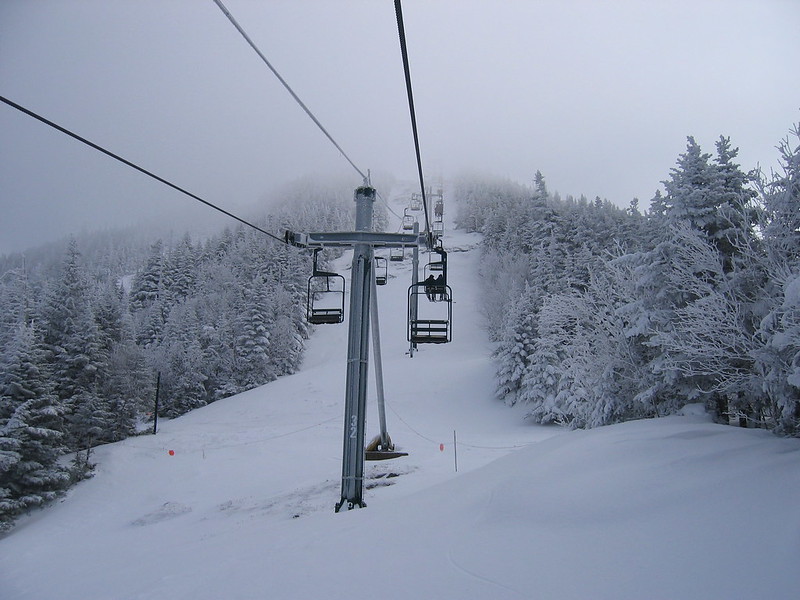 If you want to build up your skills together, you can also book a private instructor for six hours with up to five people (a splurge at $449), even if your group includes experts and first-timers trying to stay vertical for more than two minutes. "The instructor might take a few out at a time and then swing back and get the rest," says Johnson. Whether you opt for a group lesson or just make the benches your home base, "everyone gets to take a lunch break and come together."
7. Off-slope fun. Most likely, varying skill levels will mean that members of your group will go their separate ways for at least part of each day on the slopes. To bring the group together, plan some time when everyone is off the mountain but still outdoors enjoying another activity—perhaps snow tubing, ice skating, dogsledding, or snowmobiling. Cross-country skiing can be a great group activity, especially for beginners, since it tends to be slower and on mellower terrain. Smuggs offers all these as well as plenty of indoor options, including its FunZone, which has Ping-Pong, mini golf, bouncies and an arcade. Next door, there's an indoor pool and hot tubs.
8. Senior-friendly activities. Nana may have gone 68 years without strapping on a pair of skis, and she may not want to start now. But rather than sentencing her and Pops to a boring day back at the condo, look for a wide range of interesting activities. Indoor options might include a lodge reading room, card tournaments, wine tastings, or painting classes. Snowshoeing is common at ski resorts now, though it can be more of a workout than many first-timers expect. A gentler alternative: "winter walking," which Smuggs offers, that amounts to guided, adults-only nature walks where participants wear Yaktrax (slip-on traction attachments you wear over shoes or boots), which help you cruise safely over snow and ice.
On the other hand, if Nana has been known to rip up a mountain or two in her day, ask about local senior ski groups. Smuggs has a 55-Plus Club, comprised mostly of locals but welcoming to visitors (admission is $25), which meets on Wednesdays for coffee, Danish and some friendly trail skiing.
9. A super kids' program. At coffee klatches everywhere, grandparents gripe about this scam: They get invited on "vacation," but then end up providing free daily babysitting while the middle-generation "kids" run off to play. Don't be those kids—make sure there is a supervised program for little kids with age-appropriate activities.
While so many kids' clubs skew their activities to the 5-and-under set—blocks, simple puzzles, craft supplies, and preschooler-sized play structures—the great ones also find ways to keep grade-schoolers, 'tweens, and even teens having fun. Smuggs has a state-of-the-art, 5,400-square-foot childcare center where under-3s kids are divided by age into three rooms (6 to 16 months; 17 to 30 months; and 30 months to 3 years). For kids 3 and up, the ski program is divided into four age groups (3 to 5 years; 6 to 10 years; 11 to 15; and 16 to 17), with both on- and off-slope time. The older kids get, the more time they spend on the snow, but skiing is just part of the fun. In the afternoons, there are winter science workshops, bonfires with hot chocolate, and movie matinees. Teens have two indoor hangouts—one for 13- to 15-year-olds and one for 16-and-ups.
Smuggs also offers what has become common at many resorts: a "Kids Night Out" evening program where kids eat dinner and watch a movie or partake in other fun activities while the grown-ups get to eat and perhaps even carry on a real conversation elsewhere.
10. Après-dinner fun. Steer clear of any resort where the only evening options are heading to a bar or video arcade, since it's a sure way to alienate entire factions of your party. Some resorts offer evening ski or snowshoe expeditions, as well as moonlit skating, but make sure there's plenty to do inside too, like G-rated music and dancing, or family games or movie nights. Along with a range of outdoor goings-on, including evening tubing and airboarding (think inflatable boogie boards on snow), Smuggs has a rotating selection of live music, magic shows, and trivia contests for older kids and grown-ups as well as scheduled family activities which, on any given stay, may include miniature sled-building, karaoke, or a marionette performance of The Hobbit. Family fun winds down by 9pm, so your gang can hit the hay early and be ready to hit the snow again in the morning. Babysitting services are available if adults would like to stay out later. There's always something going on in the Bootlegger's Lounge, be it karaoke, live music, a magic show, or big-screen sports highlights.
Click to rate this post!
[Total:

0

Average:

0

]