Family-friendly attractions in Prague
By Holly Rosen Fink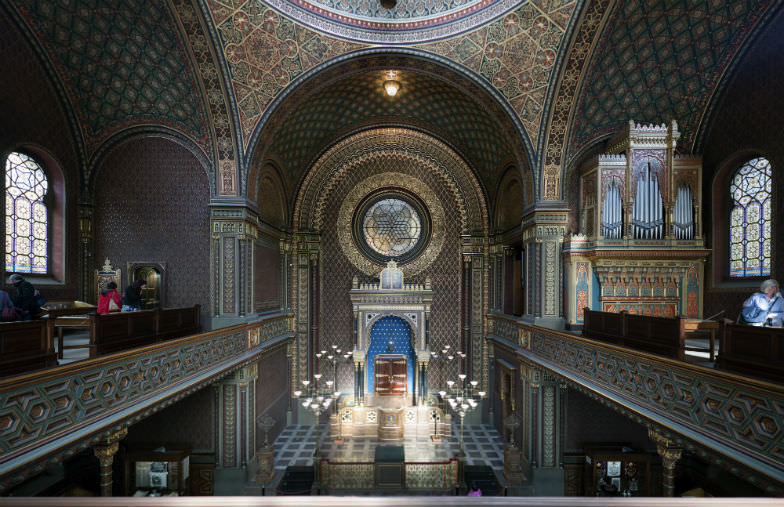 The Spanish Synagogue is a must see place in Prague's Jewish Quarter (Photo: Thomas Ledl)
Travel to Prague with teenagers is good at any time of the year. It's one of the world's most beautiful cities. There are cobbled streets, red-roofed buildings, an Old Town Square filled with things to do and, of course, the famous Charles Bridge.
In addition to the typical tourist fare however, one should definitely plan a visit to Prague's Jewish Quarter. It's the largest ghetto in Eastern Europe and one that demands exploration with teenagers who will be ready and able to grasp the city's complicated history. Older kids will embrace the traditions and legends of Jewish people from Prague starting from the 10th century to the atrocities of World War II.
Visiting Prague's Jewish Quarter is truly one of the best vacation ideas for families with teenagers. The area is so historic that it has been coined the "Jewish Museum." A ticket includes the cost of admission into seven destinations on a self-guided scenic tour that includes visit to six synagogues, a Jewish Town Hall and a mystical cemetery. You and your teens will experience great art and architecture. And you'll hear stories that are both important and haunting, making the tour one they are unlikely to forget.
This beautiful European city is full of vacation ideas for families, and we're happy to share what we have learned while exploring the area. To help funnel through this vast selection, we have compiled a list of our top things to see when traveling through Prague's Jewish Quarter with Teens.
(MORE: Krakow for Kids: 5 Museums Kids Will Love)
Best Places to Visit in Prague's Jewish Quarter
Pinkas Synagogue is the city's second oldest living synagogue. Built in 1535, it's quite historic, having been built as a house of prayer. It's worth a visit to see its antiquities as well as witness its nearly 80,000 names inscribed on the walls. These are the names of Jews of Bohemia and Moravia who were sent to their death during the Holocaust. The names that stretch all around the building are organized by birthday and last known day the victims were alive. The sight is astounding to the visitors' senses as not only are there too many names to process, but they are also read out aloud over the speakers mixed with religious prayers.
Tip: Don't miss the Children's Art Exhibit, presenting art made by children in Terezin Concentration Camp from 1942-1944. It's important to note that very few of these children survived.
Built in 1868 as a local Reform congregation, the Spanish Synagogue is the oldest and most spectacular synagogue in Prague's Jewish Quarter. The synagogue is, therefore, not to be missed when touring Prague with older children. With its colorful stained glass and gorgeous gold decor, it was built in the Spanish Moorish style. It's quite a sight with its walls, carved doors, railings, galleries and dome decorated with stylized oriental motifs. The overall impression is underlined by stucco arabesques and stained-glass windows.
Tip: Be sure to spend time in the exhibition upstairs. It deals with the history of the Jews in the Bohemian lands from the reforms of Joseph II in the 1780s to the period after the Second World War. It profiles the most important Jews including Franz Kafka, Sigmund Freud and Gustav Mahler. It has a special focus is on the Holocaust of Jews from Bohemia and Moravia, and the Terezín ghetto.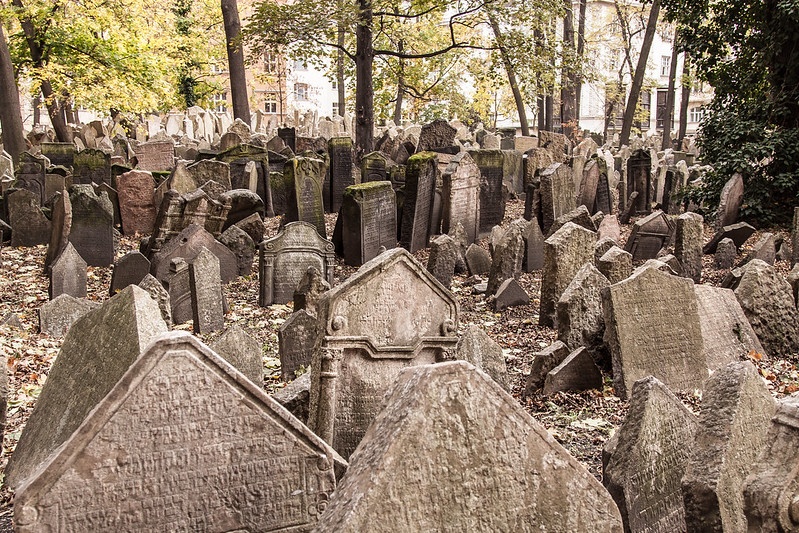 The Old Jewish Cemetery, Jewish Quarter, Prague (Flickr: Edd Prince)
The Old Jewish Cemetery is among the oldest surviving Jewish burial grounds in the world and is the one of the most important sites in the Prague Jewish Town. The earliest tombstone dates back to 1439; the last burial took place 348 years later. The cemetery is an incredible sight to behold, with tombs upon tombs, some are even underground and can't be seen. There are about 12,000 tombstones in the cemetery, many decorated with animal and plant motifs. The oldest tomb belongs to Mordecai Maisel (1528–1601) who built a synagogue in the Jewish quarter which is named after him.
Tip: You can leave a note in a tomb with a wish hand written on them. It is believed that the dead can fulfill a wish. But beware, the stone has to be brought from the place where you live. Picking up a stone from the graveyard, or even from another grave, can be seen as a disrespect by the dead.
If you're looking for vacation ideas for families in Prague's Jewish Quarter on Maiselova Street, the Old New Synagogue is a must see. Make sure to take a tour of it. Not only is it the oldest preserved synagogue in all of Europe, built in 1270. Its gothic interior is also sure to interest your teen. According to legend, it's the resting place of the legendary Golem. The predecessor of Frankenstein's monster, the Golem was brimming over with great strength and was the subject of interest of many kings and emperors.
Tip: Context Prague Tours are led by scholars and historians, and boast English-speaking guides who are knowledgeable. Their tours are informative and make for the most educational ways to see Prague's Jewish Quarter with teens.
(MORE: Things to Do in Warsaw: 5 Historical Sites to See with Kids)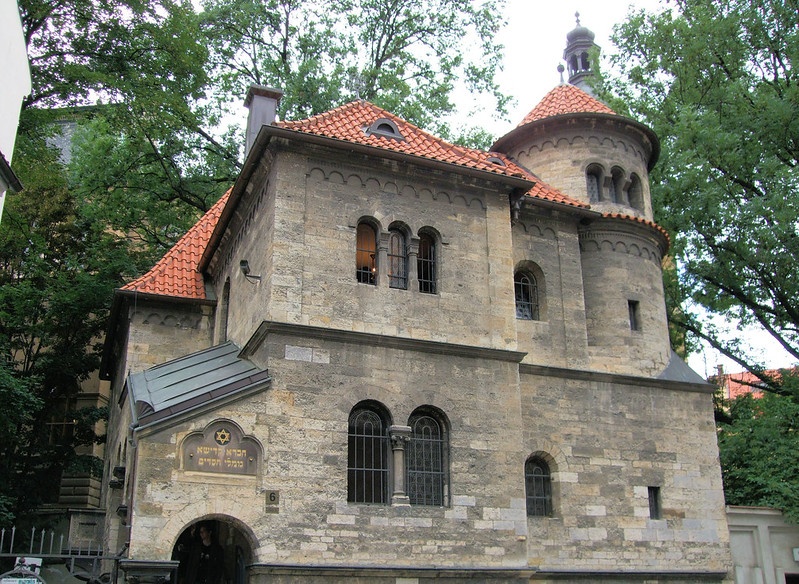 Jewish Ceremonial Hall in Prague (Photo: Jim Linwood)
Jewish Ceremonial Hall is another great option for things to do in Prague's Jewish Quarter with teens. Located next to the Old Jewish Cemetery on the site of an old mortuary used by the Prague Burial Society, it was built in the Neo-Romanesque style in 1906–08. The first floor once housed a room for the ritual washing of the dead. On the second floor was the burial society's club room. The permanent exhibition features history about the Burial Society, an important religious and social institution of the ghetto that was founded by Rabbi Eliezer Ashkenazi in 1564.
Tip: Be sure not to miss fragments of Prague's oldest tombstones, dating from the 14th century. Also exhibited are memorial prayers for the dead and a map of preserved Jewish cemeteries in the Bohemian lands.
Extra tip: If you're looking for a family-friendly hotel in Prague, Hotel Paris has preserved its look of a First Republic, neo-Gothic building with bold elements of Art Nouveau for over a century. In 1991, the hotel, rated a 5-star hotel, returned to the Brandeis family, whose hotelier tradition has a 150-year history. It boasts a polite staff, excellent location, onsite dining, comfortable rooms, and most importantly, excellent value.
Holly Rosen Fink of The Culture Mom contributed this to MiniTime. She is a full-time marketer living in Larchmont, NY with her husband and two children.
Click to rate this post!
[Total:

0

Average:

0

]