Top 5 kid-friendly attractions in Banff
By Linda Wilkinson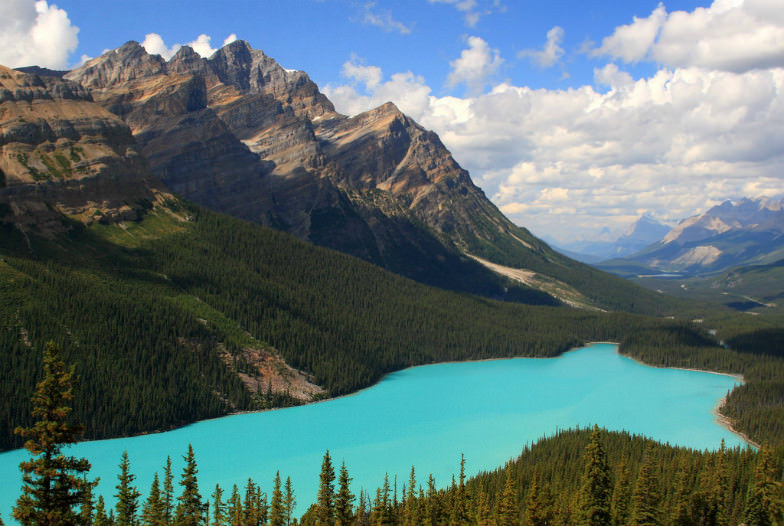 Banff National Park (Flickr: Frank Kovalchek)
With 2,564 miles of wilderness, wildlife, and breathtaking natural beauty, Banff National Park is a favorite destination for families. Hiking, boating, rafting, wildlife sightings, and soaking in the hot springs are just a few of the activities that keep families coming back to Banff year after year. Plan to stay for at least three days to take in all the activities and do some touring either by car or tour bus. Be sure to bring your camera, water bottles, sunscreen, and mosquito repellent.
(MORE: Look for kid-friendly hotels to stay in during your Banff family vacation.)
Here are the top five Banff attractions for kids: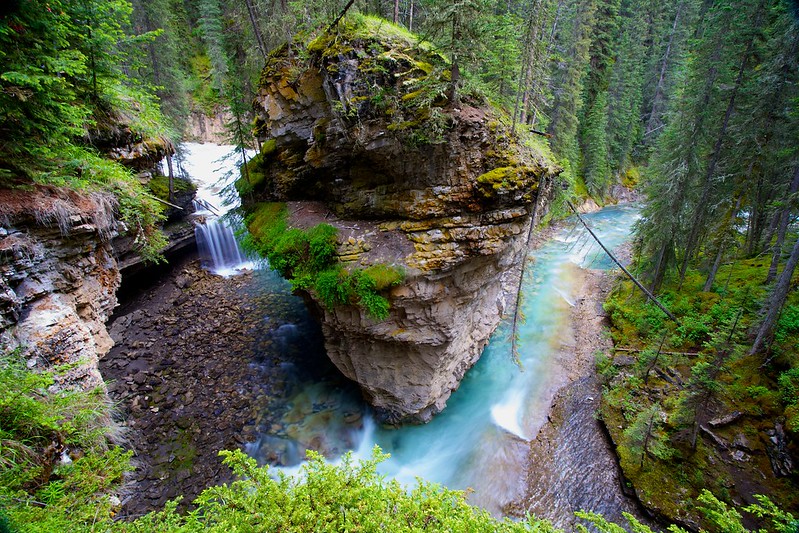 Johnston Canyon at Banff in Alberta, Canada (Flickr: Jonathan Mueller)
Johnston Canyon is a favorite spot for Banff family fun because there are two trail options for hiking: the short 20 minute stroller-friendly hike to the lower waterfalls for families with young children, and the longer 45 minute hike to the upper falls for families with older children (plus babies and toddlers if they are in carrier backpacks). If your family is eager to hike even further, the trail continues past the upper falls to the emerald-coloured Ink Pots bubbling with mineral water. Take along a picnic lunch to enjoy at one of the rest stops or treat your family to a lunch and snacks at the restaurant and ice cream stand at the base of the trail.
Tip: To avoid the crowds, start your hike before 9 am or after 4 pm.
Another Banff attraction for kids, especially on a rainy day, is the Banff Park Museum. Kid-friendly animal displays and an interactive discovery room make this an entertaining and educational activity where children can learn about a variety of species in the area.
Tip: Children between the ages of 6 to 11 will enjoy the Xplorer Club booklet filled with activities that will help them learn more about Banff National Park. It is available at the Banff Park Museum or downloadable here.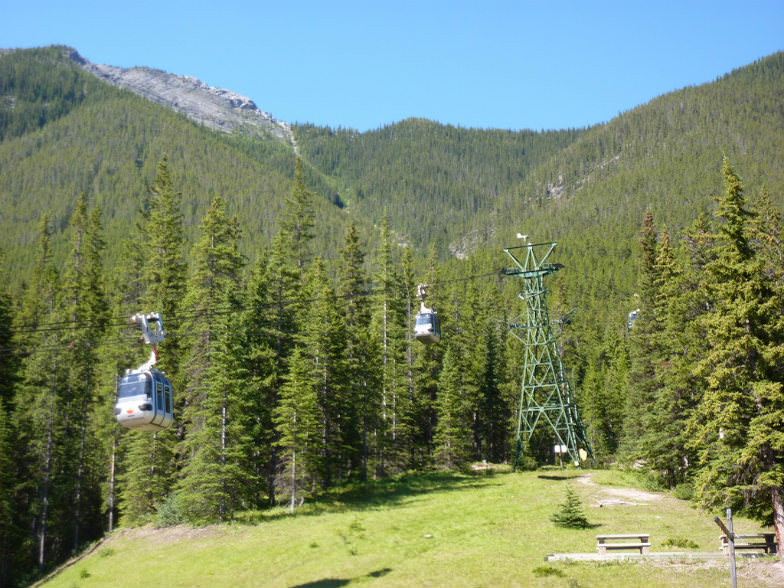 Sulphur Mountain Gondola (Flickr: Andrew Bowden)
Another family attraction in Banff is the Sulphur Mountain Gondola. In just eight minutes, the glass-enclosed gondola climbs 7,486 feet, giving you and your children a thrilling panoramic view. Once you arrive at the top, you'll all be wowed with by the breathtaking bird's-eye view of six mountain ranges. The Panorama Restaurant is the perfect spot to sit and enjoy the spectacular scenery from inside. Or your children and teens can explore boardwalk trails (toddlers and babies will have to enjoy the view from a child backpack carrier as the boardwalk is not stroller-friendly). There is also an observation deck with binoculars for close-up views in every direction.
Tips: It can be windy at the top so it is best to dress warm in layers. Book your tickets online to avoid long lineups during peak season.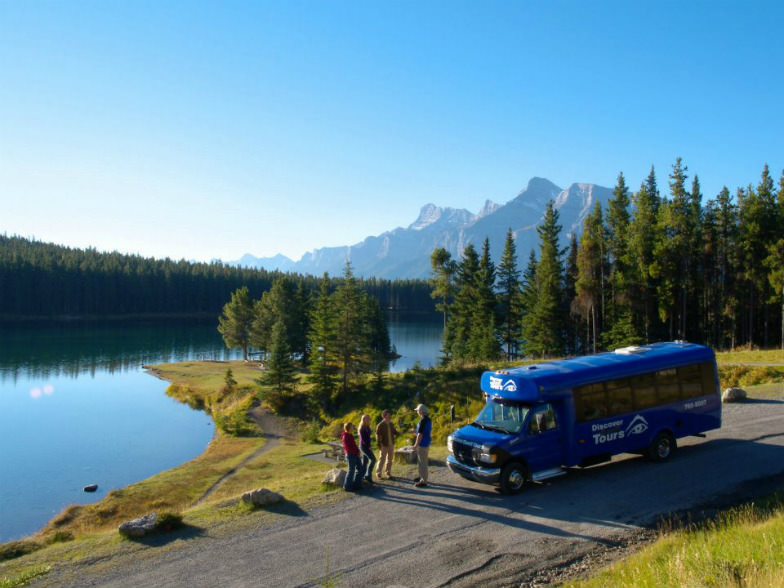 Go on a wildlife safari with Discover Banff Tours. (Discover Banff Tours)
Evening Wildlife Safari is a family-friendly way to see the wildlife in Banff National Park. Find out about the habitats of bears, cougars, mountain goats and other wildlife from the safety of a bus. Young children (and tired moms and dads) will enjoy this non-walking tour.
Tip: Give children an inexpensive or disposable camera to take their own photos. They might surprise you with their unique perspective.
(MORE: Find more kid-friendly attractions to see in Banff)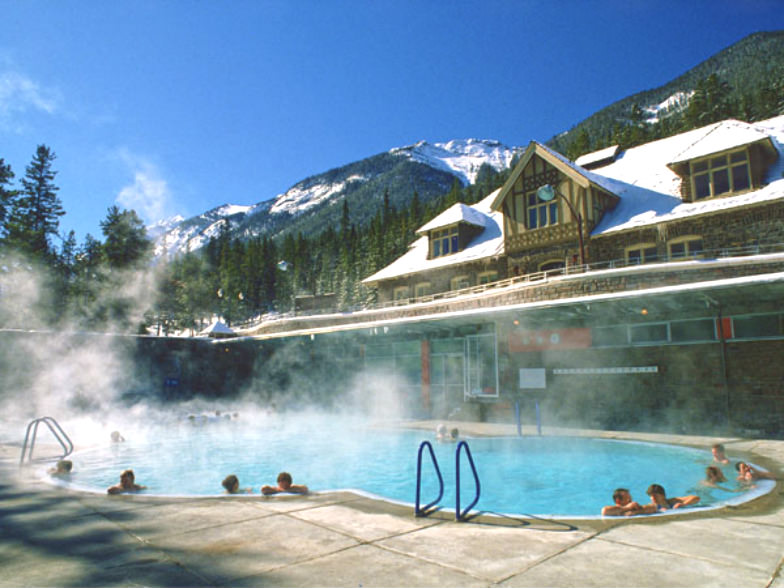 Banff Upper Hot Springs (Canadian Rockies Hot Springs)
Banff Upper Hot Springs is the perfect way for families to end a busy day. Enjoy the fresh mountain air and relax in the natural mineral water that is typically between 98 and 104. Children of all ages will enjoy splashing in the shallow section of the pool; however, young children should be monitored and removed from the hot springs to keep them from getting overheated. They may enjoy just sitting on the edge of the pool while soaking their feet.
Tips: Plan for adults, teens, and older children to stay immersed for up to 20 minutes only. Although it varies for younger children and babies, the amount of time in the hot springs must be less than 20 minutes. Clean shorts and T-shirt are allowed as long as they are taken in as a separate change of clothes.
Linda Wilkinson contributed this to MiniTime.