Ocho Rios, Jamaica
By Jinny VanDeusen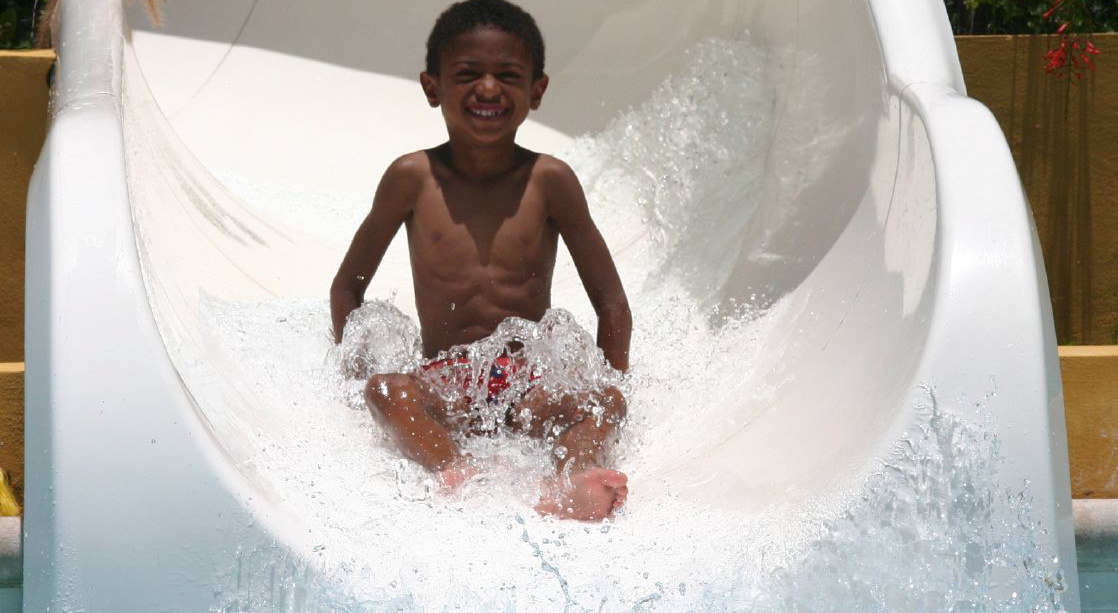 Why Go: Few Caribbean resort chains have captured the family market with the gusto of Beaches Resorts, the kid-friendly arm of the Sandals empire. Three of the four Beaches properties are located in Jamaica, an island that's embraced all-inclusive pricing like no other. Beaches Boscobel lies on the island's northern shore, just outside Ocho Rios, offering vistas across the aquamarine Caribbean that are nothing short of spectacular.
"All-inclusive" is one of those shady terms that has come to mean very different things at different resorts. Beaches' popular "ultra all-inclusive" pricing policy is as comprehensive as they come. Rates include premium drinks, children's activities, watersports, and gratuities. Like to golf? Beaches Boscobel is the only Caribbean resort that offers all-inclusive green fees for both adults and kids. When our correspondent, Jinny Mansfield, and her family came for a 6-day visit, she appreciated not having to worry about extra costs, "especially when the kids discovered the swim-up bar and ordered non-alcoholic strawberry daiquiri slushies non-stop."
The atmosphere at Beaches Boscobel is relaxed, safe, and relentlessly kid-centric, thanks to an exceptionally warm and friendly staff and a menu of age-appropriate activities for children rivaling that of a small cruise ship. The company has forged a partnership with Sesame Street, and there are many opportunities for meet-and-greets with 7-foot incarnations of Elmo, Cookie Monster, Grover, Zoë, and other favorite characters. Having the Muppets around pretty much guarantees that your fellow guests are families, and there's always plenty to do for kids of all ages, from toddlers and preschoolers right up to middle-schoolers.
Beaches' reputation for family fun is well-deserved. ("My kids definitely had a blast from start to finish.") One of the best features of the resort is the Kids Kamp, which hosts age-appropriate activities for children from morning through late afternoon. Many tie-ins involve the Sesame Street crew, such as baking with Cookie Monster, arts and crafts with Grover, and music-making with Ernie and Bert. Parents will love the flexibility of this camp. There's no need to pre-book, and you can sign your kids in and out as often or as seldom as you like.
When your kids aren't in camp, Beaches has you covered with an impressive list of recreational offerings for the family to do together. During an average week, you can expect the schedule to include organized games of family charades, giant Pictionary, parents-and-kids billiards, dominoes, and perhaps a Ping-Pong tournament. Watersports include banana boat rides, aquatrikes, catamaran sailing, water trampoline, snorkeling (6 and up) and scuba (12 and up). There's also volleyball, shuffleboard, bocce ball, basketball, horseshoe throwing, and an impressive game room called the Xbox Oasis.
Getting Oriented: Beaches Boscobel is located on the north shore of Jamaica, about 10 miles east of Ocho Rios. Although there is a small airport at Ocho Rios, most Americans fly into the busier airport at Montego Bay. The 60-mile distance translates to a long journey due to poor roads. Beaches offers a free shuttle bus service to its guests, but it's a three-hour trip because the bus makes many stops along the way. On the advice of her travel agent, Mansfield and her family chose to hire private transportation, which shaved an hour off the drive and cost about $250 roundtrip. ("This turned out to be a great thing. The driver stopped so we could pick up food for the kids and make a couple of bathroom stops—no easy feat in Jamaica—so his local knowledge went a long way.")
The resort is self-contained and a 10-minute drive to Ocho Rios, feeling somewhat cut off from the rest of the world. The complex is built into a hill that rises steeply up from the beach, with an elevator to bring guests from guestrooms to pool level to beach level. Buildings are laid out like a horseshoe, with the main reception area, restaurants, Kids Kamp, and teen center in the middle and two wings of guest rooms lining either side. The interior is a landscaped area featuring a series of smaller courtyards with restaurants, a large family pool, plus a huge outdoor waterpark with many waterslides and an interactive splash-and-play area for little kids. Just below the pool level is a triple-tiered building of oceanfront guestrooms. Below that, the beach is relatively small but well-protected and safe for small kids.
Getting Around: Once you arrive, it's quite possible that you wouldn't leave the resort, especially if you have young children. Off-site activities include organized shopping trips, sightseeing excursions and, of course, the free golf at a nearby Sandals resort (a 10-minute drive via free shuttle). If you feel like exploring on your own, there's a car rental desk in the lobby.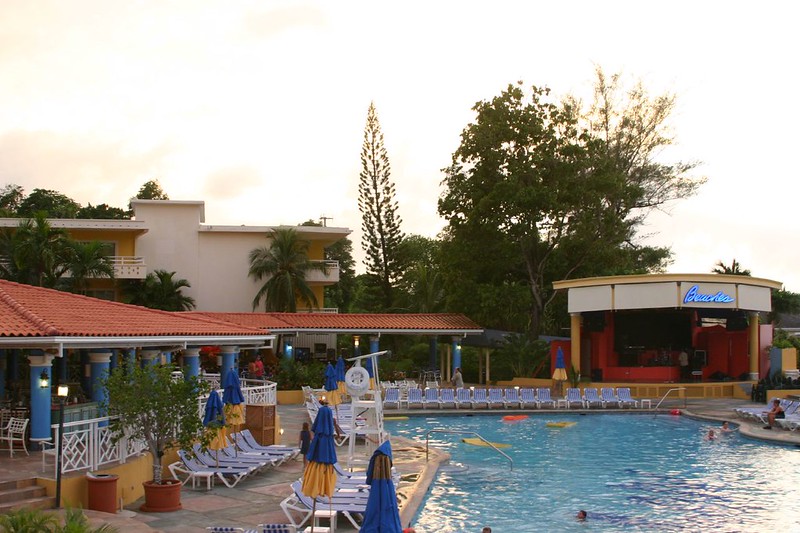 We Are Family: The Kids Kamp is divided into five age groups, from babies through teens. At the youngest end of the spectrum, there's an air-conditioned nursery where Ultra Nannies cradle and coo over infants up to 23-month-olds. The Beaches nannies are all certified in accordance with an accredited US university, and have the Jamaican knack for kids. The room is equipped with cribs, strollers, high chairs, rocking chairs and a bevy of age-appropriate toys (Open 7 days, 9am-6pm).
The Sesame Street connection pulls in an enormous number of toddlers and preschoolers to this resort, who love the character walkabouts and photo sessions. Expect storytime with Elmo, arts and crafts, learning letters, and walkabouts with the characters. Even so, we consider the optimal age range to be a few years older. Once kids are 6 and up, they can partake in almost every activity at the resort, including most of the watersports. Plus, they can attend the evening Kids Kamp (see below, "Nightlife").
During their visit, 7-year-old Kate and 5-year-old Jack used the Kids Kamp a lot and thoroughly enjoyed it. ("It allowed for a really nice balance of grown-up and family time.") Mansfield rated the counselors as genuinely outstanding. ("Our kids developed quick attachments to a few in particular, and I remember being amazed at how good they were with the kids. They live up to their billing as Ultra Nannies.")
Note that during off-peak periods, the camp's age groupings may be adjusted according to the number of kids participating on a given day. During the first few days of Mansfield's visit, 4- to 7-year-olds were combined with 8- to 12-year-olds for some activities when there weren't many participants in either group. While we generally prefer to see smaller age ranges for group activities, this temporary measure didn't seem to have any negative impact on the kids' enjoyment.
Each day had a theme: Environmental Monday, Olympic Tuesday, Clown-Around Wednesday, Cultural Thursday, Pirates Friday, and so on. Activities ranged from arts and crafts to cooking to glass-bottom boat rides to tie-dying tee-shirts. Mansfield's kids participated in the BoscOlympics, joined in sandcastle competitions, went swimming, and even learned some Jamaican words. For Mansfield, the beauty of the Kids Kamp was that her kids could spend as much or as little time in it as they wanted. On some days, her 5-year-old went to camp in the morning, then came out after lunch to spend the afternoon with the grown-ups. On other days, the entire family hung out together at the beach.
While Beaches Boscobel has a camp for teens, this age group is vastly outnumbered by the army of small fries who come to meet Elmo and Zoë. Consequently, the teen program tends to be considerably less well-attended than the camps for younger age groups. Kids 10 and up gravitate to the Xbox Oasis, but events like the teen disco didn't get much action during Mansfield's visit.
From dawn to long after dusk, most of the action happens at the pool area. The large family pool opens for swimming at 9am each morning. Earlier than that, there is the usual competition for lounge chairs in the prime spots for sunning and shade, "but nothing cutthroat." The shallow end makes up nearly half of the pool and is accessed via steps. During Mansfield's visit, there always seemed to be plentiful bright yellow Beaches rafts for public use, and only once in a while were they all in use. Many family activities and shows take place on the poolside stage throughout the day. Daily from 11:30am to noon, a water aerobics class takes over most of the family pool. There is one hot tub in the pool area, which kids are welcome to use as well as adults.
Beaches Boscobel was revitalized in September 2007 with the addition of a new 27,000-square-foot Pirate's Island Waterpark. The aqua playspace features ten waterslides, including a group raft slide, tube slide, body slide, and speed slide. If you're not as daring as your children, the park offers two large sundecks right next to the action, where can you can relax and still keep an eye on things. For toddlers and pre-schoolers, the pirate-themed kid's zone has zero-entry kiddie pool with a misting crab, squirting sea turtle and a splashing seahorse. School-age kids will enjoy the Water Crawl Cargo Net and Treasure Isle aqua play area complete with a treasure chest, water cannons, and stepping stones.
If you're heartset on a long expanse of sandy shore, consider Beaches Negril (located on Jamaica's famous Seven Mile Beach) or Beaches Turks & Caicos. The beach at Boscobel is small, but pleasantly dotted with shady palapas trees and blessed with water that's typically calm and safe for kids. For active families, the large choice of free watersports at Beaches Boscobel is a huge boon. Note: If the water is unusually rough, as it was for the first two days of Mansfield's visit, watersports may be cancelled. When the water returns to calm, the energy level of the entire resort lifts. ("The beach was humming with activity.")
Mansfield and her family tried out the aquatrikes, catamarans, and water trampoline. They took a glass-bottomed boat ride ("the kids loved that") to a nearby reef and tried snorkeling. At peak periods, it's wise to sign-up in advance for the most popular motorized activities, such as the banana boats (bright yellow inflatable floats that riders straddle like a horse). For older kids, jet skiing and parasailing are available off-property for an additional cost.
As is so commonly seen in the Caribbean, a few locals hawk their wares alongside the resort's beach, in a friendly, non-aggressive manner. Two enterprising gents had improvised floating stores—a surfboard and a log raft filled with conch shells and other trinkets—and tied them up next to the swimming area. ("Our kids thought it was great, and dragged us out to the 'Stop and Shop' to purchase a couple of items".)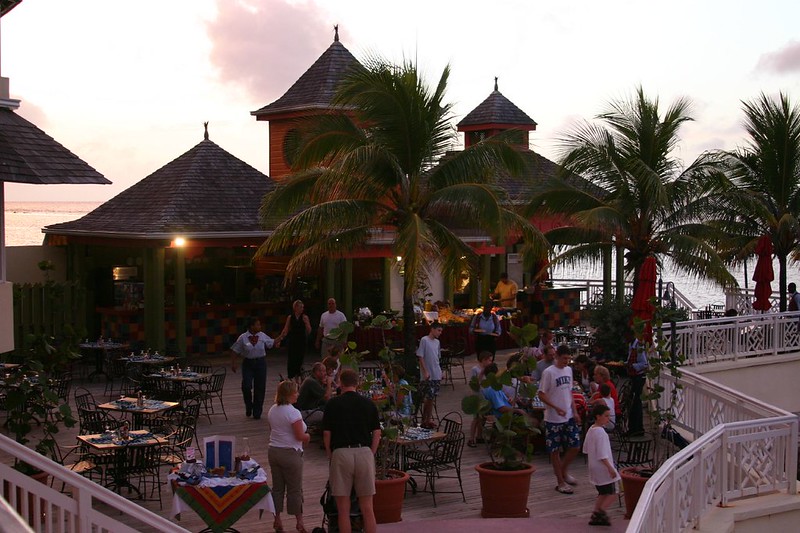 Where to Eat: There are five restaurants at Beaches Boscobel. While none offer what can be considered gourmet dining, the food is generally satisfactory to good. High chairs and booster seats are readily available, along with a menu of favorite children's foods.
The Bayside is the poolside favorite for breakfast and lunch buffet-style service. On a couple of nights each week, tables and chairs are set up on the pool deck for atmospheric themed dinners with seafood or Jamaican cuisine. After dinnertime, late night snacks are served until 5am.
The Venetian, in the main building, serves Italian cuisine. ("We were underwhelmed and didn't go back.")
The BBQ Park, adjacent to the kids' waterslide pool, is popular with families who want a quick al fresco meal. The menu features fast food favorites such as burgers, chicken tenders, a few salads, and the local favorite, spicy jerk chicken sandwich.
Eleanor's, which serves Caribbean food, is the only adults-only restaurant at the resort. The ambience is slightly more formal, and there's a dress code forbidding shorts.
Arizona, set on the waterfront, serves grilled food for lunch and Tex-Mex for dinner. ("Our favorite, mainly because of the setting. There's nothing like sitting by the water on a warm, breezy night.") Mansfield's kids particularly loved the appetizer bar, which was loaded with all sorts of tasty bites and morsels from which they could make a meal.
Nightlife: After sundown, the pool is closed and there's live entertainment on the stage, often featuring the children in the Kids Kamp. The piano bar doesn't start up until 11pm, ("which seems nuts given that most patrons are hitting the hay by 10pm with young children"). Look out for a very entertaining bartender named Carlton, who's infamous for his bar tricks, hokey singing, and jovial gossip about the Ultra Nannies.
Beaches Boscobel makes it easy for parents to grab a quiet dinner as a couple. Kids 6 and up can be signed back into the Kids Kamp from 6pm to 9pm, where they have dinner and join in more fun activities, ranging from crafts and games to watching movies or putting on live shows on the Beaches outdoor stage. If your kids are under 6, you can request your favorite Ultra Nanny to babysit for an evening ($8US/hr for up to two children until 11pm; $11US/hr afterward). For three or more children, you have to hire an additional nanny for a moderate increase in price.
Where to Stay: Beaches Boscobel has 224 air-conditioned guestrooms and suites, and is the only Beaches property with units that sleep five. There are more than a dozen categories of guestrooms, ranging from family doubles to interconnecting rooms to large suites. Most guestrooms are located in the two wings overlooking the pool area, and you naturally pay more for an oceanview or oceanfront room. Be aware that the lower-level rooms opening directly onto one of many small courtyard areas near the pool lack privacy. Rooms on the upper floors of the two main wings overlook the pool itself. The main drawback of the two main wings is noise, especially at night after the microphones are switched on and the entertainment kicks in.
The quietest rooms are those that face the water. The Mansfields stayed in an oceanfront suite, considered "concierge level" at this resort. The room was appointed with a king-size bed, a pull-out sofa, a dresser, and a desk, and there was an ample bathroom and a small closet. The entrance was a sliding door facing the beach, with a small balcony with enough room for a lounge chair plus a small table and chairs. The room was functional and comfortable but not luxurious. The available TV channels included Nickelodeon and the Disney Channel, ("which came in handy on the one rainy day"). Concierge level really did mean above-and-beyond service, featuring a daily restocking of the mini fridge and platters of fresh fruit and cheese. ("We didn't see much that the staff could have done better.") But for Mansfield, the very unbeatable feature of the room was its oceanfront setting. ("Hearing the waves and waking to that view…Heaven.")
Price Tag: A 6-night stay at Beaches Boscobel for a family of four can run anywhere from $2,900 to $8,000, depending on the category of guestroom and the dates of the visit. A one-bedroom double oceanfront suite for a family of four will cost about $5,600 in mid-January or $3,200 in September. These quotes do not include airfare, but many travel agents can offer packages that will save considerable money on flights.
Once you arrive, it's conceivable that you wouldn't spend any serious money beyond the all-inclusive rate. Figure that you'll buy a few photos of the kids snapped by roving photographers, and some souvenirs in the gift shop. If your children are under 6, you might end up spending a bit more for babysitting in the evenings. Availing yourself of spa services or getting your daughter's hair braided on the beach by the spa staff will set you back, of course. A note about golf: The green fees and transfer to the nearby Sandals course are included in your rate, but the caddy fee and tip are not.
Considering that all meals, beverages, kids' activities, and even watersports are packed into the all-inclusive rate, Beaches Boscobel offers a terrific value for families. This is especially true if your children take part in the terrific Kids Kamp, which lets the whole family strike a nice balance of fun, relaxation, and togetherness.
Insider Tips:
Bring a package of brand new white tee-shirts for children's tie-dying activities. You'll pay more if you buy them in the resort's gift shop.
Prices vary greatly at different times of the year. You can save more than 40% off peak rates if you come during a slow period.
If you enjoy yourself, come back. Return visitors get a substantial discount on subsequent Beaches vacations.
Before checking out, make double sure that you pack up all your belongings. Beaches' post-trip customer service can be unresponsive, judging from the trouble Mansfield had trying to retrieve several items after she returned home.