It's more family-friendly than you may think
By Kristi Marcelle on Apr 4, 2014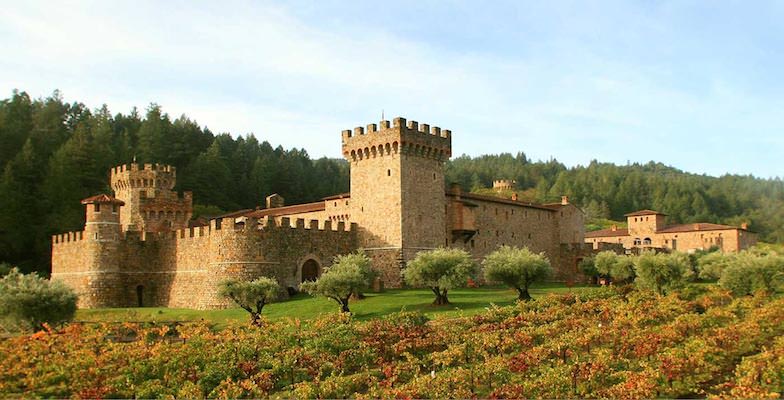 Castello di Amorosa
It's a shame to tour California with its more than 3,700 wineries without visiting a few of them—even if you have kids in tow. The good news is that wineries have got a lot for children to love, from grape-juice tastings and farm animals to castles and bocce ball. Here are six pockets of California wine country that are perfect for a day out with the kids.
Napa Valley
Where: 60 miles north of San Francisco Known for: Cabernet Sauvignon, a fairytale castle, commercial wineries, and famous-name restaurants Family-friendly wineries: Every little knight and princess will love Castello di Amorosa and a ride on the aerial tram at Sterling Vineyards. Long Meadow Ranch Winery and Farmstead restaurant have a grassy area to play, a calm tasting room and a kid-friendly farm-to-table menu. Play: Rent bikes from in-the-kid-know Calistoga Bikeshop and pedal to local wineries. Stay: Value-minded Sunburst Calistoga has a relaxing pool area and complimentary boxed breakfasts.
(MORE: View a family trip plan: 3 days in Napa with kids.)
Sonoma County
Where: An hour north of San Francisco, between Napa Valley and the Pacific Known for: Pinot Noir and Chardonnay, small family wineries, rolling hills and farms Family-friendly wineries: Francis Ford Coppola Winery is a one-stop winery resort experience with bocce courts and a pool. Opera singers have been known to make appearances at VJB Winery, while kids can amuse themselves with ride-on tractors, bocce courts, and farm animals at Larson Family Winery. Play: Enjoy Sonoma's wild side with a tour at Safari West or play with the Peanuts gang at Charles M. Schulz Museum. Stay: Flamingo Resort has newly renovated rooms or try glamping in a tent cabin at Safari West.
Santa Ynez Valley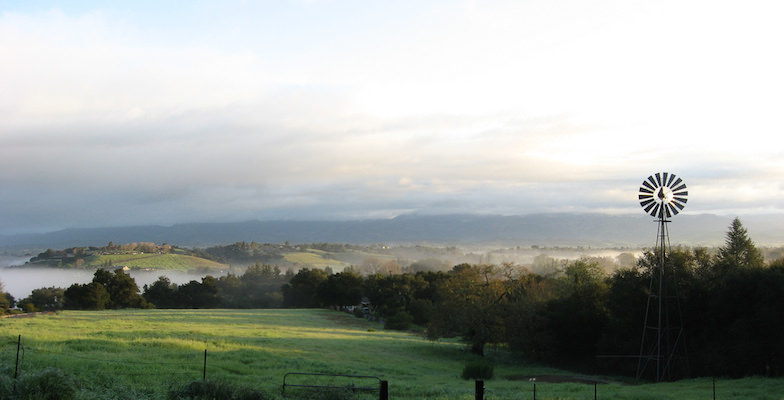 Santa Ynez Valley
Where: Two hours north of Los Angeles. Known for: Pinot Noir and Chardonnay, horses and the Danish town of Solvang. Family-friendly wineries: Play with the giant chess set at Zaca Mesa or the resident dog at reservation-only, Tuscan-villa-inspired Demetria. Pack a football and a picnic lunch and watch for deer at Rancho Sisquoc. Play: Eat a Danish the size of your head at Olsen's Danish Bakery, pet a miniature donkey at Seein' Spots Farm or run around at Sunny Fields Park. Stay: Hadsten House Inn in Solvang has complimentary sit-down breakfast and a huge indoor pool.
Gold Country
Where: The quaint town of Murphys, three hours from San Francisco and two hours from Yosemite. Known for: Zinfandels, jumping frogs of Calaveras County, small family wineries, and Gold Rush history Family-friendly wineries: Check out a 44-pound crystalline gold leaf nugget, the world's largest, at Ironstone Vineyards or let kids play on the grassy lawn at Hovey Wines. Play: Walk among giant sequoias at Calaveras Big Trees State Park, zipline at Moaning Cavern, or pan for gold at Natural Bridges. Stay: Murphys Suites at the entrance to town offers one- and two-bedroom suites, while the Villa at Val du Vino has a private swimming pool and basketball court.
Paso Robles
Where: On the central coast of California, equidistant between San Francisco and Los Angeles. Known for: Rhone-style wines like Syrahs, rolling hills, and casual tasting rooms Family-friendly wineries: Eberle Winery has bocce ball and wine cave tours or pretend play with wigs at Clautiere Cellers. Kids love Tobin James for the western-themed party vibe and free video game machines. Play: Go zip lining at an historic California ranch on the Margarita Adventures tour, sample honey and apples at Jack Creek Farms or take in the famous Hearst Castle, a 20-minute drive from Paso Robles. Stay: La Quinta Inn & Suites for value or Cambria Shores Inn for the beach.
(MORE: Find more kid-friendly places to stay in Paso Robles.)
Mendocino
Flickr: Allie Caulfield
Where: Anderson Valley on windy highway 128, four hours north of San Francisco Known for: Pinot Noir and Chardonnay, coastline views, and laidback tasting rooms Family-friendly wineries: Play on the swings at Meyer Family Cellars or roll a bocce ball at Balo Vineyards, and don't miss the Gewurztraminer grape juice at Navarro Vineyards. Play: Take a horseback ride on the beach with Ricochet Ridge Ranch, climb the tallest lighthouse on the Pacific Coast at Point Arena Lighthouse and taste apples at the Apple Farm. Stay: Little River Inn has been a family favorite on the coast for 75 years.
Kristi Marcelle, a California based-freelance writer, contributed this to www.MiniTime.com