Myrtle Beach accommodations with the best kid-friendly amenities and features.
By Jordan Estrada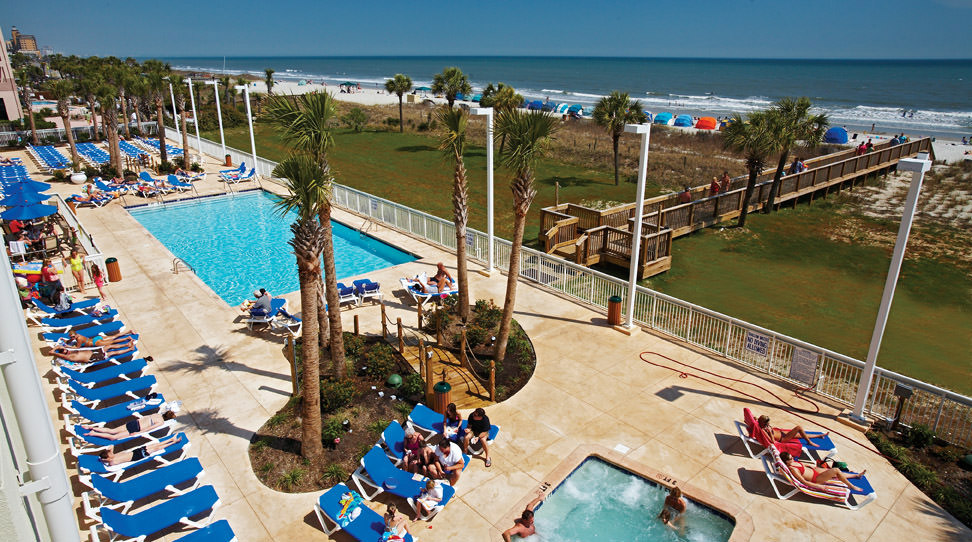 Dunes Village Resort Myrtle Beach (Courtesy Dunes Village)
Myrtle Beach is a popular tourist destination especially in springtime due to its warm climate, beautiful beaches and large shopping areas. If you plan on visiting this city with kids whether for the weekend or for an entire week, there will be no shortage of fun activities for the whole family to enjoy. It should be no surprise that there are plenty of kid-friendly hotels and resorts in the area – many of which even have their own waterparks! – and listed here are five top choices for traveling families.
Dunes Village Resort Myrtle Beach
Families in search of an oceanfront resort can stay at the Dunes Village Resort Myrtle Beach. This resort features a huge indoor waterpark with a variety of water attractions, including a kids pool and play area for younger guests. Onsite dining options like the Admirals Room and Captains Café offer great-tasting food whenever the troop gets hungry. There is even a morning breakfast buffet where guests can help themselves to eggs, bacon, fruit and more. The hotel's kids club offers fun activities for children like arts and crafts, treasure hunts and various water games that can be played in the pool. The pirate ship playground is a great place for little ones to play and use their imagination. There are also weekly magic shows that are perfect for families.
Royale Palms Condominiums Myrtle Beach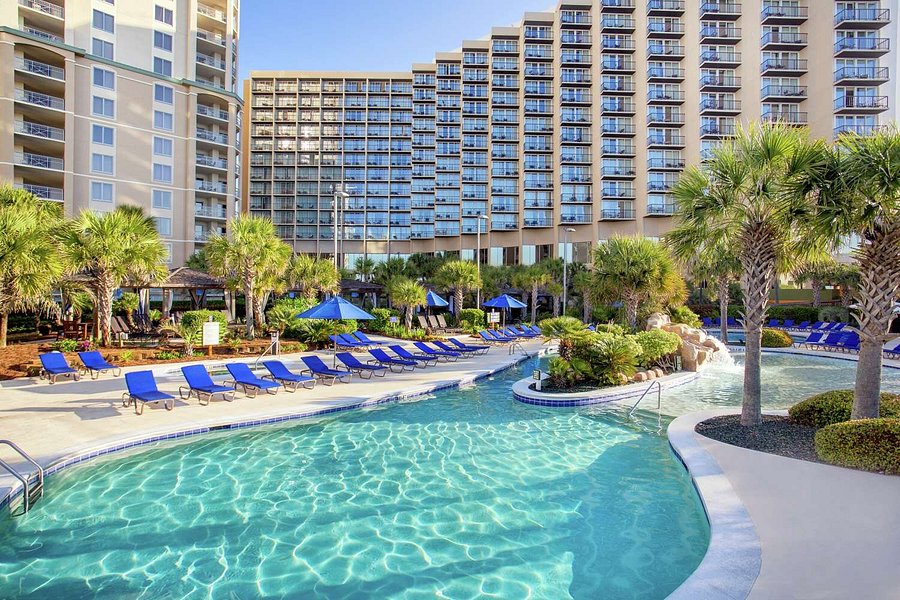 Royale Palms Condominiums Myrtle Beach (Courtesy Hilton)
At the north end of Myrtle Beach sits the Royale Palms Condominiums Myrtle Beach where families can enjoy a variety of kid-friendly amenities. A children's menu is available for onsite dining so that younger guests can order properly-portioned meals. Cribs and high chairs are also provided upon request and fun children's activities may be arranged during your stay. The onsite pool is a great place to cool off, or go for a swim and enjoy the local beach. A family fun package that includes breakfast for up to four people and free Wi-Fi access is available.
Ocean Reef Resort Myrtle Beach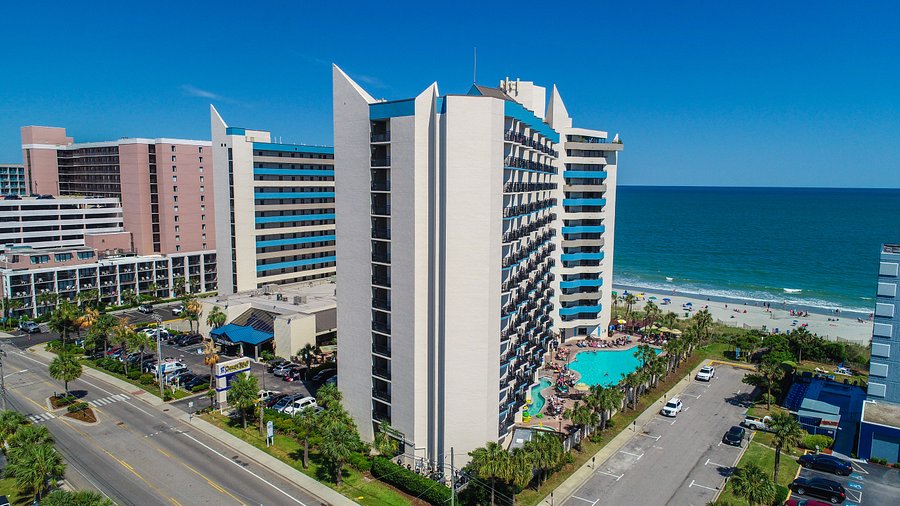 Ocean Reef Resort Myrtle Beach (Courtesy Ocean Reef)
The Ocean Reef Resort Myrtle Beach caters specifically to families by offering a variety of kid-friendly services and accommodations. Guest lodgings consist of one- to four-bedroom condominiums to accommodate small to large families and The Shipwreck Lagoon Waterpark is an onsite attraction where children can play like they are pirates exploring the seven seas. The park has exciting water slides and boasts a fun design complete with giant Tiki statues and a special area where small children can play in shallow pools with exciting water features. The resort has its own kids club and offers seasonal children's activities that will provide hours of entertainment to give parents a break and some quality alone time.
Springmaid Beach Resort Myrtle Beach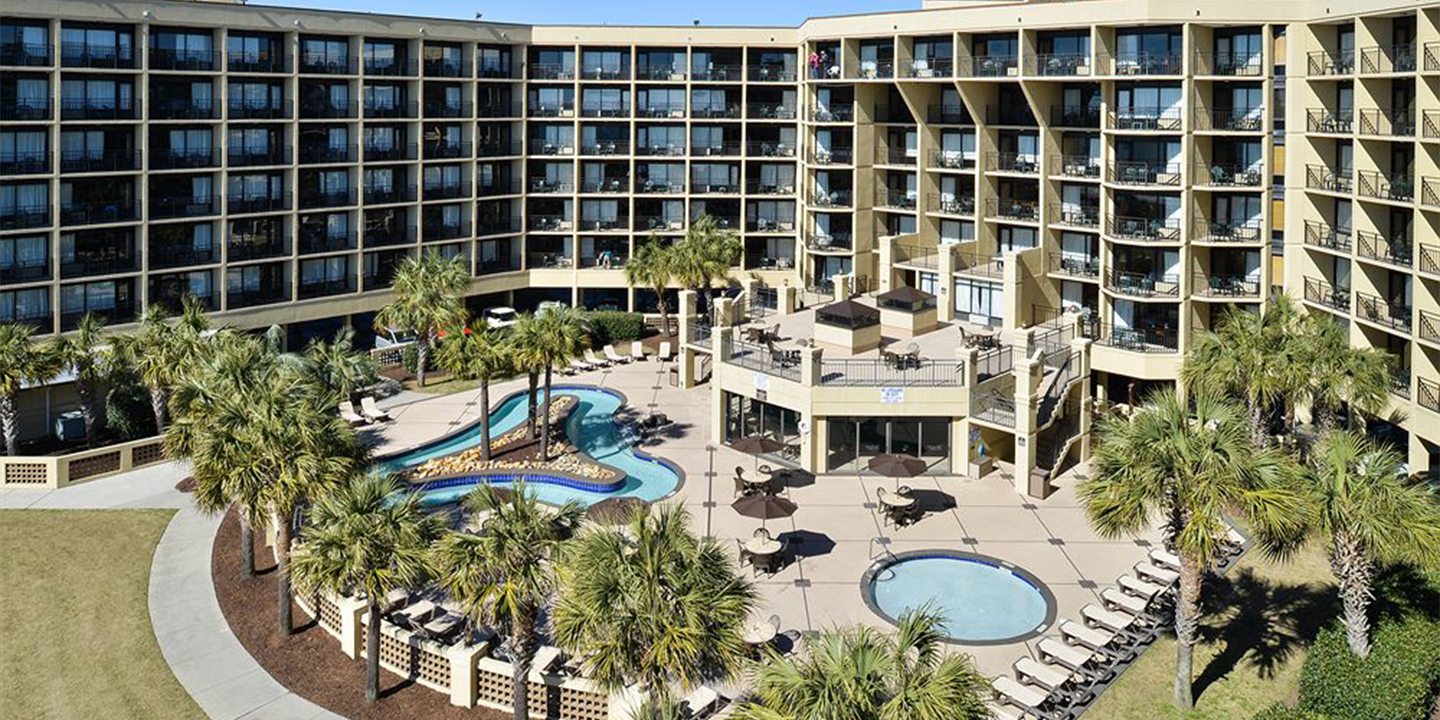 Springmaid Beach Resort Myrtle Beach (Courtesy Spring Maid Beach)
The Springmaid Beach Resort Myrtle Beach is a family-friendly beachfront hotel where guests can enjoy comfortable rooms with ocean views. The hotel always offers fun activities like arts and crafts for the kids, and families have access to free unlimited miniature golf during their stay. The Bart Buddies Kids Club offers fun games for little ones like kickball, sandcastle building and relay races. Young kids can spend the day at the Tot Pool or join their parents in the lazy river onsite. Wireless Internet access makes it easy for guests to stay connected to friends and flat panel TVs can be found in each room for added entertainment.
(MORE: Find family-friendly attractions to see in Myrtle Beach.)
Sea Watch Resort Myrtle Beach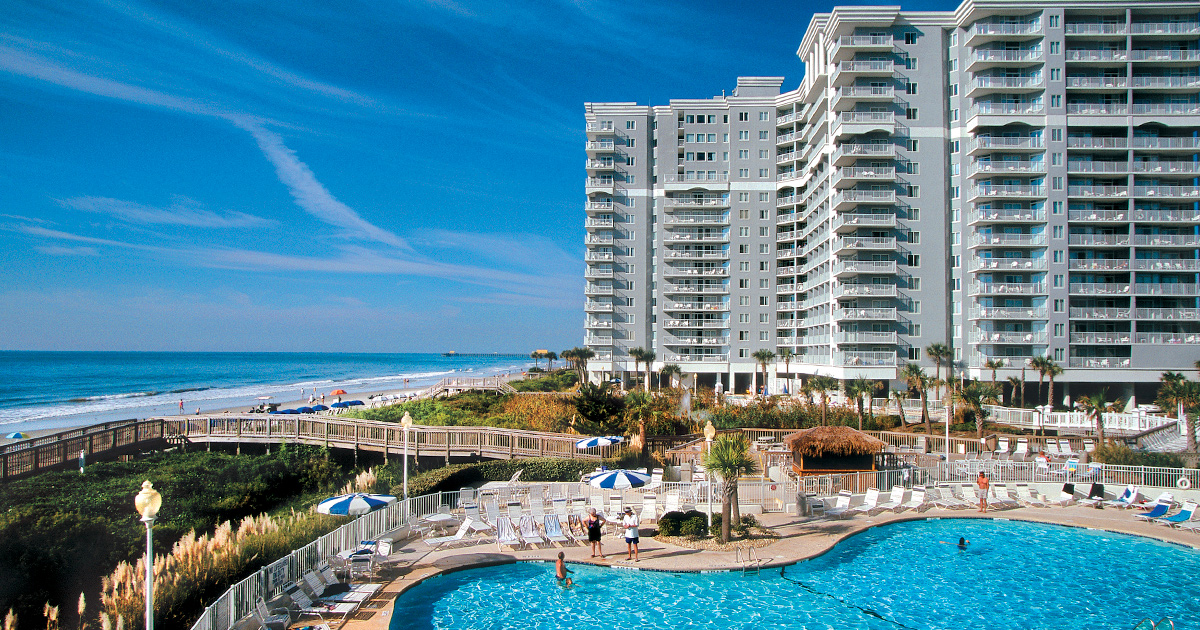 Sea Watch Resort Myrtle Beach (Courtesy Sea Watch)
Another fantastic option for families is the Sea Watch Resort Myrtle Beach, which offers year-round activities and a full range of amenities. The onsite game room is popular with younger guests who enjoy playing arcade games. Families can go for a swim in one of the six pools at the resort or relax in one of the two onsite lazy rivers. There are lots of dining options too, including the Captains Cove (a great place to eat for breakfast) and Captains Nook, which sells ice cream, snacks and coffee. Other amenities include free wireless Internet and free guest parking.
Jordan Estrada contributed this to MiniTime. He is a freelance travel writer from Southern California who spends him time gardening, studying music and performing with his band.