Top New York ski resorts for families
By Holly Rosen Fink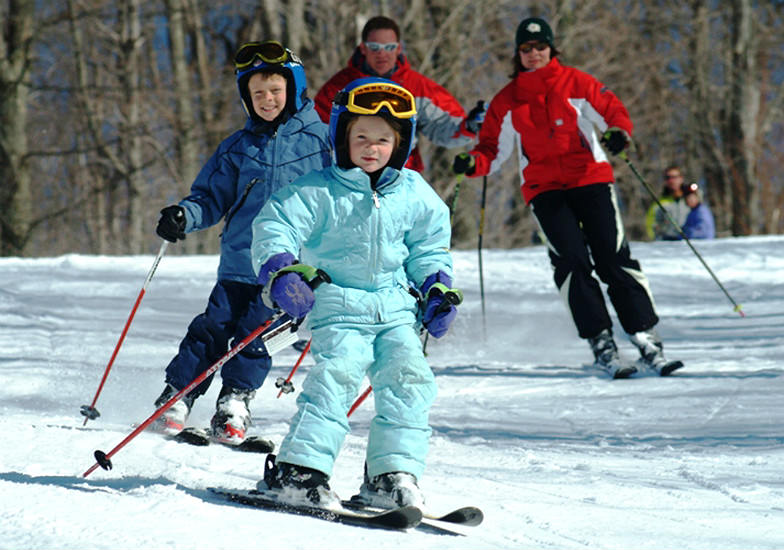 Family at Windham Mountain (Windham Mountain)
Do you live in New York and have kids who were born to ski?
If you do, you are in luck. Not only are there ski slopes that are less than one hour from your doorstep, making easy one-day or overnight trips to the slopes, but you have excellent, well maintained slopes. Plus, the state of New York has over 50 ski resorts, complete with programs for skiers of all shapes and sizes. They offer discount lift tickets, ski and stay packages and classes for all levels.
Whether you've taught your kids to ski or not, it is a great time to experience one of New York's many ski areas. The state of New York offers discounts and specials all season long. In January, I Ski NY launches Learn to Ski & Snowboard Month when participating resorts will offer specially priced learn to ski packages for all ages.
Here's a breakdown of where we love to ski with kids in New York:
(TRIP PLAN: Find out how one MiniTime family spent their holidays in New York.)
Best Places to Go with Beginners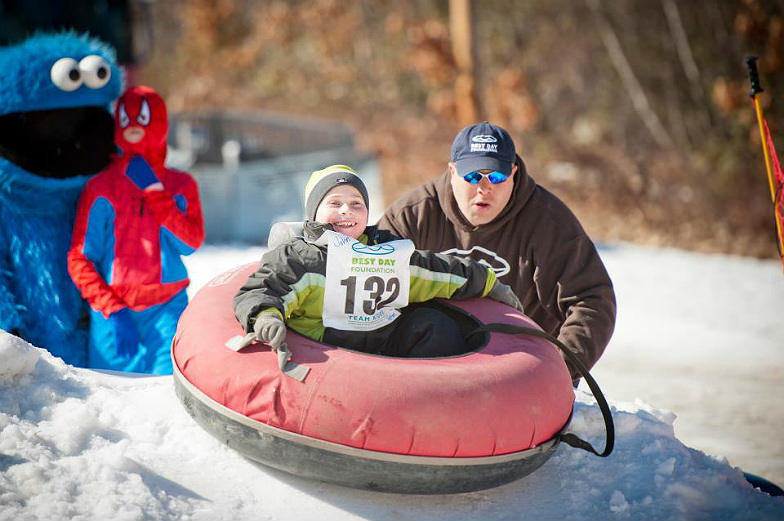 Young snowtuber at Thunder Ridge (Thunder Ridge Ski Area)
Thunder Ridge Ski Resort is a short ride from NYC, making it ultra convenient and easy to do in a day. With 30 trails, three ski lifts and four magic carpets, all with gentle and slow slopes to meet the demands of beginners. It also has a ski school, which is reasonably priced and efficiently run, teaching beginners the fundamentals of the sport. They offer a Mommy (or Daddy) and me class for the wee small (ages 3-5), Thunderbolts (ages4-7), Ridge Riders (ages 6-7) and Children's Groups (ages 8-12)
Windham Mountain is a nice alternative to some of the other slopes that are packed on weekends. Mid-week trips are relatively empty and are excellent times to take beginners. They have gentle bunny slopes for beginners and offer an extensive ski program for kids ages 3-12. Kids will gain the confidence they need to hone their skiing skills, from jumping on a lift to taking their first ride down the slope, with the assistance of highly qualified instructors.
Located just two and a half hours from NYC in the Northern Catskills, Hunter Mountain is an ideal venue for beginners. Programs are designed around age and skill level and led by certified instructors. They offer a range of programs for kids aged 4-12, from Explorers for little ones where kids are grouped according to age and level and taught the basics of skiing to Mountaineers for older kids to improve and perfect their skiing skills. The full day programs include lift tickets, a lesson, equipment, and a snack.
Mohawk Mountain Ski Area is just two hours from NYC in Cornwall, Connecticut. Offering 24 slopes, it's equipped with an excellent ski school for children and well marked trails.
Best Places to Go With Advanced Skiers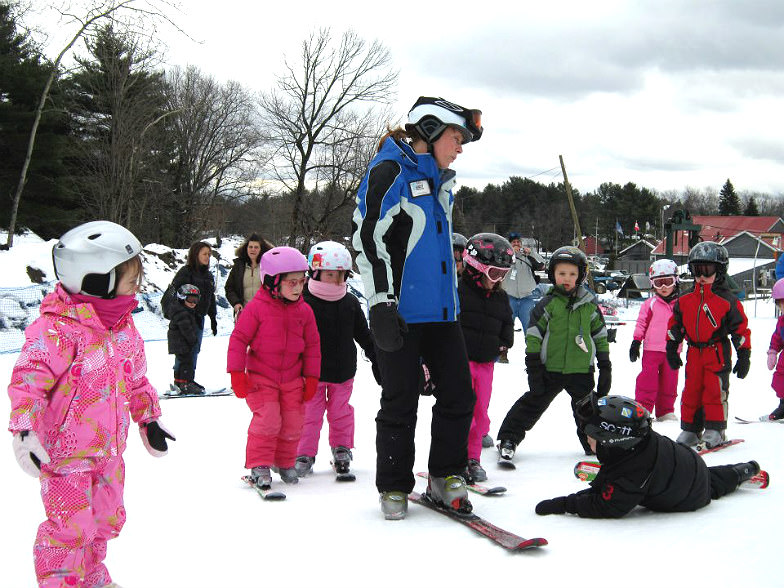 Ski students at West Mountain (West Mountain)
West Mountain, located in the Adirondacks, offers 40 trails and a six-lane Snow Tubing Park on over 126 acres and a 1010' vertical drop with the longest run at 1.5 miles, open day and night. Advance skiers will enjoy their black diamond trails, Race Training Program and nighttime skiing. There is also a tubing area near the base of the mountain for the non-skiers in the family.
Gore Mountain is also located in the Adirondacks. With 20 glades and five terrain park areas, it has some of the steepest trails in the East. A high-speed gondola provides access to all levels of skiing, making it conducive for family visits. "Take Your Kids to Gore Week" is held between Dec.12 and Dec.15: kids under 19 can ski, ride and go tubing for free with full paid parent.
Best Kids' Clubs
Belleayre Mountain is located in Highmount, just two hours from NYC. Having been voted one of the best places to learn to ski, the resort offers beginners lifts, a kids' camp and beginner packages for 13 and older. They also have a full day drop off center for kids aged 6 months to 6 years old. It's a safe environment for kids while their parents are on the slopes.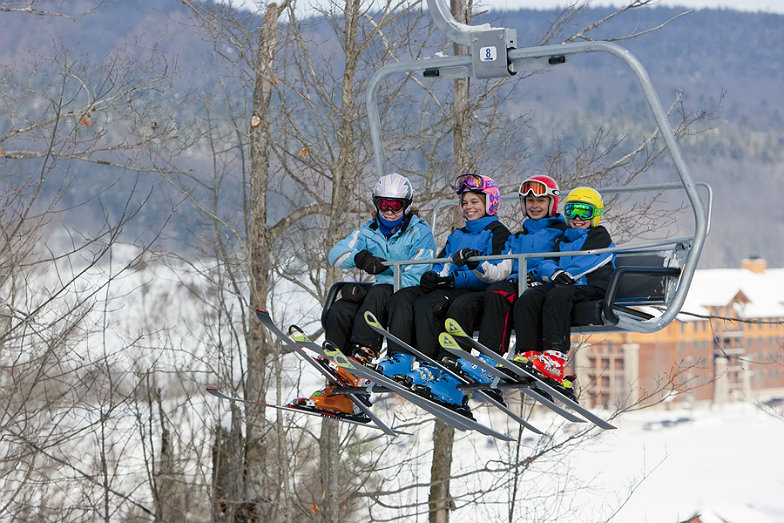 Chairlift at Greek Peak (Greek Peak)
Greek Peak Mountain Resort, located in New York's Finger Lakes, offers zip lines open year round, 32 trails, a beginner's slope, snowshoeing and a 41K foot indoor waterpark. There are childcare facilities for infants 12 months and older in a large playroom with a structured daily schedule, food service, a nap room, and a great view of the Magic Carpet so they can see their family in action.
(MORE: Look for kid-friendly places to stay in New York.)
Best for Non-Ski Related Activities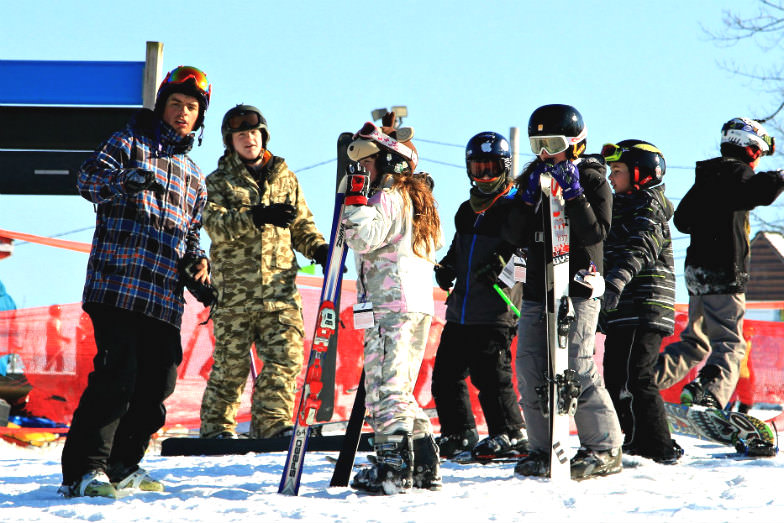 Ski students at Mountain Creek Resort (Mountain Creek Resort)
Mountain Creek Mountain House is just one hour from NYC, in Vernon, New Jersey. Non-skiers can enjoy plenty of options from snowboarding lessons and snow tubing to an Alpine Mountain Coaster (a cross between a an alpine side to a roller coaster) and year-long zip lines. In addition to this, the Soaring Eagle is a new ride that lets you experience the sensation of flying, while soaring down the mountainside on a suspended cable.
Best for Apres-Ski Activities
Greek Peak Mountain Resort's Hope Lake Resort makes a splash with waterslides, a wave pool, and perfect 84-degree weather year-round in its Cascades indoor waterpark. If you are interested in taking a walk to work out your aching calves, Woodstock and surrounding towns in the Catskills are good for exploring art galleries, antique shops, craft studios and restaurants. Cooperstown has a great main street, as well as the National Baseball Hall of Fame.
Or best of all, crash in your chosen ski resort's café or local eatery, and order hot chocolate for the entire family — the perfect end to a day of skiing.
Holly Rosen Fink of The Culture Mom contributed this to MiniTime.
More family-friendly ski resorts: