Napa Valley with kids
By Michelle Rae Uy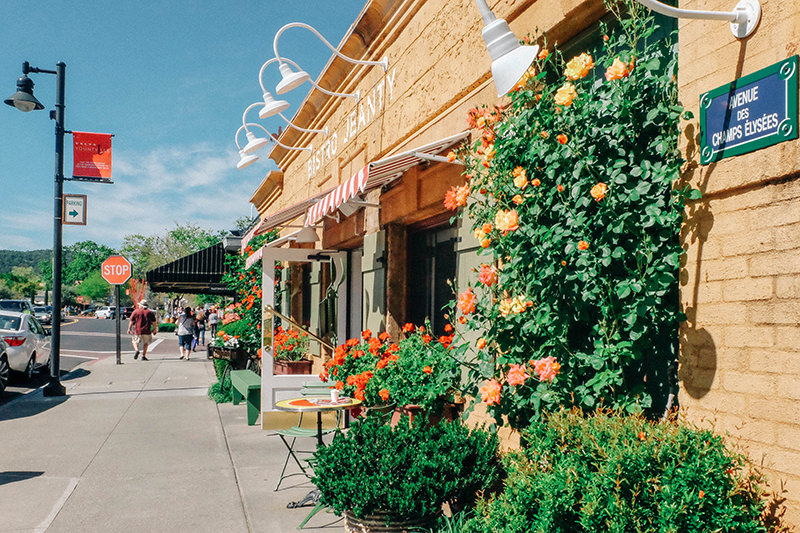 Idyllic Yountville, California (Flickr: Michelle Rae Uy)
Fog-covered vineyards, ivy-covered stone and brick buildings, and herb gardens with flowers at full bloom—Yountville, CA, is definitely a picture of charm. But this family-friendly destination in Napa Valley is more than just pretty and idyllic. It holds a special place in travelers' hearts for its amazing culinary scene and terrific wine as well as its myriad of attractions that appeal to adults and kids.
Fully-grown humans looking for a break and some much needed R&R, tweens and teens hoping for "not-so-lame" activities during a family vacation, and little ones excited to spend that boundless energy will find something they'll love in Yountville.
Affordable Stay: North Block Hotel is gorgeous and very family-friendly, with newly-renovated deluxe rooms and many complimentary amenities.
Splurge: Bardessono is considered one of the greenest hotels in the country and offers the most luxurious accommodations, if you are looking to splurge.
(MORE: Along Napa's Culinary Road: Best Places to Eat in Yountville)
Kid-Friendly Things to Do:
Pedal Around Town
Whether you're driving to Yountville or flying into Napa County Airport, you'll probably want to take it easy and do something relaxing. Rent (or borrow, if your hotel offers complimentary use) bikes and pedal around the bike-friendly town. It's a great way to get your bearings as well as see the areas around the main strip. From town, take the kid-friendly bike path along St. Helena Highway to see some of the vineyards along the way.
See Wine Country From Above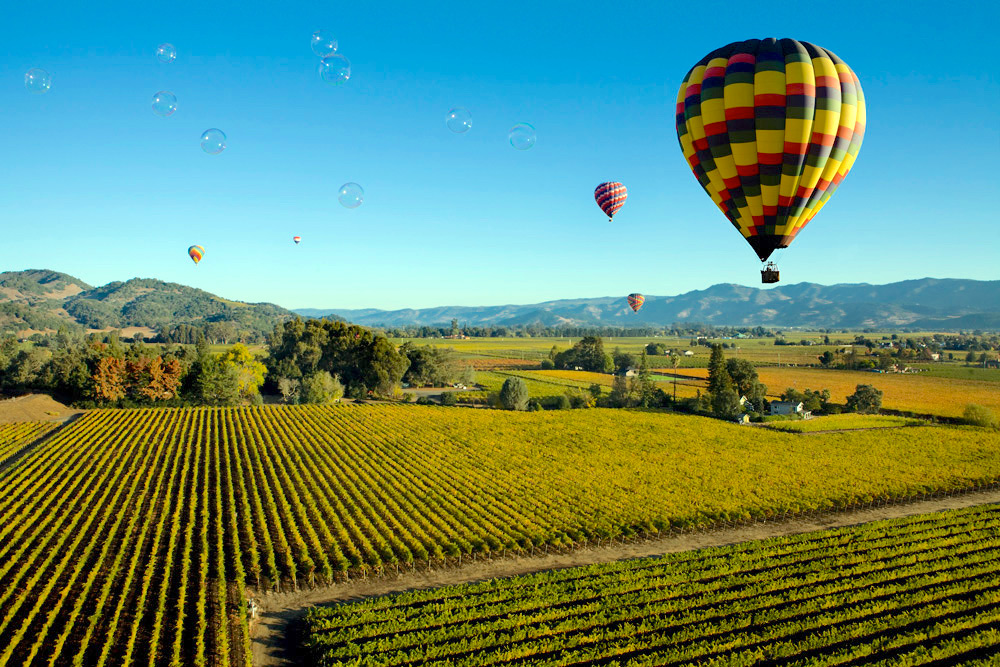 Hot air balloon ride over Napa Valley (Courtesy Napa Valley Aloft Balloon Rides )
A family-friendly hot air balloon ride in Napa Valley is almost a necessity because it's the best way to see the wine country. Steadily glide over grapevine covered hills and valleys, and small towns in a colorful balloon. Take in the awe-inspiring scenery below you. Bring your cameras, as there are plenty of stunning photo opportunities, but dress in warm clothing especially when taking an early morning flight. Napa Valley Aloft offers several flight options with champagne breakfast post-flight.
Dine Like Royalty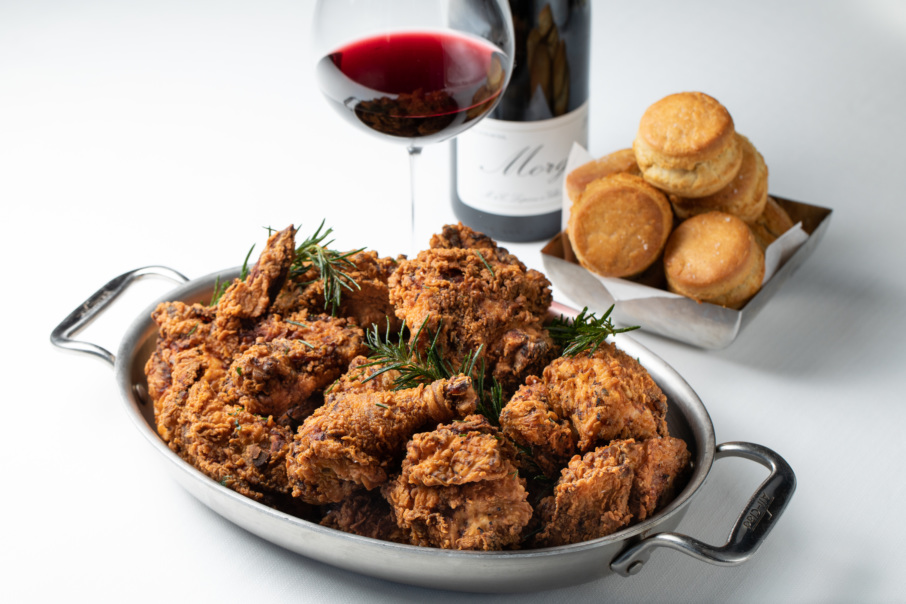 ad hoc's famous buttermilk fried chicken (Photo: David Escalante)
With three Michelin star restaurants and several other fantastic dining spots and experiences, Yountville is Napa Valley's culinary capital, which means that you and your family will be eating like kings during your visit there. In fact, you'll be hard pressed to find food that is NOT good in this town. Dine at French Laundry (3 Michelin stars), Bouchon (one Michelin star) and Redd (one Michelin star), of course; but ad hoc, Redd Wood and Bouchon Bakery are also family-friendly dining musts.
Squeeze in Some Retail Therapy
There's an eclectic art movement in Yountville, which you will witness first hand wherever you go in town. The art scene here boasts everything from traditional landscape paintings to eccentric sculptures and installations that would make great additions to your collection. Kollar Chocolate at the V Marketplace is a great stop for the kids as they have a number of great sweet treats; as is Bouchon, which makes some of the best pastries, cookies and deserts in the state. Additionally, there are a number of locally produced wine and food products to bring back home.
Enjoy the Town's Public Art and Gardens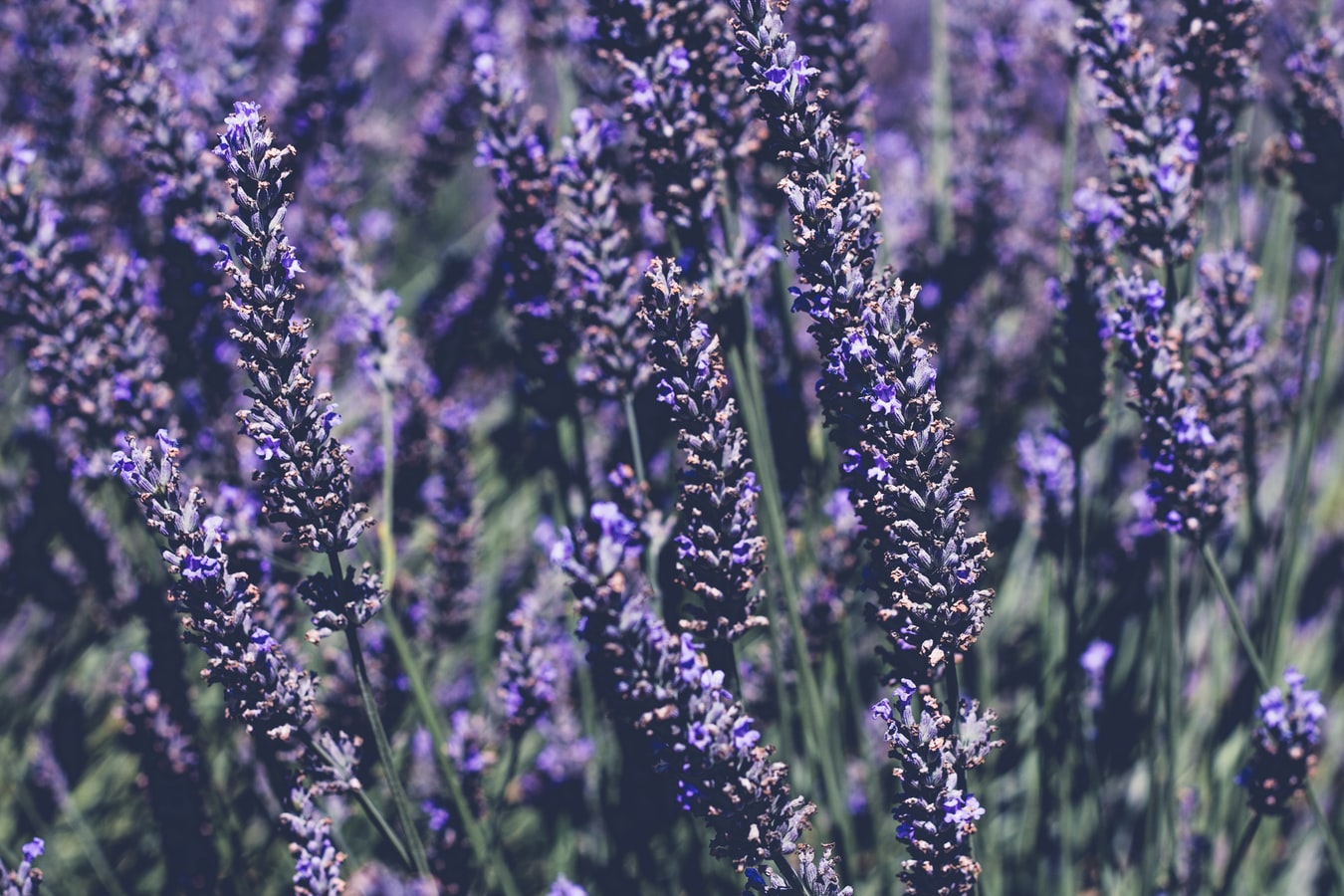 Lavender in one of Yountville's many gardens (Unsplash: Pauline Jurkevicius)
Walk along Washington Street with the kids where many of the town's outdoor sculptures and gardens are located. Amongst the restaurants, wineries and galleries are herb gardens, small parks and a ton of sculptures that are accessible to the public. Take the kids for a leisurely stroll to admire the public art, learn about the herbs and plants that many of the restaurants in Napa Valley use as ingredients, and even squeeze in a bit of a history lesson.
Explore the Taste of Yountville
The town's main strip, Washington Street, is a busy street since it is home to most of the shops, hotels and restaurants. But it's even more alive during the town's several festivals, including the Taste of Yountville. This yearly food and wine festival allows guests to sample food and wine from the different establishments in town—including Bistro Jeanty and Bardessono's Lucy, see chef demos and participate in garden tours. Buskers are also around to provide entertainment.
(MORE: Eco-Friendly Trip Ideas for Eco-Conscious Families)
For Moms and Dads:
Get Some Pampering Done
Adult time is absolutely necessary when on a family vacation. It's important for mom and dad to unwind without the kids around, so hire a babysitter (there are several highly rated companies in town) and schedule a spa day at Bardessono, whose intimate spa facility boasts luxurious amenities, deliciously relaxing massages and the finest facial treatments. The spa has pre-/post-treatment showers and saunas, and offers both individual and couples treatments. Try the Bardessono Massage, if you're looking for a straightforward massage, or the Vinotherapy Massage if you're keeping with the theme of the trip.
Sample the Wine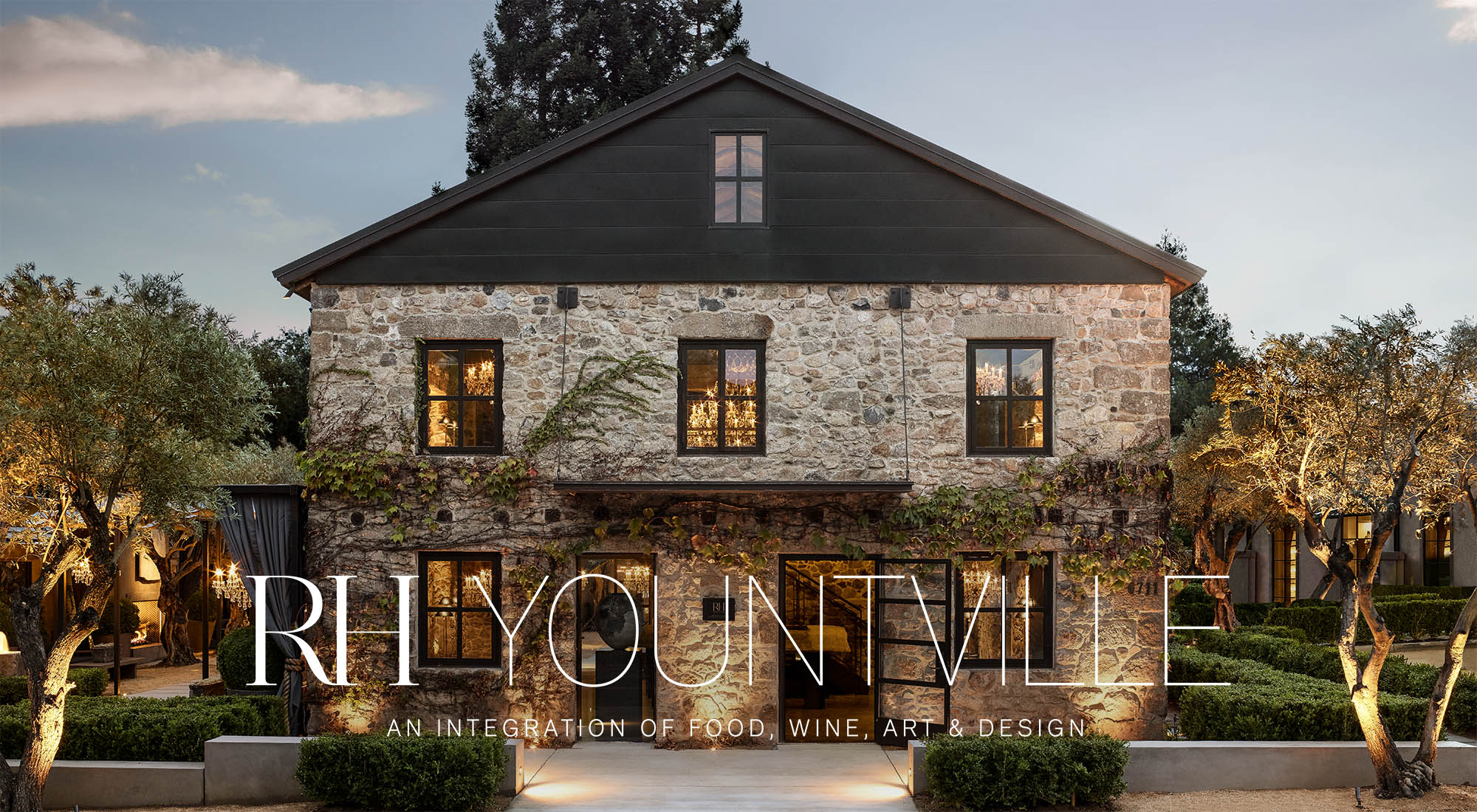 Ma(i)sonry (Photo: Ma(i)sonry)
While the kids are with the babysitter, take the opportunity to squeeze in some wine tasting. Since you're in California's famous wine region, there are many wineries around town that offer curated tastings of the best wine produced in the area. Ma(i)sonry, for example, has several tasting flights, of hard-to-find wine, and usually have one or two wine makers on site to tell you more about their bottles. The collective winery also collaborates with Redd Wood to pair the tastings with the restaurant's cheese and charcuterie board.
Attend the Adults-Only Festivals
Music and arts festivals abound that cater more to adults, giving moms and dads the opportunity to participate in grown-up fun. Yountville Live! and Art, Sip & Stroll are two of the best ones. Yountville Live! treats music lovers to great live music performances (Goo Goo Dolls were in this year's line-up) and social events while Art, Sip & Stroll invites art lovers to meet and greet artists who created the outdoor sculptures along the city's Public Art Walk while sipping wine.
Michelle Rae Uy contributed this to MiniTime. She is a travel writer based in Los Angeles and MiniTime's Head of Content, who spends her free time on adventures and film photography.