Kid-friendly amenities
By Rowena Carr-Allinson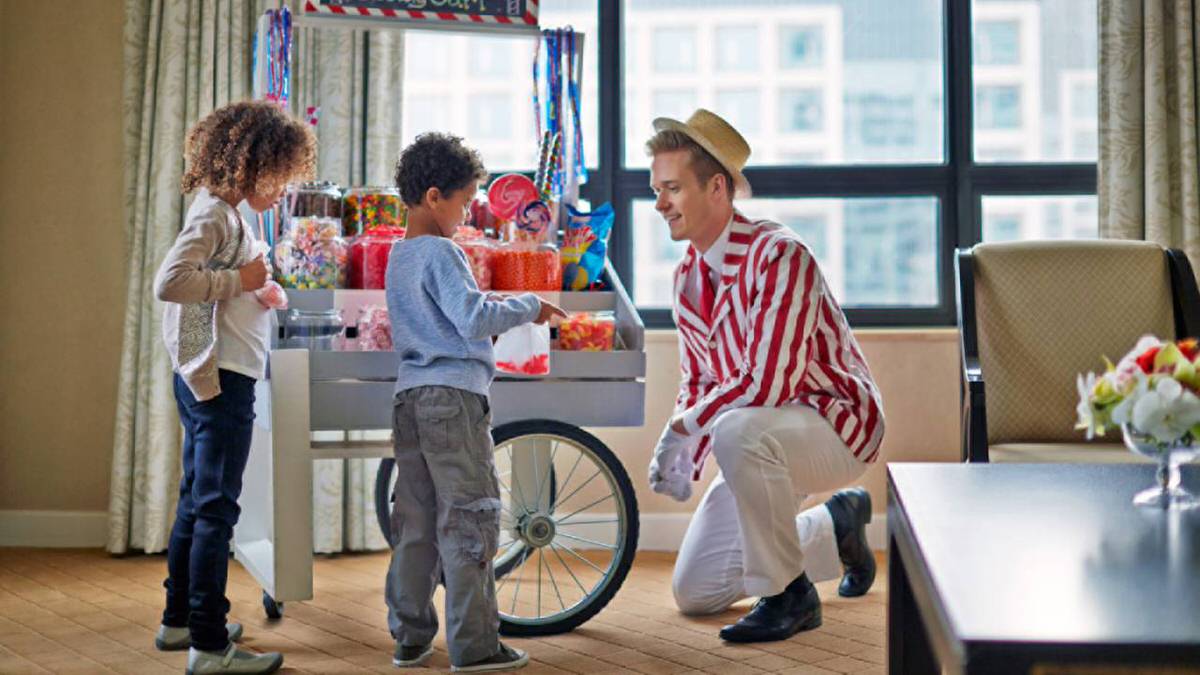 Candy Man at Ritz-Carlton Chicago (Courtesy Four Seasons)
Sometimes, a family vacation has got to be all about the kids. Many hotels are going the extra mile, far and beyond the usual bubble baths and in-room DVD players to make sure junior guests are well looked after – and then some, which makes our job as parents a whole lot easier.
Here are our top picks for the best kid-friendly hotel amenities – from an old-fashioned candy man in Chicago to an eco camp in the Caribbean.
CREACTIVE at Club Med Punta Cana (Punta Cana Dominican Republic)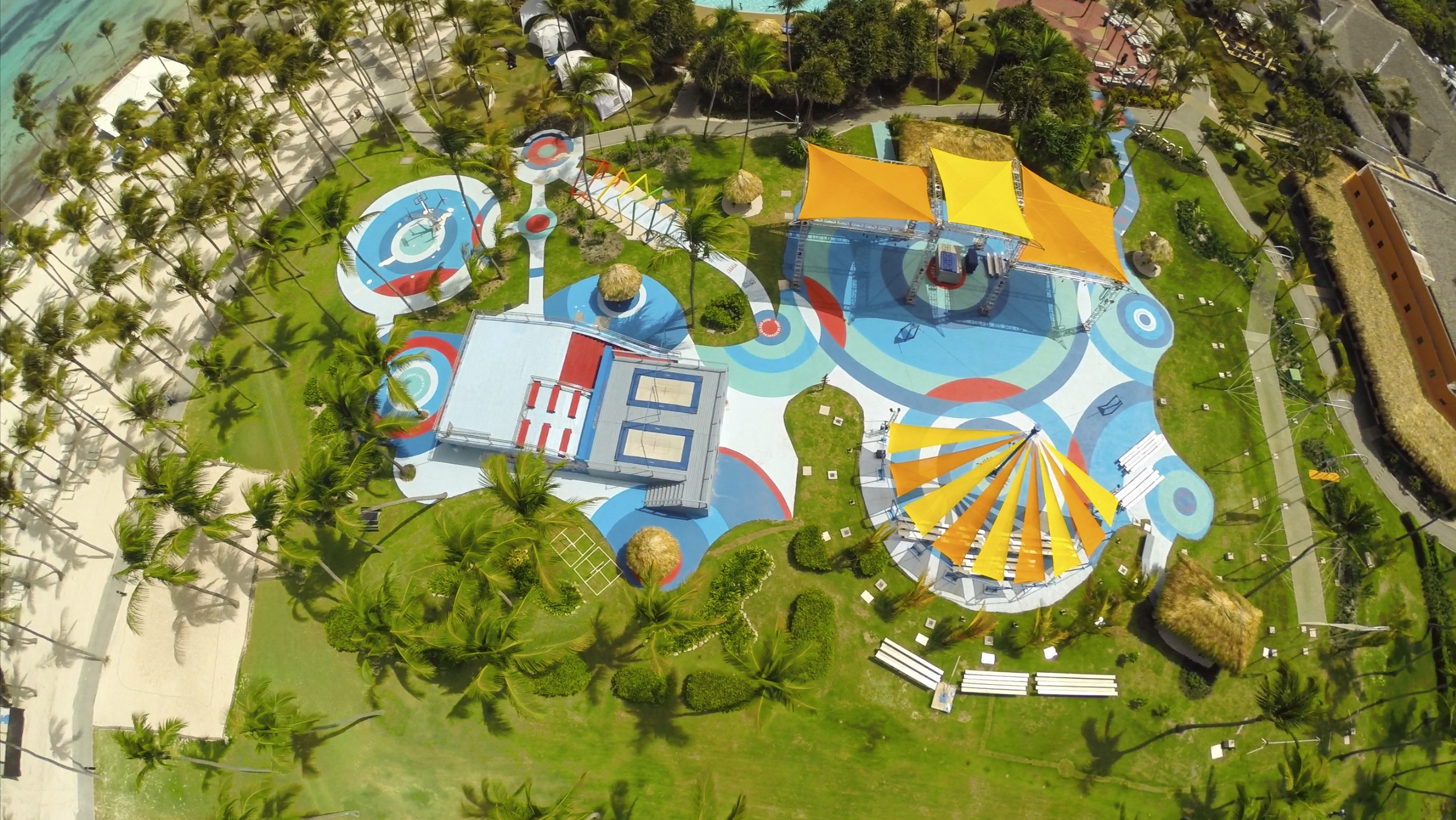 CREACTIVE by Cirque du Soleil at Club Med Punta Cana (Courtesy Club Med)
Some hotels have a playground, some have a kids club or a park, but Club Med in Punta Cana has gone one step further teaming up with the famous Cirque du Soleil to launch CREACTIVE by Cirque du Soleil which allows you to try your hand at 30 different acrobatic and artistic recreational activities in the 'Playscape', a 37500 square foot space. Adults and kids alike will be delighted by everything from the Flying Trapeze to trying out the Tightrope, Dance, Jugglng, Bungee, Trampolining, Mask Painting and even "Clowning" – all under the expert eye of the Gentils Circassiens, the circus experts who have joined the Gentils Organisateurs as part of the Club Med team.
The Candy Man at the Ritz Carlton, A Four Seasons Resort, Chicago, Illinois
It's one thing to have milk and cookies delivered to the room, it's quite another to have a Candy Man on site! With his mobile cart, Ritz-Carlton Chicago's Candy Man, clad in typical red and white stripe suit, distributes happiness alongside chocolate and candy to visiting young VIP guests. Sweet-toothed kids can also have a house call from the Hot Choc Doc during the winter season or the Ice Cream Man, while parents can order from the Martini Man! It seems the hotel has a veritable army of staff on hand for dedicated kid-friendly perks! They also have Bedtime Stories Butler to get the kids to sleep with classic bedtime stories. Another cool kid friendly amenity is the in room tent, which staff can come and set up in your room for your little ones.
Fire Pit Storytelling at Aulani, a Disney Resort & Spa in Ko Olina, Oahu, Hawai'i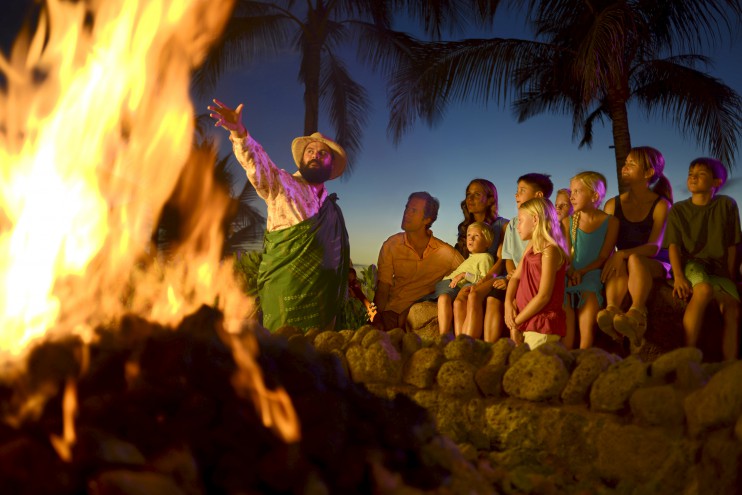 Fire Pit Storytelling at Aulani, A Disney Resort & Spa (Courtesy Disney)
There's nothing quite like gathering around a crackling fire as night falls to listen to tales of times gone by… Mo'olelo Fire Pit storytelling is another fantastic kid friendly perk you can enjoy while staying at Aulani, a Disney Resort & Spa in Hawaii. 'Uncle' the storyteller tells local legends and folk tales by the flames, between the Waikolohe Valley pool area and AMA'AMA restaurant, overlooking the beach, using props and music, and even the odd magical effect! The Four Seasons Hualalai have their own version with counselors spinning Hawaiian yarns at bedtime. Storytelling fans can also find a similar experience, with a native American twist at the Sheraton Wild Horse Pass Resort & Spa with their "Stories and S'mores" program. Just the thing to find out about local Pima and Maricopa people's history and enjoy some sweet treats.
Eco Camps at the Ritz Carlton, St Thomas, US Virgin Islands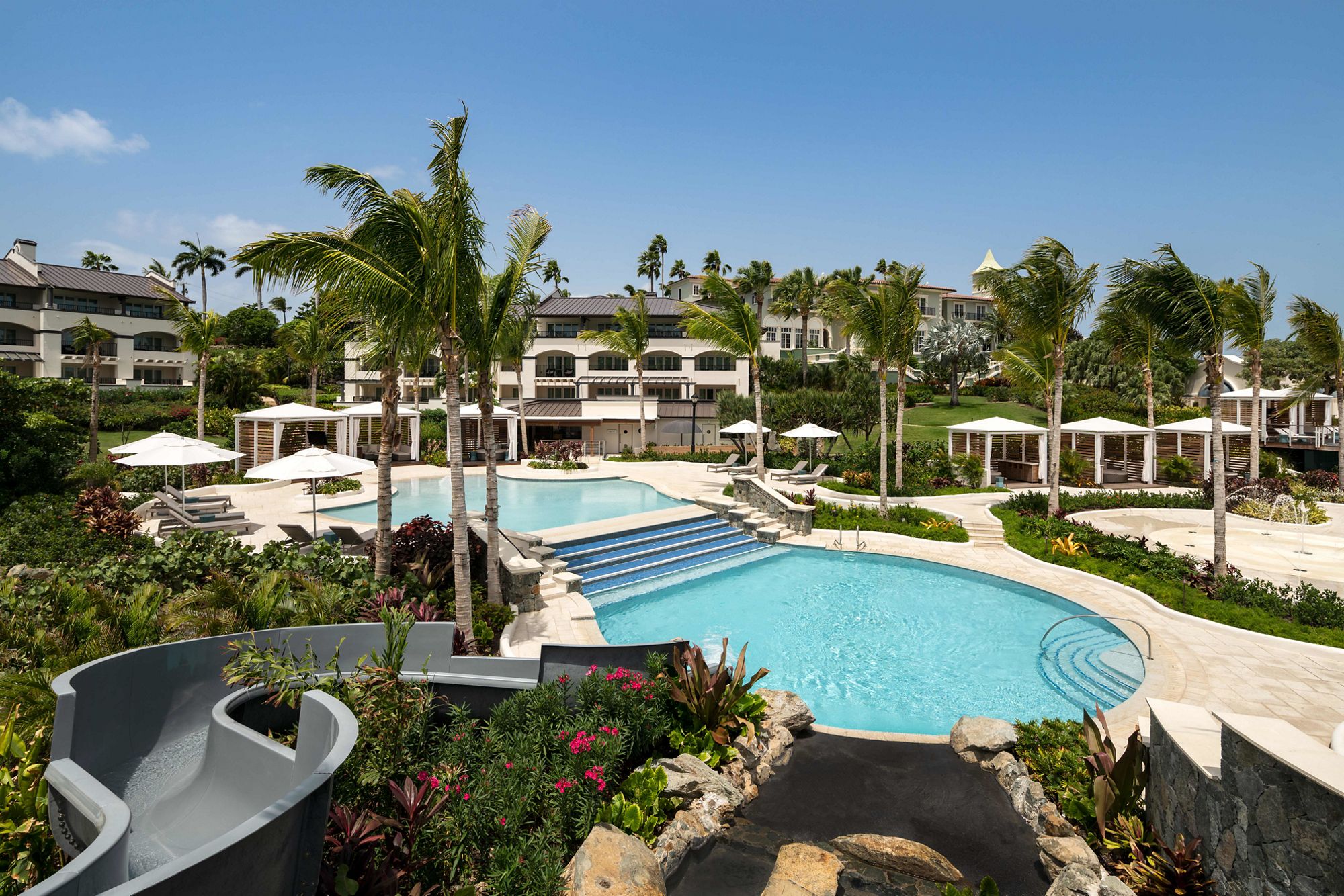 Ritz-Calrton, St. Thomas (Courtesy Ritz-Carlton)
Calling all budding environmentalists! A beautiful island resort amidst perfect Caribbean waters, lush tropical gardens and dreamy white sand – just the right setting for the kids to join Eco Camp! The 30-acre, oceanfront luxury Ritz-Carlton, St. Thomas is all about swimming, sailing, snorkeling and the spa, but the youngest visitors will love the Summer Eco Camps run by the naturalists from Ambassadors of the Environment. Aimed at kids 5-9 and 10-15, activities include Eco Chefs, Caribbean Creatures, Eco Art, Plenty of Plants and Aspiring Marine Biologists. The resort also offers Turtle Travels, for guests to learn about the sea turtle, Creature Feature about various sea critters and Shark Bites for those who prefer a little danger!
(MORE: Hotel Amenities for Kids That Adults Secretly Want to Do)
AquaNuts at Eau Palm Beach, Florida
AquaNuts at Eau Palm Beach (Courtesy Eau Palm Beach)
Pushing the water loving fun a step further, Eau Palm Beach present AquaNuts. The place for your family vacation if you love splashing! Right on a on a seven acre private beach, Eau Palm Beach is a blissful cocktail of ocean views, Florida sunshine, luxurious accommodations and Palm Beach chic. Parents will love the 42,000 square foot Eau Spa with its cool cabanas, the Tranquil Adult Pool and gym as well as its five restaurants. Children will prefer the Active Resort Pool, water sports and AquaNuts program for kids (5-12) or Coast for Teens (13-17). Joining the underwater adventure, boats drifting above, friendly sea life all around, kids can climb the reef, explore caves, a gaming Grotto, a crafty lagoon and the underwater Oyster Pearl Theatre to put on a show!
Rowena Carr-Allinson contributed this to MiniTime. Since the arrival of her son in 2011, she has taken him everywhere from Bangkok to NYC, writing family friendly articles en route.