When vacationing in spectacular Florence, keep with the Renaissance theme and stay at one of these family-friendly hotels that exude elegance.
By Miriam Groner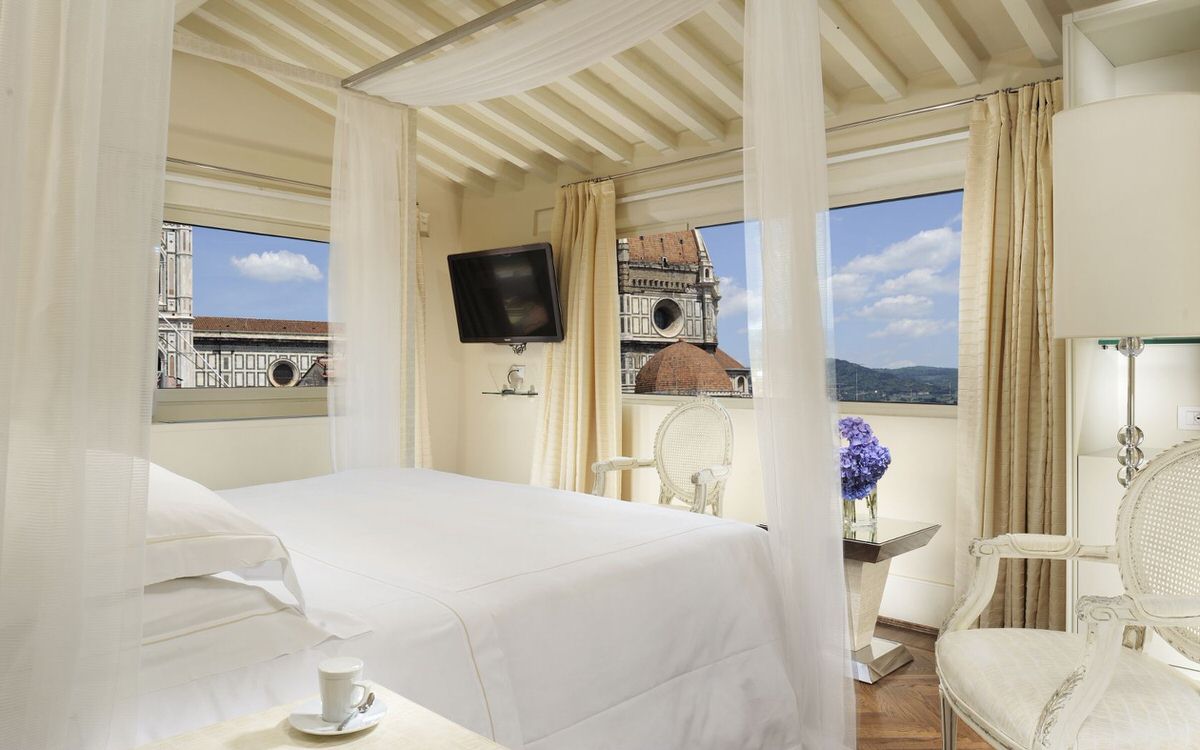 Hotel Brunelleschi (Courtesy Hotel Brunelleschi)
You've booked the flights for your dream family vacation in Florence. You've been spending nights browsing the internet planning day by day itineraries. Now the next thing on your to-do list is to find the perfect hotel for your stay. Your accommodation can either make or break your trip, especially when traveling with children.
Here's some family-friendly options we recommend – and why.
Hotel Brunelleschi
Location is especially important when doing Florence with kids, and nothing beats the location of the Hotel Brunelleschi. Situated in the center of town, it's just a 10-minute walk (or short taxi ride) from the train station and a two (yes two!) minute walk to the city's main attractions – the duomo and Florence Cathedral. Aside from its impeccable location, visitors cite the incredible service and courteous staff as reasons they would return to Hotel Brunelleschi. Walking in from a quaint quad area – the entrance boasts the charm of ancient Tuscan architecture mixed with modern fixtures. Travelling with pets? This hotel is pet-friendly and even offers dogsitting as well as babysitting services. Guests also rave about the hotel's hearty breakfast that will give you energy to work out in their state-of-the-art fitness room and explore the town's attractions.
Antica Torre di Via Tornabuoni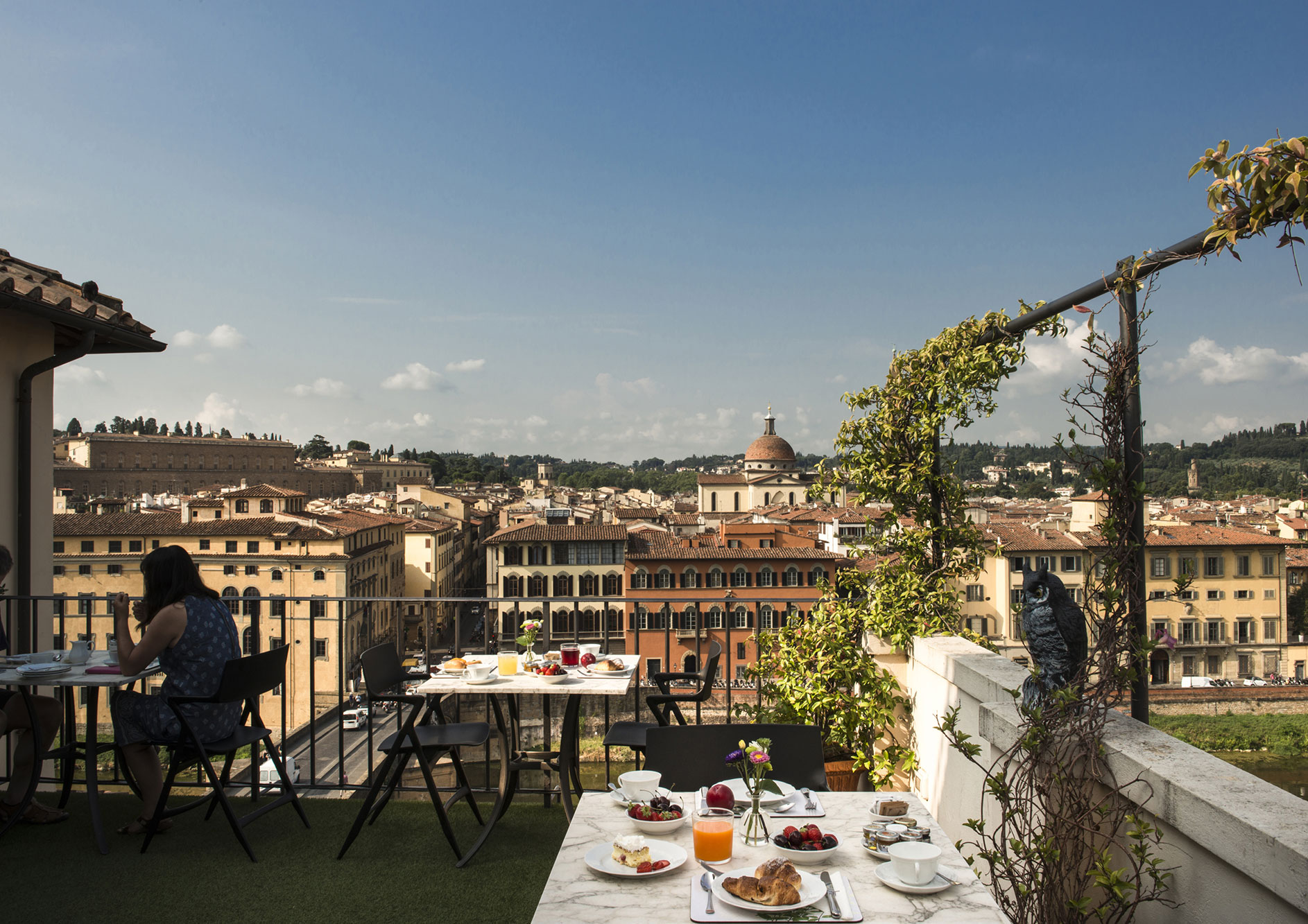 Antica Torre di Via Tornabuoni (Courtesy Antica Torre di Via Tornabuoni)
One thing you can count on at the Antica Torre di Via Tornabuoni hotel is to be constantly amazed by the breathtaking views. Situated right on the Arno river that runs through Florence, its rooftop terrace offers sweeping views of the Florence cityscape as well as it features plenty of kid-friendly amenities. The location is impeccable, virtually in the 'heart of Florence'– in walking distance to many of the major attractions. If you're traveling with little ones, the friendly staff will set up a box of toys and games in your suite to keep the kids occupied while the parents have some down time. They also have special offers geared towards families with young children such as a Pizza Dinner Party on the panoramic terrace, a tour of the Amedei Chocolate Factory along with chocolate tasting, or a tour of the city by horse and carriage.
Four Seasons Hotel Firenze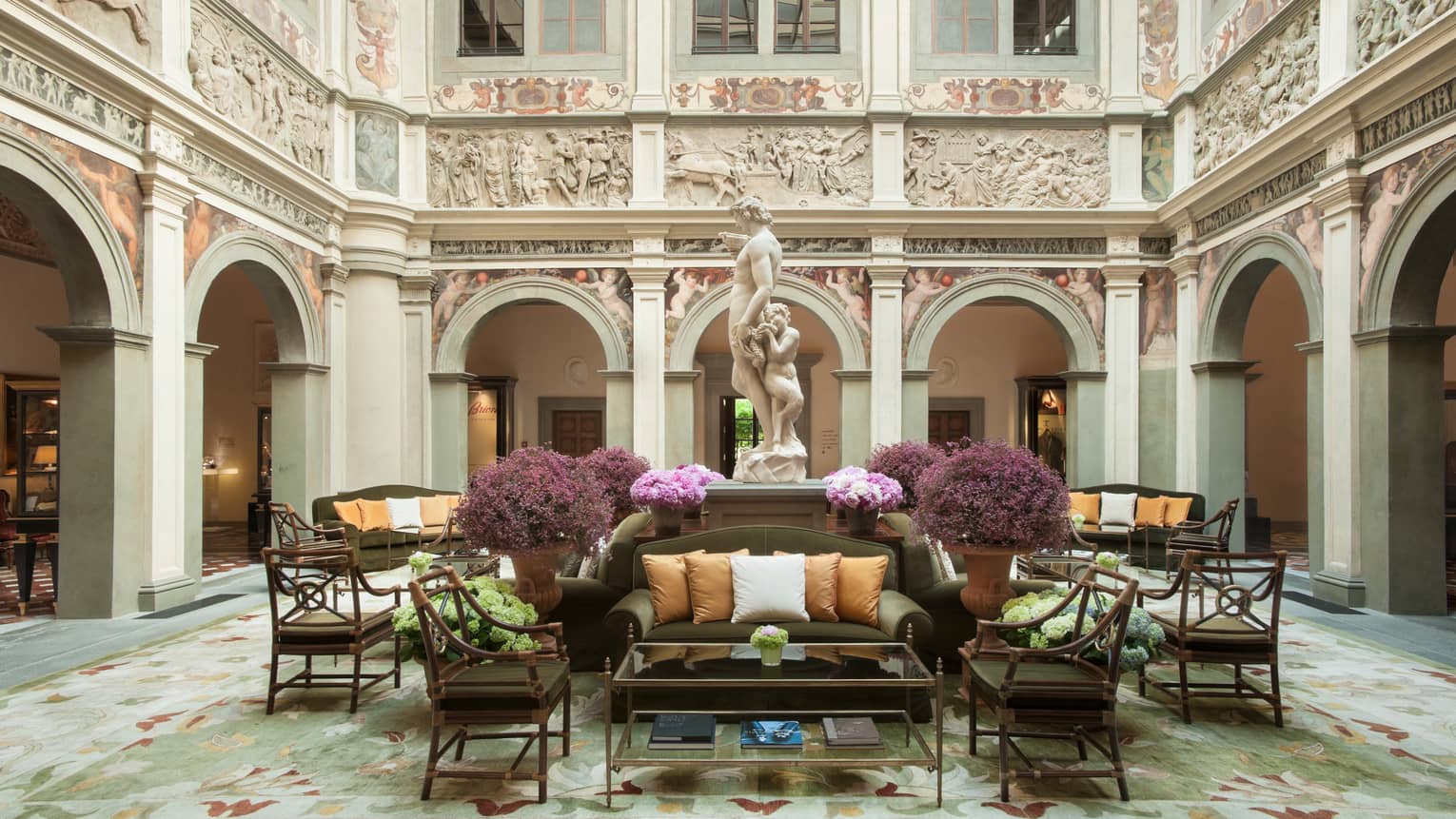 Four Seasons Hotel Firenze (Courtesy Four Seasons Hotel Firenze)
Want to holiday in the lap of luxury? The Four Seasons Hotel Firenze is a five-star, family-friendly hotel located close to the Giardino della Gherardesca, the oldest and largest gardens in the city of Florence, and within easy reach of most tourist attractions. Its 116 rooms are each unique and equipped with the latest technology. They all embody the beautiful Florentine style and quality craftsmanship. On arrival you can expect a welcome gift of fresh fruit, wine and pastries in your room. The sparkling pool is perfect for a dip to escape the warm Tuscan sun or you can take advantage of their slew of amenities for kids such as kids cooking classes, floral design workshops in the hotel greenhouse, painting classes and more. They also offer specialised off-site tours for families or alternatively, if you want a day out on your own, you can opt for their reliable babysitting service.
Villa Olmi Firenze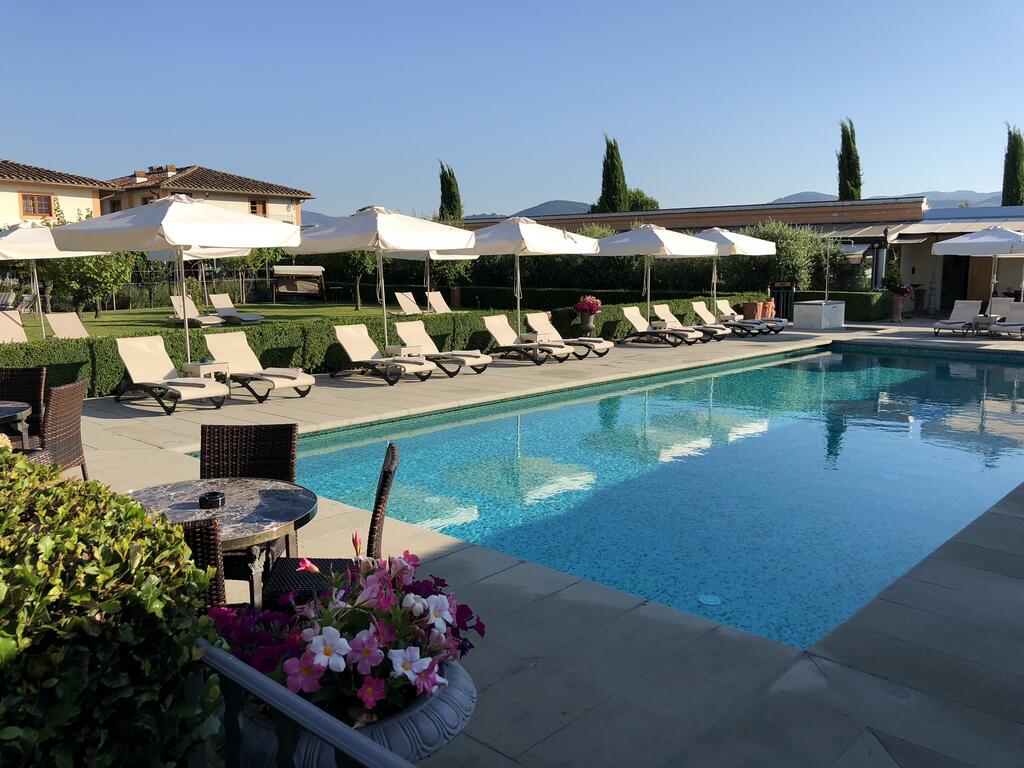 Villa Olmi Firenze (Courtesy Villa Olmi Firenze)
The Villa Olmi Firenze is different to other big-chain Florence hotels. This boutique hotel is a restored mansion, fixed with modern amenities and offers a uniquely Florentine experience. This is a great option for families looking for some peace and quiet as It's located out of the city center. Shuttle buses are available to transport guests from the hotel to the center of town. Surrounded by lush gardens, the hotel also has a beautiful swimming pool to cool down in. Pets are allowed and babysitting is also offered.
(MORE: Want to explore the beautiful Tuscany? Here are some of its best kid-friendly places to visit.)
Residence Hilda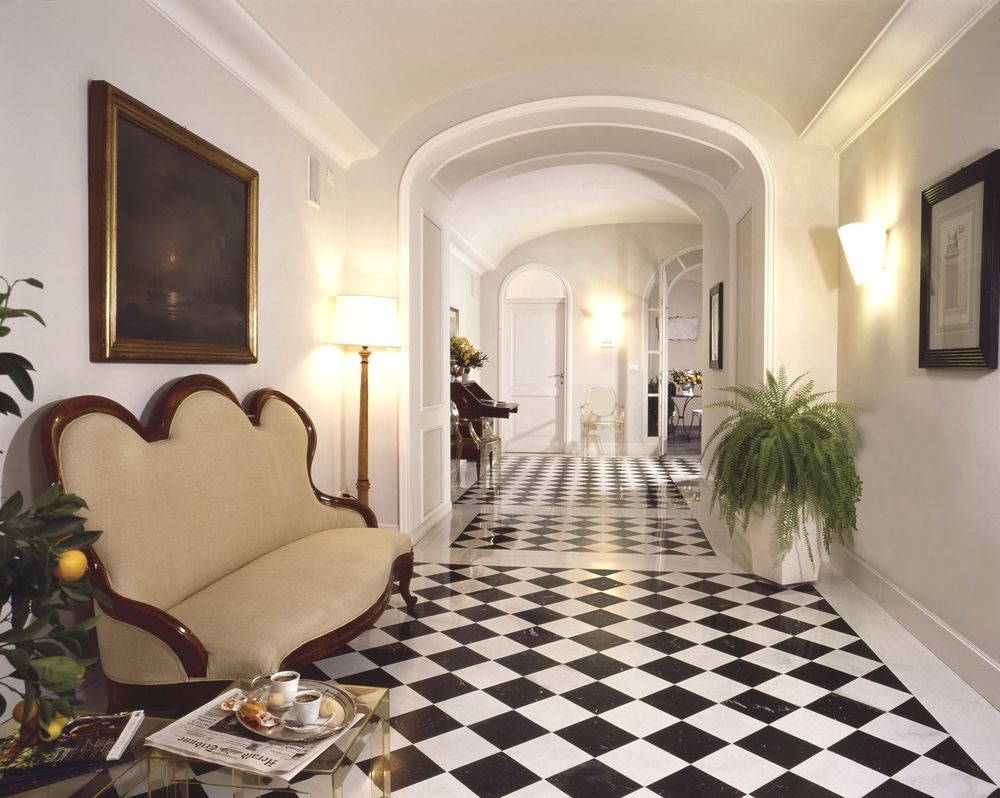 Residence Hilda (Courtesy Residence Hilda)
The Residence Hilda is really something different. Here you can enjoy the comfort of a luxury hotel in the charm of a Florentine apartment. Perfect for a family vacation, the 12 refurbished suites are centrally located close to center of town and major attractions such as the duomo. Each apartment comes with a fully equipped kitchen so you can choose to whip up your own Italian feast or take advantage of the grocery delivery service. Guests praise the friendly staff that are eager to help as well as the suites' immaculate space. These apartments provide you privacy while giving you easy access to the local attractions. For families with young children, they offer cribs, high-chairs, strollers and car seats – as well as a babysitting service. They'll also help tailor local tours to suit your family size and age group.
Miriam Groner contributed this to MiniTime.