California with kids
By James Holland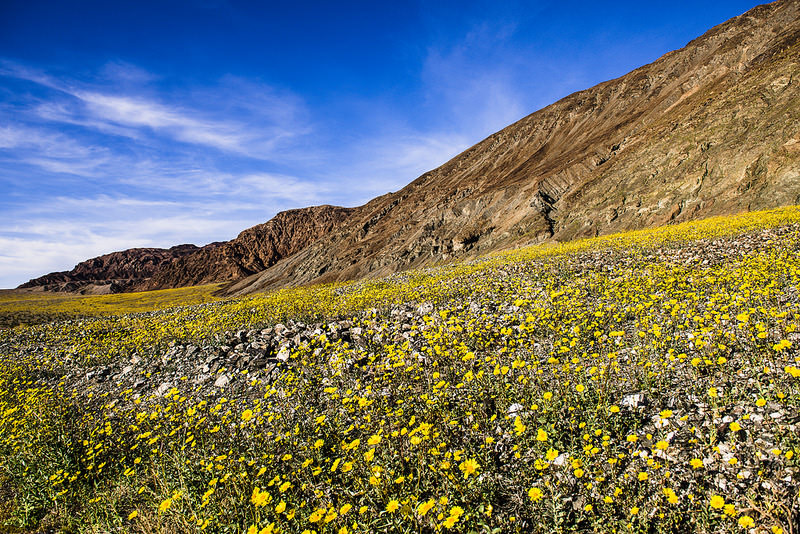 Death Valley is one of the best places to see wildflowers in California with kids. (Flickr: Marc Cooper)
Spring is coming, and with it comes wildflowers. The unexpected California rains the past couple months means nature lovers are in for a special treat come springtime. There are any number of fantastic gardens and well-manicured flower-filled parks. But there's something a little more unique with fields of wildflowers. One of the best things about seeking wildflower fields is it'll will take you to off the beaten path destinations that are kid-friendly. Take advantage of the upcoming spring break to find the best places to see wildflowers.
(MORE: 10 Tips for a Stress-Free Road Trip with Kids)
Best places to see wildflowers in Southern California
Antelope Valley California Poppy Reserve. One of the best places to see wildflowers in California is only an hour and a half north of LA. Near Lancaster, the Antelope Valley California Poppy Reserve is undoubtedly a treasure. Sheets of bright orange flowers blanket the land between February and May. Take advantage of your spring break by hiking the 7 miles of trails within the reserve. While in the area, explore the kid-friendly Castaic Lake on boat. If you're going to explore further, stay at the Homewood Suites by Hilton in downtown Lancaster.
Anza Borrego. Only a couple hours inland from San Diego, Anza Borrego provides a wonderful opportunity for wildflower hunting. The wildflower season usually peaks mid-March. Make sure to seek out the elusive Desert Lily that only blooms when the region gets a lot of rainfall. While in the area, make sure to do some stargazing. This area is the first international dark sky community in the area and, as such, is perfect for night sky tours. Stay at the unique and quirky Palm Canyon Hotel and RV Resort where you can stay in your own airstream.
Joshua Tree. Joshua Tree National Park is worth a trip in and of itself. Three hours east of LA, this park is home to the eponymous Joshua Tree. With all the rain, it's one of the best places to see wildflowers this spring break. Starting a bit in February and early March, look for a plethora of colors. There are Daturas, Mojave Asters, and the Mariposa Lilies. You might even come across blue fields of Canterbury Bells. The kid-friendly park offers quite a bit of hiking. Plus, the town of Joshua Tree is an oasis of culture in the desert worth investigating. Stay 20 minutes out of town at Le Haut Desert Aerie and experience glamping at its best.
Best places to see wildflowers in Central California
Death Valley National Park. In the eastern stretch of California on the way to Las Vegas, Death Valley is known as one of the hottest and driest places on Earth. It is still full of surprises, however, and can be one of the best places to see wildflowers. Mid-February to mid-April is the perfect season for wildflowers. Globe Mallows are already growing. You should also start to keep an eye out for other wildflowers such as Gravel Ghost and the Purple Mat. The recent rains promise a good showing. Check out some other landscape highlights such as the Mesquite Flat Sand Dunes, The Race Track, and the colorful Artist's Palette. If you need some respite from the wilderness, head to the "jewel of Death Valley", Furnace Creek Resort for some R&R.
Valley of the Oaks. The Valley of Oaks sits near Mission San Antonio de Padua halfway between LA and San Francisco. From March to April, Valley of the Oaks is among the best places to see wildflowers. It's flush with fields of blue, purple and yellow wildflowers. Though it might not fit with most people's Spring Breaks, athletes can compete in the Wildflower Triathlon in early May. While in the area, make sure to visit the historic and kid-friendly the Hearst Castle. Stay overnight at the Hearst Hacienda, built as temporary housing during construction of his castle.
(MORE: Family-Friendly Things to Do in LA Only Locals Know)
Best places to see wildflowers in Northern California
Hite Cove Trail. Yosemite is one of America's great natural treasures so it only makes sense that it would also contain one of the best places to see wildflowers. The Hite Cove Trail is such a treasure trove for wildflowers. You can even go wildflower spotting when portions of the park are still under snow. Make sure to visit March through Mid-May to witness fields of Tufted Poppy and other varietals. Besides this hike, Yosemite offers enough attractions to fill a whole spring break. There's Glacier Point, kid-friendly Tuolumne Meadows, Mist Trail and that's just the tip of the iceberg. The park is covered in campgrounds but if you need your creature comforts, stay at the Yosemite Valley Lodge.
James Holland of Another Spur on the Road contributed this to MiniTime.