Florida with kids
By Michelle Rae Uy
Family-Friendly Destinations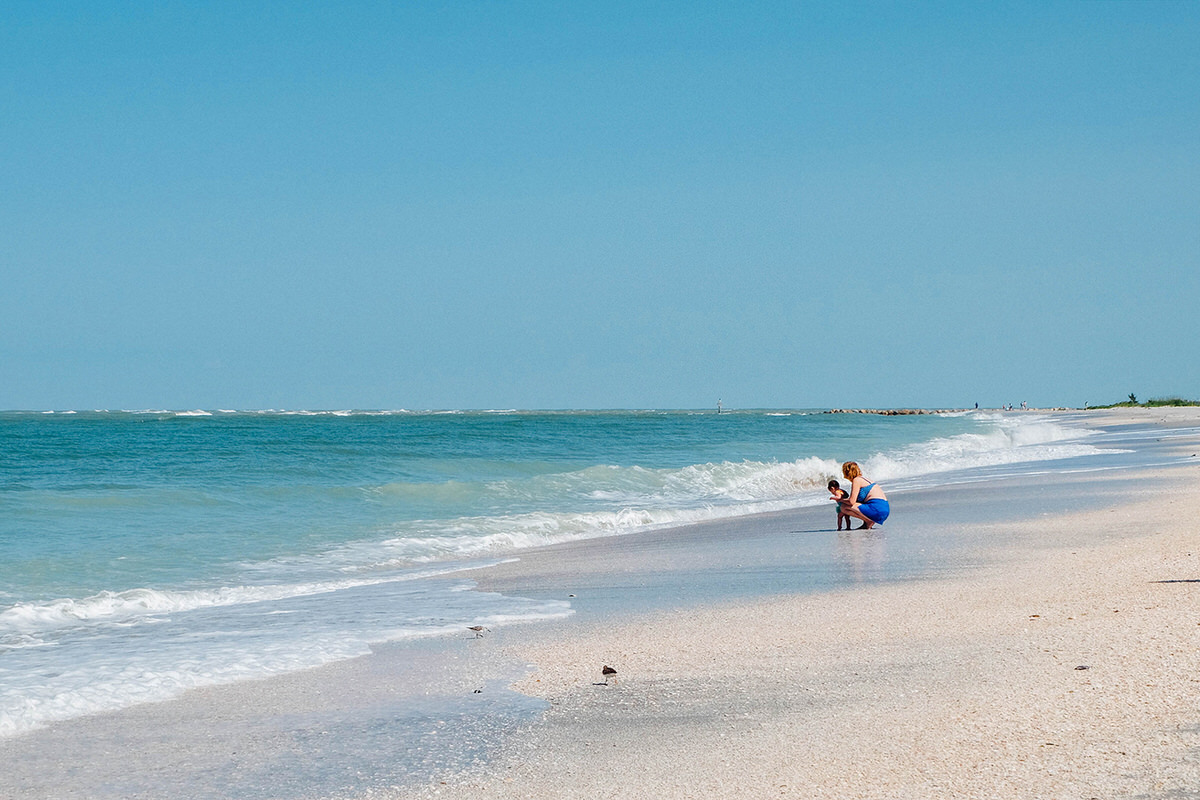 Beach on Captiva Island (Photo: Michelle Rae Uy)
On the Beaches of Fort Myers & Sanibel, there's more to vacationing than simply sunning on the beach and indulging in fresh, delicious seafood dishes. The family-friendly destination, whose extensive fine-sand beaches, warm shallow waters that stretch farther than usual and myriad of marine life that attract travelers from all over, is also known as one of the best places to find beautiful shells and for its fantastic shelling culture.
Locals, regular visitors and tourists here all participate in this relaxing, meditative, kid-friendly activity, combing the beach in that "Sanibel Stoop" position to start or expand their shell collection. If your family is planning a trip to this wonderful destination, add these must dos to your trip itinerary, and make most of your shellcation there.
(MORE: Caribbean's Most Charming Cities)
Check out the Bailey-Matthews National Shell Museum.
Paul Gulbrandsen at Bailey-Matthews National Shell Museum (Photo: Michelle Rae Uy)
Before you dive right into shelling, familiarize yourselves first with the different types of shells you can find on the Beaches of Fort Myers & Sanibel and get to know the complex lives of the mollusks that live in them. The Bailey-Matthews National Shell Museum is perhaps the best place to do both, with its kid-friendly interactive exhibits, exhibits of the beautiful shells from the area and from all over the planet, and even live tank talks and demonstrations held daily by one of the museum's knowledgeable marine biologists. You'll be surprised at how much information this impressive museum can share, and how less people actually know about these fascinating creatures.
TIP: Take some time to browse through their exhibits of shells—it'll make it easier for you to identify the ones you'll find on the beaches—and don't be afraid to ask one of the marine biologists and docents, if you want to know more.
Go on an island cruise with Captiva Cruises.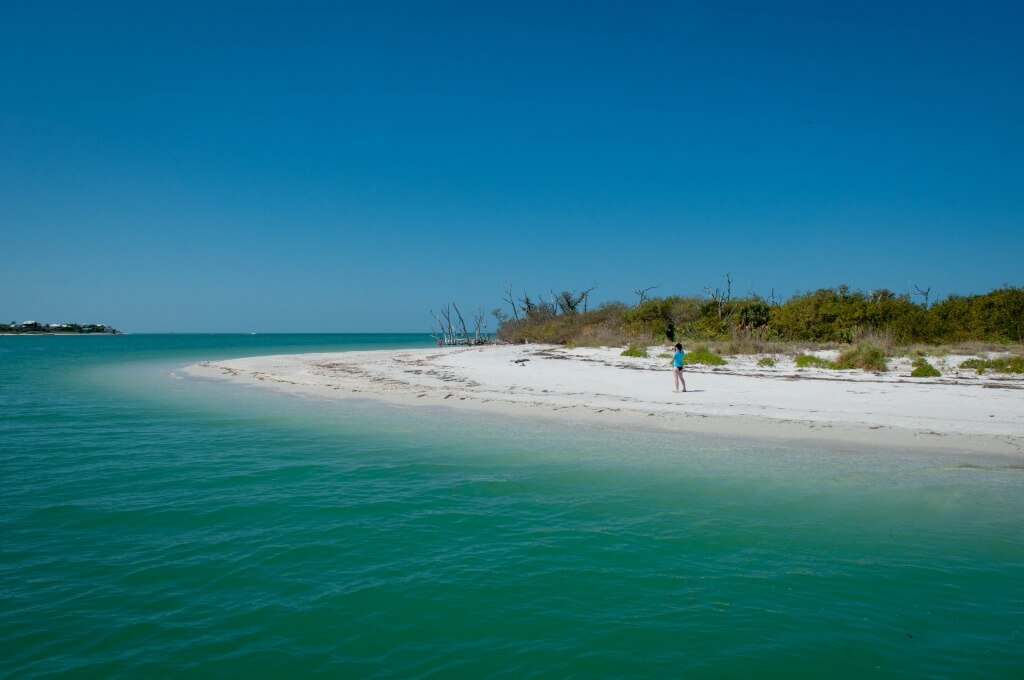 Visit this beach on Cayo Costa with Captiva Cruises (Photo: Pittman Wilkey)
Captiva Island-based cruise and tour operator Captiva Cruises may be the best way to explore the small islands that make up the area. They hold scheduled family-friendly cruises to many of the islands, including Cayo Costa that is famed for its beautiful quiet beaches and sand dollar population, the private paradise of Useppa Island, and cult favorite Cabbage Key whose restaurant is bedecked with thousands of dollar bills left by patrons and visitors. Captiva Cruises also offer a Dolphin Watch & Wildlife Adventure Cruise—a sure hit with the kids, a private cruise that may be individualized depending on what families want, and best of all, a three-hour shelling cruise with Sanibel's resident shell expert, Pam Rambo.
TIP: During your cruise, keep an eye out for dolphins that may be swimming along or following your boat. They're not only super fun and friendly; they also love a bit of attention and encouragement. Also, slather on plenty of sunscreen.
Visit during National Seashell Day.
The very first National Seashell Day is slated on June 20 this year and the destination is pulling out all the stops. It is, therefore, the best time to visit the Beaches of Fort Myers & Sanibel with the kids. Expect different shelling-related events as well as accommodation discounts, shell painting, and several shell tours. At the Bailey-Matthews National Shell Museum, there will be shell crafting and tank talks all day and a free shell bag to every visitor to present a coupon from Lee County Visitor & Convention Bureau. Best of all, there will be a Shellove Bug, a Volkswagen Beetle bedecked by shell expert Pam Rambo and local shell crafters with shells of all shapes and sizes found in the area.
TIP: There are a number of family-friendly accommodation discounts and packages for families if you're interested in visiting on National Seashell Day. Visit the event site for details.
Meet marine wildlife at South Seas Island Resort.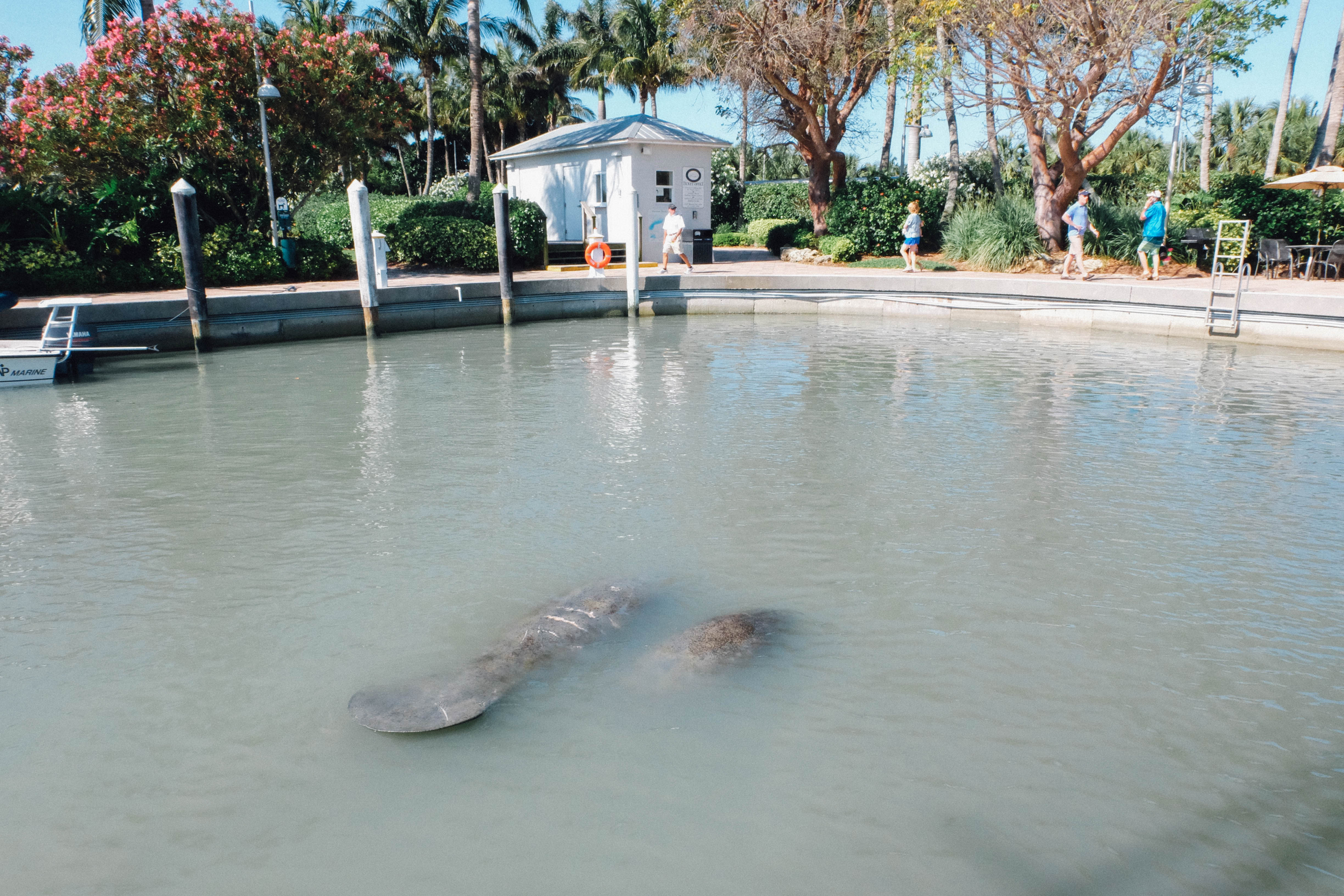 Manatee at South Seas Island Resort (Photo: Michelle Rae Uy)
As a former key lime plantation, South Seas Island Resort on Captiva Island has an idyllic and quite extensive property, not to mention a big marina that has around 2,000 slips. Staying at this family-friendly resort, therefore, comes with the advantage of coming across wildlife as you go about your vacation. You could be running on a treadmill and witness the resort's resident dolphin swimming playfully between the docked boats. Keep an eye out for strange-looking sea hares and shy manatees lazing about in the water. For better chances at marine wildlife sightings as well as a quick shelling lesson, enlist the help of one of the resort's Shelling Concierge through the Sanibel Sea School found onsite. You'll get more than a tour, you'll also learn about how these beautiful creatures live and about the wonderful marine conservation initiatives on the islands.
TIP: The Sanibel Sea School does more than guided beach walks and marine wildlife tours. Visit their shop at the resort to find out more about their other programs.
(MORE: Kid-Friendly Attractions in Varadero To Tempt You Off the Resort)
Go shelling, of course.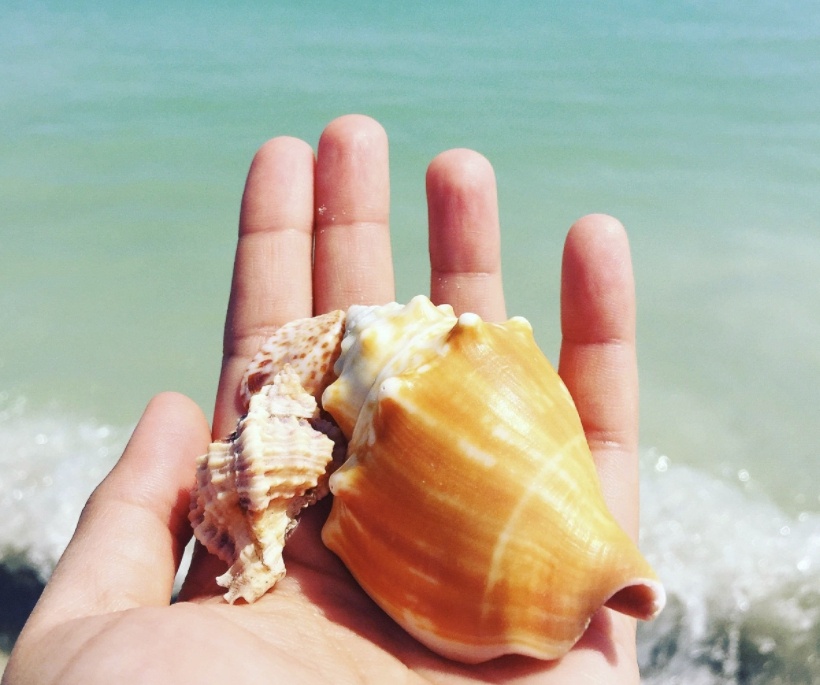 Shelling on Sanibel Island (Photo: Michelle Rae Uy)
Sanibel and Captiva together form a natural scoop that essentially catch any shells that get swept in from the South and from the Gulf. Consider that perfect formation and add it to the fact that the islands have very shallow waters with sandy bottoms that make it easy for the shells to roll right in, and you'll understand why these islands, as well as its neighbors, are collectively known as one of the best shelling spots in the world. Shellers can find around 400 species of shells here, from the common clams, scallops and cockles to the harder to find Junonias and horse conchs, so shell collecting definitely comes with the territory. The best beaches for amazing finds vary depending on the wind and weather conditions, but locals seem to favor Bowman's Beach, Blind Pass Beach and Lighthouse Beach.
TIP: Visit Pam Rambo's ILoveShelling.com blog prior to shelling for tips on how to score the best ones. Better yet, go on one of her shelling tours with Captiva Cruises to meet her and get some hands-on training with her in person!
Michelle Rae Uy contributed this to MiniTime. She is a travel writer based in Los Angeles and MiniTime's Head of Content, who spends her free time on adventures and film photography.