Six great train routes that your family will love.
By Jodi Grundig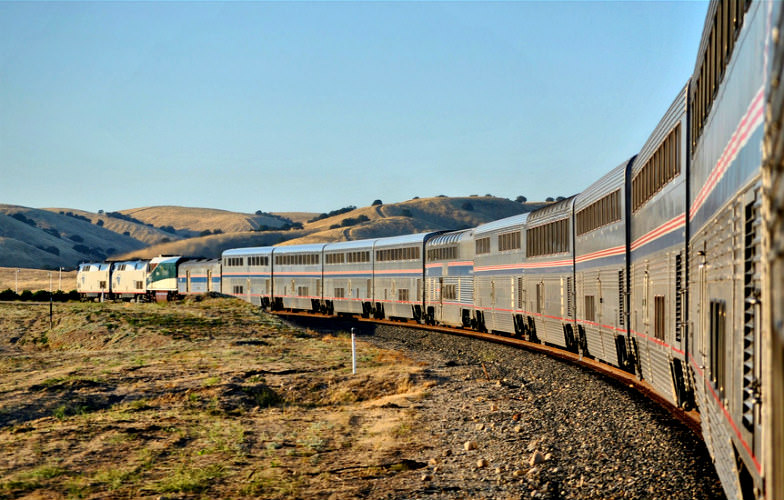 Coast Starlight (Flickr: Loco Steve)
It's summer family vacation season and rather than traveling by plane or car, consider a family train trip. Your vacation adventure will start the moment you step onto the train. With the many amenities like free WiFi, dining cars, and cafes offered on trains, you'll get to enjoy both the journey and the destination. Many North American train routes run right through beautiful, scenic areas offering you gorgeous views as your travel to your vacation destination. Here are six great North American train routes for a family vacation this summer:
The Adirondack (Traveling from NYC to Montreal, Quebec, Canada)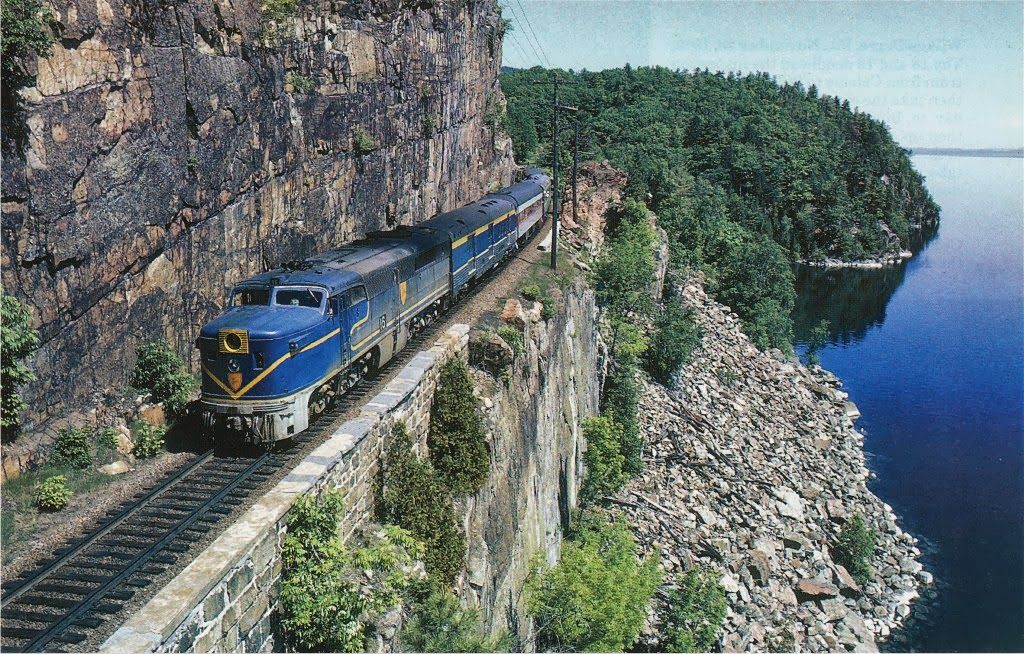 The Adirondack (Photo: Frank Musick)
Considered one of the top ten scenic train rides in the world, the Adirondack train route travels from New York City's Penn Station to Montreal, Canada. Spanning over ten hours, this trip is great for a weekend away in either Montreal or Manhattan (depending on the direction of travel). The route will take you past West Point Academy, the Hudson River Valley and fifty miles of Lake Champlain.
(MORE: Looking for a place to stay? Find great kid-friendly hotels in Montreal.)
The Vermonter (Traveling from Washington, DC to St. Albans, Vermont)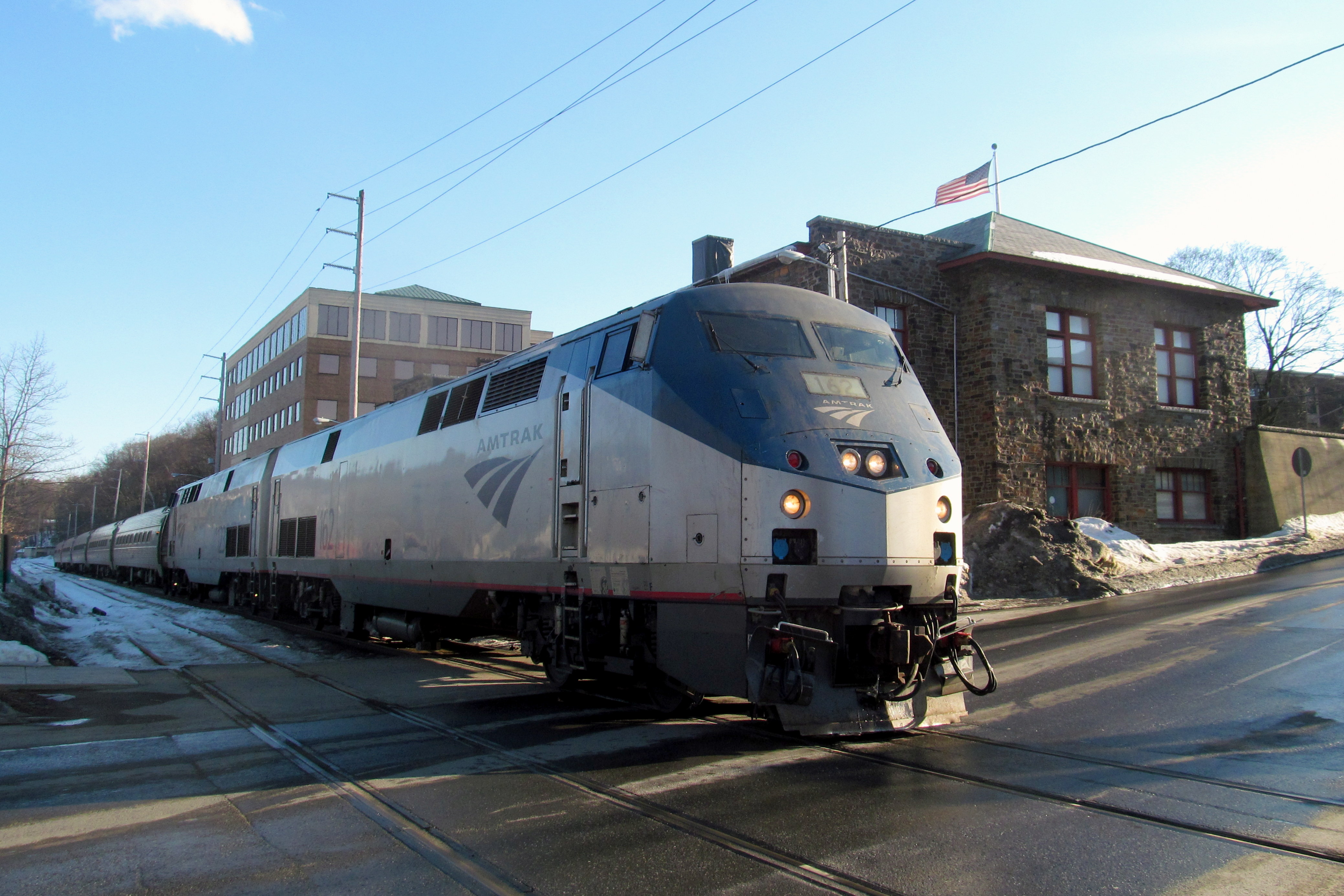 Amtrak Vermonter (Wiki: Pi.1415926535)
The almost 14-hour trip from Washington, DC to St. Albans, Vermont takes you from the US Capitol, through the gorgeous New England states of Connecticut and Massachusetts on the way to Vermont. As you travel through quaint New England towns, you'll be able to see some of the most beautiful scenery in the area, including rivers, falls and covered bridges.
Whether you are traveling to Vermont or Washington, DC for a family vacation, the beautiful train route makes stops in a variety of family-friendly locations, including New York City's Penn Station, Hartford, Amherst, White River Junction and Waterbury (home of Ben and Jerry's).
The Downeaster (Traveling from Boston, MA to Brunswick, Maine)
The Downeaster was established in 2001 and was expanded in recent years to include service to Freeport and Brunswick, Maine. The short ride (between three and four hours) includes a trip along the gorgeous Maine coastline. With five round-trips offered daily, it's a great way for Massachusetts families to visit Maine for a day or longer. Many of these routes carry volunteers to aid passengers with questions about local attractions and destinations.
Freeport, Maine, home of LL Bean, is a beautiful stop for a family vacation and the train station is walking distance from many hotels, restaurants, and shops. In Portland, families have the option of renting bikes at the station.
Amtrak Cascades (Traveling from Eugene, OR to Vancouver, BC)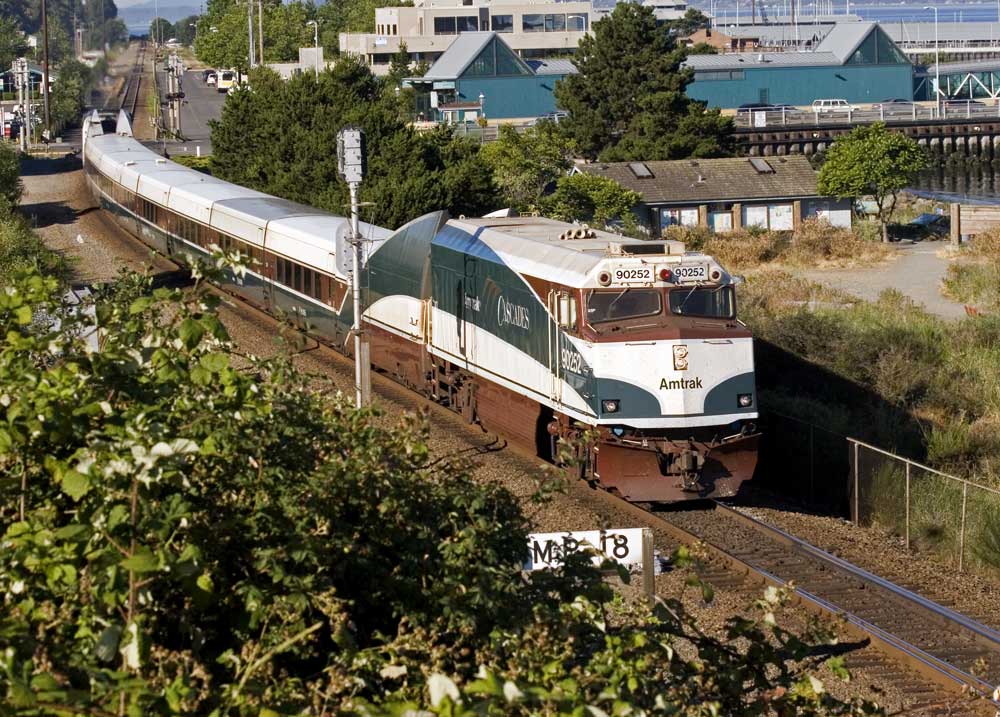 Amtrak Cascades (Photo: Rebelcommander)
The ten and a half hour ride starts in Eugene, Oregon and passes through Seattle, Washington on the way to Vancouver, British Columbia. The Pacific Northwest is one of the most beautiful areas of North America and the Cascades train route showcases much of that. Passing through the Columbia River, the Puget Sound, the Olympic Mountains, the San Juan Islands and the Cascade Mountains, this beautiful journey is a great way to see some breathtaking sites. Vancouver, British Columbia is filled with gorgeous landscape and many kid-friendly attractions and would be a lovely summer family vacation.
(MORE: Making a stop? Find kid-friendly attractions in Seattle.)
The Pennsylvanian (Traveling from NYC to Philadelphia)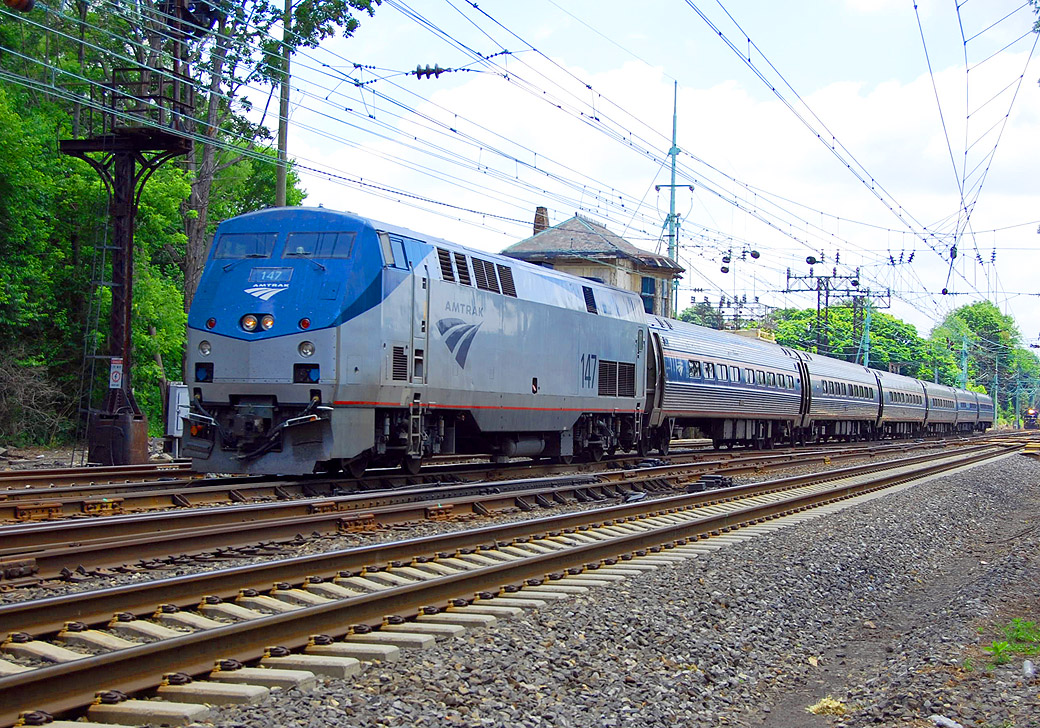 The Pennsylvanian (Wiki: Centpacrr)
Both New York City and Pittsburgh are great family vacation destinations and the Pennsylvanian Amtrak route takes you through the beautiful Pennsylvanian landscape between the two major cities. The nine and a half hour trip travels through a variety of different terrains, including the Golden Triangle in Pittsburgh (where the Allegheny, Monongahela and Ohio Rivers meet), the Allegheny Mountains and the famed Pennsylvania Dutch Country.
Stops along the way include Newark, Philadelphia, Harrisburg and Altoona. Connecting train service is available for those looking to travel to Cleveland, Chicago and Toledo from Pittsburgh.
Coast Starlight (Travel from Seattle to Los Angeles)
Thinking of traveling the west coast with your family this summer? The 35-hour Coast Starlight journey starts in Seattle and heads into Oregon, passing by Mount Rainier, Mount St. Helens and Mount Adams. As you enter California, you'll see Sacramento, Pismo Beach and Santa Barbara. Over 100 miles of the trip takes place along the stunning Pacific Ocean coastline.
Jodi Grundig of MomsFavoriteStuff.com contributed this to www.MiniTime.com.