Great kid-friendly Día de los Muertos events
By Kristi Marcelle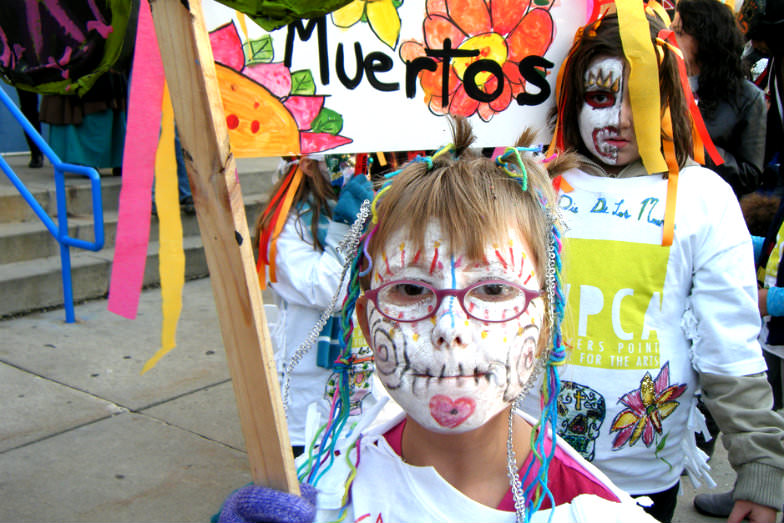 Kids at a Day of the Dead parade (Flickr: daniel baker)
Day of the Dead is a day to remember and honor deceased relatives. While the official holiday is November 2 celebrations begin on October 31 and earlier. Day of the Dead is observed throughout Latin America and is especially popular in Mexico and areas in the United States with large Mexican populations. Traditions vary by country and families typically commemorate the day by building an altar in memory of their loved one, visiting the cemetery, decorating the grave, and offering food including sugar skulls and Pan de Muerto, the traditional Day of the Dead bread.
(TRIP PLAN: Planning a Halloween family getaway? Use MiniTime's free Trip Plan tool.)
Riviera Maya, Mexico
You'll find Day of the Dead celebrations throughout Mexico including top tourist destinations like the Riviera Maya. Find impromptu street parties and vigils or try an organized event at the ecological and cultural park Xcaret in Playa del Carmen where visitors can have their faces painted like skeletons and attend special Day of the Dead performances. Don't want to leave the hotel? The Barcelo Maya Beach Resort has skeleton face painting for all ages, performances and Pan de Muerto to taste.
Los Angeles, California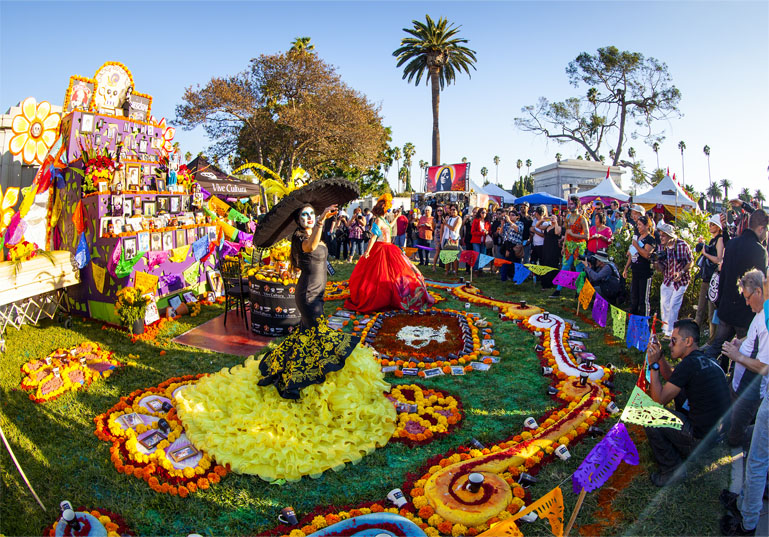 Day of the Dead event at the Hollywood Forever Cemetery (Hollywood Forever Cemetery )
Day of the Dead and Hollywood combine to create an event like no other. The Hollywood Forever Cemetery is the stage for the one-day Dia de Los Muertos festival that brings out elaborate displays of Day of the Dead celebrations including dance performances and contests for best costumes and best altars. There's a kids' crafts and art section and food vendors featuring traditional Mexican and American foods. General admission: $20; kids under 8 and adults over 65 are free until 4 pm. To avoid long lines, purchase tickets in advance.
Corpus Christi, Texas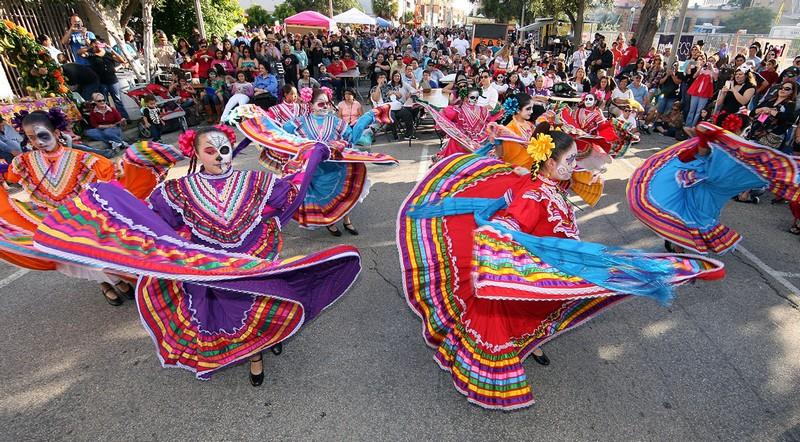 Dia de los Muerto Street Festival in Corpus Christi (Corpus Christi Dia de los Muertos Festival)
Downtown Corpus Christi is home to the seventh annual Dia de los Muertos Street Festival. Costumed revelers choose between three stages of music including latin music, emerging Texas bands and cultural presentations. There's a community altar, food, drinks and kids' activities. The event is held on November 1 from 3 pm to midnight.
San Francisco, California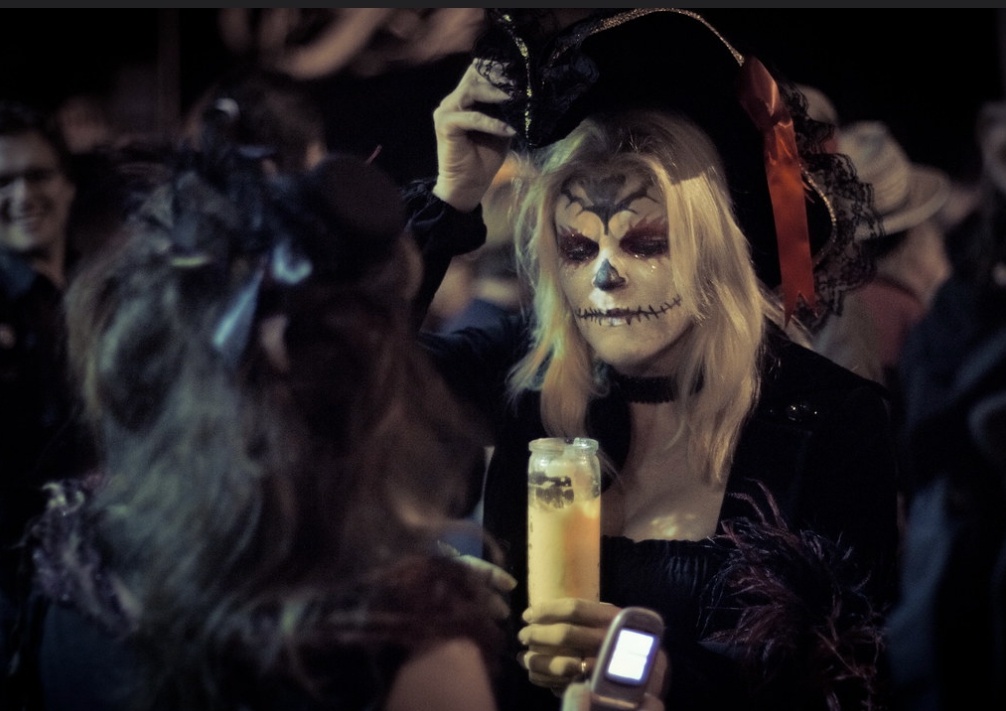 Day of the Dead Community Concert in San Francisco (Flickr: Olesia P.)
For over 30 years residents of the Mission district have celebrated Day of the Dead in San Francisco with a procession and altar display on November 2. Visitors are encouraged to bring candles, food and mementos to place at the altars in Garfield Park on display from 6 – 11 pm. The event is free and family-friendly. Too late for little ones? Try the Day of the Dead Community Concert at the San Francisco Symphony on November 1. Tickets are $18-$70 and include an hour of free crafts and music.
New York City, New York
Two days of celebrations on November 1 and 2 mark Mano-a-Mano Mexican Culture Without Borders Day of the Dead event. Events take place at St Marks Church-in-the-Bowery and include altar building, a procession, folkloric ballet presentations, craft market and music. All events are free and there's food available for purchase.
(MORE: Find other fantastic, kid-friendly Halloween trip ideas.)
Albuquerque, New Mexico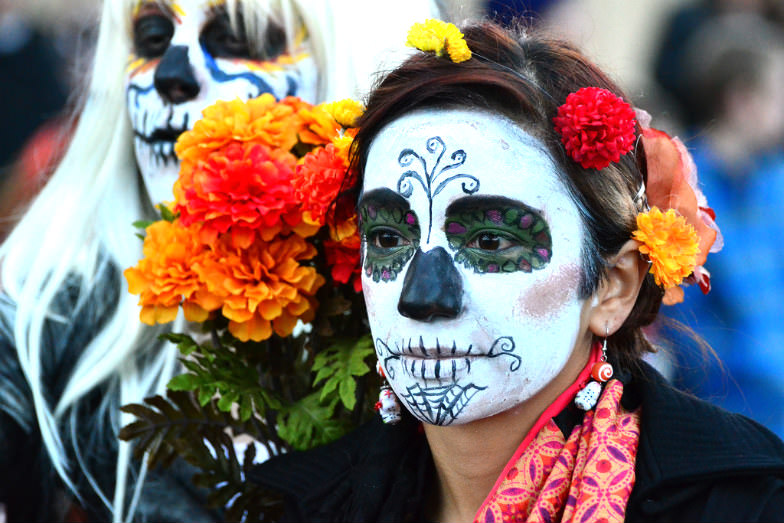 Day of the Dead Marigold Parade in Albuquerque, NM (Flickr: Larry Lamsa )
For over 20 years, Albuquerque's South Valley has held the Day of the Dead Marigold Parade showcasing a prominent Day of the Dead symbol, the marigold, the "flower of the dead." The event runs from 2 – 6 pm beginning with a parade that ends at the community center where the festivities takes place. Visitors enjoy traditional music, altars and art and food vendors. Shuttles are available.
Kristi Marcelle, a San Francisco Bay Area freelance writer, contributed this to MiniTime.