Top ski resorts to take the kids to in California.
By Mimi Slawoff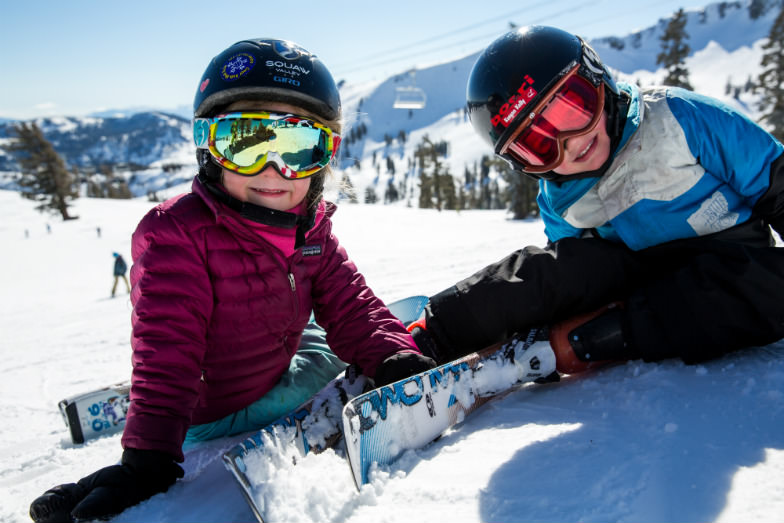 Little skiers at Squaw Valley (Jeff Curtes via Squaw Valley)
Sharing your passion for skiing or snowboarding with kids is easier than ever, especially if you leave it to the experts to get your little ones swooshing down the mountain. California ski resorts offer excellent snow sports programs for kids as young as 3. So while they're learning to balance on skis or boards, you're free to shred and carve up the slopes before regrouping as a family.
While skiing can be a pricey family sport, the good news is that many California mountain resorts offer low cost or free skiing to kids with a paid adult ticket. Lesson rates are extra and vary in price. Ready? Go!
Eastern California
Mammoth Mountain (Sierra Nevadas)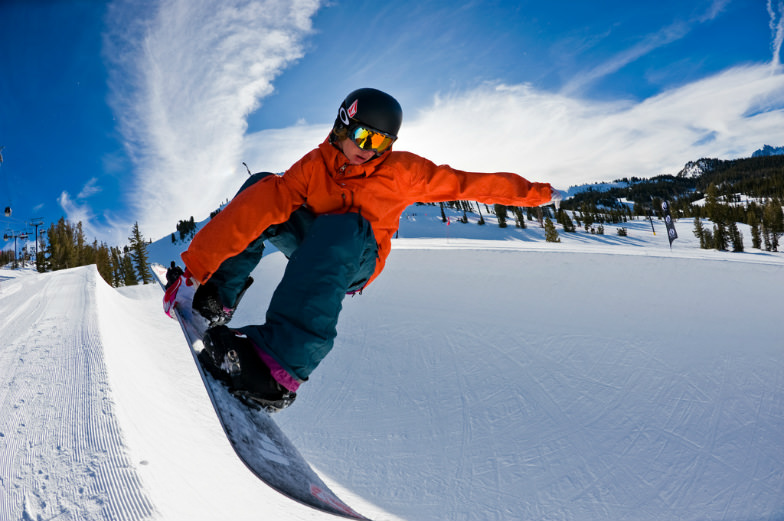 Young snowboarder at Mammoth Mountain (Flickr: John Lemieux)
A world-class resort, Mammoth (a huge mountain living up to its name) is a popular ski and snowboard destination (about five hours from LA) that typically stays open through June. Small groups and playful snow sports classes cater to kids. Pioneers teaches kids ages 3 and 4 to ski; Explorers is for beginner skiers and snowboarders ages 5- 7; Adventurers helps ages 8 – 12 learn and strengthen new skills. The Mammoth Mountain Ski Area — owner of Mammoth Mountain and June Mountain — recently acquired Big Bear Mountain Resorts (Bear Mountain and Snow Summit) in SoCal. That means the new Cali4nia Pass is valid at all four mountains. For a limited time, the discounted rate for the season pass is $689 for adults, $519 ages 13 – 18, and $199 ages 5 – 12.
Best daily ski deals: $67 early bird lift ticket or early bird lift and lodging starting at $99. .
Lodging: A range of options include village hotels, condos and slope-side accommodations.
June Mountain (About 20 minutes from Mammoth)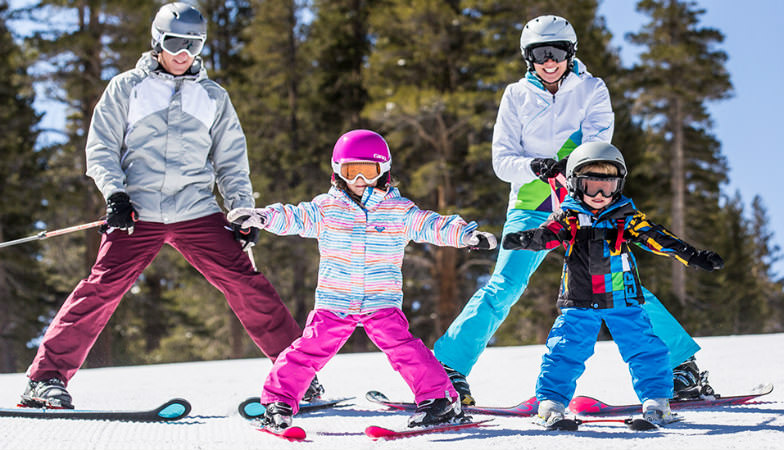 Family at June Mountain (Photo: © June Mountain)
This intimate ski area may not have the bells and whistles of its sister Mammoth Mountain, but it's a cozy, budget-friendly ski resort with awesome lake views. Kids ages 12 and younger ski free for one thing. Same children's classes as Mammoth.
Lodging: Cabins, hotels and the family (and pet-friendly) Double Eagle Resort & Spa.
(MORE: Find wonderful kid-friendly hotels in or near Mammoth Mountain.)
Southern California
Big Bear Mountain Resorts (Big Bear Lake, California)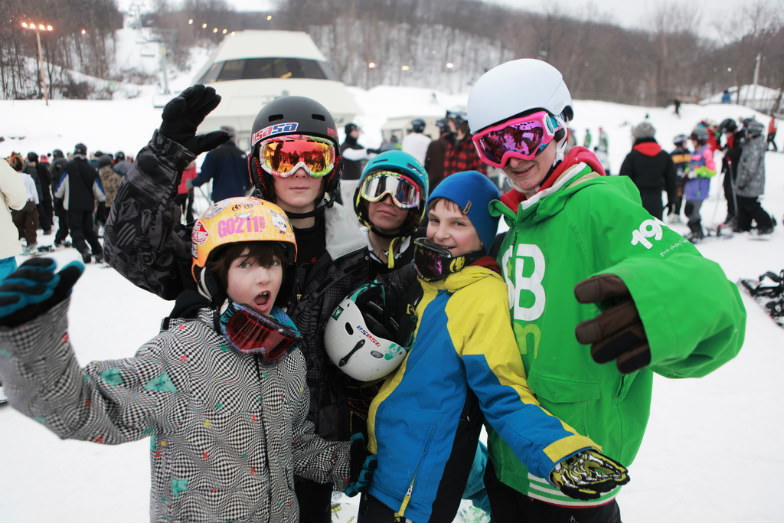 Big Bear Mountain skiers (Flickr: Anthony Quintano)
One lift ticket is valid for both Snow Summit and Bear Mountain, about two hours from Los Angeles, Orange County and San Diego. While skiers and snowboarders are warmly welcomed at both resorts, generally skiers gravitate toward family-friendly Snow Summit (check out the Family Park) and snowboarders to hip Bear Mountain's terrain parks. Kids ages 6 and younger ski/ride free at both resorts. Lessons (cost varies): Little Bear Camp, ages 4 – 7; Little Bear Lessons, ages 5 – 7; First-Time Beginner and Next Steps Lessons, ages 8 – 12. Rendezvous with family for lunch or hot cocoa at Snow Summit's View Haus.
Ski deal: Ski free on your birthday! Show I.D.
Lodging: Hotels, cabins and rental homes and condos are available.
(MORE: See how another family spent their Big Bear Lake vacation with their MiniTime trip plan.)
Snow Valley (Running Springs, California)
Situated at a lower elevation below Big Bear, this often bypassed resort gets less snow and has fewer trails, but is great for beginners, young families and those looking for quick access to skiing. Short lift lines and weekday discounts are another bonus. Children's ski and snowboard group lessons for ages 4 – 12 are kept small and utilize an easy-to-load conveyor at the Children's Learning Center. Kids ages 6 and under ski free with paying adult.
Ski deal: Save with the Family Fun Pack: Four lift tickets (two adults, two kids ages 7 – 12). Also, ski free on your birthday. Show I.D.
Mountain High (Wrightwood, California)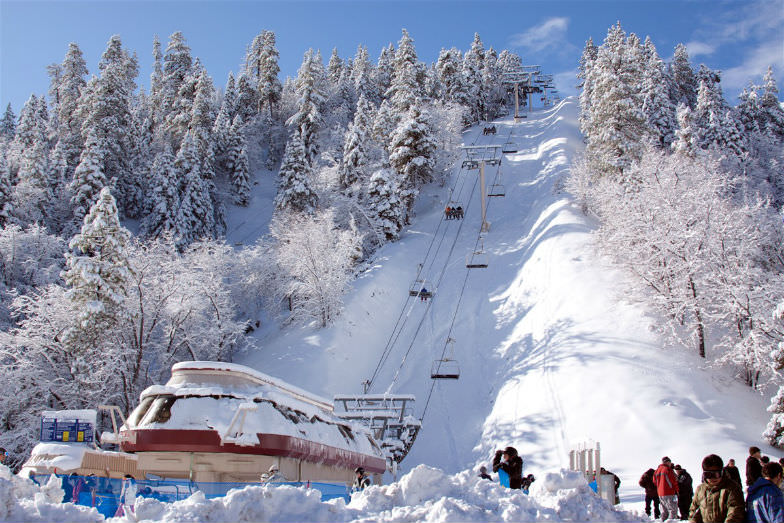 Mountain High Resort (Photo: © Mountain High Resort)
The laid-back resort attracts mostly snowboarders, but its close proximity to LA (about 90 minutes) makes it a fun place to ski with kids too. The Children's Academy gets ages 4 – 9 up on skis and snowboards (from $79 half-day). Rentals and lunch included. Plus, it offers numerous deals. Kids ages 6 and under ski free. SoCal fifth graders (from San Diego to Santa Barbara and extending to Las Vegas) get a free ski pass.
Ski deal: Ski free on your birthday. Show I.D.
Lodging: Lodging options vary in town.
Northern California
Lake Tahoe has 15 downhill ski areas, including three distinctive Vail Resorts: Heavenly Mountain Resort, Northstar California and Kirkwood Mountain Resort. One season pass is valid for all three.
Fun Fact: the EpicMix app enables you to share photos and track where you've skied as well as newly learned skills in ski school (to be shared with all Vail Resorts, so you pick up where you left off).
Northstar California (part of Vail Resorts)
At this laid-back luxury resort, families will find an array of amenities, snow sports lessons and a lively alpine village flourishing with shops, restaurants, movie theaters and après-ski activities (think daily s'smores, ice skating and live music). When you stay in village accommodations, skiing, shopping and dining are right outside your door — so ditch the car and focus on family fun. The Ultimate 4 Lessons cap students to just four so you get lots of one-on-one time with your instructor. It's a great way to progress to the next level quickly. Private and group lessons are also available.
Heavenly Mountain Resort (South Lake Tahoe)
Rock and roll at this lively resort that has a plethora of lifts, trails, restaurants and entertainment at four base facilities in California and Nevada. Kids' lessons include a helmet, lunch and snacks. Ages 4 and 5 learn to ski in Firecrackers while ages 6 – 13 jet to the next level in Rockets. Snowboarding classes include Blasters for ages 5 and 6, and Rockets for ages 7 – 13. The Ski/Play day care program introduces ages 3 and 4 to skiing in the Enchanted Forest. Enjoy après-ski family fun at weekly Ripperoo Parades with Heavenly's mascot and hot chocolate.
Kirkwood Mountain Resort (Kirkwood, California)
Kirkwood's ski and snowboard classes for kids and adults bring you up to speed for the mountain's steep terrain and big mountain skiing. Mini Groms introduces first time riders to basic skills on the snow. Ages 5 – 12 tackle the slopes in Mountain Explorer. The Groms snowboard program helps riders ages 5 – 12 progress quickly and safely.
Squaw Valley (Olympic Valley, California)
Host of the 1960 Winter Olympics, Squaw Valley is steeped in ski history. With slope-side lodging, shopping, dining, ski museum and recreational activities at your fingertips, you never need to leave the cozy village. Enrolling kids in lessons? Pioneers teaches basic ski skills to ages 3 and 4. Ages 5 – 7 can enroll in the Grommets Snowboard or Explorers Ski Lesson. Kid ages 8 – 13 will find themselves comfortably cruising the slopes in the Jibbers Snowboard and Mountaineers Ski Lesson groups.
Mimi Slawoff, a Los Angeles-based journalist, contributed this to MiniTime.
More family-friendly ski resorts: