Family-friendly beaches in Florida
By Mimi Slawoff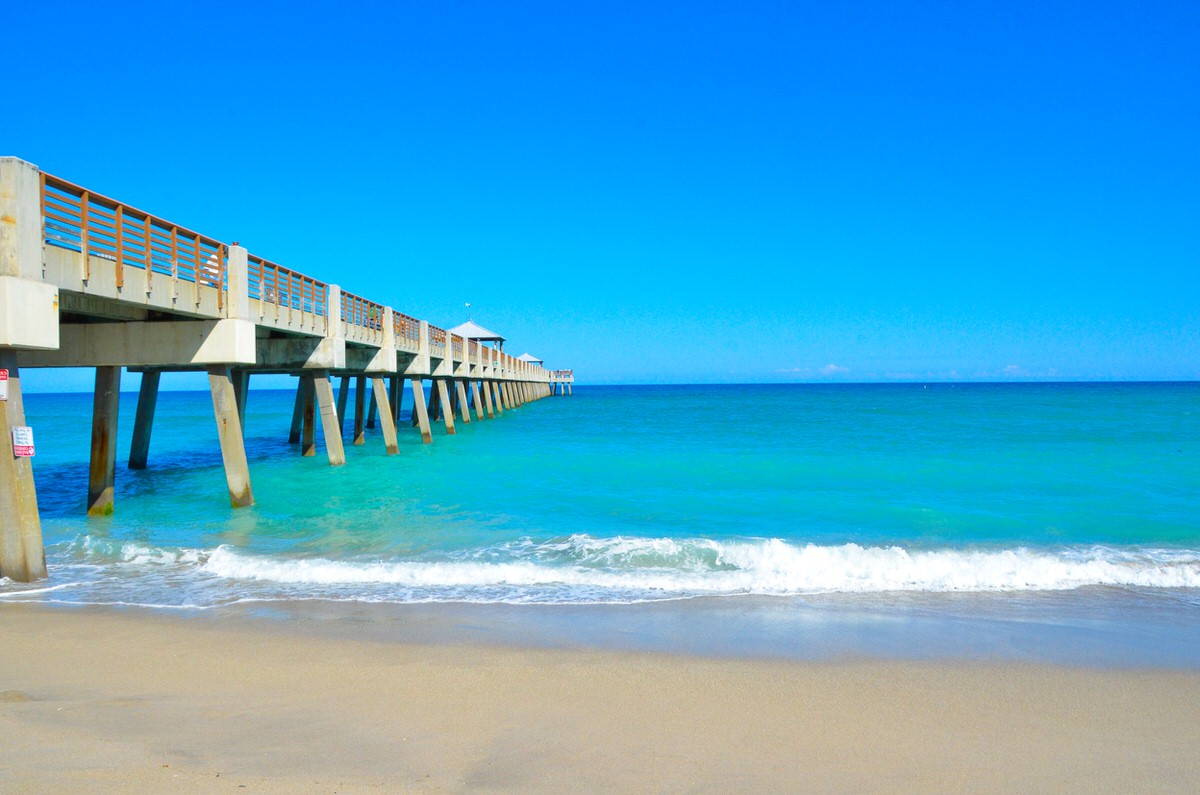 Jupiter Beach is one of Florida's best beaches. (Photo: Scott Richardson)
From secluded tropical islands to soothe the soul to big city beaches with mega amenities, Florida has approximately 1,200 miles of sandy shores, with no two alike. Whether your family prefers small island hideaways or bustling beaches with boatloads of activities, it's easy to find a kid-friendly destination with silky sand, blue skies, and warm surf to cap off the perfect family vacation. When choosing a beach, consider location and your family's interests. Generally, Gulf of Mexico beaches have pearly white sand and calm waves and Atlantic beaches have golden brown sand and waves for surfing. Check out our picks for the ten best beaches in Florida for families.
(MORE: 5 Awesome L.A. Beaches for Families)
Clearwater Beach
Situated on Florida's West Coast about 35 minutes from Tampa, Clearwater Beach is a kid-friendly destination for many reasons: calm surf, powder soft, white sand that stays cool on your feet, and nearby family attractions. Shops and restaurants anchor the pedestrian-friendly waterfront where Pier 60 has free nightly sunset festivals featuring street performers, musicians and artisans. The oceanfront Sandpearl Resort is another reason Clearwater Beach is among the best beaches in Florida for families. The laid-back luxury resort has a lagoon-style swimming pool, cabana, and children's activities.
Jupiter Beach
A tropical, kid-friendly destination along the largest stretch of secluded coastline in Palm Beach County, Jupiter Beach rates among the best beaches in Florida for families seeking non-stop fun in the sun. Warm currents (averaging 78 degrees) paired with land and water activities make Jupiter Beach a natural playground while sand dunes and mangroves create a tropical escape. The area's only oceanfront resort, Jupiter Beach Resort & Spa offers family amenities from tennis and basketball courts to a game room and beach cruisers.
Siesta Key
A short distance from downtown Sarasota, Siesta Key is a barrier island off the central western coast. Shallow water, water sports and sand comprised primarily of quartz (keeping it cooler on the feet) rank Siesta Key among the best beaches in Florida for families. Various lodging options, restaurants, beachside picnic areas, and playgrounds make this kid-friendly destination a good choice for a family vacation. Located along Sarasota Bay, the Ritz Carlton Hotel Sarasota is steps from city and sea family attractions.
Fort Lauderdale
Somewhat in Miami's shadow in southwest Florida, Fort Lauderdale's less crowded shores make them among the best beaches in Florida for families. There are many beaches to choose from, but if you're looking for a quiet, kid-friendly destination consider the oceanfront Harbor Beach Marriott, where the water is usually as flat as a lake in the mornings. Onsite kayaks, wave runners, banana boats and paddleboards round out a family vacation in Fort Lauderdale.
Von D. Mizell-Eula Johnson State Park (formerly known as John Lloyd Beach State Park)
Located in Hollywood, just south of Fort Lauderdale and minutes from bustling city noise, this hidden oasis is accessed via a wood ramp (visible from the parking lot) that weaves through lush foliage and leads to a pristine beach with nature trails. This kid-friendly destination has convenient park amenities, which include picnic pavilions with tables, grills, water and electricity. Family-friendly digs include the Marriott Beach Hotel Hollywood, close to restaurants and shops.
Sanibel Island
Sanibel Island's claim to fame is shelling, so it's a good idea to bring a bucket to collect assorted colorful seashells when visiting this kid-friendly destination in southwest Florida. The island's clean shores with swaying palms are among the best beaches in Florida for families, offering picnic areas, fishing, boating, bicycling, and more. Among the kid-friendly hotels is the Sundial Beach Resort Sanibel Island, which has spacious rooms, full kitchens, five heated pools and the Environmental Coastal Observatory Center (with a huge touch tank, aquarium, and live turtles).
North Beach at Fort De Soto Park, Tierra Verde
A large lagoon, shallow water, soft sand and nature trails make this stretch of shoreline one of the best beaches in Florida for families. Wildlife (see pelicans, heron and egrets), picnic areas, and bike rentals (perfect for peddling along the seven-mile paved nature trail) make Fort De Soto an ideal spot to visit on a family vacation. Since Fort De Soto was built for the Spanish American War, you'll find cannons and jail cells to explore, making this a historic kid-friendly destination. Many families enjoy camping at the Fort De Soto Park Campground. For hotels, the nearby Coconut Inn is family friendly.
New Smyrna Beach, Central Florida
When it comes to the best beaches in Florida for families, trust the locals to direct you to this kid-friendly destination popular for wide, sandy shores, wildlife, and diverse activities. For example, many families like surf fishing (dig up a few sand fleas for bait and cast away), and renting kayaks and bikes while on a family vacation at Smyrna Beach. Perched on the northern tip of the beach is the 73-acre Smyrna Dunes Park, where you can stroll along a 1.5 mile boardwalk and see animals, birds, reptiles, marine life and vegetation in their natural habitat. Bunk down at the Best Western New Smyrna Beach Hotel & Suites.
(MORE: 5 Under the Radar Places to Visit with Kids This 2017)
Palm Island
Located about 50 miles north of Fort Myers on the lower Gulf Coast, this under-the-radar kid-friendly destination is only accessible by boat or car ferry, perhaps accounting for the uncrowded, tranquil beaches. The only way to explore the island's seven miles of pristine coastline is via bikes, golf carts and scooters. As one of the more isolated best beaches in Florida for families, Fort Myers offers visitors a relaxing family vacation away from big city life. Enjoy a leisurely bike ride and spend hours looking for sand dollars, starfish and even sharks' teeth. At the Palm Island Resort, Red Beard the Pirate and his parrot, Bones, entertain kids with crafts, stories and songs.
Cocoa Beach
A quintessential Florida beach, Cocoa Beach (so named for its golden sand) has calm, consistent waves ideal for surfing, boogie boarding, swimming and more, making it one of the best beaches in Florida for active families. The iconic pier brims with restaurants, shops and entertainment at this kid-friendly destination along the Space Coast. Round out your family vacation at the Wakulla Suites Cocoa Beach, which has full kitchens and is close to major attractions, such as the Kennedy Space Center, Walt Disney World and Universal Studios.
Mimi Slawoff of Planetfamilytravel contributed this to MiniTime. She is a Los Angeles-based journalist and a seasoned family travel expert who explores the world with her three children and writes about their journeys.