California with kids
By Mimi Slawoff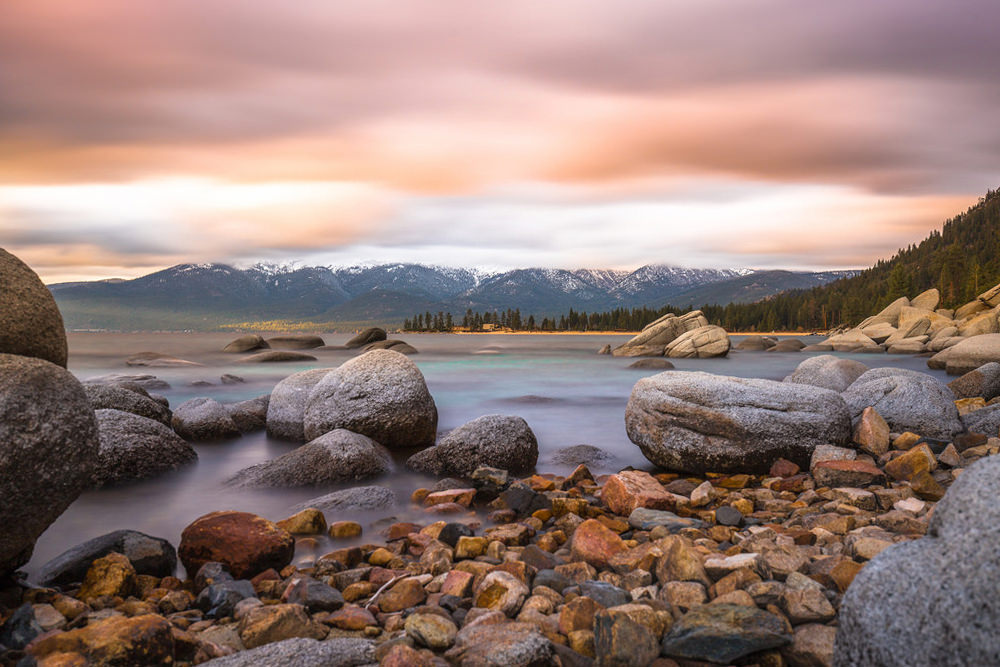 Lake Tahoe, one of California's best lakes, is a great spot to spend the rest of the summer with the kids. (Flickr: Trevor Bexon)
With a plug on California's drought, lakes are full and brimming with recreational activities. The Golden State has over 3,000 named natural lakes and reservoirs, each with distinctive features. And most of them are well worth spending a day or a weekend getaway with the kids. Many are ideal for water sports, others for fishing, swimming, or just relaxing. Kayaking and tubing are also among the many summer activities for kids.
California's best lakes within city limits make them easy day trips. Others are nestled in the wilderness and invite camping under the stars. From daylong fun on the water to a woodsy getaway, a lake vacation offers families lots of outdoor fun.
(MORE: Best Islands in Southern California for Families with Kids)
Big Bear Lake, San Bernardino National Forest
High up in the forest, the seven-mile long lake sparkles like a jewel. Scenic views, water sports, beach access, and lodging options make Big Bear one of California's best lakes. Summer activities for kids include kayaking, stand-up paddle boarding, boating, and fishing. For thrill-seeking families, there's parasailing and jet skiing. An assortment of campgrounds, cabins and condos fit any budget. For creature comforts, consider The Lodge at Big Bear Lake, a Holiday Inn Resort.
Bass Lake, Sierra National Forest
Located about 30 minutes from Yosemite's south entrance, Bass Lake is a hidden gem. Outdoor activities, a village with eateries, markets, swimming pool, and boat rentals rank this recreational area among California's best lakes. Kayaks, peddle boats, and swimming are among summer activities for kids. There's also water skiing and wakeboarding. More fun stuff: rent a pontoon and tubes for the kids. The Pines Resort features chalets with patios and BBQ grills.
Hume Lake, Kings Canyon National Park
Situated amidst pine trees, Hume Lake's serenity makes it one of California's best lakes. No motorized watercrafts are allowed at this secluded lake with sandy beaches and coves. Summer activities for kids include swimming, kayaking, and fishing. The picturesque forest is home to hiking trails and Hume Lake Campground. It's a short walk to the popular Christian camp where there's a market and recreational activity rentals.
Lake Tahoe, Sierra Nevada Mountains
Straddling California and Nevada's border, Lake Tahoe is North America's largest (and deepest at 1,645 feet) alpine lake. Tahoe is one of California's best lakes for families who like modern conveniences in a beautiful setting. Explore the over two-million-old lake on a lake cruise, or rent kayaks and jet skis. Summer activities for kids are aplenty, with fishing, horseback riding, hiking, and bicycling. The Lake Tahoe Resort Hotel offers comfortable digs near the lake.
Shasta Lake, Northern California
California's largest reservoir, Shasta is one of California's best lakes for boating. Explore coves on a houseboat, fishing boat or patio boat. Summer activities for kids and adults include water skiing, stand-up paddling, and fishing. Antler's Resort & Marina offers a full marina, store, RV Park, campgrounds, cabins, laundry, pool and spa.
June Lake, Inyo National Forest
Several of California's best lakes are located in the June Lake area. June Lake, Gull Lake, Silver Lake and Grant Lake comprise the June Lake Loop. Explore one or all for fishing and boating. Shaded pontoons are a relaxing way to enjoy the water. Summer activities for kids include fishing, swimming and hiking. The Parker Lake Trail leads to a stunning alpine lake. Don't miss Mono Lake, a unique saline lake with tufa towers. On guided canoe tours, see brine shrimp, planktonic algae, and migratory birds. The family-friendly Double Eagle Resort and Spa offers comfy cabins.
Huntington Lake, Fresno County
One of California's best lakes is a premier sailing lake in the Sierra National Forest. A thermal effect produces consistent afternoon westerly winds ideal for sailing. The nearly five-mile long lake is also great for windsurfing, swimming and fishing. Fun summer activities for kids include hiking and horseback riding. Claim a spot in one of seven campgrounds.
Castaic Lake State Recreation Area, Los Angeles County
The opportunity to water ski and wakeboard within LA makes Castaic one of California's best lakes for city folks. The family-friendly recreational area has water sports, children's play areas, picnic spots, and campgrounds. Summer activities for kids include kayaking, inner tubing, and swimming.
(MORE: Awesome Lake Vacations with Kids)
Clear Lake, Northern California
Situated north of Napa, Clear Lake is the oldest and most geologically unique in all of North America. Nearly half a million years old, it's among California's best lakes for land and water activities, AND stargazing. Volcanic activity creates warm water ideal lake activities. On land, rich soil produces impressive wines. The range of summer activities for kids includes water sports, fishing and swimming. Sleep under the stars or stay at Clear Lake Cottages & Marina.
Lake Havasu
Situated on the border between California and Arizona, Lake Havasu is king of houseboating. The 45-mile-long lake's many coves make it one of California's best lakes for exploring on a houseboat. Swimming, waterskiing and fishing are among summer activities for kids on the lake. A major attraction is London Bridge in Arizona. The 1830s bridge once spanned the River Thames in London, England, but was dismantled and transferred to Lake Havasu.
Mimi Slawoff of Planetfamilytravel contributed this to MiniTime. She is a Los Angeles-based journalist and a seasoned family travel expert who explores the world with her three children and writes about their journeys.