Family travel – vacation accessories – road trip with kids
By Michelle Rae Uy
PlanetBox bento boxes for enjoyable lunch stops. (Courtesy PlanetBox)
The sun is high, the days are long and temperatures are rising. It's summertime once again, and with the kids out of school, families are leaving their cares behind and gearing up for a summer vacation that takes them to their dream family destinations for an extended period with nothing to do but simply relax and unwind. Some will fly; others will take to the sea, cruising their way to exotic ports and beautiful lands. A fraction more will go on the road, favoring the surprising sights and spontaneous stops and detours the open road has in store.
If you're one of those families hitting the road this summer, pack your bags, load up the car and don't forget those multi-use Ziplocks (you're bound to find some use for them during your trip!) But before you pull out of your driveway and head to a new adventure with the kids, consider bringing these five very handy yet admittedly cool road trip accessories with you. Your kids will love them, and you'll be eternally grateful for them.
PlanetBox's Bento Boxes
Two of the trickiest things about being on the road are being able to save money on food and eating healthy. An easy solution is to fill that ice cooler with your family's favorite meals, drinks and snacks and load it up in the back (or in the backseat for quicker access, if there's space), and you're all set!
To keep your food organized and also have well-portioned meals, PlanetBox' sturdy, eco-friendly bento boxes, are a great way to go. Whether your packing wraps and sandwiches or proper meals with meats, veggies and desert, these awesome lunch boxes are perfect for different levels of appetite as they come in three different sizes – Shuttle, Rover, and Launch. Each box also come with different compartments for a balanced meal, an easy-to-use latch to keep your food nice and secured, and a fun magnet design set for personalization.
Complete the set and get a no-spill Big Dipper container for thick soups and wet dishes, a Little Dipper dip container, a BottleRocket drink container and an insulated carry bag to keep the kids' food nice and warm. Purchase one for every member of the family, and road trip lunch stops will be easier than ever! PlanetBox lunch boxes start at $34.95.
Little Passports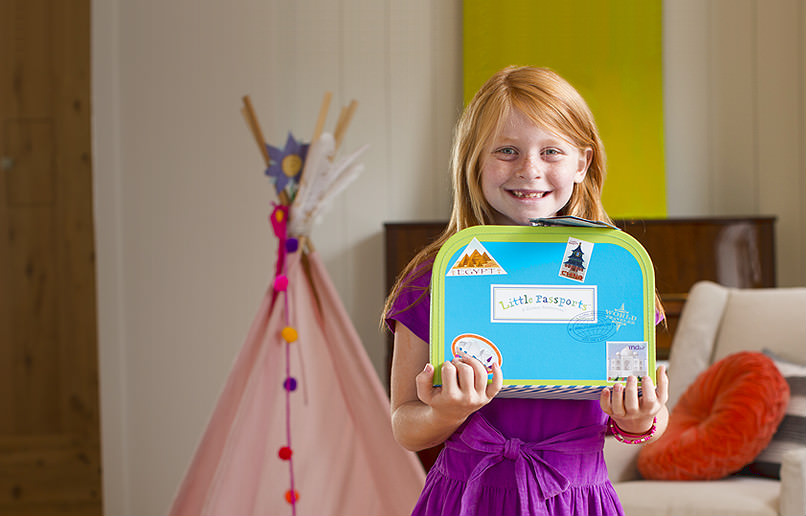 Take Little Passports with you during your road trip. (Courtesy Little Passports)
Adorable activity booklets packed with games, trivias, information, DIY instructions and even simple recipes as well as stickers, postcards, and other fun travel-related items will not only inspire your little travel bugs and get them excited about your trip but also provide the perfect fun and educational entertainment for those long stretches of road where there's nothing to see or do. Little Passport's travel subscription boxes, which include a brightly-colored carrying case, making them convenient to carry anywhere, are for kids 3 to 12 years of age, but teens and adults will love them too! Monthly subscriptions start at $11.95.
Flip'n'Check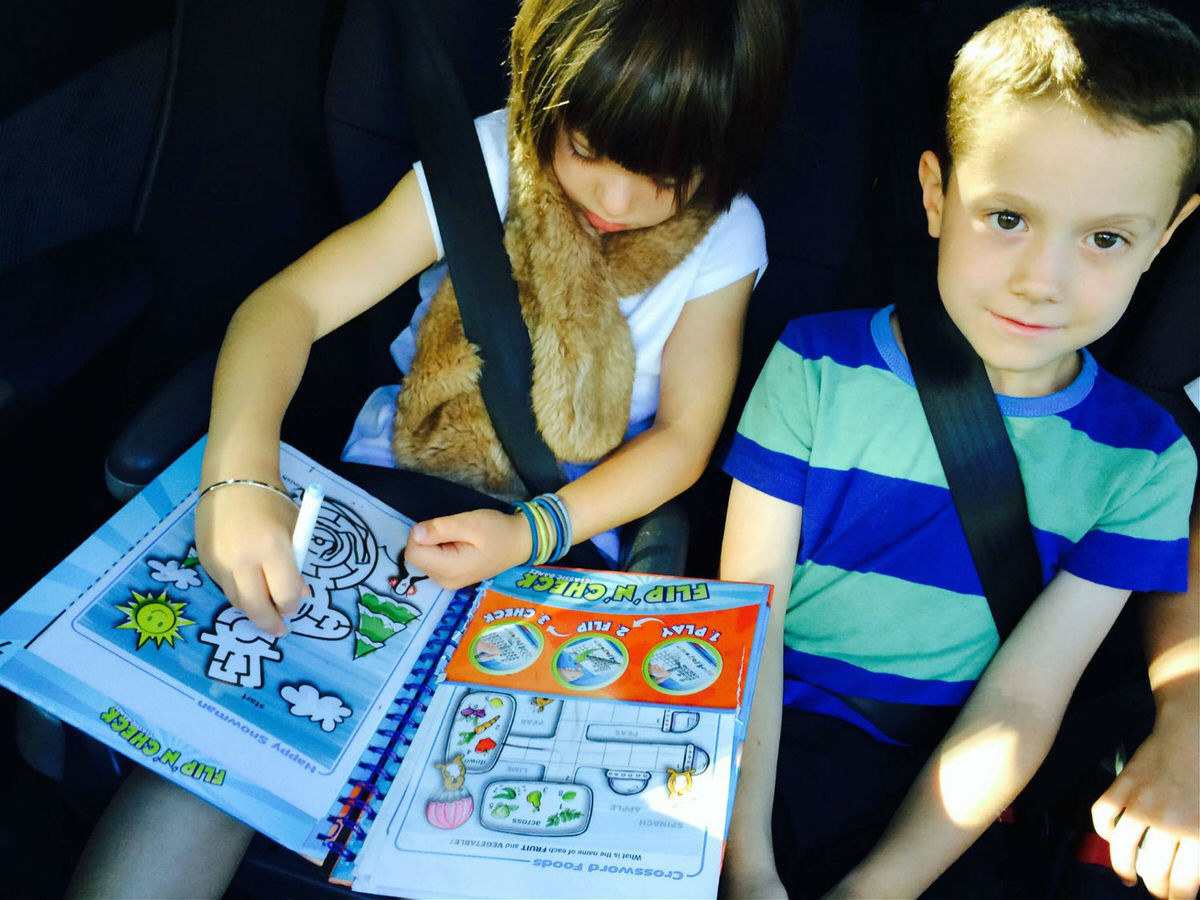 Flip 'N' Checks are perfect car games! (Courtesy Flip 'N' Check)
There's nothing better to keep the younger ones entertained than with everyone's favorite activity games, but paper activity books are so wasteful and downloadable mobile games keep our kids glued to their devices. So try Flip 'N' Check's awesome line of educational games instead, which delivers a new twist on classic games like crosswords, mazes, word searches, Mad Libs and other puzzles with an awesome dry-erase feature.
Each Flip 'N' Check glossy, colorful activity book comes with a variety of 20 educational game sheets, a dry-erase marker, and a panel with a thick, clear dry-erase board so the kids can play the games as much as they want without leaving a single mark on the sheets, making it easy to reuse, reduce and recycle! And it travels well with its compact design and hard cover, making it great for road trips as well as flights and family cruises. Flip 'N' Check activity games are perfect for kids ages 5 and up.
Best of all, they were developed and designed by entrepreneurial teens from New York City under the not-for-profit Teen Entrepreneur Boot Camp, a program that teaches entrepreneurship to high school students, so you're giving back with each purchase. Each Flip 'N' Check activity book retails at $14.99, with all the proceeds going back to the program.
onanoff BuddyPhones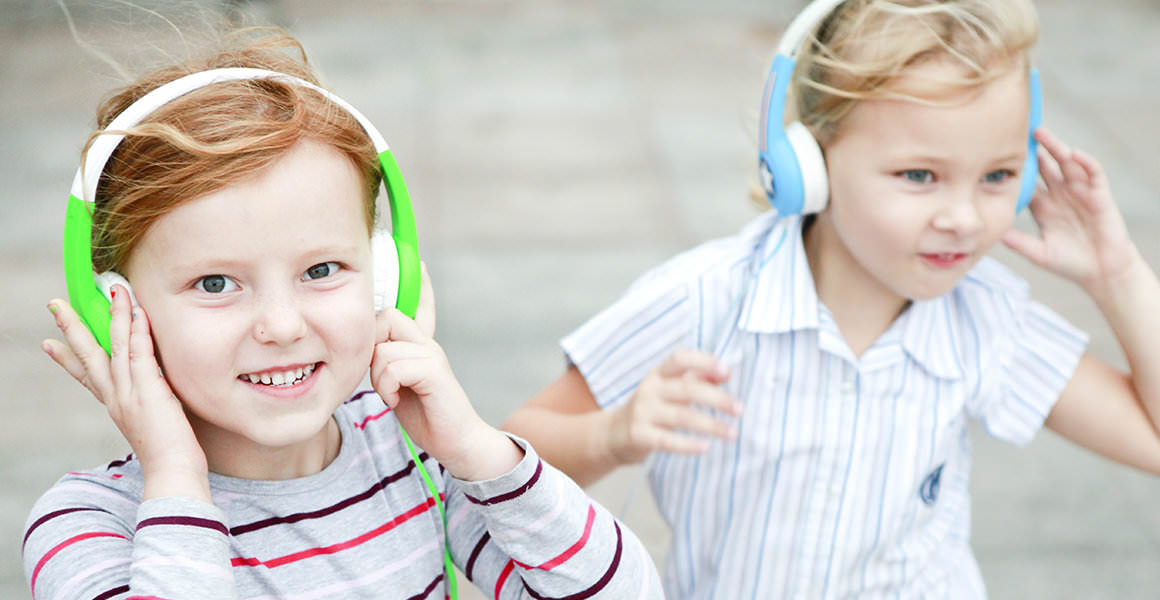 Kids love BuddyPhones. (Courtesy Onanoff)
A few years ago, it was High School Musical. These days, it's Frozen. They make for great family sing-a-longs, especially on long drives; but adults can only listen to "Let It Go" so many times. Along comes onanoff BuddyPhones, the ultimate listening companions for kids so they can listen to their favorite Disney album on repeat or play their Nintendo 3DS games to their heart's content while parents enjoy some peace and quiet. What's more, these headphones' built-in sound control feature that maintains volume levels at 85 decibels so they're safe for our little ones' gentle ears. And they're durable and flexible too! An onanoff BuddyPhones retails at $24.95 each.
(MORE: 10 Reasons to Take the Kids on Family Road Trips)
OneStepAhead Backseat Entertainment Car Organizer
Driving for many hours with kids, it's hard to keep your car clean and tidy. Your newly-washed and vacuumed vehicle will eventually fill up with pieces of food, wrappers and toys, among other things. Along with a couple of trash bags, OneStepAhead's Backseat Entertainment Car Organizer will keep those pesky messes away, with its expanded pockets that can carry anything from toys, books and electronic gadgets to water bottles, sippy cups and snacks to wet wipes and tissues. It's everything you need to stay organized and avoid feeling crowded during your drives. But make sure that the kids are staying on top of organizing their own stuff too! A non-personalized Backseat Entertainment Car Organizer costs $19.95.
Michelle Rae Uy contributed this to MiniTime. She is a travel writer based in Los Angeles and MiniTime's Head of Content, who spends her free time on adventures and film photography.