Animal interactions with kids
By Mimi Slawoff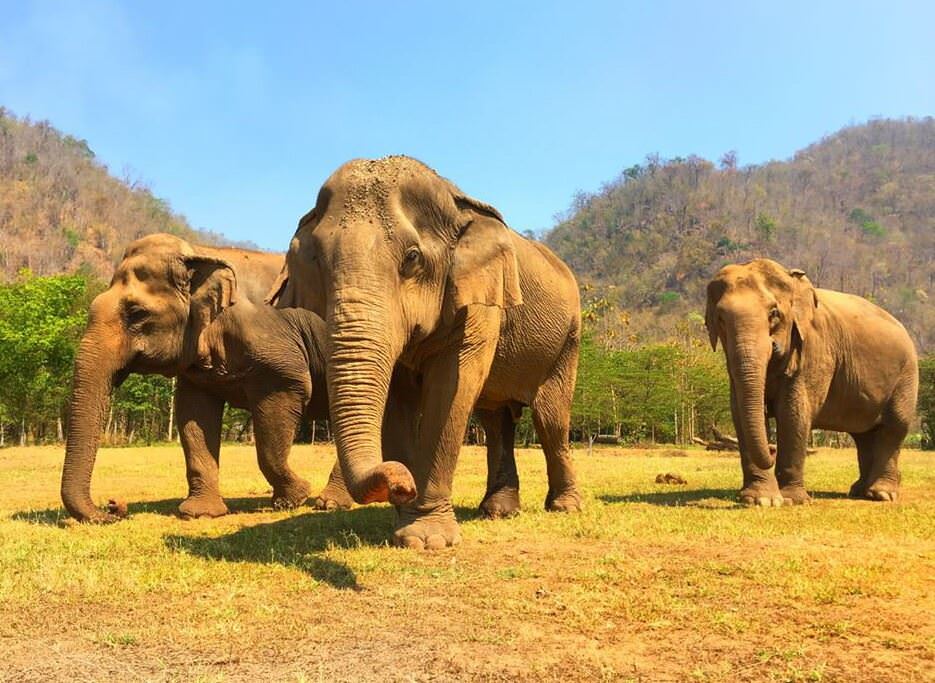 Chiang Mai's Elephant Nature Park is a great place for exposing the kids to cruelty-free animal interactions. (Courtesy Elephant Nature Park)
Swimming with dolphins and interacting with wildlife have become practically synonymous. After all, dolphins are adorable, right? Unfortunately, dolphin encounter programs can have a negative effect on these creatures. And it's not just dolphins. Many elephants and other animals are removed from their natural habitats away from family members. Animals living in captivity may suffer abuse and have a shorter survival rate than in the wild.
Can you still enjoy animal interactions with kids? You bet! Kids love getting close up to animals. Fortunately, there are many opportunities for interacting safely with various animals in natural habitats and cruelty-free facilities. Get face-to-face with animals at these ten family-friendly attractions.
(MORE: Family-Friendly African Safaris for the Trip of a Lifetime)
M.E.E.T the Mustangs, Utah
Instead of swimming with dolphins, learn to communicate with wild horses during a two-hour Mustang Educational Experiential Teachings adventure in Utah. The herd of about 30 wild horses is actually trusting and gentle. They're never restrained and are free to flee. Animal interactions with kids include arm gestures and other body language to approach and interact with these amazing creatures. At the end, give your horse a hug! The non-profit Windhorse Relation partners with American Wild Horse preservation for this unique, cruelty-free experience. All proceeds and private donations support the care and education of the Windhorse Mustang Herd.
Dogwood Canyon Nature Park, MO
Aside from a few amenities to make the preserve accessible, the rugged landscape has been left untouched. The Dogwood Canyon Nature Park, which sprawls across the Missouri-Arkansas border, is a great place to spot wildlife. While direct animal interactions with kids are limited, you'll see herds of American bison, elk, whitetail deer and Texas longhorn roam free. Watch your guide feed them on a two-hour, cruelty-free Wildlife Tram Tour. Hear the herds breathe and snort as they surround the tram. Learn about the non-profit Dogwood Canyon Foundation's conservation efforts in the Education Center and Treehouse.
Wild Side Specialty Tours, Oahu
This eco-friendly swimming with dolphins adventure is done on dolphins' terms. Sail Hawaii offers unique cruelty-free dolphin excursions. A crew of marine biologists shows passengers how to take cues from dolphin behavior and movements. If the dolphins are quiet, you'll just observe them. But if they're playful, you may get to swim alongside them. Don't splash or touch them. Blend with the pod. This tour is among the few free-roaming swimming with dolphins experience. All proceeds go to Oahu's Wild Dolphin Foundation's conservation activities. Sail Hawaii also offers guided snorkeling tours with sea turtles and tropical reef fish.
Clearwater Marine Aquarium, Clearwater, FL
No swimming with dolphins but you get close to them. The non-profit aquarium rescues, rehabilitates and releases sick and injured marine animals. It also provides public education and animal-assisted therapy. The aquarium is home to Winter from "Dolphin Tale 1" and Hope in "Dolphin Tale 2". Winter is a rescue that lost her tail. Hope is an orphan. The aquarium offers daily tours and programs with dolphins, stingrays and sea turtles.
The Gentle Barn, Los Angeles, CA; Knoxville, TN
Find loads of animal interactions with kids at this non-profit animal welfare organization. A sanctuary for abused animals, the farm encourages hands-on activities with animals. Kids can groom horses, pet pigs, brush cows, cuddle chickens, and hug goats and sheep.
SunCrest Orchard Alpacas Farm Tour, Palisade, CO
Get face-to-face with these adorable, gentle critters. About 35 live on this farm, which processes their fiber into yarn. Pet the alpacas and feed them (buy feed from a gumball machine), then tour the mill. Learn about the cruelty-free methods of gathering fiber to process into yarn. Free. Or trek into the orchards with your own alpaca! $10 per person covers the trek and tour.
Averill's Flathead Lake Lodge, MT
The ranch's animal interactions with kids involve more than trail rides. The Junior Wrangler Program teaches ages 6 and older the basics of horse care. Wranglers show kids how to help brush, handle, and care for horses. Kids can ride horses, too. Trails lead to a private elk preserve and beautiful landscape. Younger kids can take pony rides around the barn.
(MORE: 5 Unique Underwater Adventures Kids Will Love)
Sawgrass Recreation Park, FL
Ride an airboat through the Florida Everglades and see alligators in their natural habitat at the Sawgrass Recreation Park. Boats glide through the water at speeds up to 40 mph as your captain shares information about the ecosystem. Afterwards, visit the exhibit area, home to over 100 rescued and adopted reptiles and mammals. You can even cradle a baby alligator. Best to avoid the gator bites at the onsite eatery.
Elephant Nature Park, Chiang Mai, Thailand
Is your heart set on selfies with elephants? The elephant rescue and rehabilitation sanctuary takes in formerly abused or orphaned animals. Cruelty-free activities include walking in the forest with elephants. You can also wade in the river with them as they bathe. The park is part of the Save Elephant Foundation to educate the public about elephant abuse in the tourism industry.
Wildlife Friends Foundation, Petchaburi Thailand
See 450-plus rescued animals at the Wildlife Rescue Centre. Cruelty-free, animal interactions with kids include helping staff walk and shower an elephant on her daily walk. You can also help volunteers feed bears and monkeys. You'll learn about conservation issues and how elephants are exploited by tourist attractions.
Mimi Slawoff of Planetfamilytravel contributed this to MiniTime. She is a Los Angeles-based journalist and a seasoned family travel expert who explores the world with her three children and writes about their journeys.