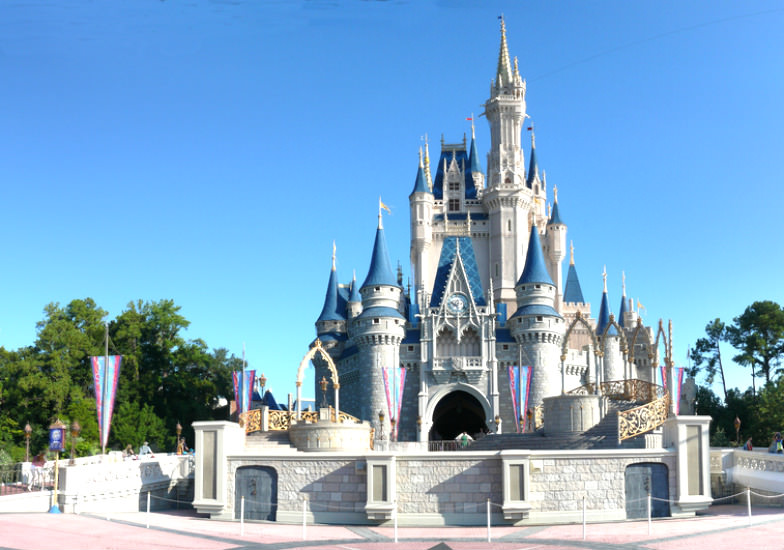 Magic Kingdom (Flickr: Michael Gray)
Camera? Check. Sunscreen? Roger that. Photo ID, tickets, money? Got it covered. Getting ready for a day at Walt Disney World can feel like a commando mission, complete with adrenaline rush. You're paying a pretty penny for park tickets, so you naturally want to make your time count. Still, it's crucial to understand that a successful Disney vacation isn't measured by how many attractions you see, but by how much fun you have. And no, the two are not one in the same.
Your first decision is which park to tackle first. Here are some suggestions:
Save the Magic Kingdom for last. The Unofficial Guide to Walt Disney World counsels that kids who see the Magic Kingdom first will likely expect the same concentration of exciting rides at the other parks. Consequently, the more educational parks may pale, rather unfairly, in comparison. The book's author, Bob Sehlinger, suggests this order: Epcot, Animal Kingdom, Disney MGM-Studios, and finally Magic Kingdom. In our experience, this is great advice. We're not suggesting that your kids won't enjoy Epcot. But we're guessing that they'll enjoy it more if they see it first.
(MORE: View a family trip itinerary: 11 days at Disney World with kids.)
Plan around Extra Magic Hours. Every day, one of the four main parks in Walt Disney World opens an hour early and another closes up to three hours late. If you're staying at a Disney resort, you can take advantage of these extended times, called Extra Magic Hours. There is a downside, however: The parks with Magic Hours are guaranteed to be the most crowded. So think about your goals. Do you want shorter lines? Avoid the parks having Magic Hours. Do you plan to spend significant part of the day kicking back at the hotel pool? Then use Magic Hours for an early or late second visit to the same park that day. Note: If you want to visit one park during regular hours and a different park during Magic Hours, your tickets must include the park hopper option. For before-you-go planning, consult Disney World's Extra Magic Hours schedule. Or wait until you arrive in the World, and ask for a weekly schedule at the front desk of your hotel.
Okay, you've picked your park. Now you need to decide what to do first. Before you set out, it's a good idea to map out the attractions you want to visit and put them in an order that makes sense. Here are the key steps: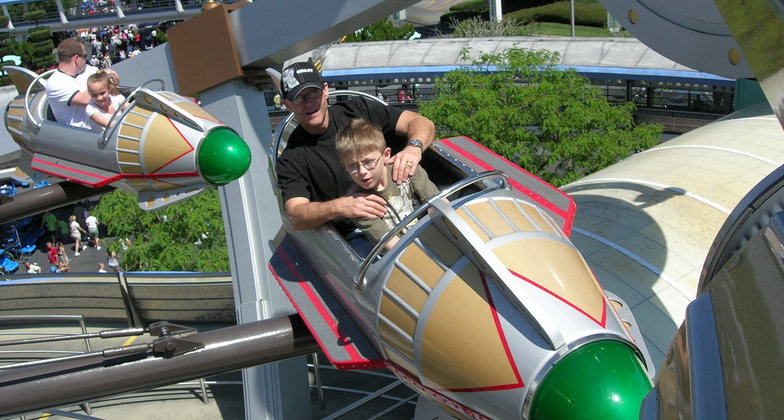 Disney Rides (Flickr: Mel Johnson)
Compile a family wish list. Have every family member choose one "must" attraction in the park. Try hard to work them all into your itinerary, preferably early in the day.
Learn from the experts. The folks behind the The Unofficial Guide to Walt Disney World have put a heck of a lot of research into designing routes to help you cut your waiting times at the top attractions. The book's affiliated web site, TouringPlans.com, offers a selection of free sample touring plans. Choose one that matches your family's profile, and use it as a framework for your itinerary. You needn't follow the itinerary to the letter to reap its time-saving benefits.
Practice your ten-four. There always comes a time when it makes sense for the family to split up. For example, you may want to take your 6-year-old on Big Thunder Mountain while your spouse takes your 3-year-old for a stroll through Frontier Town. Agreeing to meet up at a designated time never works, since you never know how long it will take you to get through the ride. You'll need a way to keep in touch, so charge up your 2-way radios or your cell phones. Note: It's often difficult to find a vendor that sells (very overpriced) batteries inside the parks. Bring extras.
Go early. The park will get more crowded as the day progresses. It's a good idea to get there when it opens and go directly to the most popular ride on your wish list. First thing in the morning, you can often ride Splash Mountain without waiting in any line at all. By the time you exit the ride, you can probably ride it again with no more than a 10-minute wait. By 2pm, you could be looking at wait times of well over an hour. If your kids are of wildly different ages, it may make sense to split up into two groups. It's the surest way to guarantee that your preteen gets to ride Space Mountain and your preschooler gets his fill of Dumbo before the lines get out of control.
(MORE: Browse kid-friendly hotels near Disney World.)
Be aware of height restrictions. Many of the most popular rides at Walt Disney World have minimum height requirements, which tend to be enforced quite stringently. If you've got small children, you'll want to take these into consideration when devising your itinerary so you don't waste time lining up for attractions you can't get into anyway. See AllEarsNet.com's listing of ride restrictions.
Make a few dining decisions. You have to eat. Food tends to be pricey inside the parks, but you can make good choices if you know the lay of the land.
Consider closures. Knowing if a marquee attraction is closed for maintenance or upgrading can save time and energy. For a current list of closures, consult Disney World's operational updates.
Make frequent fun checks. Pushing your family to fill a quota of rides isn't the same thing as maximizing their fun. After you've been in the park about three hours, start checking on your troops every so often for signs that somebody is getting tired, hungry, or cranky. If so, call for a break.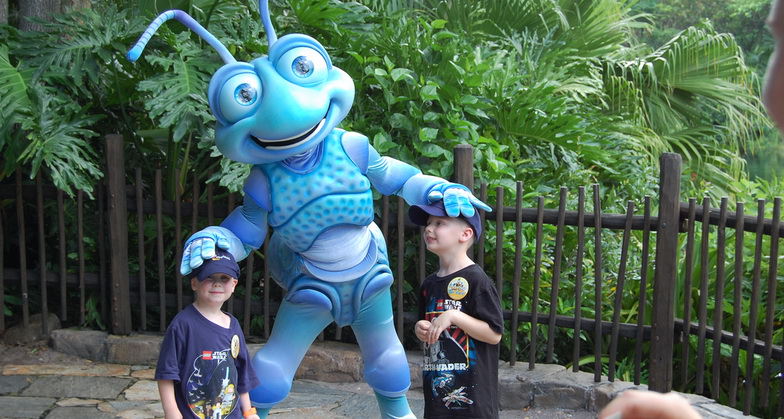 Animal Kingdom (Flickr: Matthew Freeman)
Have the big talk. No, not that big talk. The what-happens-if-somebody-gets-lost talk. For some excellent advice from our readers, see our Tip Sheet on Crowd Safety.