Whether you want to save or splurge at Disneyland, here are our top 5 off-site family-friendly hotels for you.
By Rowena Carr-Allinson
Pool and water playground at Howard Johnson Anaheim Hotel (Courtesy Howard Johnson)
Disneyland is a must-see when visiting Southern California with the kids. To make the most of your visit there, it's a good idea to stay at a nearby hotel. Whether you want to indulge or keep the pennies close, we've picked five of the best Disneyland off-site hotels for a happy, magical family vacation in Anaheim, California.
From the most affordable budget-friendly stay to the splash out luxurious sleep, here are our top five favorites.
Howard Johnson Anaheim Hotel and Water Playground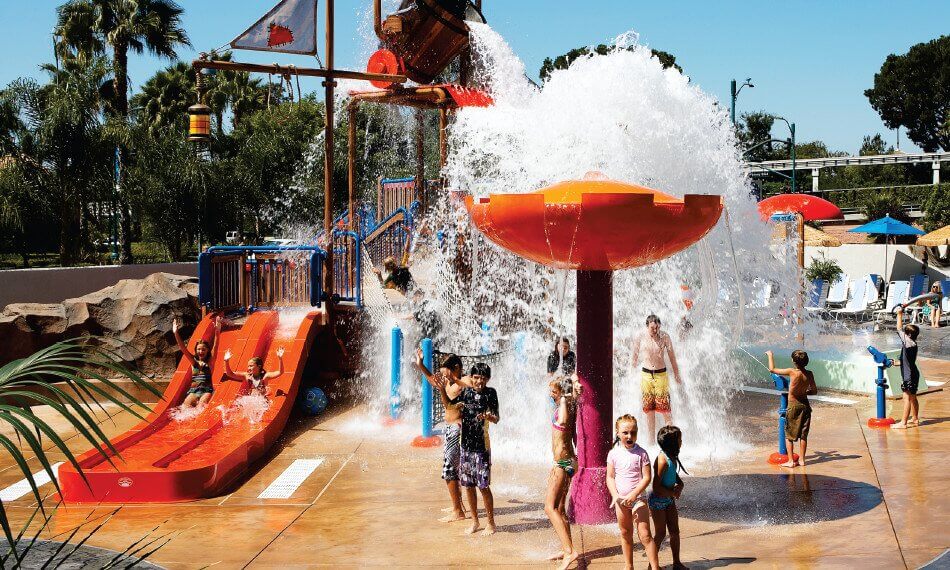 Right in the center of Anaheim, California, this family-friendly hotel is just a block away from Disneyland and Disney's California Adventure. You can even walk Downtown Disney, just ten minutes away! The hotel is ideally located for retail, dining and is easily accessible by car, taxi or bus. Refurbished in 2005 and with rates starting at $84.15, it's a great option for budget-conscious families. In the rooms, you'll find useful amenities such as a bunk beds, microwave and ironing facilities. Other good perks include air-conditioning, a 24-hour reception, on-site laundry and room service. Kids will appreciate the game rooms, the garden, and Castaway Cove where kids' pools, water-slides, water canons and a jacuzzi await. No wonder the hotel is known for its fantastic water fun! Not to mention the the free WIFI, free parking and the fact that kids' stay free. Bonus.
Ayres Hotel Anaheim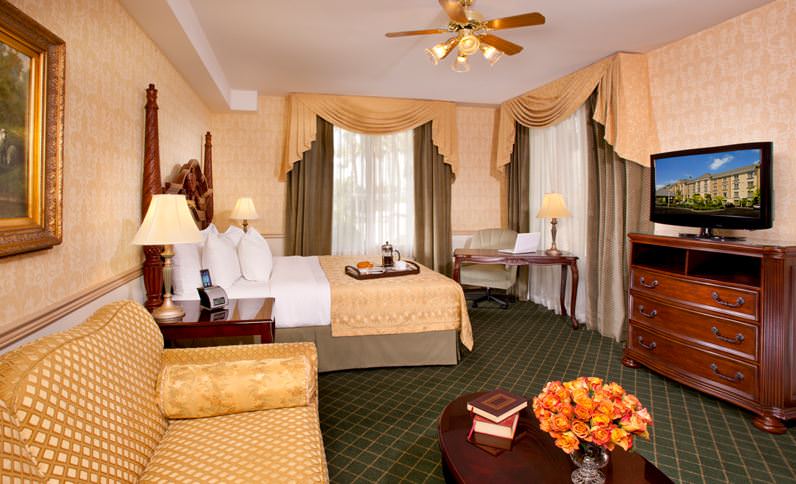 King room at Ayres Anaheim (Courtesy Ayres)
Bumping just over the $100 per night bar, the Ayres Hotel Anaheim is conveniently next to the Honda Center (formerly Arrowhead Pond) and within walking distance to Angels Stadium. It's a quick trip to Knott's Berry Farm, California Adventure and Downtown Disney. The 4-story kid-friendly hotel offers 133 deluxe guestrooms with mahogany armoires, two-poster beds and free wireless high-speed Internet, coffee makers, desks, hair dryers, microwaves, mini-refrigerators, television and voicemail. Outside you'll find a swimming pool, whirlpool and a fitness center, and on-site laundry too as well as a complimentary hot and cold breakfast buffet! Kids stay free and parents with infants can book cribs too.
Hilton Hotel Anaheim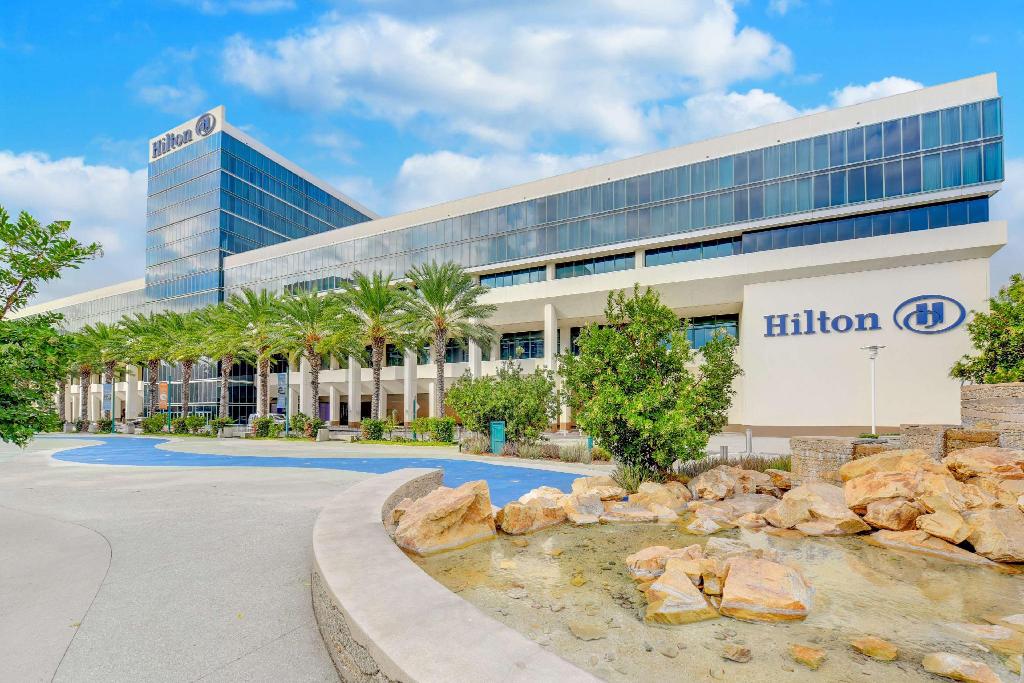 Hilton Anaheim (Courtesy Hilton)
With rates ranging from $119, the Hilton Hotel Anaheim located just one block from the Disneyland Resort offers great value. Brilliantly located to reach Knott's Berry Farm, the Crystal Cathedral and Disney's California Adventure Park, it's got impressive newly-renovated guest rooms and 96 luxurious studio suites. Rooms come with great amenities including views of Disneyland, Hilton Serenity Beds, Cuisinart coffee makers, digital connectivity panel for your personal electronic devices, cable TV and high-speed Internet access! A full-service kid-friendly hotel, it's even got extras like a playground, an outdoor pool with water slide and two hot tubs, the Health Club's indoor adult-only pool, steam room, sauna, spa and a fully-equipped fitness center. What's more, you'll find onsite restaurants, a bar and even a Starbucks for your latte emergencies! Families can book rollaway beds or cribs in the rooms as well.
Sheraton Hotel Anaheim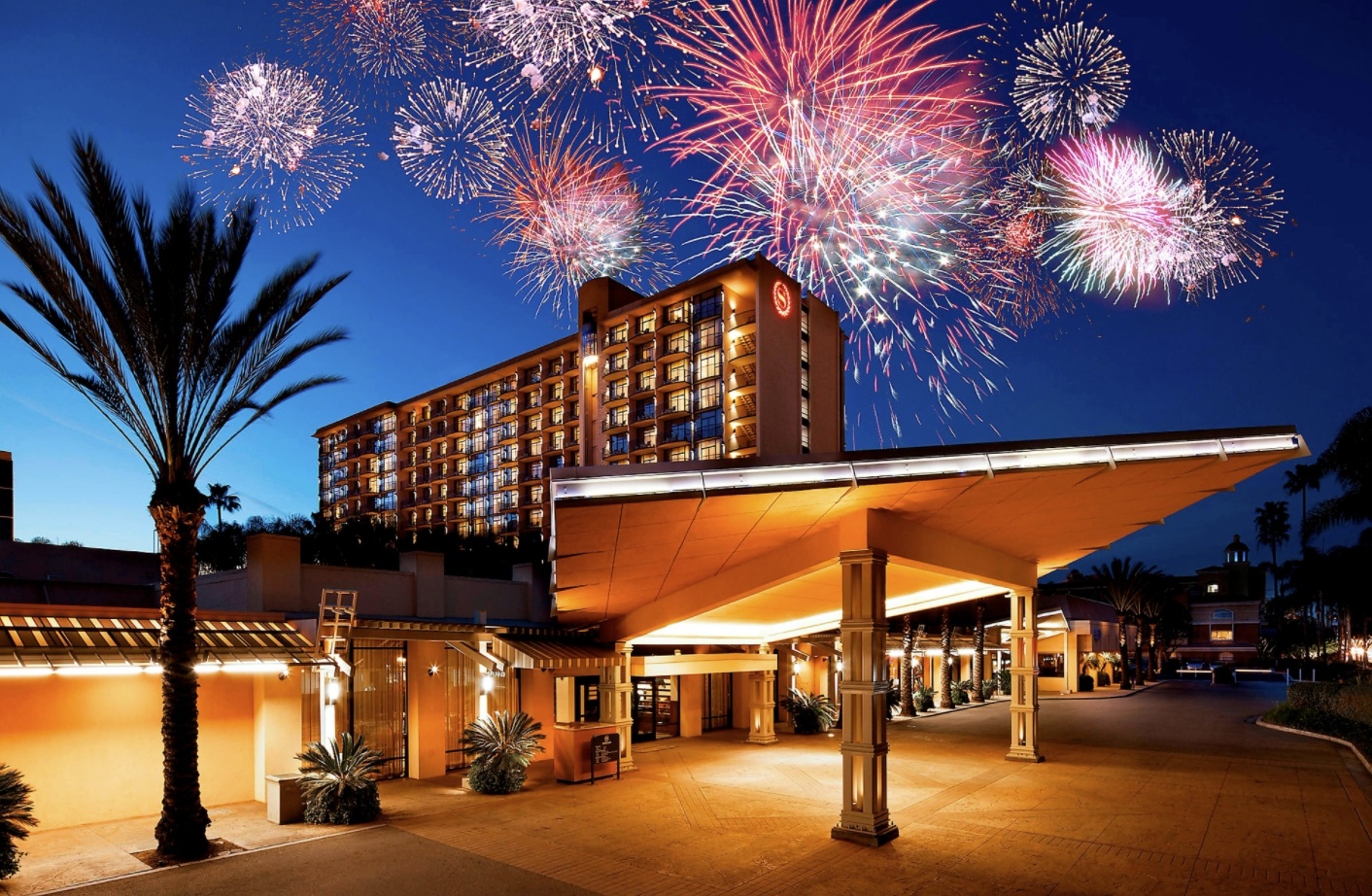 Fireworks over Sheraton Hotel Anaheim (Courtesy Starwood Hotels)
In the heart of Orange County, set on 13 acres next to Disney's California Adventure Park, the Sheraton Hotel Anaheim is ideally located to reach Disneyland resort, Downtown Disney, the Angels Stadium, the Crystal Cathedral, Chapman University, Anaheim Hills Golf Course and the Orange County Fairgrounds. Its 489 guestrooms come with the usual Sheraton quality perks, from refrigerators to coffeemakers with Starbucks coffee, Sheraton Sweet Sleeper beds, minibars, granite-topped vanities, and wireless Internet access. The castle-themed property boasts 13 acres of gardens and a koi pond as well as an outdoor heated pool and spa tub, which offers unique views of the nightly Disney fireworks show! Also on site, you'll find the Bistro, lounge and a Deli, as well as an outdoor pool, laundromat and gym.
(MORE: Where to Stay for a Full Disneyland Experience with Kids )
Residence Inn Maingate Anaheim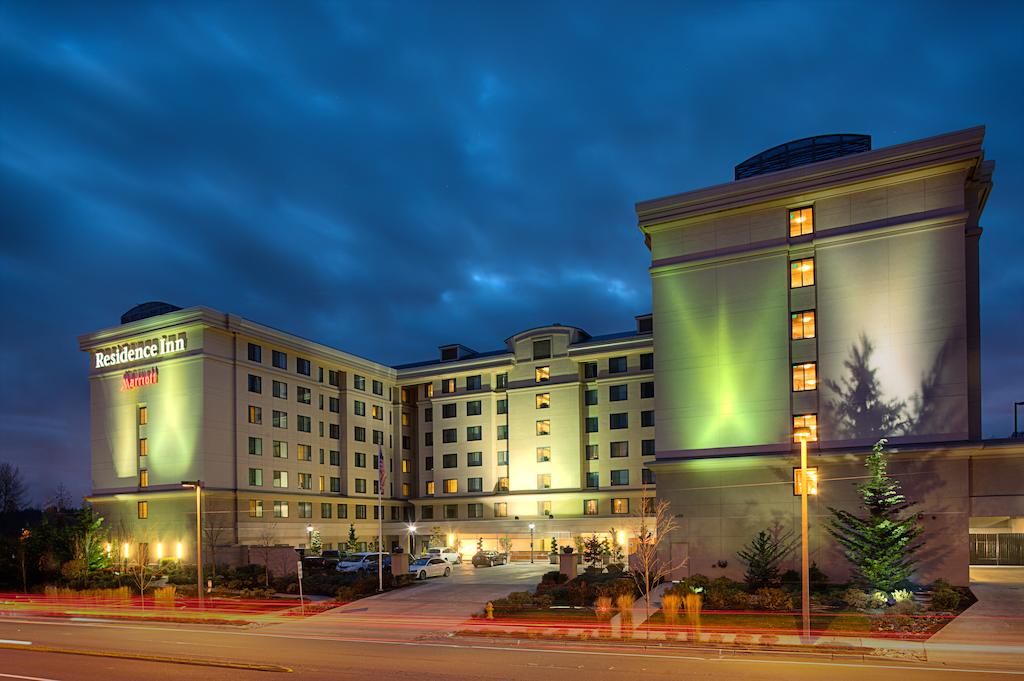 Residence Inn at night (Courtesy Marriott)
The Residence Inn Maingate Anaheim is located just minutes from Disneyland theme park, Downtown Disney and Knott's Berry Farm. It's also ideally located to visit the Movieland Wax Museum, Arrowhead Pond, The Block at Orange and the Angels Stadium. Welcome amenities include beds with pillowtop mattresses, full kitchens, cable, coffee makers and a free wireless Internet. Outside you'll find a lovely heated pool, as well as a kid-friendly pool and whirlpool. Did we mention the complimentary buffet breakfast? There's an on site coin operated laundry, while guests can also request sleeper sofas and cribs. Kids will also appreciate the on-site Sport Court and in-room video gaming system. What's more, there's free guest parking, complimentary grocery shopping services, and pets are welcome!
Rowena Carr-Allinson contributed this to MiniTime. Since the arrival of her son in 2011, she has taken him everywhere from Bangkok to NYC, writing family friendly articles en route.