New York, New York
By Suzanne Rowan Kelleher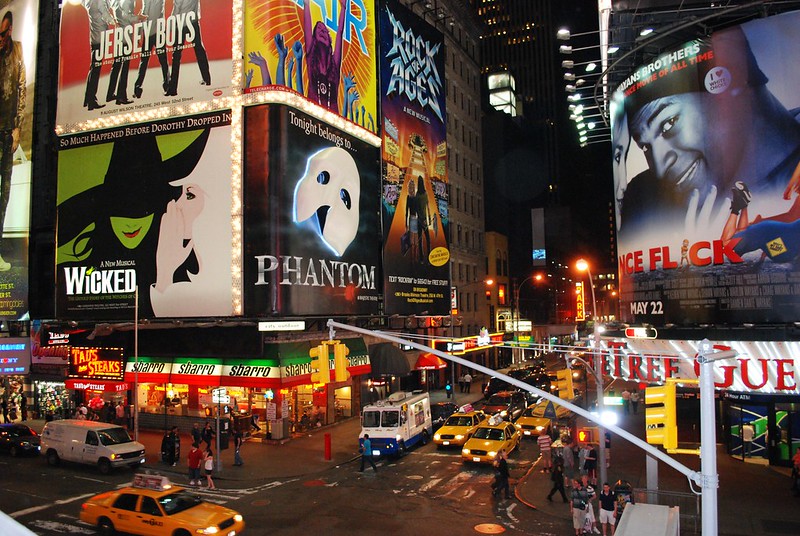 First Impressions: Doubletree Guest Suites Times Square has a fabulous location smack dab in the middle of Manhattan's busiest neighborhood. Yet our correspondent, Suzanne Kelleher, and her family found this hotel to be an oasis of calm. ("I wondered whether the neighborhood would be a bit too hectic for a relaxing stay. But once you take the elevator to the third-floor reception area, you leave the buzz of Times Square behind you. The reception area is sleek and modern, and the hotel itself is very tranquil and serene.")
Location: 1568 Broadway, at the corner of Seventh Avenue, in Times Square. ("It was really fantastic to step out the front door of the hotel and be right in the heart of so much action. We were directly across from the discount Broadway TKTS booth and within walking distance of all the Broadway theaters, the giant Toys R Us store, Rockefeller Center, Nintendo World, Fifth Avenue and its department stores, and all of the sights of midtown. There is a subway stop right next door to the hotel, which made it a breeze to go uptown or down to the Village.")
Rooms: While extended-stay hotels are typically designed with business travelers in mind, they are also fantastic for families because accommodations are suites with separate sleeping and living areas. The 45-floor hotel contains 460 well-appointed and spacious suites decorated in neutral blues and beiges. ("The décor is what you'd expect from a business chain hotel: tasteful and inoffensive.") The Kellehers' suite contained a bedroom with two double beds, a dresser with a flatscreen TV, and a small closet. The living area contained a pull-out sofa, flatscreen TV, desk, and a wet bar with a large countertop, and a mini refrigerator and microwave tucked into a cabinet below. ("New York hotel rooms are generally on the small side, but our suite gave us plenty of room to spread out. The beds were extremely comfortable, and we used the sleeper sofa, too. It was great to have two TVs, so our kids could watch their own shows. I also loved the a wet bar. We used the fridge to stock drinks and snacks during our stay.")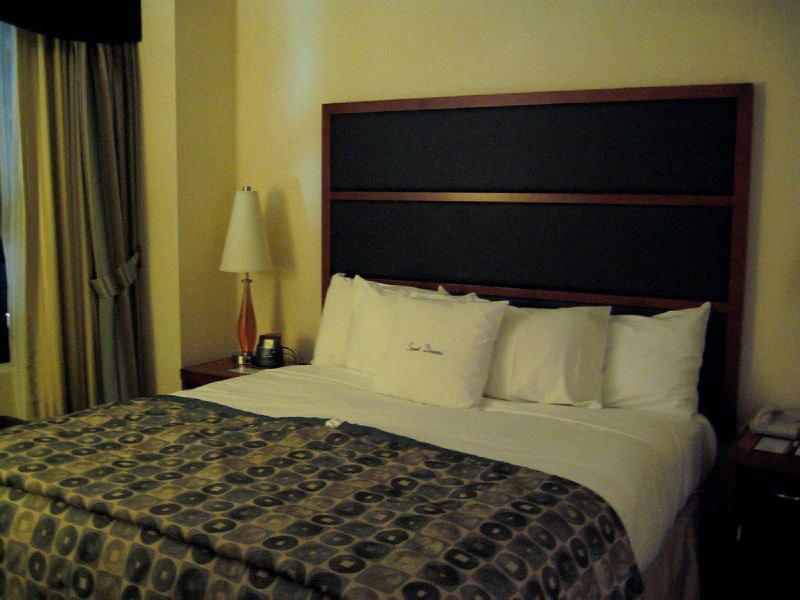 The Kellehers' suite was spotless, extremely quiet and relaxing. ("This is such an incredibly lively neighborhood at night, with a ton of street noise and traffic at ground level. We were on the 41st floor, and we heard absolutely nothing from below. The other bonus was that we had great views.")
Unlike some chain properties, Doubletree Guest Suites does not offer free internet access in its suites. In-room wi-fi access is available for $12.95 per 24-hour period. ("If you just need to quickly check your e-mail, there is free wi-fi in the reception area.")
Just For Kids: ("We saw a lot of parents with kids on the elevators and in the lobby, which makes sense given the hotel's fantastic location and all-suite floorplans.") Guests receive Doubletree chocolate-chip cookies at check-in. ("Delicious! The kids loved the cookies.") If you need a crib or a rollaway cot, the hotel can provide one.
Babysitting: Like most New York City hotels, Doubletree Guest Suites Times Square neither provides a babysitting service nor will the staff make arrangements for you. The concierge can, however, recommend outside babysitting agencies that are fully licensed, bonded, and insured. It's then up to you to contact the agencies yourself.
Recreation: There is a complimentary fitness room with treadmills, ellipticals, weight machines, free weights, and other equipment.
Service: Efficient and friendly front desk personnel and helpful bellhops. The reception lobby has a well-staffed check-in desk, plus a concierge and theater desk. The check-in time is 3pm, and check-out is at noon. ("We arrived around noon but our room wasn't ready until 3pm, which was no problem. We checked our bags at the luggage hold and headed out to explore the city. When we returned later on, the room was ready and check-in was a breeze. Our bags arrived in our room promptly.")
The hotel offers a valet parking service for $45 a day in the garage around the corner. ("If you self-park, the rate drops to $35 a day. Just remember to get your ticket validated by the hotel before picking up your car.")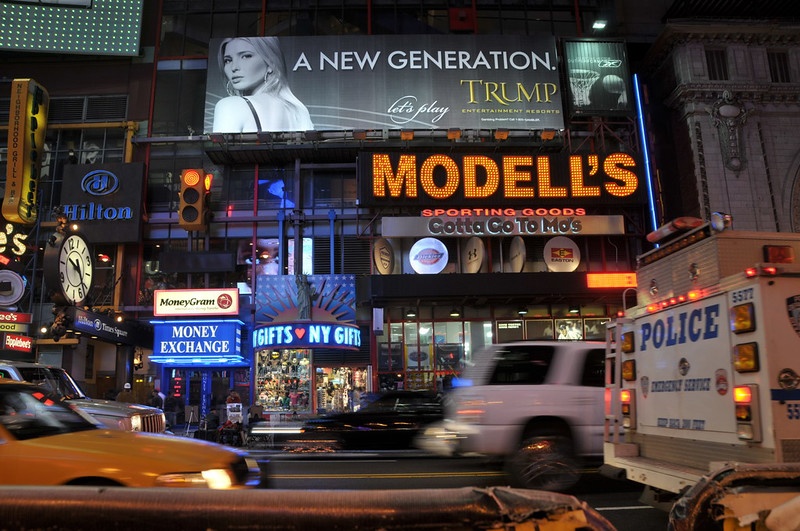 Where to Eat: New York is chock-a-block with restaurants, so there is never a problem finding a decent place to eat. ("Our favorite place to eat in this neighborhood is John's Pizzeria, on 44th St. and 8th Ave. The pizza is absolutely fabulous, and the setting is just so cool. The restaurant is housed in a deconsecrated church, so there are stained-glass windows, religious sconces, and a lovely stained-glass rosette on the ceiling.")
Ginger's Restaurant, on the hotel's fifth floor, has a 1920s Broadway vibe and an extensive menu. It is open for breakfast, lunch, and pre- and post-theater dinner. You can also eat from a more limited, but similarly priced menu at Ad Lib, the lounge area on the reception lobby. In the morning, the lobby has a coffee kiosk serving coffee, espresso, some baked goods and fresh fruit.
Room service is available from Ginger's between 6am and midnight. ("$7 for cereal? $15 for a club sandwich? Pricey, but on par with other New York hotels.")
Price Tag: Given the exceptional location and the convenience of staying in a suite instead of a standard hotel room, this hotel provides genuine value for families. For a standard suite with one bedroom with two double beds and a separate living area, rack rates range between $329 and $559, depending on time of year and whether you visit midweek or on a weekend.
If you are confident about your travel dates, consider snagging the advance purchase rate for about 22% below the rack rate. Keep in mind, however, that this rate is non-refundable.
Additional Costs: New York City can be an expensive place to visit, and taxes and parking fees really add up. Figure on paying a minimum of $100 a night in extra charges if you bring your car and use the internet in your room.
$35/night for self-parking at the nearest garage. If you opt for valet parking, it will cost $45/night.
$12.95/night for in-room internet access, if you need it. (It's free in the reception area.)
Insider Tips:
Ask for a room on an upper floor for a quiet stay.
There is a small grocery/snack store around the corner on 47th Street, less than a block from the hotel. The Kellehers shopped here to stock their fridge with beverages and snacks.
If you will have special needs, such as a babysitter or crib, let the hotel know prior to your trip so it can be arranged.