Great New York City activities to celebrate the festive season
By Holly Rosen Fink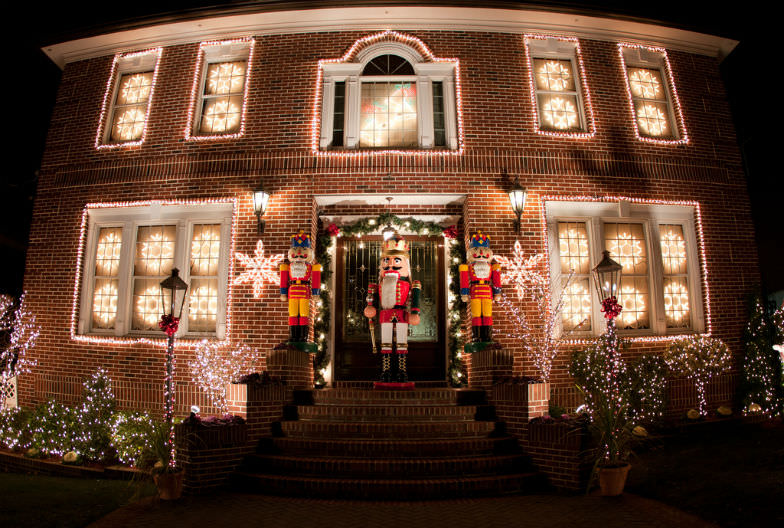 Christmas lights in Dyker Heights (Flickr: Dov Harrington)
There is no place as good as NYC at Christmastime. Even with the chill in the air, the city is a wonderland for any child and there are options outside of the typical mainstream activities like the tree at Rockefeller Center and the shop windows — both quintessential NYC must-sees. From checking out the train show at Botanical Gardens and ice-skating in Bryant Park to celebrating Kwanzaa at the Natural Museum of History and witnessing millions of lights in Dyker Heights, NYC has a wide variety of family-friendly options to please everyone.
Ice-Skating in Bryant Park
Ice-Skating in Bryant Park (Flickr: John Wisniewski)
Ice-skating at Citi Pond in Bryant Park is one of the ultimate NYC winter experiences for kids of all ages and it's free! The catch is that you bring your own ice-skates to make this totally free; otherwise you must pay for the skate rental. Skating under the stars, under a gorgeous Christmas tree, is an unforgettable experience for anyone. There's also a fab Christmas market surrounding the ice-rink and a café for hot chocolate. Skate rentals are $15, lockers are free but locks cost $9. The rink is open seven days a week from 8 am to 10 pm and is located between 40th and 42nd streets & 5th and 6th avenues.
Light Extravaganza in Dyker Heights
If you can get away from the city by car, head to Dyker Heights, a largely Italian-American neighborhood in southwestern Brooklyn for a dazzling Christmas light display that will make your family go "ooooh" and "ahhhhh". It's a bit of a war of lights – each house tries to outdo the display next door. Not only are there millions of lights, but also there are large inflatable Christmas decorations and motorized Christmas displays. It's out of control kitsch and it's marvelous. Some displays go up after Thanksgiving but it fires up closer to Christmas. The lights stretch from 11th Avenue to 13th Avenue and from 83rd to 86th Street.
Holiday Lights and Movie Sites Tour
If your family likes holiday windows and Christmas trees, you'll love On Location Tours' Holiday Lights and Movie Sites Tour. Guided by a tour guide, you'll ride comfortably through the city and scout locations used in blockbuster films Home Alone, Serendipity, Mr. Popper's Penguins, Scrooged, Elf and others. You'll stop and gaze at the light in famous holiday windows at Bloomingdale's, Lord & Taylor, Macy's, Bergdorf Goodman and Barney's. The tour runs November 28, 2014 – January 1, 2015 on Thursday, Friday and Sunday at 5.30 pm and Saturday at 5.30 and 7 pm. Tickets are $36 for adults + $2 fee; $26 for children + $2 fee.
The NY Botanical Garden's Annual Train Show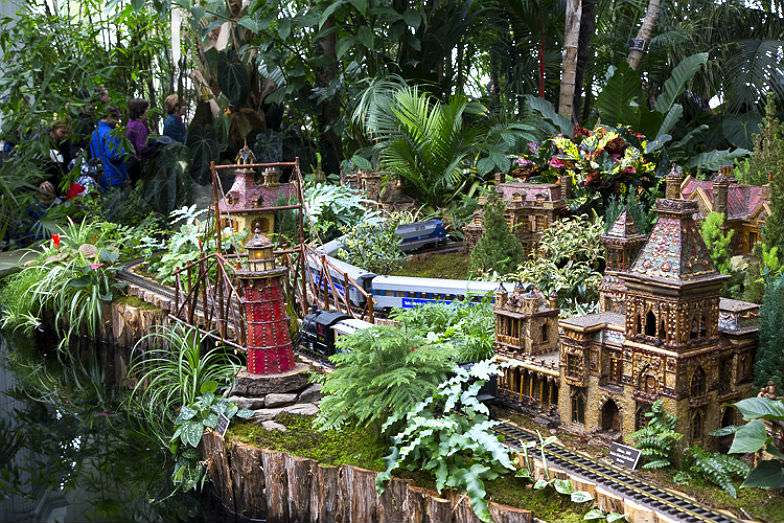 The NY Botanical Garden's Annual Train Show (Flickr: Sean's fotos)
The New York Botanical Garden's annual Holiday Train Show is always a highlight of the NYC holiday season. You and your kids will marvel at the charming model trains and NYC landmark replicas, stroll the spectacular grounds, decorate (and eat!) gingersnaps, break for lunch and hot chocolate, and explore other parts of the garden while you're there. Within the enchanting setting of the Enid A. Haupt Conservatory, model trains zip over bridges and past replicas of New York landmarks made of plant parts such as nuts, bark, and leaves. Show favorites include the original Yankee Stadium, Statue of Liberty, and Brooklyn Bridge. Through January 19, 2015. Tickets are $28 for adults on weekends and peak days; $16 for children ages 2-12. During the week, tickets are significantly cheaper.
St. John the Divine's Winter Solstice
If you live in NYC and haven't been to St. John the Divine yet, this is your chance, regardless of your religion, to visit one of the most famous churches in New York City and the largest church in the United States and hear Paul Winter in his 35th Annual Winter Solstice Celebration. It's a modern interpretation of ancient solstice rituals, which brought people together on the shortest day and longest night of the year to celebrate new beginnings. It's taking place December 18-20, 2014. The church is located at 1047 Amsterdam Avenue. General admission tickets are $35 each.
The Annual Christmas Tree and Neapolitan Baroque Crèche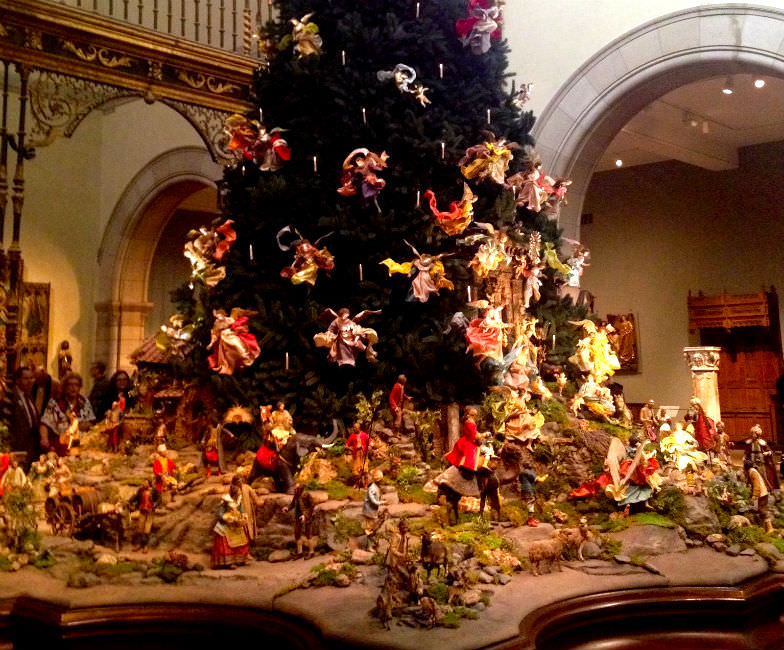 Christmas tree at the Met (Flickr: Juliana Su)
Every year the Metropolitan Museum of Art displays a 20-foot-tall Christmas tree, surrounded by an 18th-century Neapolitan Nativity scene, complete with new angels and crèche figures. The tree is lit with lights, cherubs and features 50 angels. Recorded music and lighting ceremonies add to the enjoyment of the holiday display and your children will be mesmerized. From November 25, 2014 to January 6, 2015.
(MORE: Find kid-friendly hotels to stay in New York City for the Holidays.)
Kwanzaa at the American Museum of Natural History
On December 27, 2014 at 12 noon and 3 pm, the Museum of Natural History hosts a vibrant celebration that honors the seven principles of Kwanzaa with performances of song, dance, and spoken word, and an international marketplace. This year's event will feature Savion Glover, an award-winning dancer, as he brings in 'da noise' and 'da funk' for the museum's 36th annual Kwanza celebration. The event is free for members with museum admission and is happening at the Milstein Hall of Ocean Life and Kaufmann Theater.
Holly Rosen Fink of The Culture Mom contributed this to MiniTime.