Minor league ballparks worth a road trip
By Suzanne Rowan Kelleher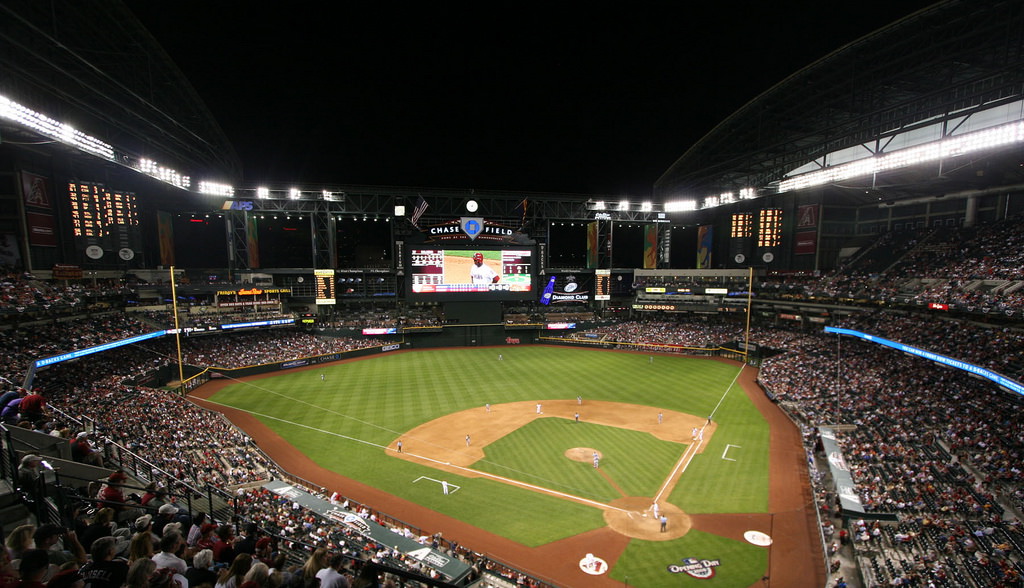 For millions of families across the country, summer means two things: Vacation and baseball. Put the two together and you've got the makings of a good, old-fashioned All-American road trip. After all, the only thing better than watching one ball game is watching three in a row, on consecutive summer evenings, at one of America's best minor league ballparks.
There's never been a better time to build a family getaway around America's Pastime. Minor league baseball, founded in 1901 as an alternative to the majors, is enjoying a tremendous boom. Last summer, over 43 million tickets were sold at minor league games, setting an all-time attendance record for the fourth consecutive season. Since the early 1990s, over 100 new minor league stadiums have opened across the country. The best were built or renovated with a retro nod to bygone days while bringing in modern conveniences like comfortable seats, new bathrooms, and fancy concessions areas.
What makes farm league baseball so family-friendly? Ticket prices, for starters. Even at the top tier of minor league parks, where Triple-A teams play, a family of four can spend less than $30 on tickets and still get impressively close to the action. That's less than you'd spend on hot dogs and drinks at Fenway. One classic feature of minor league fields is the berm, a slope of bottom-dollar lawn seating that rises from behind an outfield wall. Nothing says family like cheap seats on the grass, particularly if there's a kid's play area nearby, as is a common set-up.
Yet the most compelling reasons to bring your kids to a minor league game are the intangibles. There's something refreshingly wholesome about seeing the game played in a simple setting. In general, minor league ballparks don't assault fans with high-tech audio and visual effects and incessant advertising. Even the newest, fanciest venues are far more humble and intimate than their major league counterparts, which makes the game wonderfully accessible and fun for kids.
This summer is almost certain to be another blockbuster season for minor league clubs. The Principal Family Fun Fest, an extensive baseball festival tour, will be visiting dozens of minor league ballparks this summer. For three hours before each designated game, fans will have the run of a 4,000-square-foot mobile fairgrounds that includes batting cages, a radar gun pitching challenge, bungee run, giant inflated superslide, and a trailer full of Microsoft Xbox Home Run Derby.
There are dozens—no, make that scores—of exceptional minor league ballparks worth building a road trip around. Here are seven kid-friendly ballparks where families can watch top-notch Triple-A ball.
Round Rock Express at the Dell Diamond
Round Rock, TX
Batter Up: Based in a suburb of Austin, the Round Rock Express plays in the Pacific Coast League as the Triple-A affiliate of the Houston Astros. The Express is the lynchpin in the ever-expanding minor league empire owned by Hall of Fame pitcher and Texas native Nolan Ryan and his sons, Reid and Reese. All-Star Appeal: Frequent fan-friendly promotions are a hallmark of this stadium, which feels like it was plunked down on the open range. In a nice move, the stadium designers made the concessions concourse open to the field, so fans can grab their hot dogs and sodas without missing a single pitch. Family Fun: An impressive list of special events include dollar hot dogs on Mondays and Friday Night Fireworks. Sundays are Kids Days, which include giveaways for the 12-and-under set. Families hunker down on blankets on the grassy berm behind right field. Within pitching distance is the Fun Zone, a colorful kids' area featuring a climbing wall, basketball court, and playground. Tickets: $6-$13/adult; $5-$11/kids 3 to 12; free for kids 2 and under.
Louisville Bats at Louisville Slugger Field
Louisville, KY
Batter Up: They've always taken their baseball seriously down in Louisville, even before 1884, when a local factory first started manufacturing Louisville Slugger bats. The home team is a Cincinnati Reds affiliate, playing one step down from the majors in the International League. All-Star Appeal: Fans enter through a restored 19th-century brick warehouse facade, but once inside, the ballpark is state-of-the-art. One of the nicest features is its concourse, which rings the entire ballfield so that fans can walk around the perimeter uninterrupted. Family Fun: A full calendar of special events includes baseball bingo on Mondays, dollar hot dogs on Tuesdays, Friday Night Fireworks, and giveaways galore. On Sundays, Jake the Diamond Dog performs tricks and, after the game, kids are invited to run the bases with Buddy Bat, the team mascot. Seating is a toss up. Some families like the cheap lawn seats behind left field, while others prefer to sit in the right field bleachers, in close proximity to two playgrounds and the $1-a-ride carousel. Tickets: $6-$10/adults; $5-$9/kids 12 and under.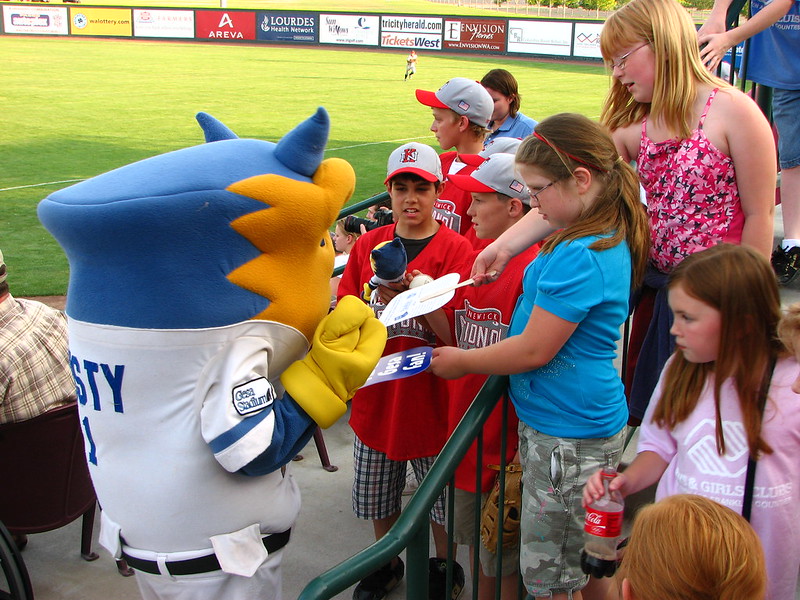 Indianapolis Indians at Victory Field
Indianapolis, IN
Batter Up: Built during the stadium renaissance of the mid-1990s, $20-million Victory Field was once heralded by Sports Illustrated as "the best minor league ballpark in America." The Triple-A affiliate of the Pittsburgh Pirates, the Indians go up against top talent in the International League. All-Star Appeal: Often likened to a mini Camden Yards, this near-perfect urban ballpark lets fans know that they're in a city without making them feel crowded or hemmed in. (Again, this is largely thanks to the open concourse, which affords a great view of the game.) Making up the southwest border of White River State Park, Victory Field is within walking distance of the Indianapolis Zoo, an IMAX theater, and hundreds of eating and shopping establishments. The enormous scoreboard is the envy of other farm teams, as is the stupendous view of the Indianapolis skyline. Family Fun: Check out the event schedule for giveaway dates and Fireworks Nights. Families love the sloping lawn seats behind the outfield walls. On select Thursdays (July 23, August 6, August 20 September 3), a Family Night promotion bundles four box seats, four Indians souvenirs, four hot dogs, and four soft drinks for $52. Tickets: $9-$13/adults; $8-$12/kids 14 and under.
Memphis Redbirds at AutoZone Park
Memphis, TN
Batter Up: The Memphis Redbirds are the Triple-A affiliate of the St. Louis Cardinals and the only baseball franchise in America owned and operated by a non-profit foundation. Since 1997, the team has poured back over $3 million to the Memphis community to help disadvantaged kids. All-Star Appeal: AutoZone Park has a cozy, old-time atmosphere but still feels like a big league venue, with the largest LED scoreboard in minor league baseball positioned 13 stories above the playing field. Family Fun: The event schedule features giveaway dates, entertainment, and Fireworks Nights. Families tend to base themselves on the Bluff, the grassy berm behind left field. Just below the Bluff is the child-centric Boardwalk, a play area featuring an observation tower, mini baseball diamond, climbing wall, basketball hotshot game, batting cage, and other carnival-style games. After Sunday games, kids can run the bases. Tickets: $7-$21.
Oklahoma RedHawks at the AT&T Bricktown Ballpark
Oklahoma City, OK
Batter Up: This red-brick jewel of minor league ballparks is home to the Triple-A affiliate of the Texas Rangers. "The Brick," as it's known to locals, is the cornerstone of the vibrant Bricktown neighborhood, Oklahoma City's lovely answer to San Antonio's Riverwalk. Before or after a game, take time to explore the area and nab a water taxi ride on the canal. All-Star Appeal: The RedHawks' home is beloved for its unique design and intimate seating plan, which brings even those fans in the cheapest seats right up close to the action. Family Fun: Get to the ballpark early and grab a table at Coach's, a family-friendly eatery perched like a skybox overlooking the diamond. You and the kids can watch the players warm up while noshing on pizza, nachos, burgers, or chicken fingers. Check out the event schedule for giveaway dates, guest appearances (the Famous Chicken is a crowd fave), giveaways, and Fireworks Nights. Tickets: $7-$15. For $15, kids can join the Oklahoma RedHawks Subway Kids Club. Membership comes with an official tee-shirt, a ticket to a home game, and a subscription to a monthly newsletter.
Albuquerque Isotopes at Isotope Stadium
Albuquerque, NM
Batter Up: Did you ever catch the old Simpsons episode in which Homer protested the relocation of his beloved team, the Isotopes, to Albuquerque? That sparked a vote by Albuquerque fans to rename their team, formerly known as the Albuquerque Dukes of Dodgers. Isotopes fans have a great sense of humor, which is one reason why games here are so much fun. All-Star Appeal: This young ballpark has many of the bells and whistles of a major league venue: Cupholders on the seats, a state-of-the-art sound system, and skyboxes whose indoor-outdoor porch seats are the best in the farm leagues. Family Fun: Isotope Park's main concourse has a fun and festive atmosphere and loops the entire ballfield. At least once during the game, take restless kids for a walk and catch the superb view from the outfield. Tucked behind the right field berm, the Fun Zone is a huge playground for kids of all ages. The season's special events includes Fireworks Nights, autograph sessions, guest appearances, and giveaways. Tickets: $6-$22.
Toledo Mud Hens at Fifth Third Field
Toledo, OH
Batter Up: You just gotta love a team that calls itself the Mud Hens. The Triple-A affiliate of the Detroit Tigers is named for birds that live in the surrounding swampland. (Cue the mascot, Muddy, and his girlfriend—wait for it—Muddonna.) All-Star Appeal: Fifth Third Field has a great city location, with views of the Toledo skyline (in case you didn't know that Toledo had a skyline). Family Fun: Consult the calendar of special events for Fireworks Nights and giveaways. You'll find a kids' playground behind the center field wall, between the home run terraces. Tickets: $9/adults; $6/kids.