Kid-friendly educational trip ideas
By Sonia Esther Soltani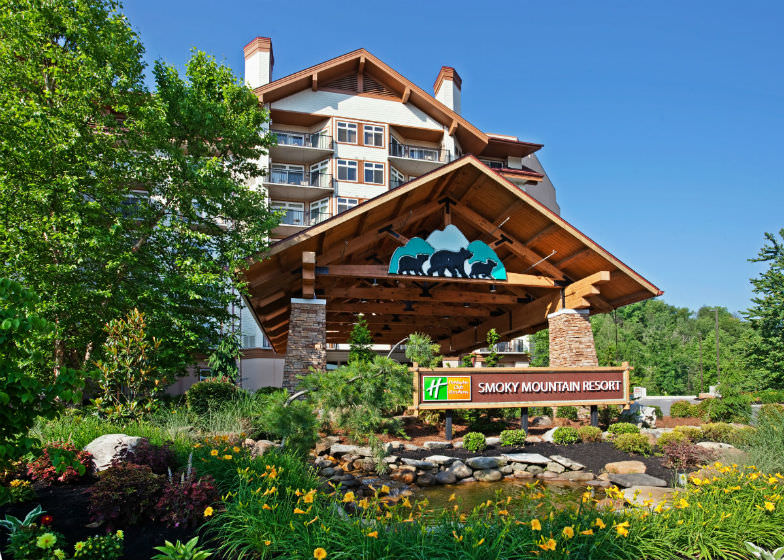 Holiday Inn Club Vacations Smoky Mountain Resort (Courtesy Holiday Inn Club Vacations)
A fun and relaxing vacation is what all families want, but if a leisurely getaway can have an educational dimension, all the better for you and your kids. Whether it's historical sites, natural wonders or scientific achievements you're interested in discovering with your children, there are fantastic options in the U.S. As for family-friendly accommodations, check out Holiday Inn Club Vacations® resorts, whose multi-bedroom villas offer plenty of space for the whole family to relax after a day of adventure.
Looking for unique and educational vacation ideas? Chat with our MiniTime travel specialists for help and book your family vacation now!
Best for nature and history: Gatlinburg, Tennessee
What to see: Outdoorsy families will have Great Smoky Mountains National Park on their radar for a vacation filled with memorable sights, beautiful hikes and encounters with mesmerizing fauna and flora. Don't forget your binoculars! The most visited national park in America, it's ideal for families with exciting, kid-friendly programs, such as Become a Junior Ranger (ages 5–12), weekend workshops, summer camps and many other year-round activities. The park also offers the opportunity for families to become acquainted with Southern Appalachian history. Experience local hospitality by staying in Gatlinburg, the perfect base for a holiday featuring Great Smoky Mountains National Park. Surrounded by stunning mountains, the atmospheric little town is home to lovely arts and crafts shops.
Where to stay: Affording breathtaking views of the national park, Holiday Inn Club Vacations Smoky Mountain Resort offers lodge-inspired, condo-style villas and suites that are not only spacious, but also include fully equipped kitchens, living and dining areas, fireplaces and private porches. Guests can enjoy the indoor and outdoor pools, hot tubs, fitness center, billiard room and more before heading to nearby kid-friendly Dollywood® and Ripley's® Aquarium. The downtown location makes it a perfect year-round family destination.
Best for early American history: Williamsburg, Virginia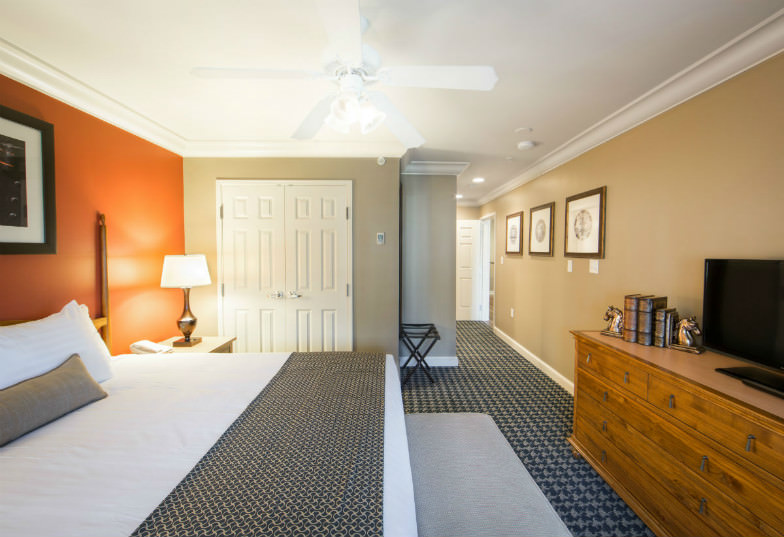 Holiday Inn Club Vacations Williamsburg Resort (Courtesy Holiday Inn Club Vacations)
What to see: The cradle of the American nation, Williamsburg's colonial district has been lovingly restored to offer families a unique insight into how residents dressed and streets looked in the 18th century. At local restaurants and pubs, you can even sample recipes from these bygone times. Children will delight in meeting farmers, coachmen, shopkeepers and many other tradespeople in authentic costumes, as well as taking part in fun workshops and tours. They'll certainly prefer this great experience to any history book. Along with Colonial Williamsburg, the Historic Triangle includes the Jamestown settlement and Yorktown Battlefield. Entertainment options include the open-air stage at the Play Booth Theater, and further afield, Busch Gardens® Williamsburg, home to the thrilling Griffon floorless dive coaster with a 205-foot vertical drop.
Where to stay: If you want quiet surroundings on the doorstep of Colonial Williamsburg, Holiday Inn Club Vacations Williamsburg Resort is a great option. Set among forested hills and featuring colonial period-inspired architecture, the resort offers spacious villa accommodations with fully equipped kitchens and dining areas. Families will love the new Town Square amenity area opening in early spring 2015. It offers a little something for everyone, including indoor/outdoor pools, fitness center, sports court, mini golf, playground, arcade, bowling alley, store and snack bar. Once you've explored the nearby Historic Triangle, head to Richmond, VA, a beautiful city only 45 minutes from the resort that features many more historic sites, museums and monuments of the American Civil War.
Best for traditional crafts/eco-tours: Vermont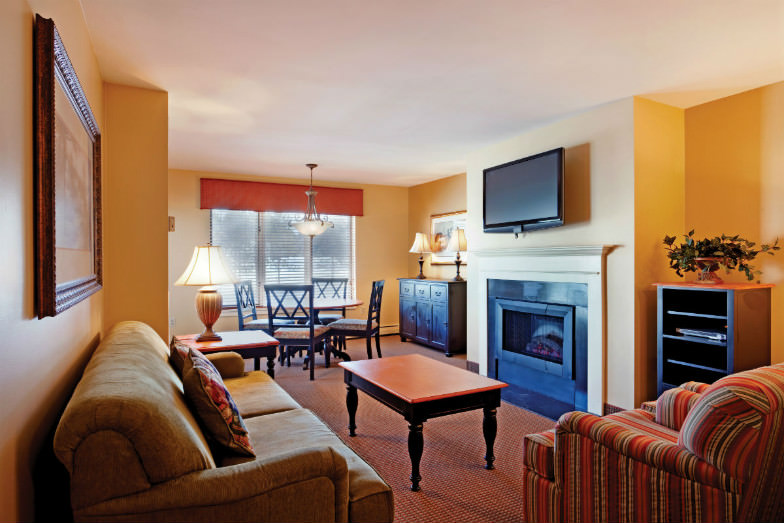 Holiday Inn Club Vacations at Ascutney Mountain Resort (Courtesy Holiday Inn Club Vacations)
What to see: Vermont is a wonderful, family-friendly destination for those who love spending time in a natural environment rich in varied activities. Besides the lovely towns of Quechee, Woodstock and Windsor, where visitors can purchase local handicrafts and enjoy fine dining, Vermont is home to eco-friendly attractions such as the Billings Farm & Museum, a brilliant way for children to discover the state's rural past and become familiar with an operating dairy farm. Sugarbush Farm is where you can sample and stock up on the exquisite Pure Vermont Maple Syrup, cheese and other delicatessen favorites. Gourmets also put Sustainable Farmer and its cheese-tasting sessions on their menu. For kid-friendly outdoor adventures, Great River Outfitters and The Path of Life Garden offer activities as wide-ranging as kayaking, yoga, camping and river tubing. Mt. Ascutney State Park is another great natural setting for families. Meanwhile, the Montshire Museum of Science in Norwich, VT is a must for families interested in all things ecological, with a comprehensive display about natural and physical sciences and technology. Visit Simon Pearce's The Mill if you want to show your children the fascinating process of glassblowing. And don't miss Quechee Gorge Village, home to craftsmen and antique dealers.
Where to stay: For an authentic New England getaway, look no further than Holiday Inn Club Vacations at Ascutney Mountain Resort. Peaceful and charming, it features spacious, villa-style accommodations, most spread over two floors, with fully equipped kitchens and fireplaces. The resort is a fantastic option for guests who want to partake in activities ranging from kayaking and rafting to tennis and racquetball. With beautiful hiking trails, indoor and outdoor pools, fitness center and kid-friendly Sidewinder's Arcade, there's something for everyone to enjoy.
(MORE: Find more fun family trip ideas and make your next getaway a truly unforgettable vacation.)
Best for science: Kennedy Space Center, Florida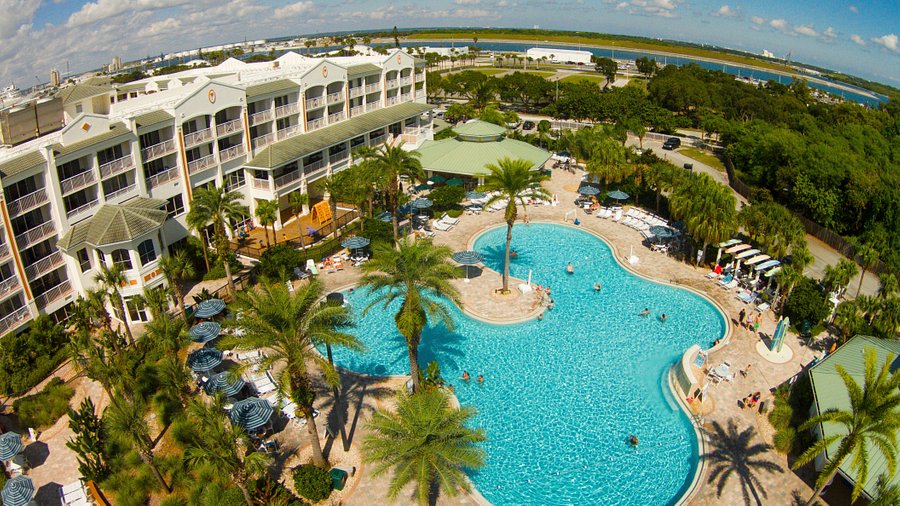 Holiday Inn Club Vacations Cape Canaveral Beach Resort (Courtesy Holiday Inn Club Vacations)
What to see: What could be more mind-blowing for kids than exploring a true-to-life spaceflight, watching 3D IMAX® movies about the mysteries of the universe and footage filmed by astronauts, and even touching a moon rock? These and many more activities, such as the great 3-2-1-Liftoff, a realistic simulation of a space shuttle launch, are available at the fascinating Kennedy Space Center Visitor Complex. Families can visit the Apollo/Saturn V Center, charting America's challenging race to the moon, see the famous Space Shuttle Atlantis, and find out what life aboard the International Space Station is like. Budding astronauts will be dazzled by the Children's Play Dome, a wonderful space-themed playground. Another hit with kids is Exploration Space: Explorers Wanted, which combines live theater, games and simulators.
Where to stay: Take the kids on a fabulous Central Florida adventure with a stay at Holiday Inn Club Vacations Cape Canaveral Beach Resort. If you're looking for an active holiday, this is the place, with beach access from the resort, waterslide, lazy river, water sports and exercise room featuring basketball, tennis and shuffleboard courts. There's also mini golf and a play area for younger kids. After dreaming of space adventures at the Kennedy Space Center during the day, kids can watch age-appropriate films in the on-site movie theater. The contemporary-style accommodations include family-friendly oceanfront villas and suites. Guests can relax poolside, indulge indoors or outdoors at the bar and grill or enjoy the sight of cruise ships from the Jetty Park pier, just steps from the resort.
Sonia Esther Soltani contributed this to MiniTime.