Winter activities for families with kids
By WhereTraveler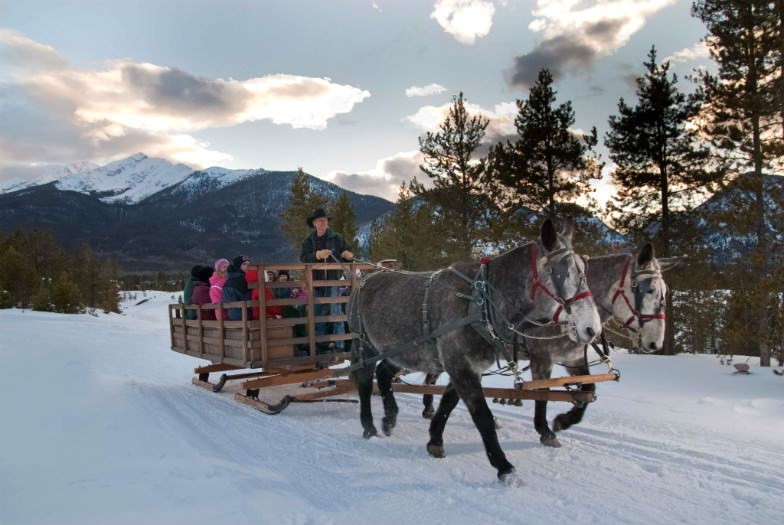 The quaint Colorado mountain town of Frisco makes for a one-of-a-kind day trip. (Courtesy 2 Below Zero)
The picturesque mountain town of Frisco, Colo. is well worth a visit during a winter vacation on Colorado's slopes. Located only an hour west of Denver and a short drive from Breckenridge, Keystone and Copper Mountain's ski resorts, a day-long visit to Frisco may take you on a historical tour around town and end with a magical sleigh ride with dinner and a show.
Planning for a winter getaway in Colorado with the kids? Chat/Talk with our experts for tips and ideas – a free service by MiniTime.
Begin the day by taking your camera to capture the sun coming up over glossy Lake Dillon, frozen over with ice. Surrounded by snowy peaks and spotted with islands, the scene will take your breath away.
Keep warm during the day by visiting the many historical sites in town, including mines, museums and shops. Or get your blood pumping as you explore the surrounding mountains via snowshoe, cross-country skis or snowmobile. Remember to bring sunglasses and sunscreen along with your heavy winter coat, hat, boots and gloves as the mountain atmosphere can be thin and the sun strong.
In the evening, gather your family for a delightful mule-drawn sleigh ride through some of the most breathtaking country landscapes you'll ever see. Departing from the Frisco Nordic Center, 2 Below Zero offers an evening of fun and is one of the best-kept secrets of Colorado's high country. 2 Below Zero Dinner and a Show Sleigh Rides (Courtesy 2 Below Zero)
Bundle up and snuggle together under heavy blankets, as you travel around Lake Dillon to a large event tent heated with stoves. A hearty dinner awaits you, starting with homemade biscuits and hot chicken tortilla soup. The main course is country fare: steak and potatoes. Liven up your hot chocolate with some spirits, and sit back in the warmth and glow of the tent, surrounded by loved ones.
Dinner is followed by a live country music act, featuring David Peel who performs covers of Johnny Cash, Neil Diamond, Elvis, and of course, John Denver. Peel came from musical roots in Nashville, and the entertainment is so authentic, you'll wonder if you've stepped back in time. This dinner and a show will have your well-fed belly happy and aching with laughter.
After dinner, retrace your steps via sleigh ride, which takes you back to the Nordic Center. Lean back and stare at the stars, which are plentiful, awe-inspiring and seemingly almost close enough to touch at this altitude. This trip is often heralded as the most unforgettable experience of visitors to the Colorado mountains, and families return year after year to participate.
(MORE: Find more amazing winter destinations in Colorado to visit with the kids.)
2 Below Zero Go for a fun-filled sleigh ride with 2 Below Zero (Courtesy 2 Below Zero)
Departing from and ending at: Frisco Nordic Center, 616 Recreation Way, Frisco. Seating is limited and reservations required; Call 970.453.1520.
Choose From These Three Experiences:
Cocoa Rides are a one-hour sleigh ride during the day to sip hot cocoa and see Lake Dillon from the shoreline.
Dinner and a Show Sleigh Rides take place during the evening, lasting three to four hours.
Private Sleigh Rides are available for up to four people and last 45 minutes.
(Author Camille Miller is a contributing author for WhereTraveler.com.)
More from WhereTraveler.com: