Best NYC summer festivals to go with kids before summer is over.
By Holly Rosen Fink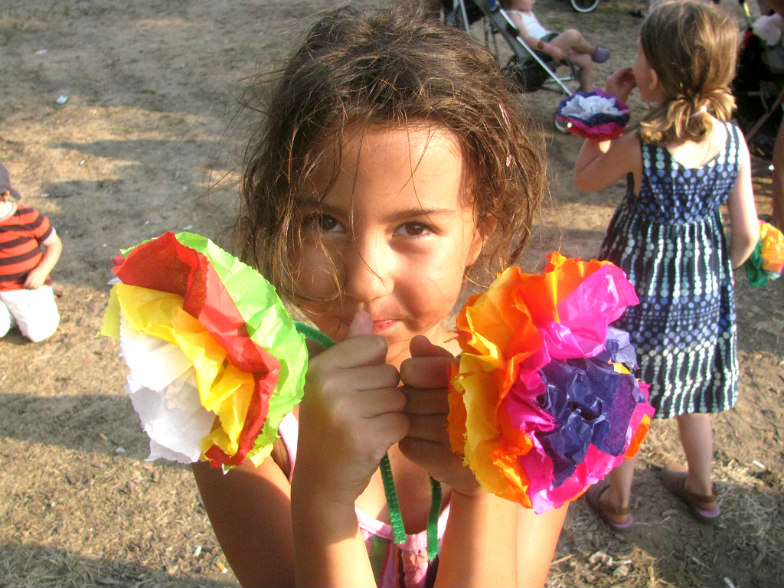 Kids can learn arts and crafts in Celebrate Brooklyn! in NYC. (Flickr: Eden, Janine and Jim)
Every summer, New York City pulls out all the stops to bring incredible events to its residents and visitors, and the good news is that there's still time to partake in its festival offerings.
From now until the end of September, there's everything from musical and dance events to Italian feasts to a Hong Kong Boat Festival that are out of this world and great for kids of all ages. Here's a shortlist of what's coming up so you don't miss out on their best offerings for kids: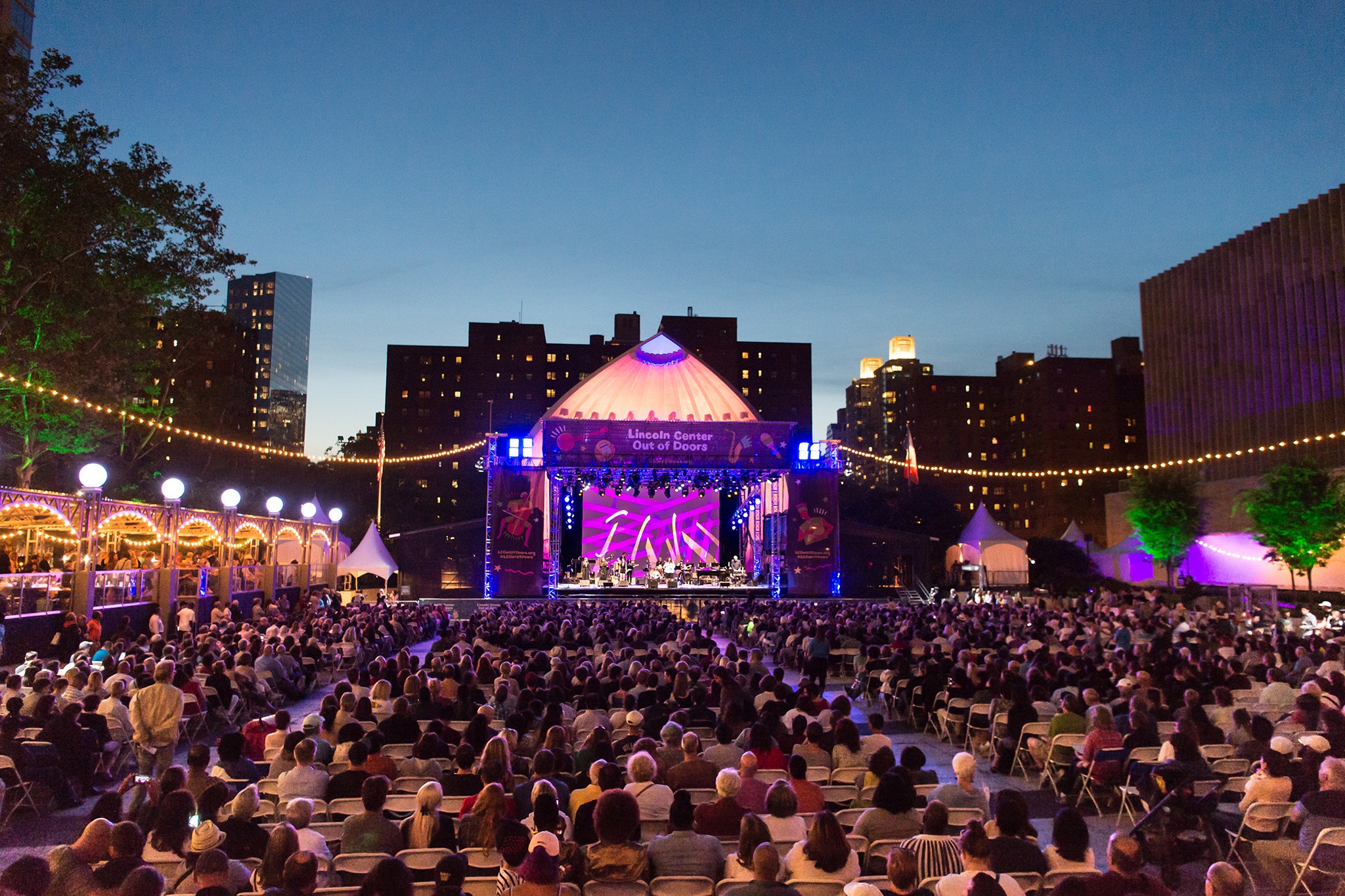 Damrosch Park during Lincoln Center Out of Doors (Photo Credit: Kevin Yatarola)
A favorite festival with New Yorkers, Lincoln Center Out of Doors started in July and offers more than 100 free performances across the Lincoln Center grounds on the Upper West Side. The 44th season of the popular summer festival features premieres and debuts, family programs, and a wide range of music and dance events.
Family Day takes place on July 26 and features Baby Loves Disco, an afternoon dance party to get the family moving at 11 am and 2 pm; a Baltlha do Passinho Dance Class featuring teenage dancers from Rio's baile funk scene at 1 pm; a musical concert with Toshi Reagon with the Black Rock Coalition Orchestra at 2 pm; and a National Dance Day celebration at 4 pm.
Best for families of culture vultures who want to discover the best entertainers from around the world. Until August 10.
(MORE: Stay awhile. Find kid-friendly hotels in New York City.)
City Parks Foundation's SummerStage is a citywide extravaganza of music, theater, dance, and comedy commanding stages and band shells in 14 parks. And the great news is that it's all free!
Upcoming kid-friendly offerings include the Spectrum Dance Theater on August 8 at 7pm in East River Park. Harlem Family Day takes place on August 17 showcasing the best of music and dance with Soul, Latin music celebrating Fania, Jazz performed by 10-year-old musical prodigy Kojo Odu Roney, and Hip-Hop inspired dance. There's also Throw2Catch/Loki Circus Theater on August 19 at 7pm in Marcus Gravey Park (presented by Disney and the Big Apple Circus).
Best for parents who love introducing their children to new sounds and experiences. August 8, 17, 19.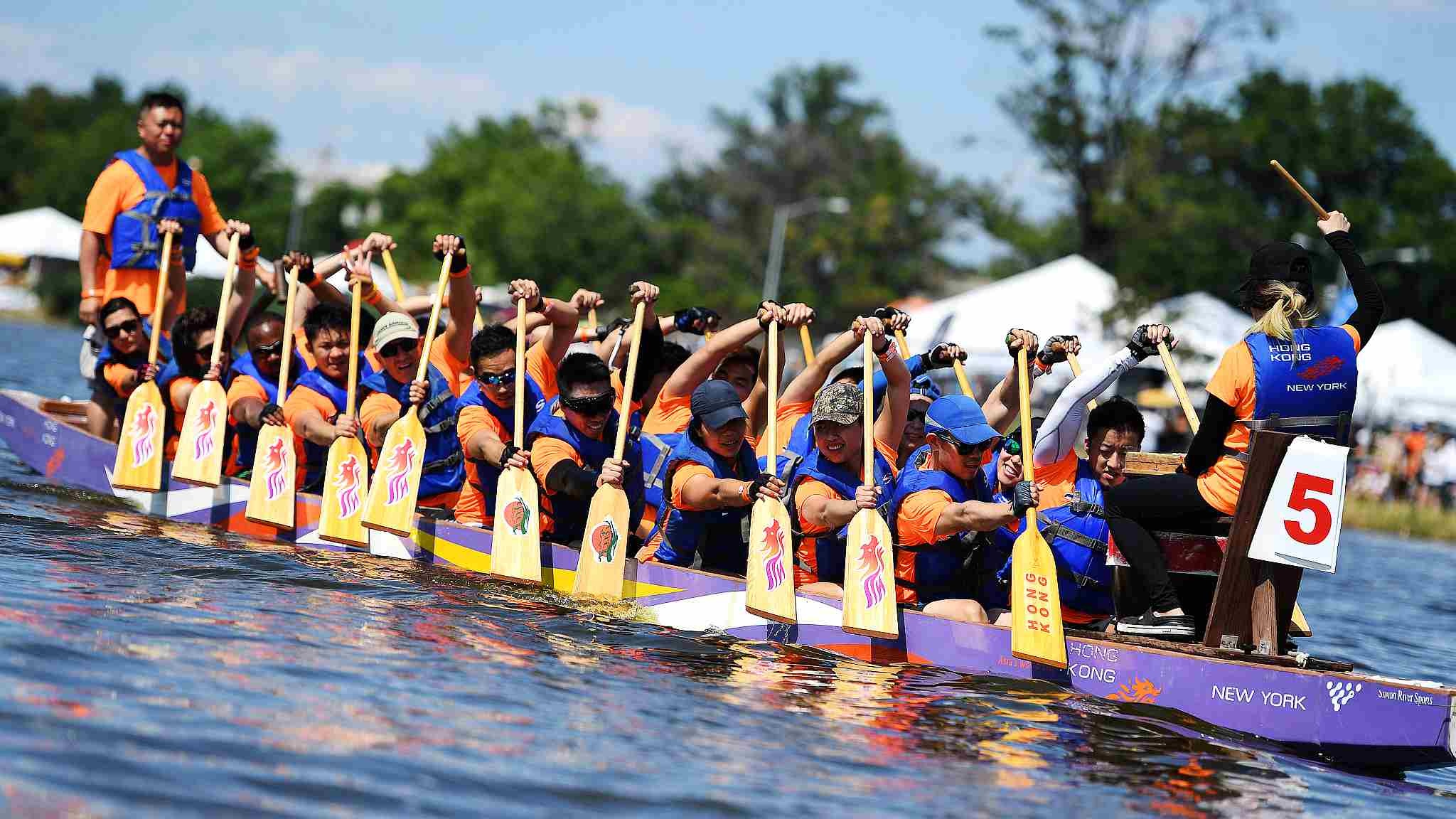 Rowers at the Hong Kong Dragon Boat Festival (Photo Credit: HKDBF NY)
The Hong Kong Dragon Boat Festival is taking place on Meadow Lake in Flushing Meadows-Corona Park. For over the course of two days, over 170 teams will compete for prizes. Each team competes by rowing a "dragon boat," a narrow boat decorated like a Chinese dragon with a colorful head and tail. There will be music, dancing, martial arts demonstrations, and more. Kids will love watching the boats go by.
Best for parents who love sporting events and competitive kids. August 9-10.
Celebrate Brooklyn! is a variety of concerts, all taking place in Brooklyn throughout the summer.
Upcoming kid-friendly events include an island concert with Kes the Band/Kuenta i Tambu/DJ Dr Wax/Steel Sensations on August 2 at 7pm and a community dance class with Ronald K. Brown/Evidence, a Dance Company. It will be for all ages and skills and will teach the joy of African dance through contemporary choreography, taking place on several dates.
Best for parents interested in introducing their children to the arts. Throughout the summer.
HarlemWeek is a month-long festival celebrating the history and culture of the New York City borough that features four stages of entertainment, a health village, the Upper Manhattan Auto Show, as well as vendors and exhibitors from around the country. The theme this year is "Forever Harlem: Yesterday, Today & Tomorrow".
The NYC Children's Festival at 135th Street is held on August 16 and 17. At the Historic Black College Fair & Expo and "Summer In The City" which features live radio broadcasts, visitors can peruse through arts and crafts, jewelry, clothing, food, and much more. There also will be a stage of entertainment on St. Nicholas Avenue featuring local and national performing artists. As the sun sets, all are invited to relax on the great lawn of St. Nicholas Park to enjoy the Harlem Week/ImageNation Outdoor Film Festival.
Best for children who are into history, culture, and NYC heritage. Throughout August.
Classical musical lovers will love the Mostly Mozart Festival at Lincoln Center. New York's acclaimed annual summer celebration of classical music gets underway on July 23 with an opening week of performances featuring the Mostly Mozart Festival Orchestra, late night recitals, and contemporary music, including two free events.
This year the festival features the Mark Morris Dance Group (August 7-9), a performance of Beethoven's Ninth performed by the Mostly Mozart Festival Orchestra on August 12-13 and the festival's conclusion with Mozart's Final Requiem on August 22-23.
Best for parents looking to educate their child on historical classical music. July 23-August 23.
(MORE: Make the most out of your vacation. Find kid-friendly attractions in New York City.)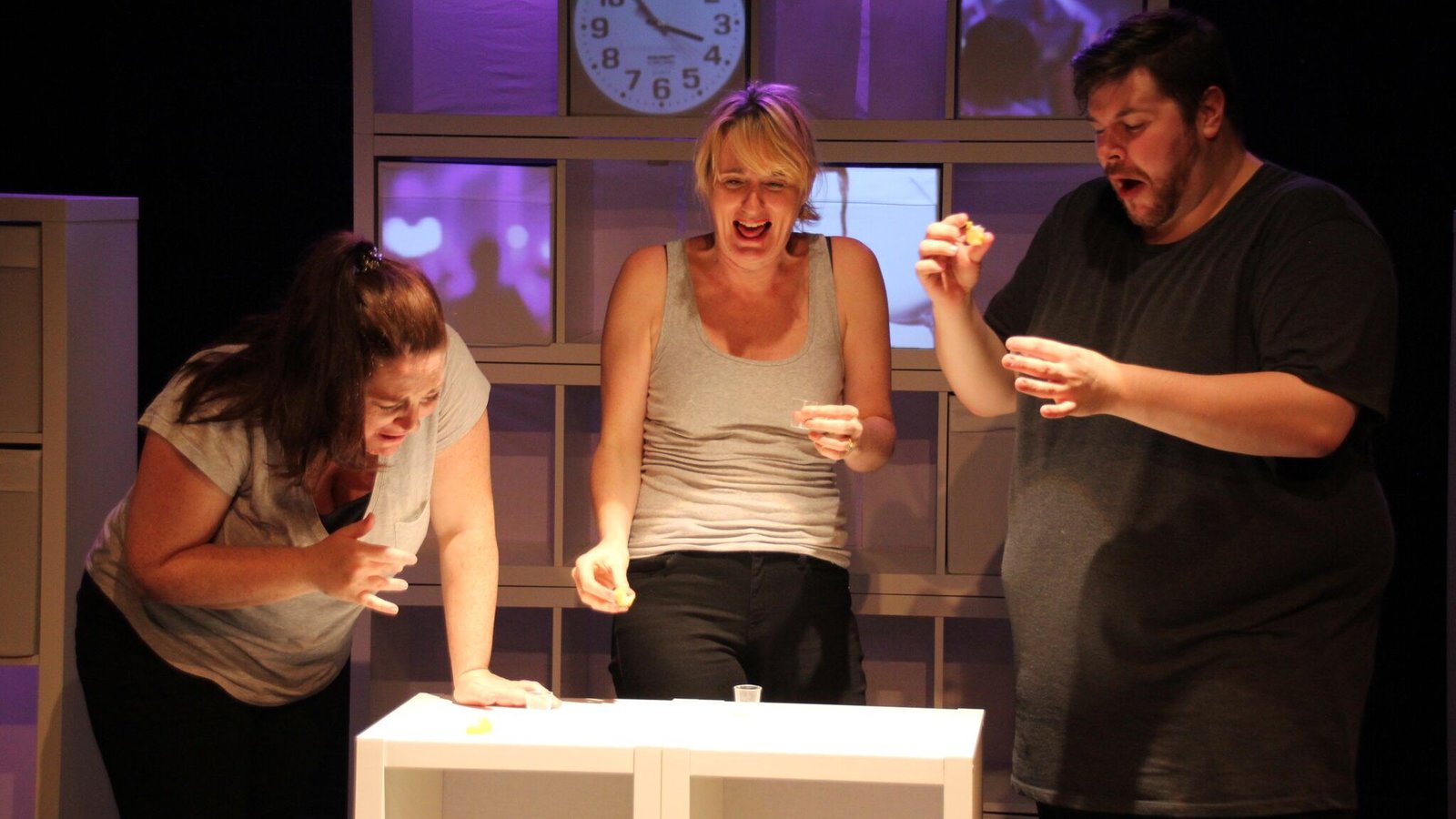 FringeNYC (Photo Credit: Mandy Gasson)
The New York International Fringe Festival, or FringeNYC, is a Fringe theater festival and one of the largest multi-arts events in North America. This year, FringeNYC will offer shows from more than 200 theater troupes and dance companies in 20 downtown venues. All tickets are $18 and shows sell out fast.
Broadway and Off Broadway hits such as Urinetown, Debbie Does Dallas, Silence! The Musical, Matt & Ben and Triassic Parq had their premieres at the Fringe, so you never know which future hit you'll see here first.
Best for parents who love theater and want to introduce all genres to their kids. August 8-24.
For culinary lovers of all ages, the Feast of San Gennaro is the place to go in September. It's the area's annual Salute to the Patron Saint of Naples. Little Italy will hold religious celebrations, colorful parades, musical entertainment, a street fair full of food for 11 days. This area of Lower Manhattan, once served as the first home in America for hundreds of thousands of Italian immigrants who came here seeking to improve their lives at the beginning of the 20th century.
Best for parents who want to introduce their kids to authentic Italian cuisine and culture. September 11-21.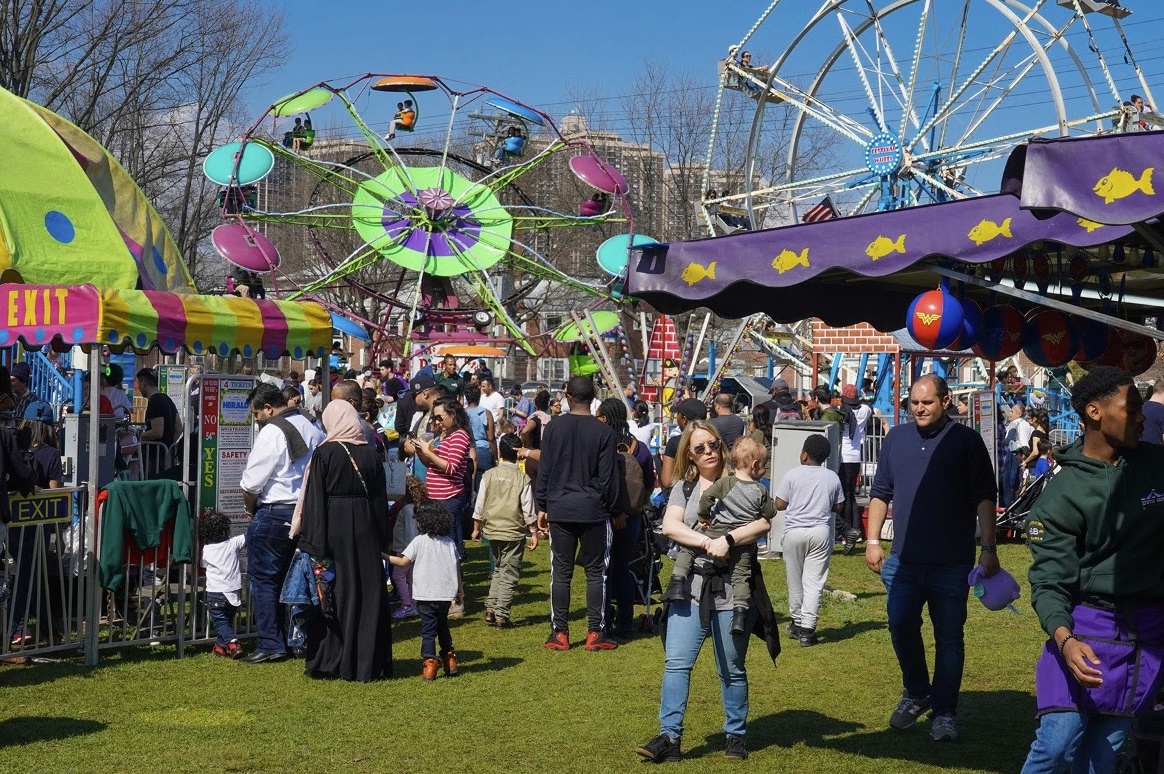 Performers at the Queens County Farm Fair (Photo: Dominik Totino)
The 31st Annual Queens County Fair is as traditional as it gets with blue ribbon competitions in livestock, produce, home crafts, arts and crafts, and more. The fair features pie eating- and corn husking-contests, pig races, hayrides, carnival rides, midway games, and kids' entertainment by Big Apple Circus To-Go.
Dance the day away at the Bavarian Garden with an Irish band (September 20) and German band (September 21). At the ConEdison Ecology booth kids can adopt a worm for the home compost bin, get gardening and recycling tips, as well as free crafts, a corn maze and food vendors. Adult tickets cost $9, kids are $5 each to get in.
Best for families that want a fun day out while escaping city life. September 20-21.
The Atlantic Antic Street Fair in Brooklyn is a massive, festive street fair that stretches along two miles of Brooklyn's centrally located thoroughfare. The entire street is closed to traffic, making way for food vendors, stalls selling clothing, artwork, jewelry, pottery, and T-shirts. Local restaurants and bars set up stalls in front of their businesses offering special deals. You'll find great bands and music, dance performances, speeches, and raffles.
Best for celebrating the very best of Brooklyn and experiencing the borough's diversity, culture and vibrant urban lifestyle. September 28.
Holly Rosen Fink of The Culture Mom contributed this to MiniTime.